What Is Payroll?
Payroll is a list of employees who get paid by the company. This term can also refer to the total amount a company pays to its employees. It is an intricate process that lies at the core of any business.
There are three main steps involved in payroll processing: pre-payroll activities, actual payroll process, and post-payroll process. They are further split into various functions to ease the workflow.
The final goal is to arrive at what is due to the employees after tax and other deductions. The payroll policy of your company defines these deductions. Moreover, government tax regulations also dictate the income tax laws.
What Is Payroll Management And How Is It Done?
Every employer must maintain all records about the payroll of their company. These details include tax records, information about employees' wages, etc. Furthermore, they are required to hold on to this information for at least four years after the tax is due or paid. Even though this law varies based on the location of your business, managing payroll is of prime importance to ensure proper functioning.
Payroll management can be done in three ways: Excel-based management, payroll outsourcing, and using payroll management software.
In the past, payroll management was chiefly done using Excel and other spreadsheet software. Pretty soon, this became cumbersome due to the sheer amount of information that needed to be processed. Data entry has to be done manually, and adding/deleting employee records was not very intuitive. Besides, there were high chances for duplicate records, and keeping track of statutory changes was nearly impossible.
Pretty soon, companies started outsourcing their payroll management. They provided third-party companies with all the required employee information and let them handle the payroll processes. However, payroll is a rather crucial part of any company, and transparency is paramount. As a result, firms slowly started moving away from outsourcing this function to other companies.
This shift brings me to the crux of this article – payroll management software. Payroll information flows in through multiple channels. Specialized software helps collate this information in one place and effectively manage your payroll. There are many options available in the market. Some of them even double down and act as a comprehensive HR management suite.
How To Choose The Best One For Your Business?
Ease of Operation
This feature is a no-brainer. Ideally, you should look for software that is simple, yet powerful. Another thing worth noting is the need for training and guidance. A shallow learning curve will speed up the process of widespread adoption across your firm. It also helps if the service provider offers proper documentation that is updated regularly.
Scalability
Your software of choice should grow along with your company. Proper scaling should be available to include more employee details and serve you appropriately. An ideal software should provide you with the flexibility to opt for a more feature-rich package down the line. This choice will help improve efficiency to match the increased size of payroll.
Integrations
By now, it is evident that payroll data consists of multiple data. Consequently, there is an increasing need for an all-in-one solution for effective management. Integration with related apps helps achieve this. Hence, the right software solution must provide robust integration options. It must be able to integrate with time, attendance, and leave management systems. Lastly, the software must also offer seamless integration with accounting packages. These integrations help manage all financial transactions that take place within the firm.
In this article, I take a look at the top ten payroll management providers that can help your business scale new heights.
Top 10 Payroll Management Providers – My Picks
Gusto
Gusto is a modern, online-based HR management solution. It helps greatly simplify the processes involving payroll, benefits, and other modern HR requirements. I dig the exceptional user interface. 'Minimal, yet functional' is probably the most accurate description. Moreover, managing your employees becomes a fun experience with little in the way of causing trouble.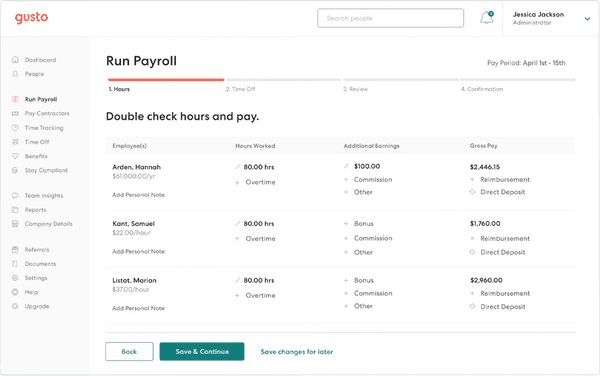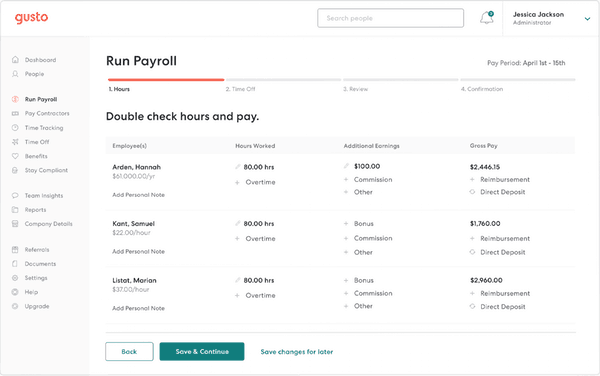 The host of features it has to offer colored me impressed. It indeed provides an all-in-one experience for your business. Also, their support team makes getting on-board a breeze without any hassles. These exemplary features, however, do cost you a pretty penny. Their pricing is rather steep with no 'basic' option to get started for free (minus the trial period).
Why Did I Pick This?
Simply put, Gusto stays true to its name. It makes payroll management an enjoyable experience for you and your employees. Most importantly, Gusto offers payroll automation capabilities. This capability ensures that your employees get paid on time without human intervention.
Furthermore, it keeps your business compliant with state and national tax laws. It also acts as a complete employee database. You just need to fill in the required details once, and Gusto takes over for you. Lastly, it offers expert HR support on-call, along with time tracking tools, deep integration options, 401(k) plans, and a whole host of other top-of-the-line features.
What Does It Lack?
Truth be told, Gusto does not lack a whole lot. Rather than calling them 'cons,' I'd like to refer to them as 'inconveniences.' Firstly, it lacks a 'free' version. Starting at $45, it can be a little steep for some businesses. Secondly, it lacks multi-country support. This software is US-based and will not be the best fit for your business if your operations extend globally. To cap it off, the lack of an affiliate program can be a dealbreaker for some. At this steep price point, I would have liked to see more than just referral links.
OnPay
OnPay is an elegant solution to what is usually a complex problem. It is a comprehensive payroll software that provides a host of other features. The feature that stands out to me is the informative dashboard. It gives you a snapshot of all payroll elements in the form of charts and graphs. As a result, you can get a quick overview of your payroll processes.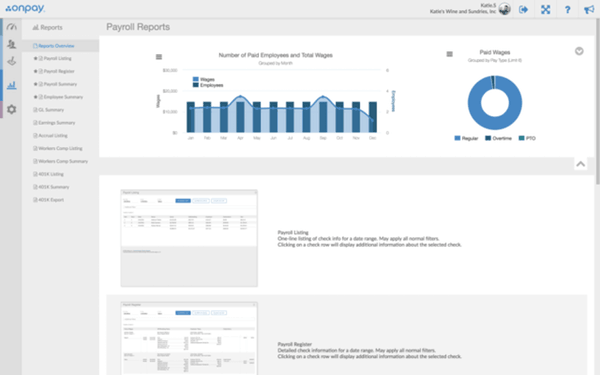 Moreover, it ensures that you are fully compliant with state and federal tax laws. OnPay even takes the onus on themselves to assure this. While some might find their interface to be very 'vanilla,' I feel it is one of the software's strengths. Lastly, it is also attractively priced, thus making it a compelling option.
Why Did I Pick This?
OnPay is a relatively cost-effective software. It also gets the job done. It is complete with features like payroll automation, HR management services, etc. It even does tax filings and withholdings without human intervention. Additionally, it is made more lucrative through the presence of an affiliate program. This way, you can make a few extra bucks through website conversions.
OnPay offers to do your taxes for you, and give you complete error-guarantee. In essence, let OnPay do the heavy-lifting while you take care of more pressing issues. It also acts as an exhaustive employee database. Another impressive feature is the ability to track and approve PTOs. The cherry on top is the attractive pricing, starting at $40/mo/person and going up by $4 for every additional employee.
What Does It Lack?
There are a few areas where OnPay falls short. For starters, this service is only available in the USA. It has no multi-country support to augment your overseas operations. Contrary to the simple UI, adding a new employee is a little cumbersome. Similarly, PTO and other benefits are also not very intuitive when compared to the rest of the platform. From an HR standpoint, it lacks time-tracking capabilities. How much this affects your purchase decision will depend entirely on your business needs. On the whole, these deficits are not worrisome enough to overlook this exceptional platform.
Patriot Software
This platform is a web-based tool that chiefly caters to small businesses. It is strictly a payroll management software with no HR features. The user interface is well laid-out and offers everything you might need. However, if you are after minimalism, Patriot Software does leave a lot to be desired.
Apart from this, it ensures full compliance with state and federal tax laws. You can even opt for Patriot Software to file taxes on your behalf. This feature comes at an extra cost. Also, businesses can get started for as little as $14/mo/person with an additional $4 per month, per person.
Why Did I Pick This?
For a budget-friendly platform, Patriot Software offers a wide array of features. Even with the absence of HR management features, it is pretty well-rounded. For growing businesses, scalability is paramount. It is imperative that your payroll management system can handle the bigger employee database. On this front, Patriot Software is very adept.
It is also pretty easy to set up and use. The software providers also offer expert help on-call to assist you with the setup. Also, Patriot Software provides a lot of features for free, which other platforms only provide for an additional fee. In conclusion, this software is a perfect fit for small businesses that need an affordable payroll solution.
What Does It Lack?
Much like the previous two platforms, this lacks multi-country support. Payroll management becomes a task if you are out of the country. Moreover, it lacks an affiliate program to gain a little something extra. While it is not a dealbreaker, I would've been completely sold on this software, if such a program existed.
Lastly, this software lacks support for businesses over the size of a hundred employees. If your business is growing rapidly, pretty soon, you'll have to change providers. Some people might find this to be an inconvenience. You need to make a call depending on the nature of your organization.
PayCor
PayCor is an integrated HCM solution that provides extensive recruitment, payroll services, and many other features. It is an all-encompassing solution that aims to help small and medium-sized businesses. The software is very intuitive and modern, with a mobile app to augment the experience.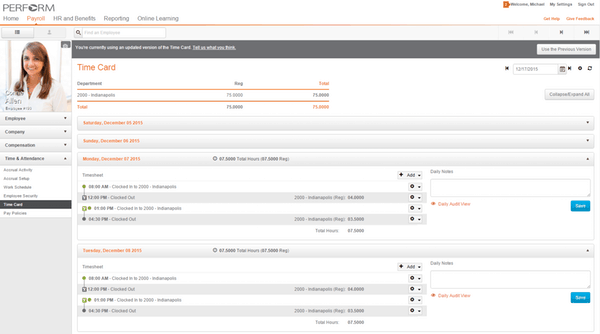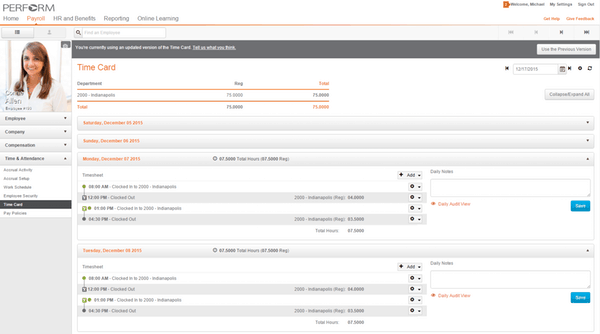 Aside from ensuring full tax compliance, PayCor also offers a thorough insight into the working of your business. They achieve this by showing high-intensity data in an accessible form. Furthermore, they make HR management a breeze. To cap it off, their services begin from the recruiting side of things. They ease the process from recruitment to onboarding and finally to the payroll.
Why Did I Pick This?
For me, picking PayCor was a pretty easy choice. The array of features it has to offer, speak for itself. The comprehensive HCM software takes over right from the recruitment phase. Here, it automates the process of onboarding with an option for candidates to contact you.
Its reporting tools offer an easy way to display your preferred data points. Moreover, the software cuts through the complex numbers and shows you metrics that matter. In addition to exhaustive time tracking tools, they also provide HR administration services to completely round-up their feature set. In short, you cannot go wrong by choosing to work with PayCor for your business.
What Does It Lack?
One of the most notable shortcomings is the lack of an affiliate program. It would have been a welcome addition to be able to embed their banners and affiliate links to generate some income. Multi-country support is also not present in the software. Much like the others, it hampers your ability to generate payroll from outside the USA.
What shocked me the most is the lack of clarity of their pricing scheme on their website. They offer basic payroll services, starting at $99/mo for up to 10 employees. However, there is no mention of the other services like HR management and reporting tools. You will get quoted upon contacting the vendor, but it would have been nice to see a ballpark estimate of the entire thing on their website.
Sage 50cloud
Sage 50 is a popular software among accountants. They offer a host of accounting solutions and add-ons. Sage 50cloud also provides payroll solutions for businesses. However, it is a software that solely caters to companies in the UK. You do not need to be a payroll expert to use their platform.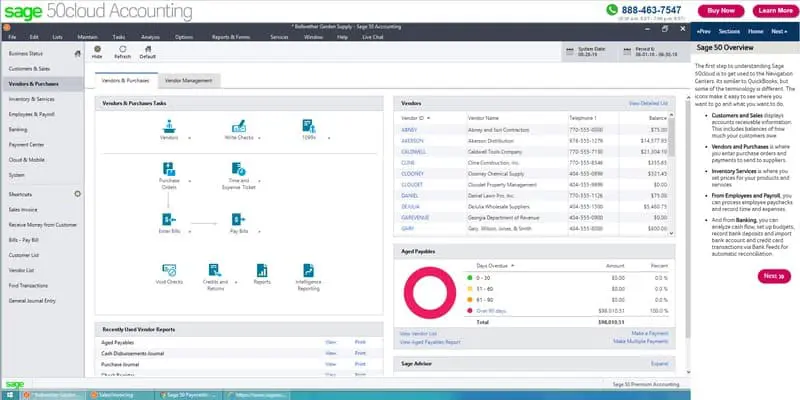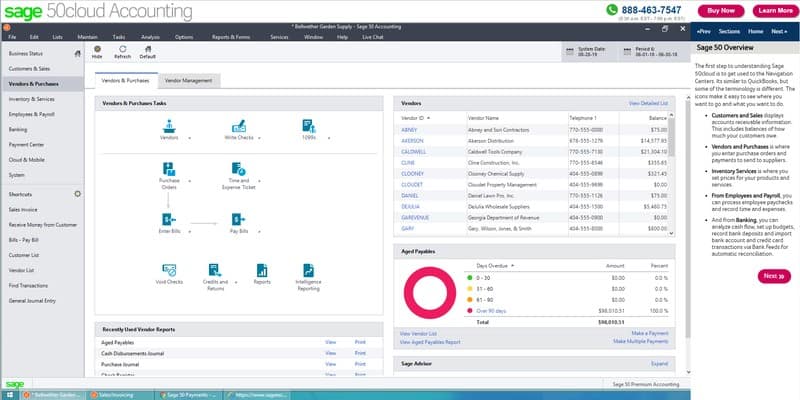 They ensure compliance with UK tax laws and even offer add-ons to support pension policies. This way, you can rest easy knowing that your payroll management is in good hands. The best part? Their attractive pricing policies. You can get started at $25/mo for up to 15 employees. This price helps most small businesses take the plunge without breaking the bank.
Why Did I Pick This?
Sage is a trusted company that provides a variety of solutions to businesses of all sizes. Hence, you can be sure that you are in safe hands. Their cloud-based payroll solution is relatively easy to set up and get started. They are recognized by HMRC and hence are always on top of new legislation.
Furthermore, they handle all the behind-the-scenes legal work, so you can focus on driving your business forward. Sage's software also offers payroll automation, which includes tax deductions and other features. They also offer an affiliate program that allows you to generate commissions. All you need to do is to link Sage on your website, and you get a cut for every sale or free trial that you generate.
What Does It Lack?
One of the most prominent features that it lacks is a simple user interface. Compared to many other options in the market, the Sage 50cloud interface seems dated and bland. As a direct consequence, some of the features are akin to navigating a minefield. You'll need to know what exactly you're doing before diving in.
Sage's full-service payroll plans charge on a per-payroll basis. This feature can be a dealbreaker depending on how many times you run your payroll monthly. Their customer service is also lackluster. Lastly, the add-ons can become an expensive affair once you start to grow your business. This additional cost is something you need to keep in mind before deciding on what is best for your business.
QuickBooks Payroll
QuickBooks is a payroll software by Intuit Inc. They claim to be a one-stop solution to all your business needs. They also provide HR and employee management services to go along with their payroll management software. If you're the owner of a small business, QuickBooks Payroll is ideal for you.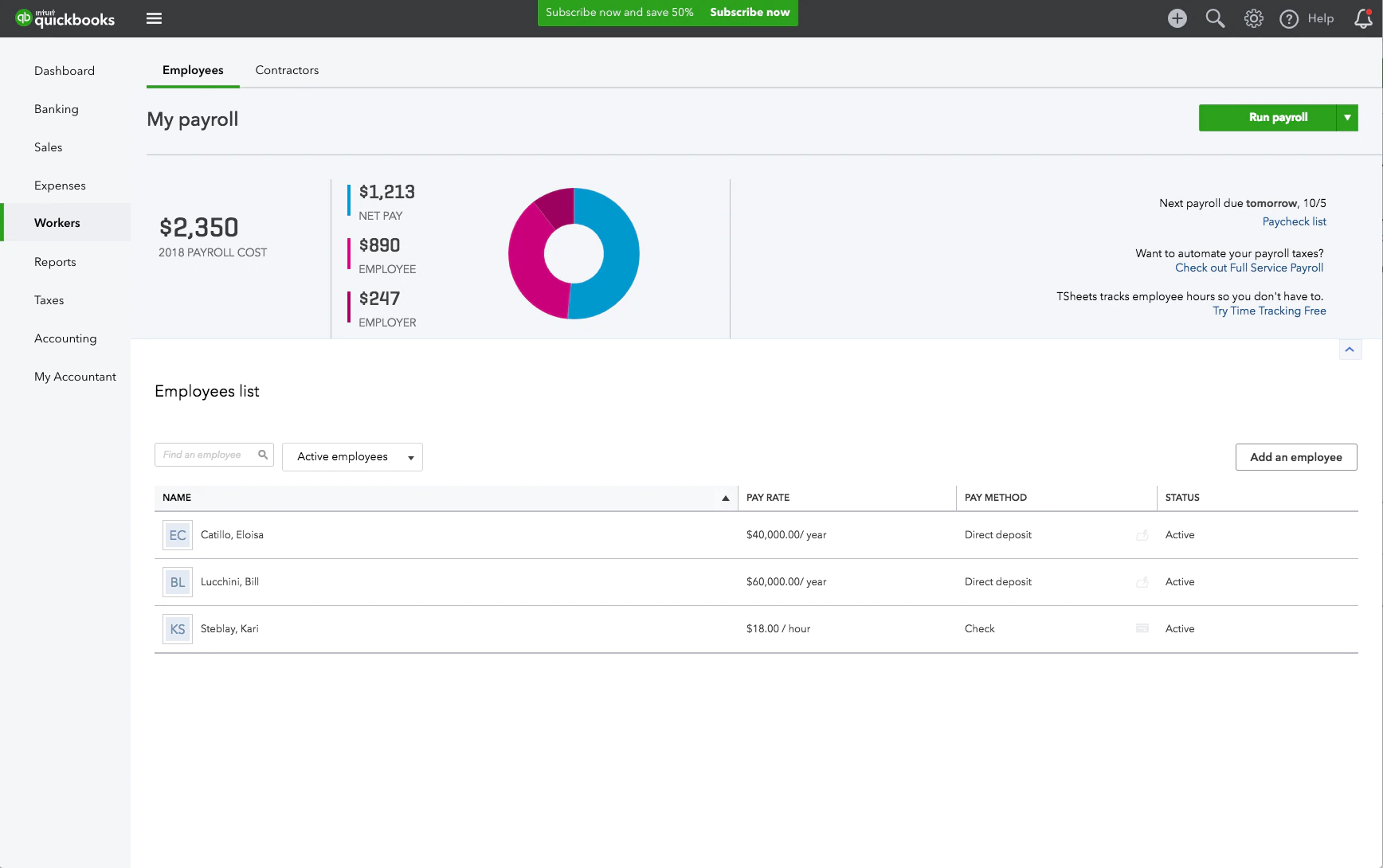 The software is neatly tiered into three levels to suit different price points. The higher up you go, the more features you have at your disposal. Payroll automation and tax compliance lie at the heart of their software. In the most upper tier, they even offer to file your taxes for you, with guaranteed error-free filing.
Why Did I Pick This?
One of the main reasons for picking this is the track record of Intuit software. They are well known for their suite of accounting tools. While Quickbooks Payroll carries forward the same legacy, the user interface is super simple and minimal in this system. As a result, it is not overly complicated and is easy to use.
QuickBooks Payroll offers an affiliate program too. It allows you to earn up to 10% in commission when you generate sales. The system also comes with hiring tools and other HR services. They also offer expert advice on-demand. In short, it is an exceptional tool to simplify your payroll runs.
What Does It Lack?
While the software excels in user experience, it loses out on functionality. In effect, some flexibility was sacrificed for a minimalistic user interface. Furthermore, it lacks support for the Mac platform. If you are an Apple user, QuickBooks Payroll is not an option.
The pricing options, although not very expensive, is a touch on the pricy side. This price point is truer if you're looking for QuickBooks Payroll's marquee features. At times, the software can also be a little 'glitchy.' How much of an impact this has on your purchase decision is totally up to you.
EPay Systems
This software is a comprehensive suite of HCM solutions. It offers web-based modules for HR management, payroll, time-tracking, etc. It is ideal for businesses with mobile and/or distributed workforce. EPay Systems looks to be an all-in-one solution for your business needs, and it is poised to do just that.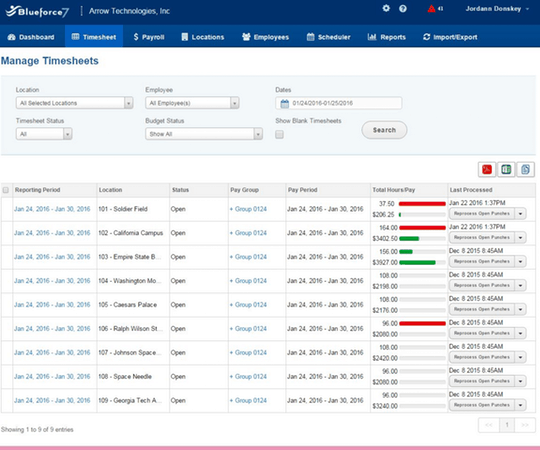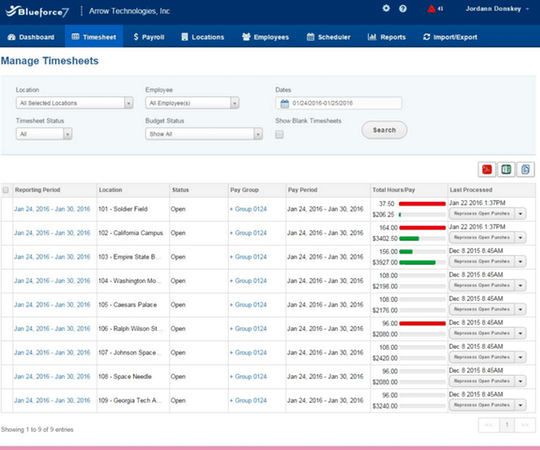 It offers end-to-end solutions for managing your employee database and ensuring you remain tax compliant. The system also provides custom review templates and options to get 360 feedback. Moreover, it offers Learning Management Systems to ensure that all your employees are trained and updated. They are a payroll management provider trusted by many, and you will be in safe hands.
Why Did I Pick This?
The main reason for picking this is the array of features it has to offer. You have a suite of HCM modules available to you. These features help end-to-end management, from recruiting to performance analysis. It also provides a seamless onboarding experience.
Furthermore, you can customize employment benefits and make sure employees get only applicable benefits. My favorite feature is the inclusion of an affiliate program. By placing banners on your website, you can earn a sizeable commission on generated sales. The pricing plans are available upon contacting the vendor. This custom pricing ensures that you get a solution tailor-made for you.
What Does It Lack?
There are not many things in the way of cons. On a personal note, I would have liked to see a ballpark estimate of the pricing on their website. On rare occasions, their tech support fails to respond to queries promptly.
Aside from this, it could use a few more features. There is a lack of consistency when it comes to registering the thumbprints of employees. All in all, there isn't a whole lot to write negatively about this platform. The features you will need for your business will ultimately decide its value proposition.
Rippling
Rippling is an easy-to-use HR platform that puts everything in one place. It offers everything from payroll management to HR software and deep integration options. The software targets companies with about 500 employees. Hence, this is a perfect pick for medium-sized businesses.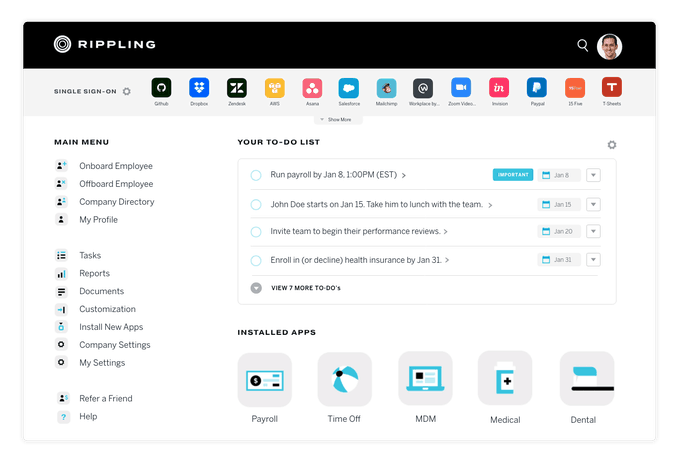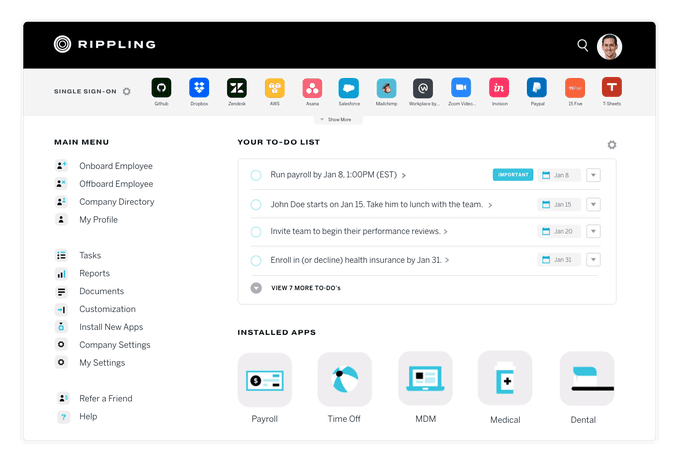 I dig the mobile app support offered by Rippling. In today's day and age, it has almost become a necessity. Also, Rippling offers support to your IT services. The combination of HR and IT management solutions is formidable. Therefore, it is the perfect choice for owners of medium-sized businesses.
Why Did I Pick This?
I am a little biased towards minimalistic UI, and Rippling did not fail to deliver. I am thoroughly impressed by the clean look of the software. In spite of that, there are no compromises made in terms of functionality. The addition of a mobile application is the icing on the proverbial cake.
The feature that stood out from the rest is the internationalization of payroll. This feature is very important for a medium-sized business. You can remain tax compliant in all 50 states in the USA. Likewise, you can also run payroll for contractors that you might have outside the country. All this, when coupled with the wide array of features, makes it a compelling buy.
What Does It Lack?
Much like Gusto, Rippling does not lack a whole lot. It checks almost all the boxes that one might need when managing a medium-sized business. I have to nitpick to find faults in this solution. The result of one such nitpicking is the limited functionality of the mobile app. The app itself gets a lot done, but some key features remain missing.
Another minor complaint is the lack of comprehensive pricing info on their website. This lack of clarity is another case of having to request a quote from the vendor. Aside from this, you pretty much cannot go wrong in choosing Rippling as your HR (and IT, too) management provider.
Zenefits
Zenefits works for businesses of all sizes. They support SMBs with 1-5 employees up to bigger companies having upwards of a thousand staff. It is an all-in-one solution comprising many modules. Among these modules, you have payroll management, time tracking, benefits, etc.
Zenefits unifies all the data in a comprehensive and accessible dashboard. Its pricing strategies, too, cater to businesses of varying sizes. Simply put, they take care of all the back-end work for you. As an owner, you can then dedicate yourselves to growing your business.
Why Did I Pick This?
The main reason behind picking this was due to its versatility. It gets a lot of things right, which makes business administration easy. It streamlines the entire recruitment process, including the onboarding of new candidates. In turn, this helps ease the load on the HR side of things.
Zenefits has attractive price options. Their three-tiered option lets you choose the perfect package for your business. The modular nature further helps tweak the software suite to complement your business. You can also gain a deep insight into PTO usage across your company and use it to improve your overall efficiency.
What Does It Lack?
First and foremost, it lacks an affiliate program. It deprives you of the opportunity to earn a little extra by embedding their banners on your website. At times, setting up of new policies can be a bit cumbersome. I would have liked it to be more straightforward.
Another feature that is missing is the ability to track the training of your employees. This feature can be a letdown if you want to track the certifications of your staff. Lastly, customer service is not as robust as I would have liked it to be. They only work during business days, and their response times are longer than expected.
Zoho Payroll
Zoho Payroll is a software that targets the Indian market. It is slowly rolling out support for various states in the USA as well. It is strictly a payroll management service. As a result, its sole purpose is to streamline the payroll process.
The user interface is very informative, but at the same time, it is user-friendly. It displays the right amount of information without becoming overwhelming. It also offers full compliance with the tax laws. Finally, as is the case with most other Zoho products, it is fully integrated with other sibling apps.
Why Did I Pick This?
The most lucrative part of this fund is payroll automation. It simplifies an otherwise mundane task. It is also easy to set up and get started. Furthermore, it has robust reporting tools and makes sure these are available to your employees as well.
Zoho Payroll also offers a simple self-service platform for your employees. They can get all the relevant information in one place. In the case of loan deductions, employees can view the status of that too. The feature I liked the most, however, is the affiliate program. It helps you pocket some extra cash for driving sales through your website.
What Does It Lack?
At the moment, it lacks support for the entire US market. As it targets Indian businesses, many US-based features are missing. Some features are quite inaccessible and 'clunky.' It takes the shine away from the other highlights.
There are often technical issues that take time to get sorted. These snags affect the performance of the software on the whole. Apart from all of this, Zoho Payroll is a cost-effective option to automate your payroll management.
Drawing The Curtains
With the variety of options for payroll management providers, it is natural if you are spoilt for choice. I feel it will be easier if you eliminate the choices that do not suit your business. After that, it is just a matter of finding the software with the right price-to-performance ratio. In essence, there is no one correct answer. Evaluate your business needs and go for the best one!