It may have been called by another name, but project management has existed since the beginning of time. Historians are still amazed by ancient marvels such as the Great Wall of China, Machu Picchu, and the Great Pyramid of Giza. The fact is that none of these iconic structures would be what they are today without some form of project management. With no one to guide the ship, the Great Pyramid of Giza could very well have turned out to be the Little Heptagon of Egypt. To this day, no one is certain how they executed such complex tasks, which is what adds to their greatness.
Today, businesses too have the complex task of getting each one of its hundreds or thousands of employees to pull in the same direction. The success of an organization hinges on this. Employees pulling in different directions can cause chaos. This situation is where project management comes in. It organizes the cacophony of noises into a beautiful symphony.
We take a comprehensive look at how software helps organizations achieve this and review the ten best project management software available today.
What is project management software?
Known by other names such as task management or project portfolio management, project management had a humble pen and paper beginning. It has now evolved into a sophisticated tool that managers use to keep track of their projects, meet deadlines, and manage resources. It also helps a business become more organized overall.
Who can use it?
Project management software has a cross-industry appeal from the construction industry to the nonprofit sector. It is an essential tool for enterprise businesses. That's not to say that small companies do not need them as well. In many cases, managing projects in a small-business environment is more challenging than in an MNC. Mega-Corporations have dedicated personnel to manage different departments. In a small business, one individual usually controls all these roles and having intelligent software can make this multitasking easier.
How it helps
Gone are the days when email coordination was all that was needed to deliver a project successfully. Today, managing a project without the right tools is akin to driving a nail into the wall with your bare hands. In other words, a painful prospect and one that is nigh impossible.
Here are just a few ways advantages of using project management software
1) Creates a vision
As the saying goes, without a vision, people perish. The same holds for a project. A clearly outlined end goal helps the team to focus. Project management software helps define a crystal-clear objective. It also provides a path to achieving the target. Often, the scope and magnitude of the project objective can be overwhelming. A project management software breaks a large project into smaller, more manageable tasks that come together to achieve the final vision.
2) Prioritizes tasks
'Prioritize and execute' is a tactic that the US Navy SEALs use in overwhelming situations to make life or death decisions. They execute tasks in order of priority. A project management software prioritizes tasks and puts them atop the to-do list. This feature ensures that employees complete the most critical and high return-of-investment elements of the project first.
3) Monitors budgets and allocates resources efficiently
Establishing and sticking to a budget is a cornerstone business principal. Project managers can use this software to create and stick to a budget. They can also use it to allocate tasks to the right personnel. It also allows employees to collaborate on tasks by sharing documents and timelines.
4) Complete projects satisfactorily
There is nothing that can earn a project manager more praise than delivering a quality project within the deadline. Project management software gives the manager an overview of the project and allows him/her to see tasks that are lagging. It streamlines the project completion process from conceptualization of the product to its final delivery.
10 Best Project Management Software – Reviewed
| Image | Service Name | Starting Price |
| --- | --- | --- |
| | Zoho Projects | Free |
| | Teamwork Projects | Free |
| | Trello | Free |
| | Celoxis | 25$ |
| | Wrike | Free |
| | Jira | 10$ |
| | GanttPRO | 15$ |
| | Proofhub | 45$ |
| | LiquidPlanner | 45$ |
| | ProWorkflow | 10$ |
When it comes to project management software, there are hundreds of options available now. Here is our list of the best project management software complete with features, pros, cons, and pricing.
1) Zoho Projects
Features
Zoho Projects is a cloud-based project management software. It is an excellent tool for small to mid-size businesses to use because of its affordable price. It also offers comprehensive project management tools.
This software has a simple and easy-to-use interface that can help managers set up, add tasks, and allocate people to the project in a matter of minutes. The dashboard is customizable and shows whatever updates the user thinks is essential. Users have several pie charts and bar graph widgets to choose from to summarize tasks completed versus tasks open.
It also has excellent communication tools, including a chatbox comes with the software with which team members can chat with each other. The Zoho forums feature allows employees to discuss problems and posts project status updates. Users can also set up face-to-face or telephone meetings using the Zoho Meetings feature.
Managers can set up tasks with a start and end date. Each task has a timer that records time spent on it, a great feature to have if your business pays employees by the hour. Managers can also assign the crucial label to any task to prioritize it. A key feature is its resource management report that allows managers to ensure that each team member has the same amount of work. The issue tracker feature enables users to report, track, and fix any bugs in a software project.
Pros:
● Easy to use interface
● A customizable dashboard that shows whatever the user wants it to
● Pop-up chat box feature
● Zoho forums that allow team members to brainstorm
● Set up video or audio calls
● Facilitates efficient resource management
● Has capabilities to prioritize and time tasks
● Comes with an issue tracker that lets managers keep track of bugs
Cons:
● Customer support isn't very responsive
● Bug tracking only available as an expensive add-on
Price:
It has five plans
| | |
| --- | --- |
| 1 – Free plan | ● Lets you manage one project with five team members |
| 2 – Standard plan | ● $25/month for ten projects with ten people each |
| 3 – Express plan | ● $50/month for unlimited projects with 15-member teams |
| 4 – Premium plan | ● $100/month for unlimited projects with 20-member teams |
| 5 – Enterprise plan | ● $150/month for unlimited projects and 25-member teams |
2) Teamwork Projects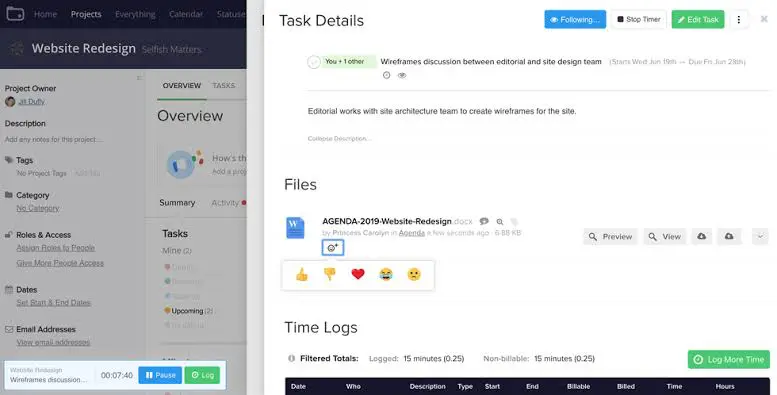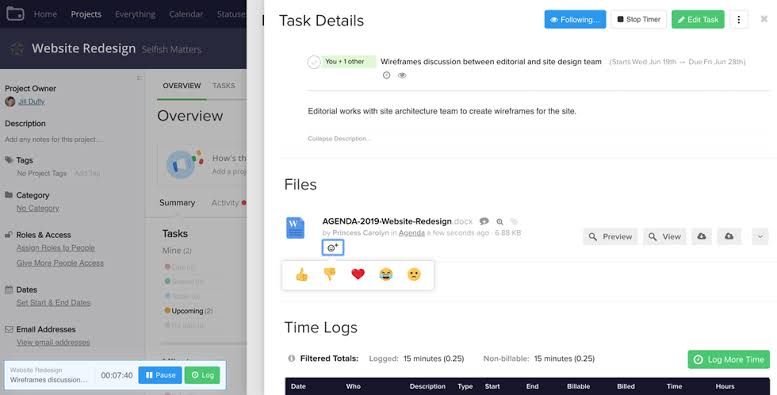 Features
This online project management software has been around since 2007 with high-profile clients such as PayPal and Pepsi. It is an intuitive software with a perky and customizable design. Teamwork Projects has an informative dashboard that shows the project state using graphs and info bars. Its time-tracking feature allows users to track the time taken to complete tasks manually or automatically. Managers can also mark the time entries as billable or non-billable hours as needed.
The software's scheduling features allow users to define tasks and assign them to team members. The tasks can also be subdivided into smaller tasks with separate priority levels and deadlines. Admins get a comprehensive overview of all running projects with details such as project objectives, approaching deadlines, and active tasks assigned to each team member. Team members can only see details of tasks assigned to them. Users can generate invoices using the software's client billing feature based on billable hours and expenses incurred.
Teamwork Project's mobile app is just as functional as its desktop version. It allows users to track project status, edit tasks, and upload files. Another nice feature is that users can comment on calendar events and milestones.
It can integrate with a host of applications such as Dropbox, FreshBooks, Google, and ZenDesk for more connectivity. Users also have the option of using Kanban boards that give a visual representation of the workflow. Teamwork Projects does not come with an integrated chatbox. However, they do have a separate app called Teamwork Chat which can be purchased separately.
Pros
● Customizable user interface
● An informative dashboard that gives a comprehensive project overview
● Comes with an automatic time tracking function
● Allows you to generate invoices easily
● Multi-app integration
● Functional mobile app
Cons
● Some features such as the desktop timer app can get buggy from time to time
● A few compatibility issues with Windows 8
● No integrated chat box feature
Price
It has 5 plans
| | |
| --- | --- |
| 1 – Free-forever plan | ● Lets you manage two projects with unlimited users |
| 2 – The small office plan | ● $57/month for five people plus more for every additional team member and a maximum number of 50 personnel |
| 3 – The professional plan | ● $94/month plus more for every additional team member and a maximum number of 100 personnel |
| 4 – The business plan | ● $270/month for 150 projects and unlimited users |
| 5 – The enterprise plan | ● Enterprise level security and API. Pricing based on company needs. |
3) Trello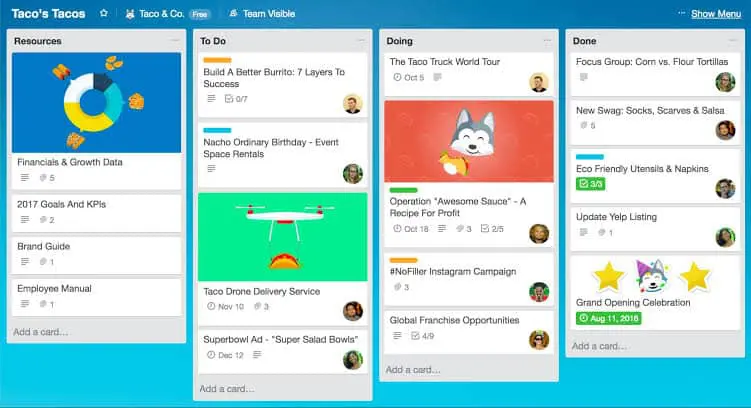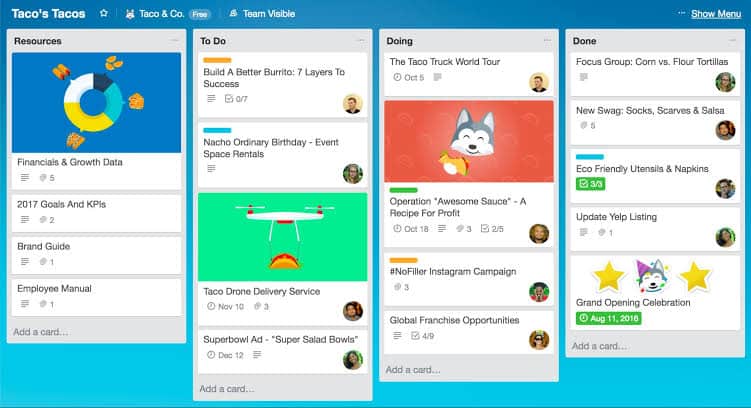 Features
Launched in 2014, Trello is a comparatively new project management software. Even so, it has over 4 million users worldwide. It is a web-based, visual project management tool. It has a simple user interface that takes only a few minutes to master. Like Pinterest, Trello uses the concept of boards. A board represents each project. It shows project tasks as cards within the board. Users can label or color-code each card for easier identification. This card system allows team members to interact with each other with comments and stickers. Users can also upload links, files, or photos to project cards.
The dashboard is visually engaging and provides an overview of all ongoing projects. Admins can easily define workflows, assign tasks to team members, and set deadlines. It automatically sends email notifications whenever a new job is allotted. Users can manage these notifications easily through the Trello dashboard.
Admins and users can access Trello on all smart devices, including smartwatches, mobile devices, and tablets. It integrates with several online applications such as GitHub, JIRA Cloud, Google Drive, Bitbucket Cloud, and Slack. This project management software also gives users the option of a 'power-up' that can provide project boards additional features such as social media integrations, document management solutions, and HR features.
Pros
● Easy-to-use and visually engaging
● Define and allocate tasks with ease
● Integrates with several apps
● A mobile app that is just as intuitive as the dashboard version
● Email notifications
● Deadline reminders
● Provides a fun way to interact with team members
● Allows you to upload files, links, or images easily
Cons
● No time tracking or resource management features
● Not suited for advanced project management
Price
It has three plans
1 – Free
● Unlimited projects and team members
● File attachments up to 10 MB
2 – Business class
● $10/user/month
● File attachments till 250 MB
● Priority mail support
3 – Enterprise
● $21/user/month
● 2-factor authentication for additional security
● Priority email and phone support
4) Celoxis


Features
Packed with features that small businesses may consider unnecessary, Celoxis is best suited for medium to large corporations. Its advanced enterprise-level features, easy interface, and affordable price point make it an excellent choice for businesses looking for advanced project management solutions.
It is an excellent tool for project managers who handle multiple projects. Managers can create tasks that are reliant on other projects and juggle resources efficiently. They can also track all their projects using a customizable portfolio dashboard that displays all their projects.
It gives admins complete control over projects right from requirement gathering to requirement sign off and production deployment. Users can sort client requests into categories such as cost, time, capacity, and risk. It is also flexible enough to include unplanned budget amounts. Automatic time tracking and invoice generation is also possible.
Team members can use the Celoxis forum to interact and share files. The Celoxis dashboard gives project managers a comprehensive overview of ongoing projects, complete with task milestones and problem areas. It also shows the overall health of the project using red, amber, or green colors. Besides, managers also receive email alerts if a problem arises. Celoxis also offers custom workflow applications for companies that want them.
Pros
● Manage multiple projects on one platform
● Time tracking and invoice generation
● Email alerts in case of project issues
● Easy file sharing
● Portfolio management with project health indicators
Cons
● No in-app chatbox
● Requires a bit of training to understand all its features
● No free plan
Price
This software has two plans
1 – The Cloud Plan
● Online solution
● $25/person/month
● 2 GB storage space per person
2 – The On-premise plan
● The client hosts the software and data on the company's premises
● A one-time payment of $450/person
5) Wrike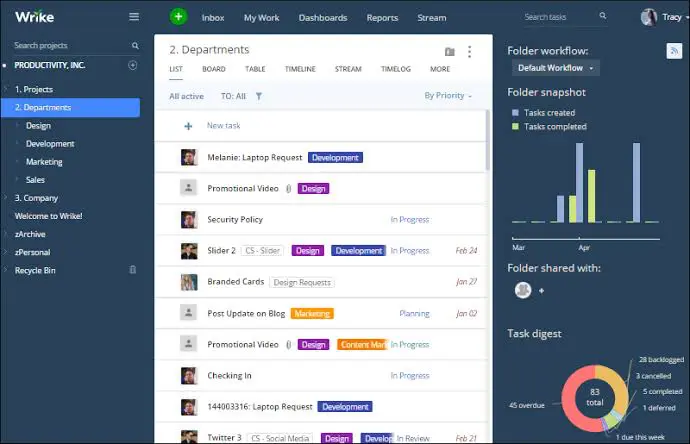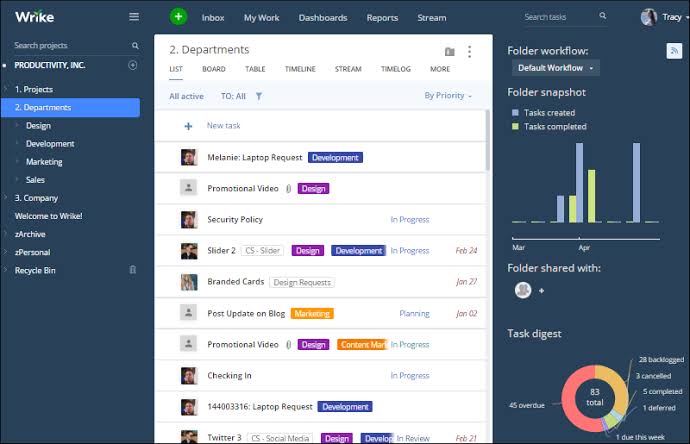 Features
If employee interaction is high up on your list of must-haves in a project management software, then Wrike is perfect for you. It focusses on smooth communication and competent project management. Wrike is an excellent option for small businesses, individual business units within large corporations, and companies with an extensive roster of teleworkers.
The Wrike dashboard has a 3-tile layout that lets users view all critical data on a single screen. The left tile displays a project's hierarchy. The middle tile shows the task list, while the right tile provides details on each task. Managers can prioritize tasks, monitor progress, and ask team members for updates. Also, the activity stream feature allows all members of the team to view each other's progress. The managers can also draw a team member's attention by using the @mention feature. It also generates real-time news feeds of comments and mentions much like social media.
Admins can break large tasks into smaller subtasks. Each subtask can then be assigned to different team members. The software's analytics tool contains performance charts and bar graphs that are easy to interpret. It also integrates with myriad applications such as Jira, MS Project, and Zapier, to name a few. Another great feature is Wrike's work request forms that provide team members with clutter-free and clear objectives. The Wrike software can also generate audit reports, although this feature is only available for their most premium plan.
Pros
● Creation of subtasks keeps the team focused and motivated
● Enhanced interaction between team members
● Integrates with multiple applications
● A powerful analytical tool that generates reports
● Real-time news feeds of team progression
● Clutter-free work request forms
Cons
● A clunky and cluttered interface that will be a steep learning curve, especially for non-technical users
● The mobile app is slow to sync with the desktop version
● Limited customer support
Price
It has five payment plans
1 – Free
● Up to 5 users
● 2Gb storage space
2 – Professional
● $10/user/month for 5 to 15 users
● 5 GB storage space
3 – Business
● $25/user/month for 5 to 200 users
● 50 GB storage space
4 – Marketers
● $35/user/month for unlimited users
● 100 GB storage space
5 – Enterprise plan
● Company-tailored payment plans
● Audit-report generation
● 2-factor authentication
6) Jira
Features
Jira is a powerful, agile project management software that supports unique workflows such as Scrum and Kanban. It has over 50,000 loyal customers, including big names such as LinkedIn and Cisco. It can handle both internal and external project management, along with software development and agile tracking. The dashboard has a drag-and-drop system that allows users to manage project details. It also gives the whole team a clear overview of the project with metrics such as project goals, workflows, and work status. Managers can also get real-time status information.
Since it uses both the Scrum and Kanban approach, it is flexible enough to suit a variety of user scenarios. Users can create custom workflows and issue different schemes if needed. They can also generate automatic or custom reports using the central data hub, where all historical data is stored. It integrates seamlessly with a host of applications such as Netbeans, Eclipse, Visual Studio, and GitHub. It also comes with APIs that connect to other third-party software.
Pros
● Easy collaboration between team members
● Exporting data is easy
● Functional integration with multiple apps and databases
● Customizable and powerful workflows
● Bug reporting and management
Cons
● Specific features such as time-tracking and Gantt charts come with an additional fee
● A buggy mobile app
● Clunky user interface
Price
Jira has two payment plans
1 – Cloud-based plan
● $10 per month for a small team of 10 members
● $7/user/month for teams of 11 to 100 members
2 – On-premise plan
● Starts at $10 for ten users and goes up from there with the number of team members
● Purchasing the server license comes with one year of free software maintenance
7) GanttPRO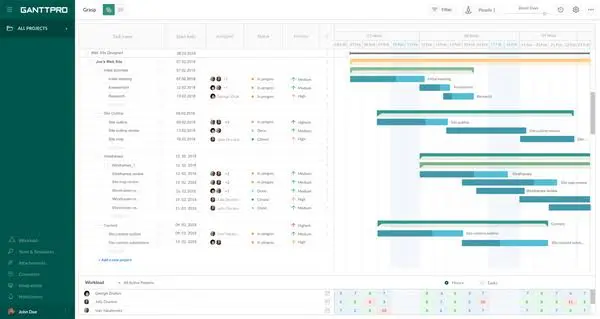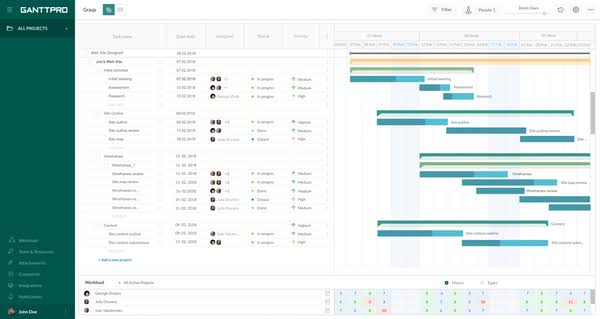 Features
As its name suggests, this software focusses on giving users a powerful Gantt chart tool. With its reasonable price and efficient features, it is a great project management software for individuals and small businesses to use.
GantPRO's top feature is its Project Gantt feature. It gives a visual representation of all the tasks scheduled over time. Its drag-and-drop interface makes it easy for managers to assign tasks. They can also create cross-dependencies between tasks and update progress. The other team members can see all updates. If the manager makes any changes in task metrics, such as task deadline, the software reconfigures all downstream items to match automatically. Each task has a comment thread that team members can use to comment or upload files.
It is easy to set up and has an intuitive user interface that even non-technical team members will find convenient. Users who do not want to use the software's Gant feature can switch to the board view. GantPRO's board view is similar to Trello, in that it also has a series of tiles laid out in a grid pattern. The software also generates a secret URL that clients can use to see how far the project has progressed. At present, it only integrates with Jira.
Pros
● A powerful Gantt chart tool
● Simple user interface
● Allows clients to view project progression
● Good customer support
Cons
● Limited features
● Integrates only with Jira
● A rigid dashboard
● No in-app chatbox
● Slow initial load time
Price
GanttPRO has two payment plans
1 – Essential plan
● A single user
● $15/month
2 – Team Plans
● $8/user/month for up to 5 users
● $7/user/month for 6-10 users
● $6/user/month for 11-15 users
● Flexible company-specific plans for more than 15 users
8)Proofhub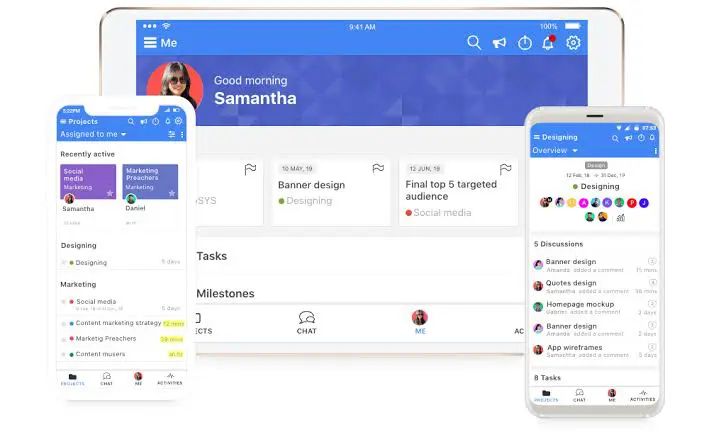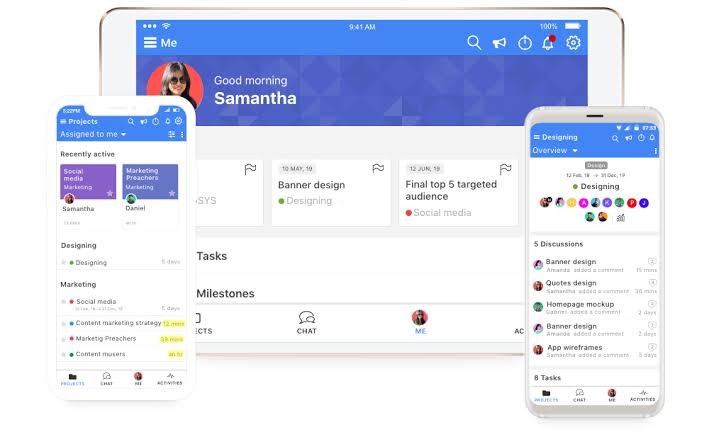 Features
ProofHub is a cloud-based project management software that all kinds of businesses, from startups to large companies can use. It has several high-profile clients, including Wipro and TripAdvisor. ProofHub gives managers oversight across all stages of a project from planning to product delivery.
The ProofHub interface is organized and straightforward. Managers can color-code projects as well as task tags. The home dashboard provides a summary of ongoing projects and tasks assigned to team members. Admins can also use the announcement box to view old announcements and create new ones for the team. The report page helps project managers to focus on the problem areas by highlighting them.
The Projects feature allows managers to monitor multiple projects at a time. Tasks and subtasks can be organized according to priority using a simple drag-and-drop method. There are a variety of reports that managers can generate such as reports on overall project progress or timesheet reports that detail the number of hours each team member has spent on the project.
The board view feature converts the dashboard into a visual tile-like representation of tasks. It has a robust in-built chat box that team members can use to start individual or group chats and exchange files. ProofHub integrates with file-sharing services such as Google Drive and Microsoft OneDrive, but not much else. It provides daily data backup and secure encryption services.
Pros
● Simple and easy to use
● Affordable price especially for large teams
● Easy file sharing
● Customizable dashboard
● Manage several projects at once
● Available in multiple languages
Cons
● Limited budgeting tools
● Integrates with only a few applications
● A few interface problems
Price
ProofHub has two payment plans
1 – Essential plan
● $45 per month for unlimited users
● 40 projects
● 15 GB storage space
2 – Ultimate control plan
● $89 per month for unlimited users
● Unlimited projects
● 100 GB storage space
9) LiquidPlanner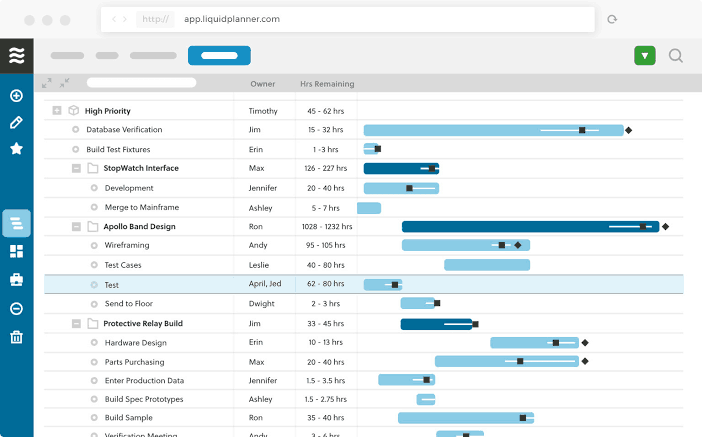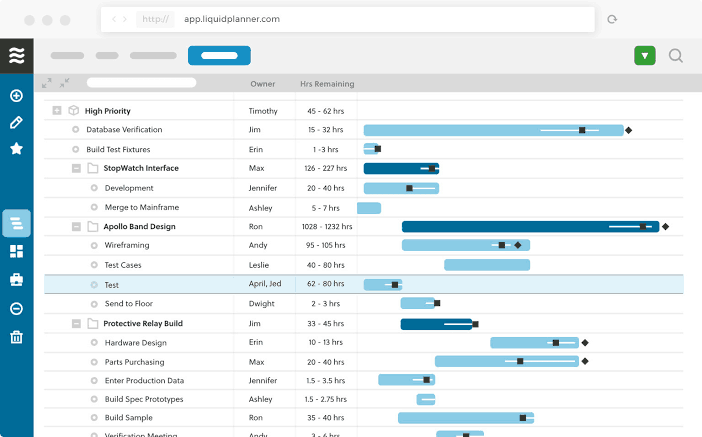 Features
LiquidPlanner is a dynamic, feature-rich, cloud-based project management system. It is one of the costlier project management software on the market, putting it out of reach for small business owners. For those who can afford it, LiquidPlanner does not disappoint with its powerful and feature-packed project tracking and resource management capabilities.
This project management software takes scheduling to a whole new level. It uses predictive algorithms to estimate deadlines and availability of team members. Instead of setting a project end date, managers enter the minimum and maximum hours a task could take. The software then considers factors such as inter-task dependencies and resource availability to predict a range of dates the job will get completed. The scheduling is also priority based. Managers can drag-and-drop tasks and rearrange them according to priority.
Users can divide tasks into 2 to 50 distinct subtasks with its checklist feature. The subtasks can also be scheduled according to priority. The software has myriad viewing filters with which users can understand all the data it collects, including pie charts and bar graphs. It also has several reporting tools that managers can use to automatically generate, from project status reports to individual status reports and workload reports.
Managers can use LiquidPlanner for resource management too. It provides them metrics such as employee leave schedules and team members who are free to take on new tasks. It integrates with several applications, including third-party applications such as Cloudpipes and Zapier. LiquidPlanner also provides videos and tutorials to guide users on its many nuances, which given its diverse and complex portfolio is a must-have.
Pros
● Powerful project tracking
● Feature-rich software
● Seamless, multi-app integration
● Predictive and priority-based scheduling
● Good resource management
● Competent customer support
Cons
● Higher price tag than most other project management software
● It has a steep learning curve to understand all its functionalities
● A buggy mobile app that has only a few features
● No invoice generation
Price
LiquidPlanner has two payment plans, both of which require an annual contract.
1 – Professional plan
● $45 per user per month
● Minimum of 5 users
● 2000 active tasks
● 100 GB storage space
● 20 custom fields
2 – Enterprise plan
● $69 per user per month
● Unlimited active tasks
● 500 GB storage space
● 50 custom fields
10) ProWorkflow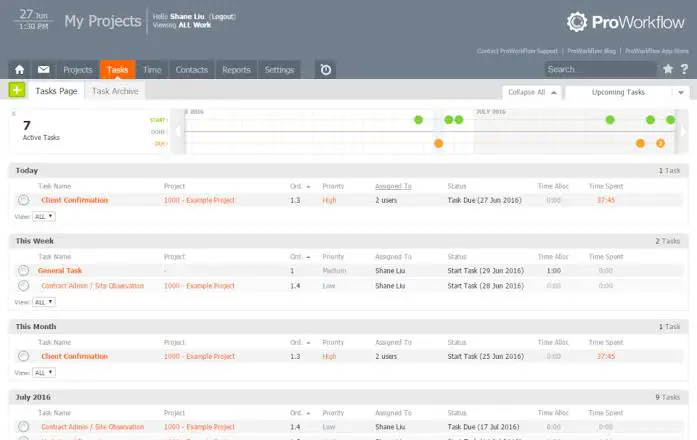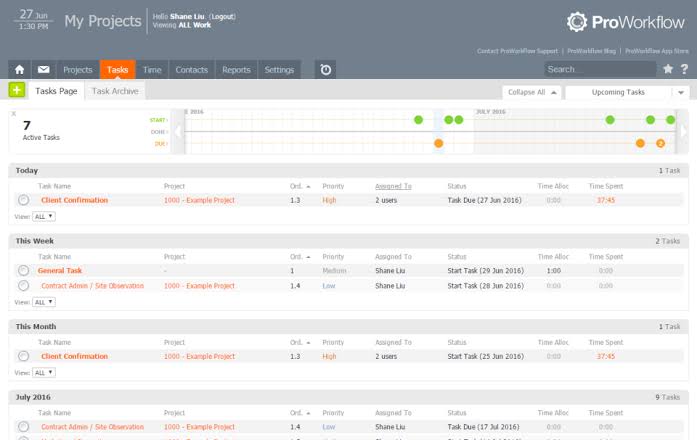 Features
The ProWorkflow project management software has been around since 2002. It owes this longevity to its robust set of features and flexible pricing plans that suit people working alone as well as large teams. Managers can use this software to schedule tasks, manage resources, and plan budgets. It is easy to set up and use, even for non-technical team members. The software's dashboard displays every metric there is on the project from ongoing tasks to messages and invoices. It is also customizable with a good selection of colors to pick.
It has an excellent time tracking feature that automatically tracks the time taken for each task. Users can also manually input the time. This feature is also available on the mobile application. The software also generates a weekly project and individual time tracking reports. Project managers can keep tabs on and manage resources efficiently. Additionally, they can see users that are logged in or are offline.
The software offers additional plugins that simplify the invoicing process. Once an invoice is generated, it can then be sent directly to the client. ProWorkflow also allows clients who have permission to add requirements to the project. It performs daily data backup and has SAS-level encryption, making it secure.
Pros
● User-friendly interface
● Powerful time tracking
● Excellent customer support with free basic training
● In-app messaging and file sharing
● Easy scheduling feature
Cons
● No risk management
● Clunky reporting feature
Price
ProWorkflow has three payment plans
1 – Solo plan
● $10 per month for a single user
● Ten projects
● 5 GB storage space
2 – Professional plan
● $20/user/month
● Unlimited projects
● 25 GB storage space
3 – Advanced plan
● $30/user/month
● Unlimited projects
● 50 GB storage space
Conclusion
Using project management software can save valuable time, keep budgets in check, and allocate resources efficiently. It is a must-have tool for corporations that are looking to take their business onto the global stage. There are a lot of different project management software available on the market today that caters to all business types. We hope our top 10 list has helped you zone in on one that fits your unique business needs.