Employees are the backbone of every organization. In a sense, they are the difference between a good business and a lackluster one. So, it just makes good business sense to invest in systems that not only track but also get the most out of your workforce. Ask any business owner, and they will tell you that time, and attendance tracking is one of the most arduous, albeit essential, parts of managing employees. Neglecting to do this vital task can cost a business a lot of money.
Consider these statistics: Time theft (when an employee accepts payment for time not spent on work) affects over 70% of businesses and accounts for $11 billion in lost revenue every year. As a result, managers spend a lot of time getting that vital information down just right. According to a survey, 30% of managers spend anywhere between 1 to 5 hours a day on administrative tasks such as time tracking. This niche is where time tracking and attendance software comes in. It can save businesses a ton of money and free up personnel to do other essential things.
What Is Time And Attendance Tracking Software?
Simply put, it is software that collects and records important employee information such as working hours, break time, off days, and overall productivity. Starting with the erstwhile attendance register and moving on to punch cards and Excel timesheets, time and attendance tracking systems have existed for a very long time. Now, with software that does that and more, these systems have become more powerful, sophisticated, and less prone to error.
Advantages Of Time Tracking And Attendance Software
There are no two ways about it; time tracking and attendance software is an essential tool for all businesses, big or small, in their push towards productivity. According to the American Payroll Association, automating these critical tasks can save a company over $6,000 monthly by merely eliminating errors and increasing productivity.
Aside from saving business time and money, time tracking and attendance software have many other benefits. These are:
1) Efficient Payroll Management
Most software in this category not only tracks time and attendance but also has the capability of using this data for payroll purposes. The software monitors employee working hours calculates payments, and generates timesheets based on that, ensuring that all employees receive their dues with no errors.
2) Improved Workflow Management
Time and attendance tracking software provide managers with the tools to organize complex projects and break them down into smaller, more manageable tasks. Once this is done, they can then prioritize those tasks and assign them to the right team members, helping them create an efficient and systematic roadmap with which to achieve their targets.
3) Boost Productivity
Nothing motivates employees to zone in on their work more than knowing their income is directly proportional to their productivity. This transparency eliminates the problems of time theft. Buddy punching (where an employee cocks in for a coworker) is also out of the question with an automated time and attendance tracking solutions. All this results in workers who are focused on the task at hand rather than on whiling away the time.
4) Error-Free Client Billing
Overcharging or undercharging a client are cardinal sins for any business. Employee time tracking software can prevent this from happening. For companies that bill their clients by the hour, especially, this software is invaluable. The software collates the billable hours of all employees working on a project along with any expenses incurred along the way to generate an invoice that is error-free and professional looking to boot.
5) Embrace Remote Work
Businesses now recognize the benefits of remote work. According to remote work statistics, remote workers are nearly 15% more productive than their office counterparts. With time and attendance tracking software in place, corporations can allow more employees to telecommute as it records time no matter the time or location. It is also beneficial for businesses that have a mobile workforce as they can log in on their smartphones, whichever corner of the earth they are on.
6) Create Better Schedules
Employee scheduling is a nightmare. Managers need to consider everything from leave applications to peak business hours and a whole lot in between to create a cohesive schedule. Attendance tracking software streamlines this complicated task by providing users with all the necessary information to create a schedule that works for everyone. Additionally, it gives managers the tools to monitor and reduce absenteeism and no-shows.
7) Get Better Insights
With all the real-time attendance and time tracking data in hand, business owners get an overview of several metrics that give them insights into the health of their business. These include insights into the time taken to complete each task, resources needed, and profit/loss margins. Analytics such as these can not only give them a realistic picture of employee productivity but also help them plan and budget for future projects.
Is Time Tracking Software Different From Attendance Tracking Software?
The answer to that question is yes and no. While both software have subtle differences, they also have many similar features.
The main difference between the two is that attendance tracking software only records an employee's working hours. Time tracking software goes a step further by recording what an employee is doing during those working hours.
With attendance tracking software, users can record when an employee arrives at work, takes a break, and leaves work. Besides, it tracks a staff member's vacation days and sick days. Furthermore, managers can accept or deny leave applications from within the software.
On the other hand, a time tracking software tracks time spent by each user on a task. It allows project managers to delegate tasks to team members and monitor the overall progress of a project. Furthermore, it gives them an overview of who is working and on what.
That said, both kinds of software have some overlapping features. These are:
Time clock
Invoicing
Payroll
Timesheets
Real-time monitoring
Reports and analytics
Top 10 Employee Time and Attendance Tracking Software
| | | |
| --- | --- | --- |
| Software | Time Tracking | Attendance Tracking |
| TSheets | ✓ | ✓ |
| Time Doctor | ✓ | ✓ |
| VeriClock | ✓ | X |
| Zenefits | ✓ | ✓ |
| Replicon TimeAttend | ✓ | ✓ |
| Zoho People | ✓ | ✓ |
| TrackSmart Attendance | X | ✓ |
| Bitrix24 | ✓ | ✓ |
| Calamari | X | ✓ |
| CakeHR | ✓ | ✓ |
Tsheets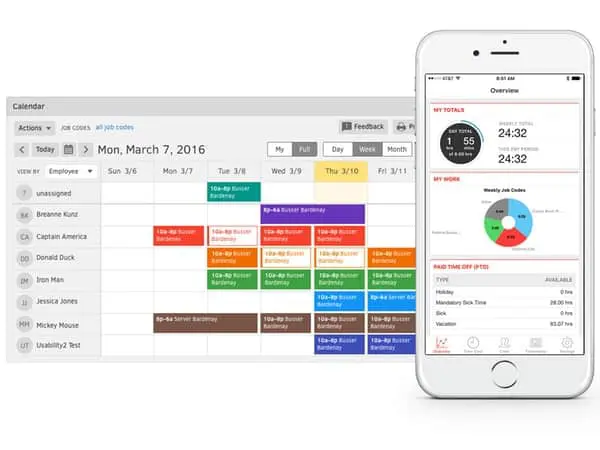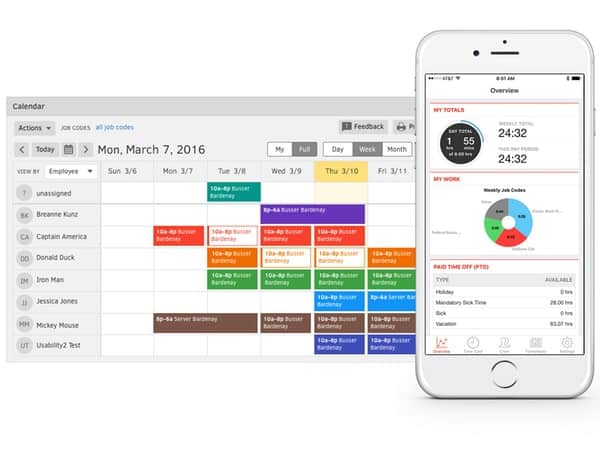 Tsheets is the go-to time tracking tools and was created to record and track time entry data. The software enables users to request many different types of reports and manipulate data and is considered a pure playtime tracker. This well-rounded software features an intuitive interface with beginner and advanced features such as geofencing.
Tsheets Pricing
Tsheets offers a free plan that is perfect for freelancers to manage the time they spend on their client projects individually. There are paid plans for companies that start with a base price of $20 per month and then charge an additional $8 per month for up to 99 users. Large companies with more than 100 users will pay a base fee of $100 per month and then $5 for each user per month. Extra add ons are available such as scheduling tools that cost $1 per user.
Tsheets Features:
Future scheduling
Custom tracking
Dial-in clock-in
GPS monitoring
IP Address Monitoring
Open API
Photo Check-in
Android App
iOS App
Tsheets Does Not Offer:
In-App Messaging
Screen recording
Keystroke recording
The only aspect of Tsheets that drives customers away is the base price that makes the tool slightly more expensive than other time tracking software available. However, companies that are looking for broader features such as project management tools, invoicing, employee time tracking, and expense management, can find all the tools they need in Tsheets.
Time Doctor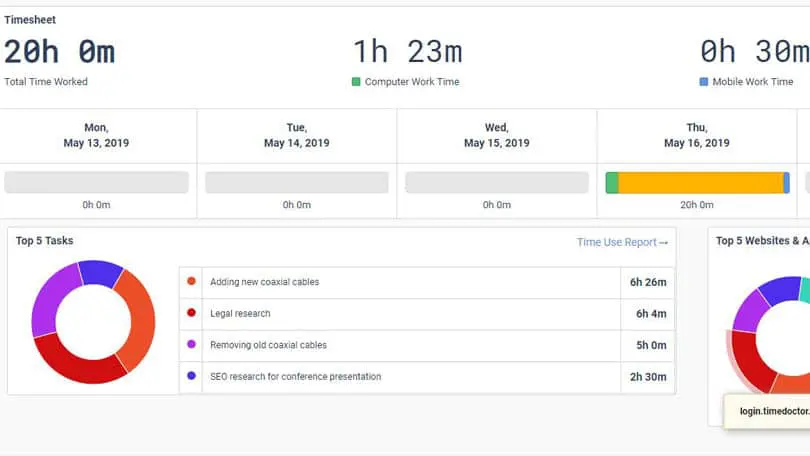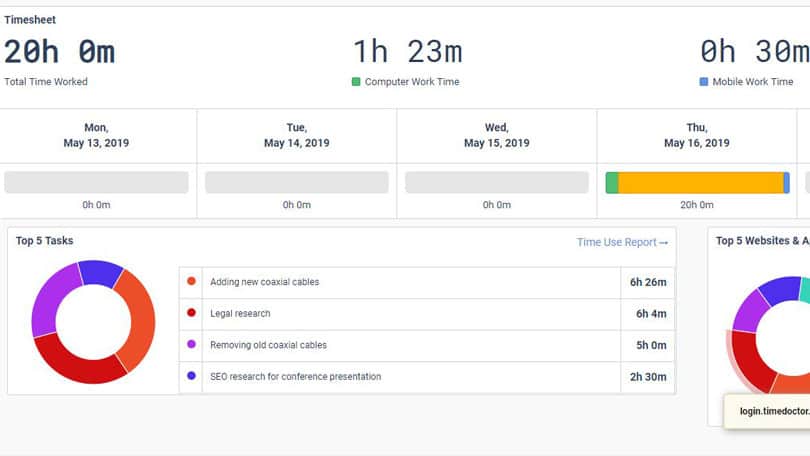 When you're looking for something perfect for tracking time on the computer for freelancers or larger teams, Time Doctor is the best solution and is used by companies like Apple to monitor employees. Time Doctor also allows you to create invoices from within the app and can be integrated with several other programs.
Time Doctor Pricing
A free plan is offered for Time Doctor after a 14-day free trial that provides time tracking through the desktop app but without access to any of the reporting features. The upgraded paid version is $9.99 per user per month. This pricing plan is super simple, with no tiers. Added on project management services will be an additional cost, however, at a minimum of $25 per month.
Time Doctor Features:
Future scheduling
GPS monitoring
Open API
Photo Check-in
Screen recording
Keystroke recording
Android app
iOS app
Time Doctor Does Not Have:
Custom tracking
Dial-in clock-in
Ip Address monitoring
In-App Messaging
The Time Doctor app starts recording time when the user starts writing within a project and presses the tracking button. Time Doctor is perfect for tracking time and monitoring the online behaviors of employees on company computers. Administrators can track time spent idle, see the employee's search history, what they typed, and even screengrab from specified time frames.
VeriClock


VeriClock is easy to understand and use for companies and teams that are small to medium-sized with lots of monitoring capabilities and an affordable price. The no-frills design interface is user-friendly and strictly used for time tracking with no fancy collaboration or project management tools that can be overwhelming for small teams or freelancers.
VeriClock Pricing
Starting at just $5 per month per user for tracking, VeriClock is one of the most affordable time tracking software solutions for small businesses. The pricing doesn't change regardless of the number of team members; however, there are no free plans available. You'll also need to pay a $10 account fee each month for each user.
VeriClock Features:
Custom tracking
Dial-in clock-in
GPS monitoring
IP Address Monitoring
Open API
Photo Check-in
Android App
iOS app
VeriClock Does Not Have:
Future Scheduling
In-App Messaging
Screen Recording
Keystroke Recording
Although VeriClock is not great for team collaboration, the easy-to-use tool is perfect for monitoring your employee's locations, IP addresses they are visiting, and time spent on projects. Companies and small teams that are looking for a tool that isn't feature heavy and is easy to navigate should choose VeriClock for employee time tracking.
Zenefits
Zenefits is an all-inclusive HR solution that has tools for everything from performance management to employee wellbeing. The software is a good fit for small and mid-sized businesses. This is in no small measure due to its scalable pricing plans and features that serve companies that have anywhere between 2 to 200 employees.
The software has robust time-off management tools. With it, users can create and manage customizable PTO policies. The intuitive software then applies these policies to automatically calculate other staff operations such as employee scheduling and payroll. With the Blackout Dates feature, admins can block out time-off dates, a nice way to ensure that employees cannot take vacations during peak business days.
Conveniently, employees can apply for time off, access their work schedules, clock-in at work, and update their information through their Android or iOS Zenefits mobile apps.
Zenefits Pricing
Zenefits offers users 3 pricing plans. All the plans have a 14-day free trial and can be billed annually or monthly. The Essentials plan costs $8 per employee per month. It offers users basic HR, time and scheduling features. These include employee onboarding, PTO tracking, HR compliance, mobile app, and third-party integrations.
Zenefits' Growth plan gives users additional compensation and performance management features at $14 per employee per month. With this plan, users can not only set and track goals but also conduct performance reviews and create custom salary benchmarks. The software's Zen plan costs $21 per employee per month with the added benefit of employee wellbeing features.
Additionally, Zenefits offers users several addon features. These are:
Payroll: $6 per employee per month
Advisory services: $8 per employee per month
Benefits Admin: $5 per employee per month
Zenefits Features
Attendance management
Benefits management
Clock in/clock out
Configurable workflow
Deadline management
Document management
Project time tracking
Zenefits Does Not Offer
Task tracking
Project management
Team calendar
Replicon TimeAttend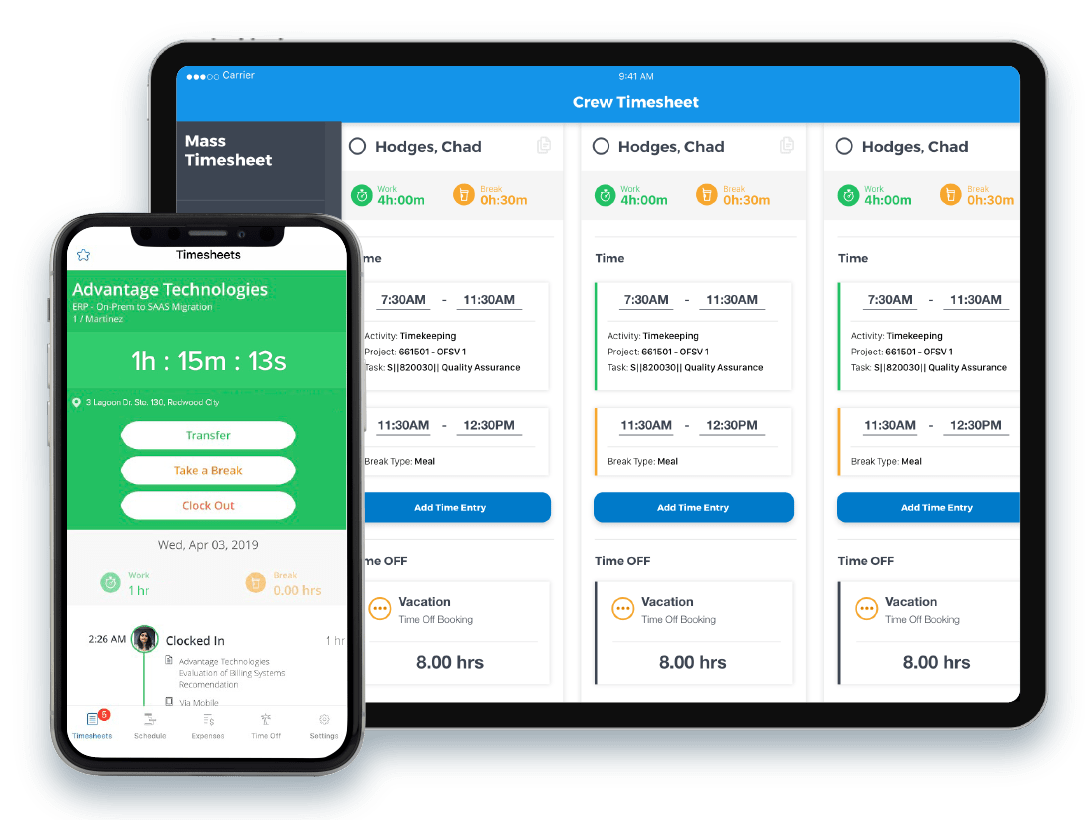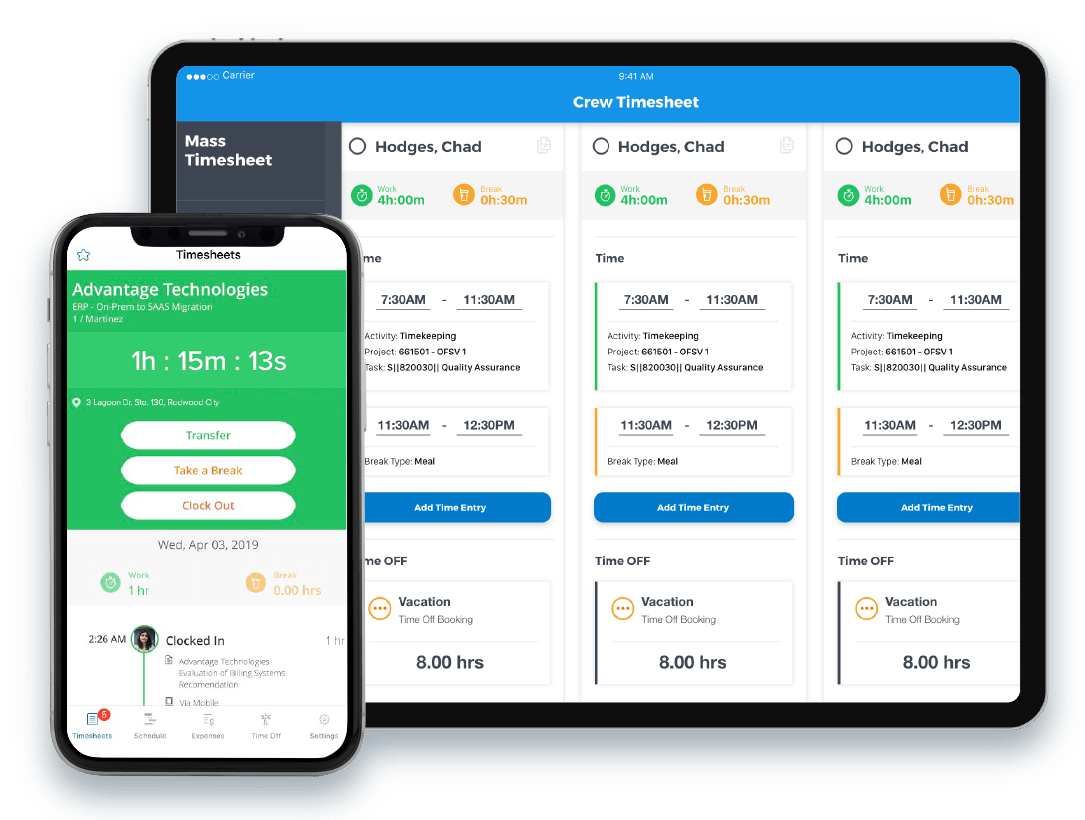 Replicon TimeAttend is a robust time and attendance software that streamlines employee management. Its features include time recording, payroll processing, labor law compliance, project tracking, attendance management, and timesheet approval to name just a few. What's more, the software works for businesses that have contract, salaried, and/or hourly-paid employees.
Replicon's scheduling tools allow admins to create and publish schedules with ease. They can also use it to see a synopsis of the hours each employee has worked along with who is on the clock or on a break at any given moment of the workday. Similarly, employees can use the software to clock in and out, view their timesheets, and request for time-off. Importantly, all these functionalities are available through the mobile apps too, which have real-time tracking and geofencing features to boot.
The software offers managers several automation features that can make their lives easier. These include automatic employee reminders to fill in their timesheets and approval workflows to manage time-off requests spontaneously.
Replicon TimeAttend Pricing
Replicon TimeAttend has two pricing plans: Quick Start and Plus. Only the Plus plan offers a 14-day free trial. The Quick Start plan will cost users $30 per month for up to 5 employees. Thereafter, every additional employee costs an extra $5 per month. This plan entails the software's time tracking features along with basic time-off management, payroll, scheduling, notifications, and supervisor approval tools.
The Plus plan costs $8 per employee per month. With this plan, users get advanced customization and automation options along with a more robust set of time tracking, employee organization, and reporting tools.
Replicon TimeAttend Features
Leave and absence management
Project and task tracking
Employee time tracking
Activity tracking
Labor cost reporting
Timesheet reviews
Approval process control
Geofencing
Replicon TimeAttend Does Not Offer
Workflow management
Documents and record management
Zoho People
Zoho People is an easy-to-use, scalable, and comprehensive HR solution for small to medium businesses. It boasts of robust time tracking, attendance management, and leave management features. These and other features will help you streamline all your staff operations, including shift scheduling, generating timesheets, performance evaluations, and even employee onboarding.
With Zoho People, you have a centralized repository of information with which you can easily manage employee information. Helpfully, the software stores this information in categories such as role, location, experience level, and leave type for more straightforward distinction.
Not only is this tracking software a great boon for business owners, but it is also designed to make life easier for employees too. It has a robust self-service portal that employees can use to update their attendance and time data themselves as well as apply for leave or shift changes. Furthermore, employees can file their expense claims or travel documents with it. Importantly, with its support of both GPS and IP address tracking, you can rest assured that your employees are where they say are.
Zoho People Pricing:
Zoho People offers users both a 15-day free trial and a free plan. The free plan, which allows up to 5 people, is suited for solo entrepreneurs and micro-businesses. Zoho People has four paid pricing plans: Essential HR, Professional, Premium, and Enterprise. The Essential HR plan is priced at $1/employee/month and offers basic HR tools with leave administration. The Professional and Premium plans will cost you $2 and $3 per employee per month, respectively. Finally, the Enterprise plan costs $5/employee/month and has all the software's advanced features.
Zoho People Features:
Attendance tracker
Employee database management
Time-off management
Payroll integration
Shift scheduling
Timesheet
GPS and IP attendance
Mobile app
Zoho People Does Not Offer:
In-app messaging
Keystroke logging
Windows app
TrackSmart Attendance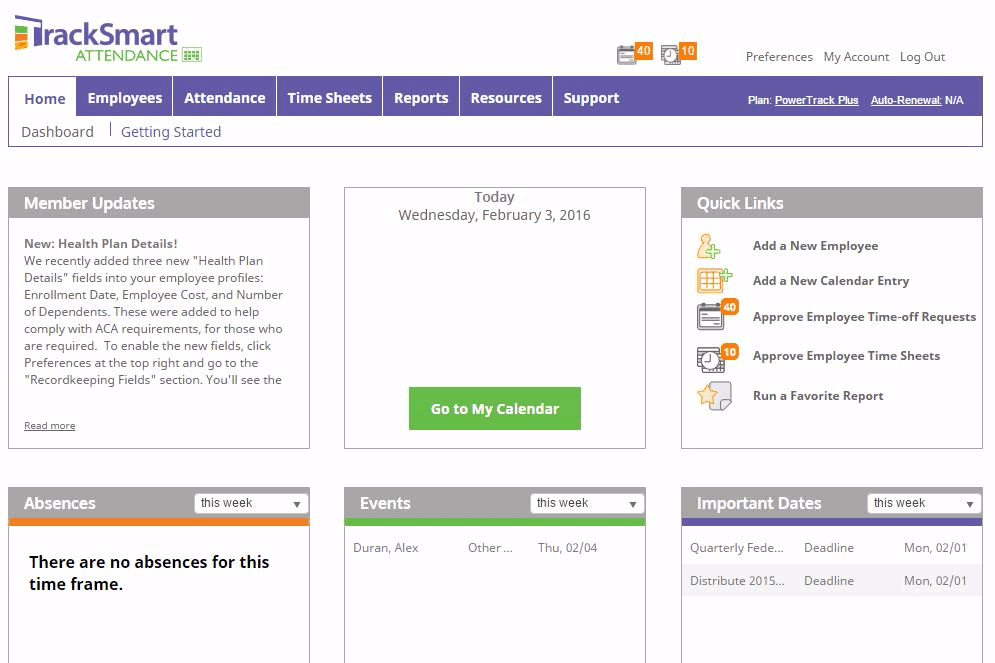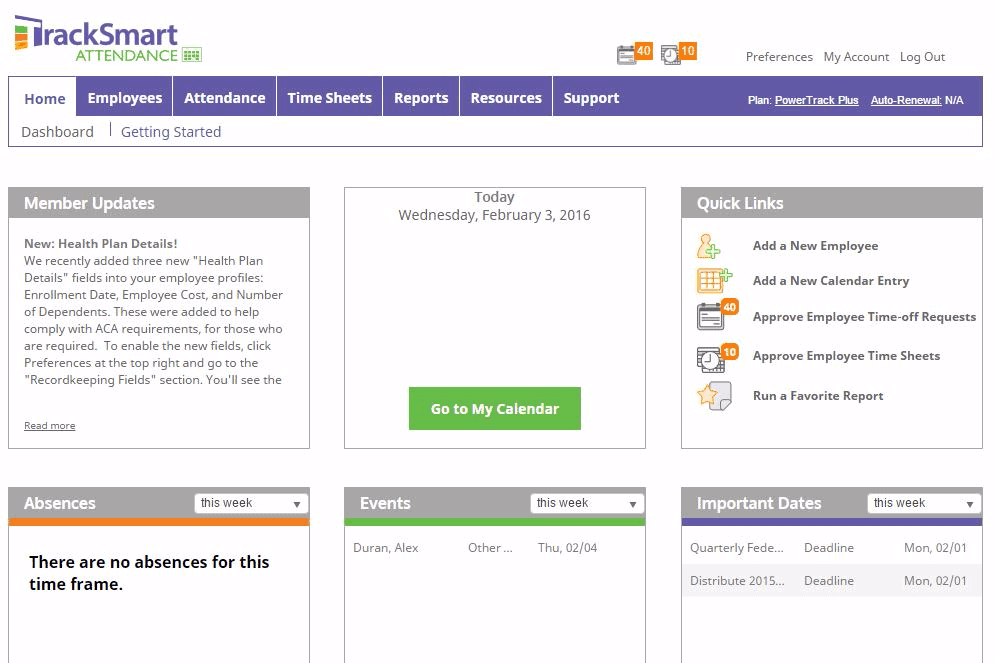 TrackSmart Attendance is a reliable attendance management software for businesses that employ up to 100 employees. Its affordable and scalable pricing plans allow you to stay with it as your business grows.
The software's dashboard gives you an overview of crucial employee information, such as team members on break, schedule updates, and everyday tasks. One of its standout features is the centralized calendar view, which you can change to a weekly or monthly view. The calendar helps you avoid any scheduling conflicts and shows you information such as a team member's birthdays and anniversaries.
TrackSmart Attendance also boasts of an employee self-service feature with which employees can access their schedules and submit time-off applications. Additionally, the software has several scheduling add-on features that will give you the added functionality of creating error-free schedules.
TrackSmart Attendance Pricing
TrackSmart Attendance offers users three pricing plans along with a free trial. Unfortunately, it does not offer a free plan. The software's lowest tier offering is the Coretrack plan and will cost you $21.95/month or $169 on an annual subscription. This plan lets you track attendance for up to 20 people. Its additional features include event codes and absence codes.
TrackSmart Attendance's mid-tier plan is the Flextrack plan. It comes with the added benefits of attendance tracking for 50 people, timesheets, and supervisor approval features. It costs $31.95 monthly or $269 annually.
Finally, for businesses that have 50–100 employees, the software offers its Powertrack plan. This plan gives them unlimited event and absence codes along with accruals and timesheets but will set them back by $41.95 monthly or $369 annually.
TrackSmart Attendance Features
Time-off management
Calendar view
Manual and automatic scheduling
Team Communication dashboard
Mobile app
TrackSmart Attendance Does Not Offer
Time tracking
Third-party integrations
Travel management
Bitrix24
Strictly speaking, Bitrix24 cannot be classified as an attendance or time tracking app. That's because it offers so much more than just those two features. It has over 80 functions that cover market verticals such as CRM, project management, sales, marketing, human resources, and customer service.
When it comes to attendance and time tracking, the software has a clock in/clock-out interface for employees to time their working hours, generate daily reports, and even create events out of office. Importantly, Bitrix24 tracks IP addresses so that employees can log in attendance from anywhere.
The software's absence calendar will give you an overview of who is absent and when they are expected back. Furthermore, it gives you the power to enforce workday and workweek minimums. Helpfully, you also have the option of receiving an alert any time an employee violates these rules.
Bitrix24 Pricing
Bitrix24 has a free plan small business can take advantage of. It supports up to 12 users. It, however, does not include absence management and time tracking features, both of which are only available on the premium plan. That said, the free plan gives you basic CRM, project management, communication, and marketing features. Besides, the software has three paid pricing plans: Plus, Standard, and Professional. First, the Plus plan is suitable for businesses that have anywhere between 2 to 24 employees. Its cost ranges from $24 to $69 per month, depending on the number of users. Second, the standard plan supports up to 50 users and costs $99/month. Last, with the professional plan, you can add an unlimited number of users at the cost of $199/month.
Bitrix24 Features
Absence management
Time Tracking
Employee self-service
Calendar sharing
Video conferencing
Workflow management
Sales funnel
Document management
Mobile app
Bitrix24 Does Not Offer
Automated scheduling
Task scheduling
Calamari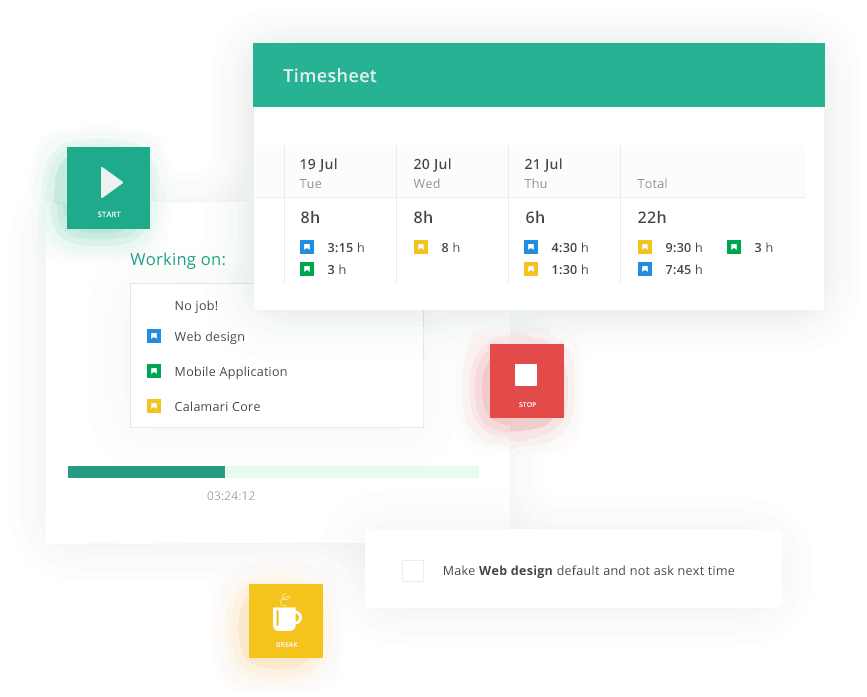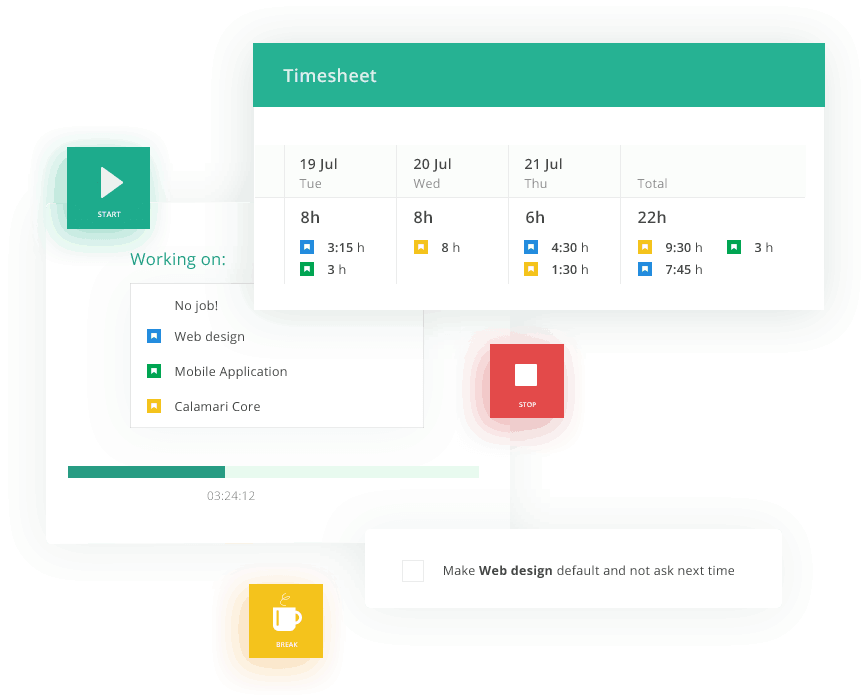 Calamari is a powerful attendance tracking solution that will help you stay on top of your employee's leave, attendance, and work time requirements. It comes in two distinct modules: leave management and clock in/out.
Calamari's leave management module streamlines managing time-off. With its absence calendar feature, you can track an employee's vacation or telecommuting days. Importantly, the software syncs with several calendar apps to give you a synchronized view of a team member's days off. Another nice feature is Calamari's paid time off (PTO) calculator, which automates accrual payments for any kind of absence according to your PTO policy.
The Clock in/out module boasts of a variety of ways to record attendance. These include QR code, iBeacon technology, and iOS and Android mobile apps. Importantly, the software supports geolocation and IP tracking too.
Calamari Pricing
Calamari has scalable pricing plans that make it a good fit for businesses of all sizes, from micro-businesses to large corporations.
They are as follows:
1-10 users – $10/month for leave management or $20 for clock in/out
11-20 users – $25/month for leave management or $40 for clock in/out
21-35 users – $40 for leave management or $60 for clock in/out
36-50 users – $60 for leave management or $80 for clock in/out
51-75 users – $95 for leave management or $115 for clock in/out
76-100 user – $130 for leave management and $150 for clock in/out
In addition, the software gives you the option of combining both features of leave management and clock in/clock out. This feature will cost you between $30 to $280 depending on the number of users.
Calamari Features
Attendance management
Leave management
Timesheets
Employee scheduling
Payroll management
Mobile app
Calamari Does Not Offer
Keystroke logging
Screen recording
Cake HR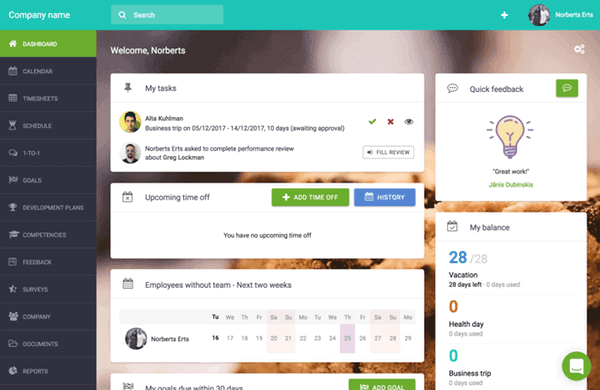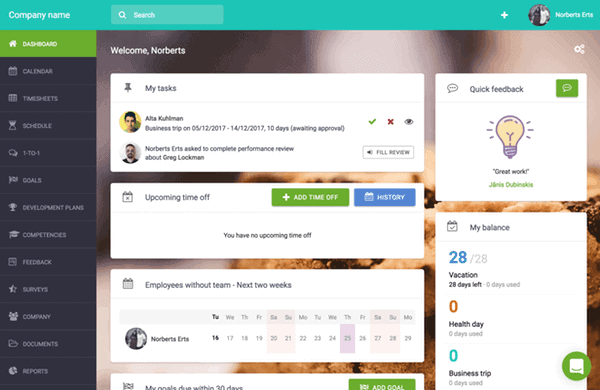 As its name suggests, CakeHR is a cloud-based HR solution that makes tasks such as leave management, time tracking, and shift scheduling a piece of cake (pun intended there!). Aside from attendance and time tracking features, the software has additional ones that streamline the recruitment process and performance management as well.
With CakeHR, you can create and enforce custom time-off policies that work for you. Importantly, you can handle all these functionalities, such as leave requests and approvals from within the software. Similarly, employees can request time off from anywhere through their mobile apps. Using the employee portal, they can also see their schedules and timesheet data.
CakeHR's timesheet dashboard gives managers an overview of an employee's total work hours broken down into segments such as time in, out, and breaks taken. Additionally, managers can automate this feature to speed up the approval process.
CakeHR Pricing
CakeHR's pricing plans have a good and bad side to them. The good part is that you need to pay only for the module you choose. However, if you want all the modules, you will have to pay a whopping $112/person/month.
The software has 6 modules to choose from:
Leave management – $4.2/person/month
Performance management – $4/person/month
Shift Scheduling – $2.5/person/month
Timesheets – $1.5/person/month
Expenses – $1/person/month
Recruitment – $99/person/month
As you can see, the recruitment module is the most expensive. Without it, the cumulative cost comes to $13.2/user/month.
CakeHR Features
Leave management
Timesheets
Expense management
Shift scheduling
Clock in/out
Mobile app
CakeHR Does Not Offer
Workflow management
Payroll management
We hope the above guide helps you zero in on the ideal software for your organization. Do leave your comments and feedback to help us improve.