"Start an online business," they said. "It will be fun," they said. And so, you did. You worked hard, juggling budgets, vendors, and clients with aplomb and all by yourself. But, as the business grew into a successful one, you had to employ more and more people remotely. Now you spend half your time doing the full-time job of creating complex schedules that only a supercomputer should. If this sounds familiar, then you may be an online business owner who has run into the nightmarish, but necessary task of employee scheduling.
You are not alone in this dilemma. Most managers spend a significant chunk of their time getting employee schedules just right and for a good reason too. Creating a cohesive work schedule is essential for any business. Any disruption in said schedule can send a company into a tailspin. PSA Airlines found this out the hard way last year when a scheduling problem caused them to cancel over 2000 flights.
This scenario is where a scheduling app comes in handy. A good scheduling app can turn employee scheduling from a trek up Mount Everest to a walk in the park.
We take a comprehensive look at how scheduling apps can help an online business achieve that elusive perfect schedule and reveal our picks.
What is an employee scheduling app?
Simply put, an employee scheduling app saves you from slaving over mountains of paperwork trying to figure out who works when and for how long. It is sophisticated software that factors in everything from employee leave schedules to peak hours to create an error-free timetable that both managers and employees can easily follow.
How employee scheduling apps help online businesses
While employee scheduling software is a must-have tool for enterprise-level corporations, does a small online business need to invest in one? The answer to that question comes down to the return-of-investment factor, and in most cases, the ROI is excellent.
Here are a few advantages of using an employee scheduling app for online businesses.
1) Save time
According to Deputy, managers, on average, spend close to 3 hours every week using spreadsheets to coordinate and schedule employee shifts. That adds up to almost two full working days in a month and one month in a year where all you are doing is creating a cohesive work schedule. In every business, time is money. Every minute saved is a penny earned. Once an employee scheduling app is up and running, it can finish hours' worth of work in a matter of minutes. Thus, the use of a scheduling app frees up valuable resources to focus on other essential tasks.
2) Save money
Along with the time saved, employee scheduling apps can also save money for a business by creating an optimum schedule that reduces unnecessary overtime costs. It can track historical data to predict the resources needed for each shift and allow managers to assign work stints accordingly. It also gives an overview of total labor costs that help set future budgets.
3) Reduce errors
A manual scheduling method, no matter how conscientious, is prone to error. Managers can easily overlook important factors such as leave requests and unexpected last-minute changes when making a schedule. This oversight can result in scheduling too many or too few personnel for a shift. Even worse, an employee could get the dreaded 'clopen' shift where he or she does the last shift of the day and the first shift of the next day. Such errors are virtually nonexistent with employee scheduling apps.
4) All-round convenience
Not only is using employee scheduling software useful for a manager to stay on top of things, but it is also convenient for the employees themselves. Team members can simply check their mobile apps to check their schedules or clock in. Most apps also allow team members to swap shifts, eliminating the need for the manager to make back-and-forth calls to fill shifts. Apps with GPS tagging are especially beneficial for businesses with a mobile workforce as they allow managers to check in with the workers remotely.
Top 5 Employee Scheduling Apps for Any Businesses – Reviewed
1) Deputy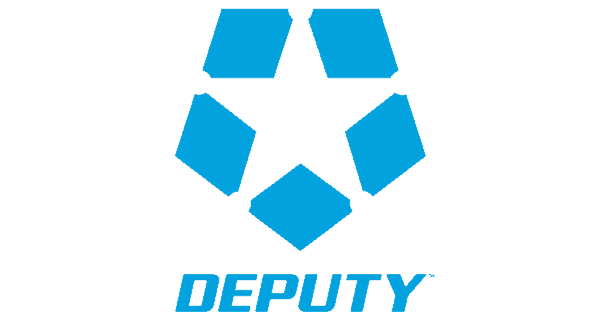 Features
Deputy is a cloud-based employee scheduling app that is a good fit for both small and big businesses because of its flexible pricing plan. It has an easy-to-use interface that takes no longer than a few minutes to set up. Managers can create new shift structures and add employees to each time slot using the drag-and-drop method. They can then use the tasks feature to assign tasks to each worker. Deputy also allows users to upload schedules from Microsoft Excel, cutting down initial setup time even further.
The app's dashboard displays functions like locations, the employee database, and reports, all of which can be clicked to reveal additional information. It is particularly useful for businesses that have more than one location allowing managers to create multi-location schedules from one app. The dashboard is also customizable with several colors to choose from.
Profit Predictor
It also displays the labor costs of each shift and contrasts them against expected profits for that period. This feature gives users the foresight needed to allocate more staff only during more profitable hours, such as happy hours or weekends. Deputy also has a 'stress profile' feature that allows managers to set the maximum number of hours an employee can work, which ensures that an employee does not do too much overtime.
Employee-friendly
Deputy is a very employee-friendly app. It allows employees to check their schedules, request a leave of absence, and even claim an open shift. Team members can swap shifts with other co-workers with a simple request. They can also clock in using their mobile devices, which is a handy feature for remote workers. Managers can also set up the app to take a picture when an employee clocks in. The presence of this feature helps discourage employees from clocking in for their friends. The news feed feature allows managers to pass on important information such as a team meeting to the staff.
Performance Management and Integrations
Its performance management feature allows managers to openly or privately commend a team member. Conversely, they can also use it to record any infractions. Deputy's reports feature automatically produces various reports such as employee leave reports, employee and location statistics, and profit statistics. It integrates with over 250 applications. It also integrates with email and sends out notifications for every schedule change or task update made.
Pros
Easy to use
Provides schedule notifications through the app, text message, and email
Enables employee communication
Allows third-party integrations
Cons
Does not sync with Google Calendar
Inconsistencies with features offered between Android and iOS apps
A buggy timesheet feature on the mobile app is available only in English
Price
Deputy has four pricing plans.
1 – Scheduling Plan
$3/user/month
Employee scheduling
Auto-scheduling
Leave management
2 – Premium Plan
$5/user/month
Additional timesheets and payroll integration functionalities
3 – Enterprise Plan
Custom configuration and price
4 – Weekly Plan
Designed for businesses that run short-term events such as weddings or conferences
The same price as premium, but you only pay for the active users in a given week
2) When I work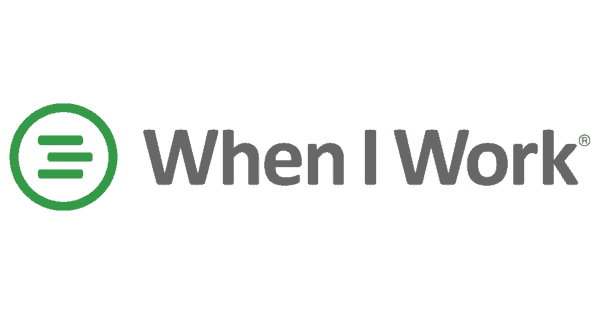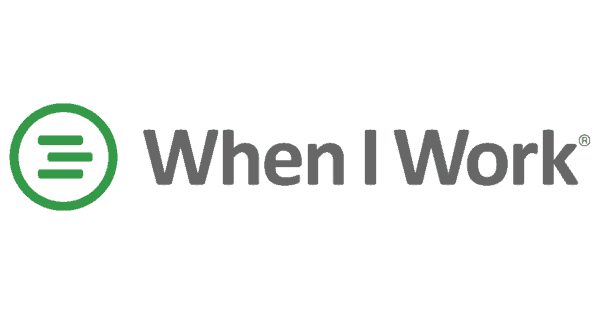 Features
When I Work is a feature-rich online scheduling app that can be used for scheduling and task management in multiple locations. It has an intuitive user interface that is easy to set up and use. The app's dashboard displays locations, schedules, and attendance notices. The employee onboarding process is a simple procedure that requires users to upload a photo and basic information. The software can send alerts via email and the mobile app. Managers can also upload existing data from Microsoft Excel spreadsheets.
The scheduling feature supports multiple locations and can be configured to show a daily, weekly, or monthly schedule. All employees attached to a site appear on the left of the screen, and managers can simply drag and drop available team members into each shift. Managers can also add custom shifts and breaks to the day's schedule before publishing it. The budget tab gives managers an overview of the cost of each shift with overtime alerts.
Employee-friendly
This app gives employees a lot of say in their schedules. Workers can show their availability for a shift with a simple thumbs-up or thumbs-down symbol. They can also specify how many hours they want to work. Additionally, users can customize how they get their alerts and even specify sleep times to mute the alerts entirely. When I Work also allows employees to grab open shifts, drop shifts, and swap shifts with other employees. It has a robust messaging system with which team members can start individual or group chats.
Check-in and Reporting Features
Workers can clock in and clock out with an on-premise dedicated terminal or using their mobile devices in remote locations. The Geo Check-in feature provides GPS tracking and live map views for easy verification, although some users have complained that this feature freezes up from time to time. Employees can also upload timesheets for a manager's approval through the app.
The app's reporting feature provides managers with attendance and working time data that make it easy to analyze trends and discover disturbing ones. When I Work has live chat support for all their plans, including the free one.
Pros
Intuitive user interface
Schedule multiple locations
Individual and group messaging
Overtime alerts
Task management
Responsive customer support
Cons
The attendance feature is only available as a paid add-on
Issues with the GPS feature not picking up location correctly
The clock-in and clock-out feature has been found to be slightly buggy
Android mobile app sometimes freezes
Price
When I Work has five pricing plans
1 – Scheduling Free
Free for up to 75 employees
Scheduling for one team and location
Group messaging
Pay $2 for attendance add-on
2 – Scheduling Basic
$1.50/user/month
Schedule more than 75 employees on multiple locations
Ten days of advance scheduling
Pay an additional $1.30 for attendance
3 – Scheduling Pro
$2.25/user/month
Advanced scheduling options
Auto scheduling
Manage team tasks
Monitor task progress
Pay an additional $1.60 for attendance
4 – Enterprise
Customized solutions and payment
API access
Personalized onboarding
Increased security with SAML sign-on
Attendance included
3) ZoomShift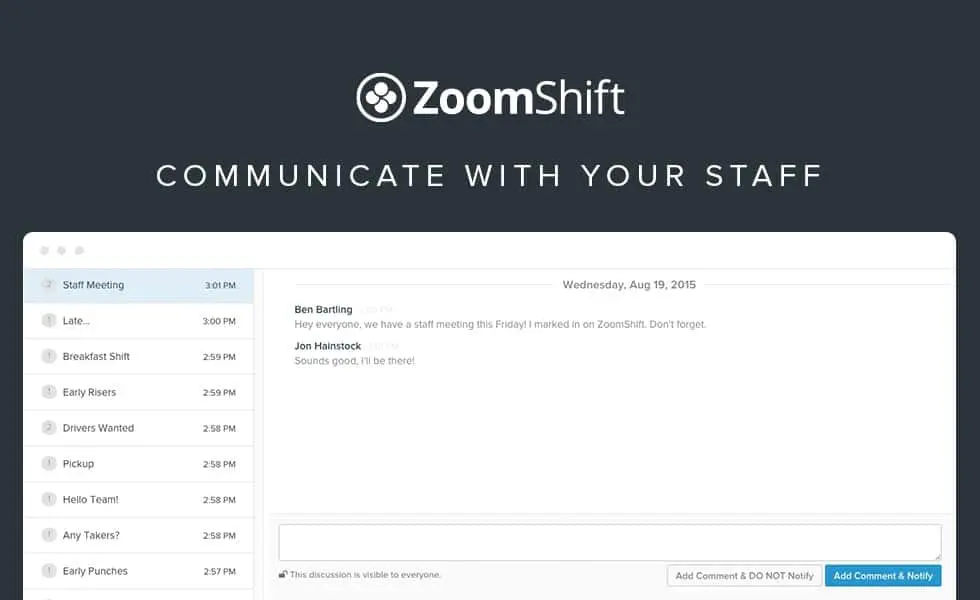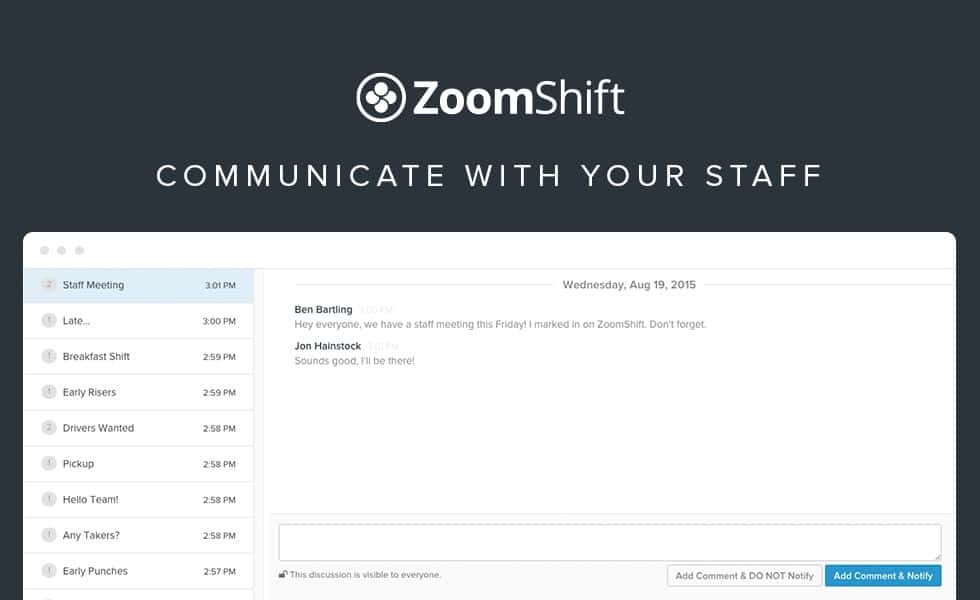 Features
Designed with small businesses in mind but packed with features that big corporations will enjoy, ZoomShift is a simple yet effective employee scheduling app. It has an organized and easy-to-use interface that makes the initial setup easy. Managers can either enter a team member's details themselves or send a link to an employee to get them to do it. They can also upload existing employee data in .csv form from other external apps. Managers can use the team tab to assign roles and wages to employees, a feature that makes it easier for them to budget tasks.
ZoomShift's schedule dashboard can be customized to show daily, weekly, or monthly schedules. Users can also differentiate between locations, employees, and tasks by using different filters or color codes for each. Once the schedule is published, the app sends an email, text, or push notification to all the concerned parties. Managers can also configure the scheduling rules for each shift and set it up to show any flags for factors such as leave notices and unassigned or overlapping shifts. These rules ensure that no scheduling mistakes happen.
Employees can see the shifts assigned to them on their dashboard and view their work history. They can also claim any open shifts or swap shifts with their co-workers, although this feature is only available with the premium and enterprise plans. The scheduling feature allows employees to request leave of absence from their managers. It also gives them the option of including a note to explain the reason.
Notifications and Reminders
The time clock feature comes equipped with geo-tagging functionality that allows managers to check that they are clocking in at the right location. Managers can set up automatic reminders to remind the team to clock in and clock out. It will also notify them if a team member forgets to punch in or out.
Timesheets and Integrations
ZoomShift's timesheet feature automatically calculates working hours and wage totals. These timesheets can also be exported and sent to the payroll provider. The app also provides real-time budget updates that managers can use to stay within budgetary confinements. It integrates with applications such as Square POS, Xero, QuickBooks Online, Vend, and Workato.
Pros
Simple and easy-to-use interface
GPS location tracking
Shift conflict alerts
Email, text, and mobile app notifications
Budgeting in real-time
Cons
No way to set working hour limits
Weak reports feature
Features like shift swapping only available on the premium plan
No after-hours customer support
Price
ZoomShift has three pricing plans
1 – Starter Plan
$2/person/month
Basic employee scheduling
Payroll reports
Time clock and timesheets
Automatic reminder
2 – Premium Plan
$4/person/month
All features of the Starter Plan
GPS tracking
Activity logs
Overtime alerts
3 – Enterprise Plan
Custom solutions and pricing
All features of the Premium Plan
API access
Priority customer support
Account management
4) Humanity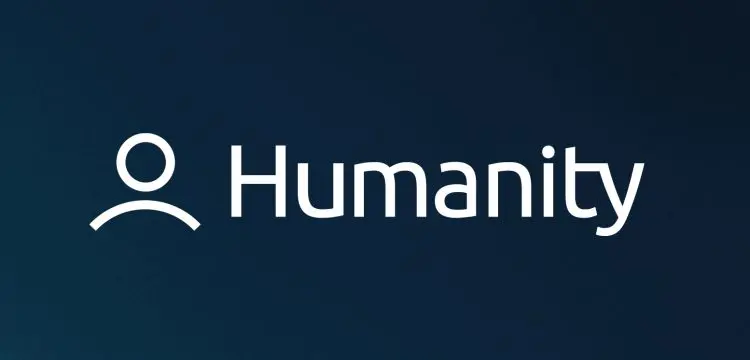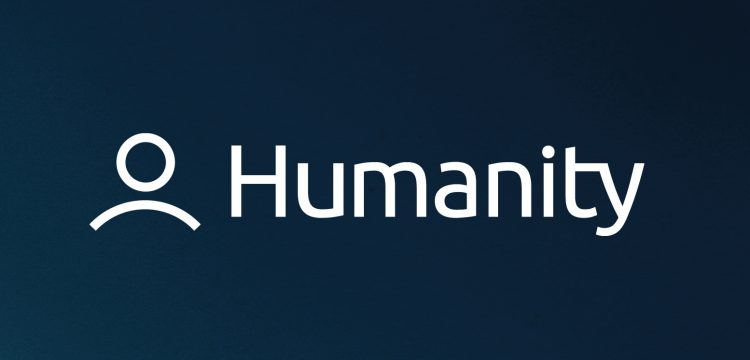 Features
This app, formerly known as ShiftPlanning, has been around since 2010. With a price tag that starts at $60, it is one of the costlier employee scheduling apps on the market right now. For those who can afford it, the advanced features make it well worth the investment.
The user interface is simple and easy to navigate, which given its many features, is an achievement in itself. The initial setup is also easy as any employee data already on hand can be imported using .csv, .xls, .xlsx files. The managers can then assign employees to locations and positions with a simple check-box method. They also have several demo videos on their website that users can peruse before setting up.
Managers can configure the scheduling dashboard to show a daily or weekly schedule. Humanity also allows managers to copy and reuse previous schedules or just set it up to repeat schedules. The software flags and alerts managers in case there is a conflict in the shift. Another great feature is the autofill feature, which creates a schedule automatically using data such as the minimum and maximum shift length and peak hour profits.
Reporting and Integrations
It uses historical Point-of-Service data to provide budget forecasts that allow managers to plan shifts accordingly. The app also has a robust reporting feature that generates time and attendance reports and export them for payroll. Humanity's GPS-enabled time clock allows employees to clock in remotely. Employees can also claim open shifts or swap between co-workers. Besides, its iOS app also takes pictures of employees when they clock in.
The app integrates with nine applications, including Namely, ADP, Workday, and BambooHR. It offers 24/7 all-year-round support through a live chat.
Pros
Easy-to-use scheduling features
GPS clock in
Real-time budget forecasting
Auto-fill schedules
Payroll and timesheet management
Cons
The $60 minimum price point puts it out of reach for smaller businesses
Shift hours cannot be modified after they have been swapped between employees
No monthly schedule available
The mobile app does not have all the features its desktop version has.
Price
Humanity has three pricing plans
1 – Starter Plan
$2/user/month, $60/month minimum
Basic scheduling
Mobile app
SMS, email, and push notification
2 – Classic Plan
$3/user/month, $60/month minimum
All features of the Starter Plan
Budget forecasting
Reporting tools
Auto-fill scheduling
3 – Enterprise Plan
Custom price
All features of the classic plan
API access
Demand-based scheduling
5) Tsheets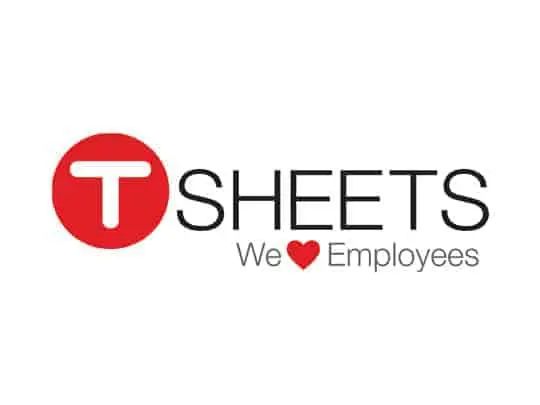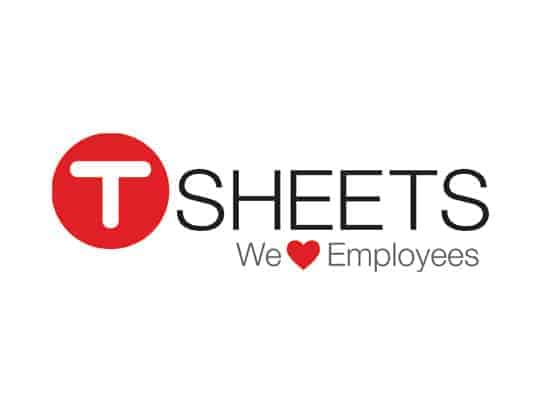 Features
Because of its focus on time tracking, TSheets is a great app for businesses with a remote workforce such as construction companies and cleaning services. This intuitive software is easy to set up and use. The dashboard gives an overview of its features such as the time clock, the schedule, employees on the clock, time off details, pending approvals, and reports. Managers can switch back and forth between the features and assign shifts to employees easily with the drag-and-drop method. Once the manager sets a schedule, employees are notified through text, email, and push notifications.
Who's Working?
TSheets unique 'Who's Working' feature allows managers to monitor their employees. It shows the manager which employees are on the clock along with a map showing their current location. This feature uses GPS for mobile devices and IP addresses for those working with desktops or laptops. It also has a geofencing functionality that alerts the manager if an employee strays outside the designated boundary. Additionally, the app records an employee's location every 10 minutes.
Notifications and Integrations
Employees can clock in using their mobile devices. The app also has facial recognition software that ensures employees do not punch in for their friends. Employees can customize how they receive their notifications. It also notifies managers if an employee has forgotten to clock in or out. TSheets also notifies managers when an employee works overtime. It integrates with a host of external applications, including Xero, Justworks, Qvinci, Aero, Asana, and Breezeworks.
Pros
Intuitive user interface
Mobile app with GPS tracking
Time clock with facial recognition
Geofencing alerts
Employee monitoring
Time tracking and timesheet management
Overtime alert Customizable email and push notifications
Integrates seamlessly with several applications
Cons
All plans have an additional base fee
No after office-hours support provided
Price
TSheets has two pricing plans
1 – Premium Plan
$8/user/month plus $20 base fee
Shift scheduling
Leave management
Mobile app
Time clock with GPS tracking and facial recognition
Real-time reports
2- Elite Plan
$10/user/month plus $40 base fee
All features included in the Premium Plan
Project progress tracking
Geofencing
Budget estimates
Timesheet signatures
Conclusion
Employee scheduling is a cumbersome, but necessary process every online business must tackle. A good scheduling app will help save valuable time, money, and effort for an organization. Also, it creates order, stability, and proper workflow. With it, essential tasks are completed on time, budgets are met, and both employees and customers are happy. Without it, you could end up with a comical situation where everyone or no one shows up to work at the same time.
There are a lot of different employees scheduling apps available on the market today that cater to different business types. In making our top 5 list, we have focused on the ones that have the following factors: ease of use, a robust mobile app, geo-tagging, live map features, and employee self-service features. These factors make our top 5 list an excellent choice for businesses that need to monitor an online or remote workforce. All of them also have free trials that will let you test out the waters a bit before committing to any.
We hope this has helped you choose one that fits your unique online needs.