About
Coming from the production house of Zoho Corporation, Zoho People Plus is a comprehensive human resource management software. However, as its name suggests, it offers a lot more than traditional HRM software. Conventional HR software helps businesses manage employees once they have been recruited. Zoho People Plus goes one step further by streamlining the employee acquisition process as well. It essentially gives you a single unified platform from which you can manage the entire life cycle of an employee from recruitment to engagement. The software has taken the unique approach of integrating features from six of its apps in order to accomplish this.
The six apps are:
Zoho People: A Comprehensive HR solution
Zoho Recruit: A digital recruitment app
Zoho Expense: An expense management platform
Zoho Connect: An enterprise-level intranet app
Zoho Cliq: An internal chat application
Zoho Sign: A digital signature program
Simply put, Zoho People Plus takes the cream of the features from all the above six software and amalgamates it into one cohesive standalone application. In other words, you get the best of (in this case) six worlds.
Who is Zoho People Plus For?
Most Zoho products are a good fit for small to medium-sized businesses. The People Plus HRM software is no different and has an affordable pricing plan that most SMB budgets can accommodate. That said, it has features such as time-tracking, absence management, and workflow automation, all of which are important functionalities that enterprise-level businesses look for in an HR platform. The software is missing a payroll feature, which could prove to be a deal-breaker for some businesses. However, if you already have payroll software in place, this HRM app will be a great addition to that. Zoho's human resource platforms are especially useful for recruiting agencies. It boasts of clientele, such as Talentra and Talent Town.
Pricing
While most Zoho products have a free plan, that is not the case for Zoho People Plus. The software takes a one-size-fits-all approach to its pricing and has only one plan. You can make payments monthly or annually. The app offers a 20% discount for annual subscriptions. Importantly, the app has a 15-day free trial that you can avail of without having to fork over your credit card details. Also, the platform is a pay-as-you-go service so that you can cancel your subscription anytime without legal ramifications. However, for annual memberships, you will need to cancel within the first 45 days to receive a refund.
Here are the pricing and feature details:
$8/user/month billed monthly or $10/user/month billed annually
Events
Tasks
Workflow management
Resume extractor
Social integration
Time tracking
Employee onboarding
Leave and attendance tracking
Expense reports
Internal chat
Email and push notifications
1-1 audio and video calls
APIs
Audit trails
Features
Talent acquisition
Applicant tracking
Workflow management
Employee database management
Attendance and leave management
Time tracking
Expense tracking
Team collaboration
Reports
Document management
1. Talent Acquisition
The software streamlines the process of sourcing, tracking, and hiring new talent. What's more, it allows you to do all these functionalities from a single platform. It integrates with all the premium job boards such as LinkedIn, and Indeed so you have easy access to candidate profiles. Additionally, its advanced search options allow you to filter talent more efficiently. The software also makes posting jobs an easy task, with recruiters being able to do so with a single click. Furthermore, the app parses resumes from different sites and selects candidates based on user-set criteria. These software-picked candidates are then pushed into the app's hiring pipeline.
2. Applicant Tracking
The candidate dashboard gives recruiters a clear overview of all open job postings, along with the number of screened and interviewed applicants for each post. You also get an in-depth look at candidate profiles, complete with name, contact details, and social links. The software intuitively consolidates candidate information and updates interview schedules as they move down the recruitment pipeline.
3. Workflow Management
With Zoho's Blueprint feature, you can design a customized workflow that will automate a chunk of the recruitment process. The software allows you to set assignment and task rules, along with specific conditions that need to be met before a candidate can move on to the next step. In this way, it covers all the bases and takes repetitive tasks such as data consolidation off your hands so that you can concentrate on other important areas. Once an applicant is selected, you can also ensure a seamless transition by creating an onboarding workflow that tracks important tasks such as allocating an office and assigning an official email address.
4. Employee Database Management
This HRM app maintains a central repository of employee data from which you can easily keep track of and search for personnel information. Helpfully, team members can access their accounts and update personal information on their own, taking yet another task off your hands. The software also equips you with the tools needed to measure and appraise your employee's performances. Using metrics such as key result areas (KRAs), goals, and skillsets, you can add a weightage or score to each employee. Then, when the appraisal cycle comes around, you can use these scores along with multi-rate reviews to justify your choices.
5. Attendance And Leave Management
The software has an easy-to-use attendance and leave management feature. All you need to do is specify your working hours, pay periods, and permissions, and the software takes care of the rest to give you error-free data for payroll processing. Employees can check-in and out from their desktop or mobile apps, which have geo and IP-tracking for easy validation. Additionally, you can integrate your biometric device with the application to enable an additional layer of authentication. For leave management, you can create multiple custom leave types and track everything from vacation days and sick days to training days across your business.
6. Time Tracking
When using People Plus, you can keep track of the time each employee spends on various jobs and generate timesheets accordingly. The time tracker allows employees to log work hours on a daily, weekly, or monthly basis. Helpfully, the software alerts users to document their time at regular intervals. Another helpful feature is the job schedule tool with which you can schedule and assign jobs to team members. Once again, the software simplifies this process by allowing you to schedule multiple jobs in one go and create repeat schedules for recurring tasks. You can also create a timesheet approval process for managers to follow, which facilitates seamless payroll processing.
7. Expense Tracking
The software allows you to keep track of expenses in several ways. First, you can capture receipts using the mobile app, and the platform will automatically log all the details into the expense tab. Second, you can drag-and-drop receipts into the software or, alternatively, email them to the expense manager's ID. Finally, the app syncs corporate credit card transactions and automatically converts them into expenses. Importantly, managers can set expense policies such that each department has a different reimbursement limit. As with most of its features, you can create an automated workflow that guarantees that expense reports are sent to the right personnel for approval.
8. Team Collaboration
Zoho People Plus boasts of robust team collaboration features that provide a host of ways that team members can connect with each other. With the dedicated in-app chat feature, employees can initiate one-on-one or group chats with internal and external users. The software stores up to 10,000 messages per organization. Additionally, team members can share an unlimited number of videos, images, and files with each other through the chat window. The app also supports audio and video calling along with screen sharing. However, this can only be done on a one-on-one basis. Another collaboration tool is the social wall, where employees can engage in discussions with each other or troubleshoot issues with other departments.
9. Reports
This HRM platform has several pre-defined reports for each module, including job opening reports, candidate-by-source reports, employee performance reports, timesheet reports, and expense reports. Aside from the generic reports, you can also create custom reports by varying parameters such as dates, events, or tasks. Unfortunately, the reports are module-based, and you cannot generate inter-module data analytics. That said, it integrates seamlessly with Zoho Analytics to give you advanced reporting capabilities.
10. Document Management
Like the employee database, the software has a central repository that stores all your documents such as employee contracts, offer letters, non-disclosure agreements, and appraisal letters. You can set user permissions such that only trusted personnel can access the document database. With the integrated digital signature feature, you can send and receive documents securely.
Integrations
The software has slim pickings in this department. It integrates with only around 30 third-party applications. One reason for this is that Zoho Corporation has apps for a host of business processes, from project management to social media management and a whole lot in between. When your parent company has so many applications, why would you integrate with external ones? Zoho People Plus integrates with most of the Zoho suite of applications. Here are a few of its other important integrations:
G Suite
Microsoft Outlook
Zapier
Facebook
Twitter
Xero
Quickbooks Online
Slack
Office 365
DropBox
One Drive
Box
Evernote
Uber
More about Zoho People Plus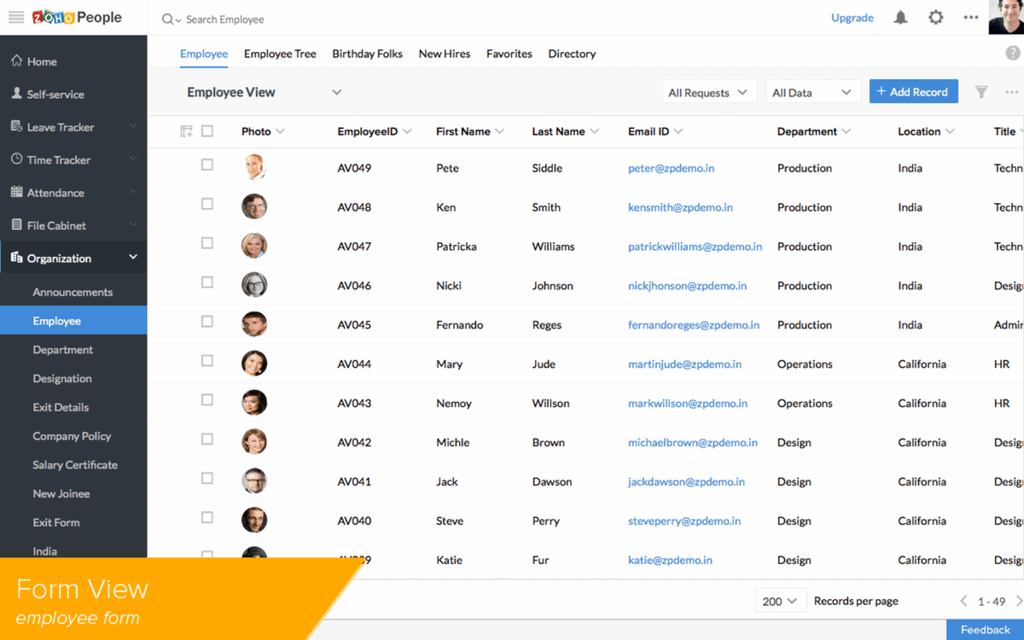 Set Up And Ease Of Use
Given its sheer number of features, it is understandable that the software takes a little time to configure. You will need to populate the app with mandatory fields such as candidates, employees, and permissions before you can start using it. Helpfully, the program lets you import data in bulk for each module from external sources. It supports imports in CSV, XLS, and ZSLX file formats. You can even import candidates directly from Indeed.
Once you have set it up, Zoho People Plus is easy to use. The interface sports a clean look with intuitively placed buttons. A horizontal menu that runs across the top displays all the software's main features. It also hosts a search tool, calendar shortcut, and a drop-down menu for common actions. The home page gives you an overview of all your activities in a widget form. You can customize the home screen by rearranging, adding, or deleting widgets easily.
Device Compatibility
| | | | | |
| --- | --- | --- | --- | --- |
| Desktop Browser App | Android App | iOS App | Windows Phone App | Apple Watch App |
| ✓ | ✓ | ✓ | ✓ | X |
The mobile versions of the software do not have the same functionality as their desktop iteration. That said, employees can perform core HR tasks such as clock-in and out, apply for leave or shift changes, and log expenses even from remote locations using their mobile devices. They can also chat with team members on the go.
Customer Support
Zoho People Plus offers only weekday phone and email support to its users. Admins get additional chat support. Compounding this is its sparse knowledge base. While the help center has module-based user guides, the FAQ and admin guide sections have nothing to write home about.
Online Security
The software covers all the bases to ensure top-of-the-line data security with measures compliant with industry standards. These include:
Two-factor authentication
Restricted IP
Data encryption
SSL support
Advanced password policies
Single SSO sign-on and Google sign-on
24/7/365 surveillance and biometric access restriction at server locations
Pros And Cons
Pros
Powerful talent tracking and acquisition tools
Robust core HR features
Outstanding team collaboration tools
Excellent employee and database management
Easy-to-use UI
Cons
Limited integrations and customer support
Conclusion
There's no doubt about it, Zoho People Plus goes above and beyond traditional HR platforms to give you advanced employee management capabilities. Its 6-pronged approach allows you to cover most areas in HRM. That you get all this functionality at one affordable rate is also a big bonus. However, the software misses its mark with the noninclusion of a payroll feature. Also, its lackluster customer service and integration features make it lose some of its sheen. Thankfully, the software has a free trial that you can take advantage of to see if it makes you a master rather than a jack of all HR trades or not.