About
Launched in October 2014, Zoho CRM Plus purports to be an all-inclusive CRM software. It streamlines all customer-related transactions by integrating various operations such as sales, marketing, and analytics, to name a few, into one easy-to-use platform. As the name implies, CRM plays a starring role in this software. However, you also get a host of supporting characters with it. These added functionalities ensure your customer enjoys a superior experience at every stage, from engagement to support.
The software integrates features from 10 Zoho applications. These are:
Who Is CRM Plus For?
This CRM platform comes with an affordable pricing plan, a feature that will please small businesses with tight budgets. At the same time, it has tools such as data analytics and customer support that large companies look for in their CRM software. That you only pay for one application while getting the functionality of 10 is also a big bonus to businesses that have several departments. Simply put, Zoho CRM plus is a good fit for businesses of all sizes, from solo entrepreneurs to enterprise-level corporations.
Pricing
The software has a single pricing plan that can be billed monthly or annually. Like most other software, it offers a 10% discount to customers who opt for the annual subscription. Also, nonprofit and charitable organizations get additional discounts. Both the monthly and yearly subscriptions come with a generous 30-day free trial, which you can use to test out the waters thoroughly before committing to the platform.
Here are the details of the software's prices and features:
$50/user/month billed annually or $60/user/month billed monthly
Salesforce automation
Account and contact management
Marketing automation
Product customization
Workflow Management
Email templates
Customer management
Artificial Intelligence
Advanced analytics
Project management
Social media management
Custom reports
Features
Sales Management
Marketing Management
Social Media Management
Customer Support Management
Workflow management
Team Collaboration
Project Management
Contact, Account, and Inventory Management
Analytics and Reports
1. Sales Management
Because of its seamless connection to multiple platforms, the software gives you the ability to harvest leads from many sources. These include social media, live chats, web forms, surveys, LinkedIn, and email. Helpfully, the intuitive app assigns each generated lead with a profitability score so that sales agents know which ones to prioritize. It then pushes potential customers down the sales pipeline by automatically assigning leads to sales representatives so they can follow up via email or telephony. What's more, it also provides agents with the best times to contact customers based on metrics such as location and profession.
2. Marketing Management
Zoho CRM Plus allows you to create, send, and track emails with ease. Using the software's template gallery that hosts a plethora of pre-made email templates, you can design an email campaign fast. The pre-made templates are available for different holidays, seasons, and occasions, such as customer birthdays. However, if you want to go old school and design your template, the app streamlines that too. Its email editor allows you to customize your email or newsletter whichever way you want quickly with its drag-and-drop functionality. Additionally, the software supports A/B testing so you can test out different versions of your campaign and glean which one is more effective. This feature allows you to plan future campaigns based on variables that worked best.
3. Social Media Management
This CRM app gives you the tools to plan and manage all your social media platforms from one dashboard. With it, you can create and enforce a publishing schedule across multiple channels that ensure your audience hears from you regularly. The software's SmartQ feature sees to it that posts are scheduled at times when your customers are most likely to see them.
Another nice feature is the app's browser extension, zShare. This tool helps you share curated articles and blogs to your social media platforms right from your browser with one click. What's more, the platform's inbuilt URL shortener ensures that the links you share are short and sweet. Additionally, you can use the software to monitor hashtags and keywords in real-time with its Live Stream feature that updates you whenever someone mentions you on social media.
4. Customer Support Management
The software has a multi-channel ticketing system that collects client inquiries from various platforms such as social media, email, and telephony. Once collected, the app intuitively prioritizes the tickets according to status and customer type. It then automatically assigns them to agents. The software also provides agents with contextual customer information from all departments such as sales or marketing so that they have a bird's-eye view of the customer. Furthermore, you can use the app to create a knowledge base and host a community forum through which your customers can access product related FAQs, articles, blogs, and interact with each other.
5. Workflow Management
This CRM platform's workflow management tool is called Blueprint. With it, you can create automated sequences for any and every process in your organization to ensure that the right steps are being followed. Importantly, the Blueprint builder and editor have an easy-to-use drag-and-drop functionality that lets you customize processes such that they fit your business' unique needs. The software also allows you to automate a ton of repetitive sales and marketing processes, such as assigning leads or sending follow-up emails. This automation not only saves time but also ensures that no step falls through the cracks.
6. Team Collaboration
Zoho CRM Plus has robust team collaboration tools that simplify and organizes communication between employees across all departments. The app has a real-time messaging feature with which team members can start individual or group chats. They can use the @mention feature to attract a co-worker's attention to an ongoing conversation and tag conversations for future reference. Additionally, employees can share spreadsheets, PDFs, and presentations with each other easily. You can even start a one-on-one video call or a screen-sharing session with anyone within your organization.
7. Project Management
You can use the software to plan and execute your projects, manage resources, and assign tasks to team members. The app has Gantt charts that give you a visual overview of your project schedule, a feature that helps you not only track project progress but also keeps you informed of any detours from your original plans. It also alerts you of upcoming crucial tasks and their dependencies. With the software's timesheet module, you can log billable and non-billable hours. These time entries can be entered manually or automatically with timers. You can also set up a timesheet approval process that ensures timesheets are submitted on time and approved by the right personnel.
8. Contact, Account, And Inventory Management
The app's contact and account module is a central repository of customer and vendor data from which you can easily search for information such as contact email addresses, location, and billing methods. Along with this, it also stores data such as purchase history, social media mentions, and email interactions, all of which give you a 360-degree view of your contacts. The software's inventory module allows you to capture details of your inventoried items such as product name, cost, image, and stock-keeping unit (SKU) number. Also, it alerts you when stock levels are low.
9. Analytics And Reports
The software, boasting of powerful analytics and reports modules, has over 100 pre-made reports and 300+ dashboards to choose from. The dashboards display analytical information pulled across modules, giving you valuable business insights. It pulls data from multiple sources, including cloud drives and databases. Besides these, you can also create an unlimited number of custom reports using filters. Additionally, there are several options, such as charts, pivot tables, and KPI widgets with which you can build a customized visual report. These reports can then be scheduled on a daily, weekly, or quarterly basis.
Integrations
Zoho CRM Plus falls flat in the integrations department. It integrates with only around 20 third-party apps. One reason for this deficiency is that the software is in itself an amalgamation of 10 apps that cover most aspects of the CRM universe. That said, it is missing some critical integrations such as Zapier and would do well to open itself to more outside connections.
Here are some of its essential integrations:
G Suite
Dropbox
Office 365
MailChimp
SurveyMonkey
Outlook
Twilio
Google AdWords
Adobe Sign
More About Zoho CRM Plus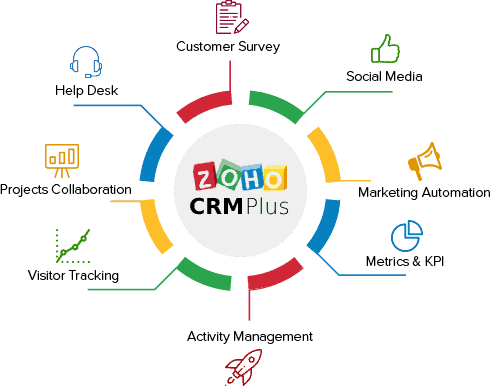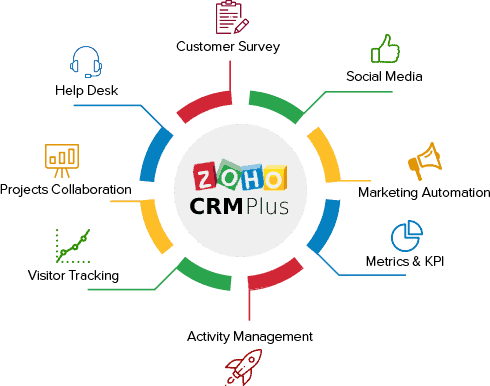 Set Up And Ease Of Use
Being a feature-rich software, Zoho CRM Plus takes a little time to set up. You will need to fill in your business information, add and map employees to teams, assign user permissions, and configure the software's modules before you can use it. Thankfully, the onboarding process, though time-consuming, is easy to follow with the software offering links to guides that walk you through the process. Furthermore, the software has a centralized console called the admin panel that lets you manage your business modules, subscriptions, and account settings from one location.
Once set up, the app is easy to use and boasts of a straightforward and intuitive user interface. This app's home dashboard is similar to other Zoho products with a horizontal menu that hosts all your selected modules and a drop-down menu on the left side that allows you to take a deeper dive into the software's other features.
Device Compatibility
| | | | | |
| --- | --- | --- | --- | --- |
| Desktop Browser App | Android App | iOS App | Windows Phone App | Apple Watch App |
| ✓ | ✓ | ✓ | X | X |
The mobile adaptation of the software is as robust as the desktop version, giving you a lot of on-the-go functionality. A salient feature with the mobile app is its business card scanner. With it, you can scan a business card or QR code, and the software automatically converts it into a contact. What's more, the mobile scanner can read business cards in 17 different languages, including Chinese, Japanese, Portuguese, and German.
Customer Support
Zoho CRM Plus has three support plans for its customers. Here are the details of each plan:
| | | | |
| --- | --- | --- | --- |
| Plans | Classic Support | Premium Support | Enterprise Support |
| Availability | Trial + Paid Customers | Paid Customers | Businesses with more than 25 users |
| Cost | Free | 20% of licensing fee | 25% of licensing fee |
| Subscription Period | Monthly or Annual | Monthly or Annual | Annual |
| Telephone Support | 8/5 | 24/5 | 24/7 |
| Live Chat Support | 8/5 | 24/5 | 24/7 |
| Onboarding Support | – | Yes | Yes |
| Dedicated Account Manager | – | – | Yes |
| 1-on-1 Sessions | – | Yes | Yes |
| Quarterly Reports | – | – | Yes |
| Response Time | 8 Hours | 3 Hours | 1 Hour |
Online Security
The software employs all the bells and whistles for online security. These include data encryption, audit trails, regular firewall updates, network redundancy, and 24/7 surveillance and biometrically restricted access to server locations. All their security measures are compliant with international cybersecurity standards.
Pros And Cons
Pros
Robust sales and marketing features
Excellent team collaboration tools
Solid mobile app
Powerful analytics and reporting
User-friendly interface
Customer-centric support tools
Cons
A limited number of integrations
24/7 customer support requires an additional fee
Conclusion
With its abundance of features and affordable price point, there is no doubt that Zoho CRM Plus is an ideal software for businesses looking to go beyond traditional CRM solutions. The cross-integrated software has a lot going for it with its powerful automation features that make attracting, converting, and keeping a customer an easy task. Conversely, going against it are its limited number of third-party integrations and add-on fees for priority customer support. If you are already a Zoho user, these negative factors may not come as a surprise to you. For new users, however, they may prove to be deal-breakers. That said, the software's exceptional armory of features certainly merit that you take advantage of its generous 30-day free trial to see if it is the right solution for you.