About
Founded as Adventnet in 1996 in India, Zoho Corporation renamed themselves after their online suite of apps in 2005. With nearly 15,000 employees globally, Zoho focuses on elegant software solutions to streamline and manage your business better. Their products specifically help you create, collaborate, and communicate between the different teams. The result is increased efficiency and productivity.
Significantly, as of 2019, Zoho's products have 50+ million users. Although the organization's roots are in network management, Zoho has continued to add to its products with an average of 2-3 releases per year. Keep this in mind, while we will look at the products, their uses, and pricing in detail.
Products
For years, Zoho has notably released solutions in all these areas:
Sales
Marketing
Help Desk
Finance
People & culture
IT
Custom Solutions
BI & Analytics
Email & Office
Collaboration
In fact, each of these knowledge areas also has multiple product offerings. Here is a detailed breakdown of all.
Sales:
CRM
Zoho CRM leverages Salesforce automation with process management and analytics to help businesses translate their leads into revenue. Some of the features of Zoho CRM are multi-channel lead generation, extensive analytics, and sales enablement. Zoho helps in predictive sales using lead and deal prediction and sentiment analysis. It also offers marketing automation to generate and nurture leads. Not only this, but you can interact with other members of your team through chat, feeds, notes, and groups. Additionally, security is a high priority nowadays where customer data is concerned. This product ticks all the boxes in compliance and data protection.
Pricing plans vary between Standard at $12/user/month, Professional at $20/user/month, and the most popular Enterprise plan at $35/user/month. The Ultimate edition is $100/user/month.
SalesIQ
Nowadays, a lot of visitors on a website simply wish to ask a few questions before deciding to purchase a product. Overall, this live-chat solution promotes your business better, magnifies your marketing efforts, and increases your ROI. Some features include accurate tracking of visitors, and analyzing visitor insights and scoring them. Finally, you can automate the first level engagement and gather necessary information. The system automatically then pushes it to the chat queue.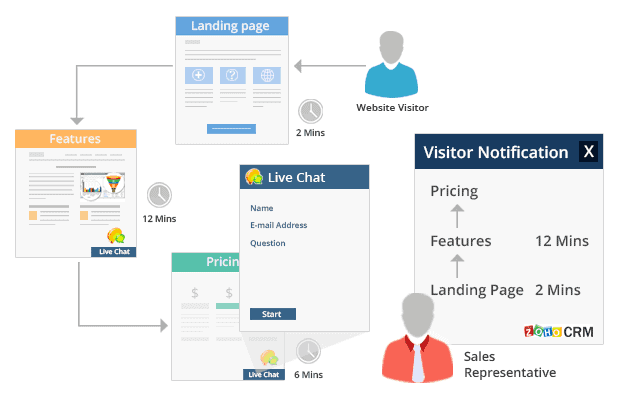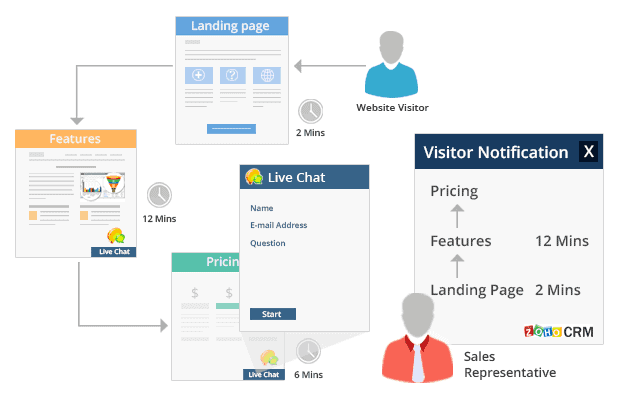 Sales IQ actually integrates well with other Zoho apps helping you streamline your business. Apart from the free 15-day trial, you can opt for the Basic $17 plan for three operators billed per month, the Professional at $53 for five operators, or the Enterprise version for $116, including ten operators.
Contact manager
Online contact management is made easy, allowing the organization of contacts, tasks, and deals in one place. This product offers a unified view of business contacts and activities. The categorization and labeling of your information are intuitive and versatile across multiple parameters. Similarly, searching is easy with advanced intelligent features. You do not have to reinvent the wheel but simply adopt one of the many templates that Zoho offers. Integrate with Forms to capture visitor information instantly.
Like all other Zoho products, you can avail of the free version for a single user, a $12.5 Smart plan for 25 users, or the Ultra version for $20.83 for unlimited contacts.
SalesInbox
This real-time solution integrates your email and CRM together. Visually, you can see your pipeline, ranked and organized based on what stage each lead is in. SalesInbox uses machine learning and intelligence to categorize your emails into leads, contacts, and colleagues. Reference to a conversation history instead of sifting through emails. Details about a lead are readily available, including history, sales cycle, and notes about that lead. You can also automate your response to a new lead. Formulating a follow up is all in a day's work with this solution at your fingertips.
The solution comes at this time with a signup and a free trial.
Motivator
Zoho CRM integrates well with this sales activity management tool to capture real-time insights into sales activities. This feature lets you focus on the behavior and habits of your sales team by capturing performance indicators. You can boost performance with clear targets, and motivate by broadcasting KPIs, targets, and contests.
You can choose from a variety of plans, including a free variant, a $60/month plan for five users, a $100 plan for ten users per month, or a 25 user pack at $200/month.
Bookings
For medium and small businesses, it is essential to reduce the no-shows for an appointment. Rather than using traditional notes and post-its, you can automate your scheduling and notification processes. The service industry benefits most with this product, as it is compact and comprehensive. The applications are varied, from one-on-one services to class registrations and asset rentals. You can bundle your services, get paid online, send reminders, and even analyze reports.
Pricing varies between $15 and $40 per month for the Basic and Premium plans, respectively.
Bigin
In the pre-launch stage, Bigin lets you organize the lead-to-deal process, including emails, tasks, notes, and activities. This bundle helps you engage prospects better, to manage pipeline more effectively, and to close deals quicker. You can subscribe to the free edition or the Express edition at $7/user/month.
Marketing
Social
It's no surprise that Zoho has a product to manage a brand's social media, given that this sector is growing in popularity and use. A business can schedule posts in advance, monitor the timeline, and create analytical reports to rate your performance. It will now be easy to visualize your content pipeline and plan your audience engagement. The monitoring dashboard offers insight into all the feeds that you want to pay special attention to, ensuring that you are not missing anything important.
The offerings vary for individuals & businesses and agencies. For individuals, the plans are either Standard ($10/month) or Professional ($25/month). For agencies, you can choose between $200/month or $300/month.
Campaigns
Businesses run campaigns either on an on-going basis or at a fixed interval. You can build an extensive customer base through this product that allows you to create, send, and track your campaign efforts. Your job is more comfortable with the pre-built templates. The simple editor and automation tools give you excellent value for your money. The features include subscriber management, signup forms, campaign editor and management, and automation.
There are three plans to subscribe, namely, the email-based plan at $32/year, subscriber-based plan at $54/year, or pay-by-email credits starting from $6.
Forms
When you get data from your leads, you want the information to be accurate and high quality. With the templates that Forms has, you can create and share data, configure notifications, and streamline data collection. You have complete control over your data collection, from designing to creating, integrating, and analyzing. Not only is Forms useful for desktop applications, but you can also use it for mobile device data collection as well.
As with all Zoho products, the free version is suitable for three forms with unlimited reports. The paid subscriptions vary between the Basic ($8/month) for one user and endless forms, Standard ($20/month) for ten users, Professional ($40/month) for 25 users, and Premium ($80/month) for 100 users.
Zoho also offers the following to help support your needs in marketing your business.
Survey – Create a survey in minutes, reach a wider audience and analyze results in minutes
Sites – Helps you focus on getting all the information about your business on the website in a way that will attract maximum customers.
PageSense – Measures conversion and helps you understand your customer's behavior by tracking website metrics.
Backstage – Planning a conference or product launch is made easy with this online event management software.
Meeting – Conduct and engage your audience with online meetings, presentations, webinars, and training sessions.
Commerce – All your tools to accept orders, track inventory, manage logistics, report sales, and analyze data.
Helpdesk
Desk
This product is a pioneer in the context-aware helpdesk software application industry. Zoho Desk comes with a multi-channel helpdesk aided by Zia, Zoho's AI-powered assistant. This self-service product increases agent productivity and efficiency by automating the process and offering insights and visibility into making it run smoothly.
As far as the pricing is concerned, if you have three agents, you can opt for a free plan or a standard plan for $12/agent/month or a professional plan at $20/agent/month or an enterprise plan at $35 per agent per month.
Assist
Gain remote access and offer remote solutions to your customers through the cloud-based support software. You can manage remote PCs, mobile devices, and servers at a distance through the secure on-demand, web-based remote support solution. This contributes to positive customer experience and satisfaction. Some of the features in the assist software are remote support through email and chat, unattended remote access, screen sharing, security, customization, and integrations.
The free plan is suitable for both personal and commercial use. For remote support, the standard plan comes at $8/month/technician, the professional version is at $13/technician/month, and the enterprise subscription is at $21/technician/month. The unattended access plan is valued at $8/month for 25 unattended computers.
Service Desk Plus
When running a business, a growing business, especially, you need software that will help manage all the tickets that you create to manage bugs and quality. The online service desk and ticketing software helps create, track, and monitor tickets thoroughly to guarantee customer satisfaction. This efficient ticket management automates dispatch, categorization, and assignment based on pre-determined criteria. You can analyze the metrics of the process and come up with strategies to optimize your IT and asset management.
Sign up for a demonstration for free and a trial for a period. Once you make the decision, you can get the cost to subscribe.
Zoho also offers:
Lens – remote assistance through augmented reality to look at problems in equipment or servers.
Finance
Books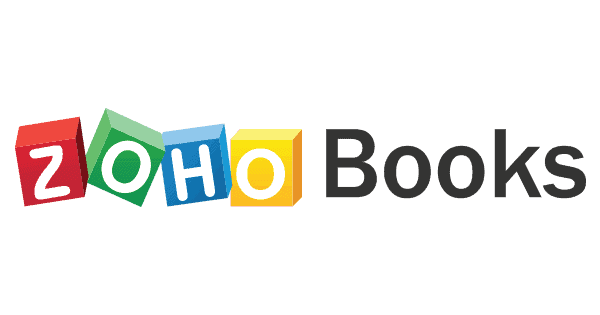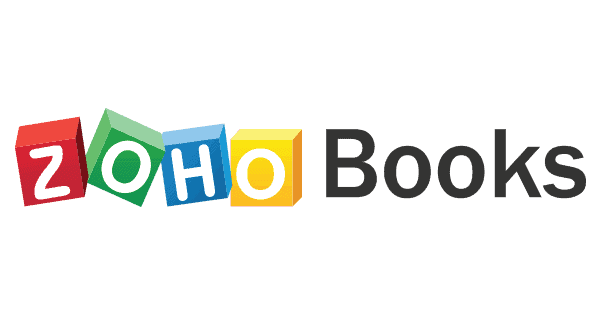 Books is an online accounting software. As with all of Zoho's products, automation is a crucial aspect of helping you manage your finances. You can automate your business workflows and incorporate end-to-end accounting. This means you can negotiate your deals, process sales orders, invoicing using Zoho Books while you concentrate on your business. It also ensures secure collaboration with your colleagues and accountants for easy visibility into time, reports, and accounts. Manage your receivables, payables, inventory, banking, time tracking, contacts, and reports from wherever you are.
There is a pricing plan for every business – Basic at $9, Standard at $19, or Professional at $29 per organization per month.
Invoice
Closely related to other finance apps, Invoice helps create professional invoices, sends automatic payment reminders, and also enables you to get paid faster. Some of the features that make this solution work for every global business through:
Efficient invoicing
Online payment gateway
Generating detailed estimates
Tracking project time
Managing incurred expenses
Invoices on the mobile app
Choose from one of the following options for a free or paid plan from Zoho. The paid subscriptions come in Basic at $9, Standard at $19 and $29 for a Professional plan.
Inventory
Zoho lets you increase your sales, manage order fulfillment, and control inventory to run a more efficient business. You can integrate your business online with Amazon, eBay, Etsy, or Shopify. Create purchase orders, backorders, and drop shipments with a single inventory management app. You possess the ability to track the movement of every item and every batch in your inventory. This ability contributes in turn to warehouse management and CRM integration. Inventory partners with the best carriers and also integrates well with other Zoho apps.
Zoho recognizes that different businesses have different needs. The Basic version of the plan is $39/organization per month, the Standard for $79 per organization/month, and Professional at $199 per organization/month.
In addition to all these, here are the other products:
Expense – Online expense reporting for creation, approval, and reimbursement
Subscriptions – Billing cycle software to help manage subscriptions, generate tax-compliant invoices and accept payments
Checkout – Set up branded payment pages in minutes and process payments
People & Culture
People
Build a happier workforce. This application takes care of your organizational HR processes so that you are focused on your employees. It takes care of employee onboarding, attendance management, time tracking, and employee appraisals. It covers HR essentials like employee database management, time-off management, and document management. Other HRMS processes, like schedule management, corporate LMS, GPS, and mobile attendance. The solution also offers automation and customization of HR processes resulting in detailed information that can be analyzed for actionable insights.
To conclude, the pricing plans for this app are:
Essential HR – $0.83/user/month
Professional – $1.66/user/month
Premium – $2.5/user/month
Enterprise – $4.16/user/month
Recruit
When you are bringing talent into your company, you want to be able to make it efficient and productive. This cloud-based applicant tracking system provides end-to-end hiring solution for small agencies and corporations. For agencies, the app comes with a built-in client portal and resume processing tools. There is greater transparency in sourcing candidates. You can enhance your search through multiple job postings, social recruiting, and resume management. For Corporate HRs, you can build a vendor portal, custom career pages, and internal job sites. For temporary staffing, make use of conflict-free scheduling, timesheet management, and invoice generation.
You can opt for a free trial or start at $1/temp/month.
Workerly
Manage your temporary worker database and your client database better. Schedule jobs based on client requirements, generate timesheets, and process invoices in a single interface. Data is only as good as the ease with which you acquire it and analyze it. With Workerly's dashboard, you get all the information laid out in a simple format. You can view the professional details and skills of your temps, and plan future jobs matching the temps and clients. The advanced search process speeds up access to schedules. The pricing for the plan starts at $1/temp/month.
Apart from the above products, Zoho also has:
ShowTime – A single comprehensive platform to manage your brand and deliver engaging training modules.
Connect – Streamline collaboration of resources and people to maximize productivity.
Expense – Simplify your expenses with this solution.
IT
Creator
Most importantly, your business will be as easy to automate as you want it. You can build custom apps based on your workflow to help streamline data management. Zoho currently has apps to help with your:
Sales management
Order management
Logistics
Donor management
Recruiter tracker
Inventory
Event management
Lead generation and tracking
Education management
In fact, if you want to develop your own app, you can simply leverage the platform and build them. You can integrate these custom apps with other Zoho products as well. The product offers solutions based on industry and based on the size of your company. So it is basically just a matter of identifying critical areas of business and automate workflows.
The pricing varies between Basic ($10/user/month), Premium ($20/user/month), and Ultimate ($35/user/month). Creator also offers custom pricing for tailor-made solutions for enterprises.
Flow
Build smart integrations between your workflows and connect your apps. Zoho Flow will ensure that information is not in silos and can be accessed by anyone, anytime. Connect your emails, reports, and records to let information flow freely between teams. Design workflows that will automate tasks that consume tremendous resources and effort. Eliminate complex coding language and build codes quickly.
Plans for Flow are free, Standard ($8.33/org/month), and Professional ($20.83/org/month). You can scale up your plan using add-ons.
Vault
Do you leave your password on a note stuck to your laptop? Move away from these old-fashioned and insecure ways of saving passwords. Vault is an online password manager for multiple teams. Not only can you securely store them, but you can also share it safely with your teams. You don't have to type in your password every time you log in. Simply click from the list of you already have stored for different sites and log in. With Vault, you can control access, track user actions, and gain visibility into password access. Additionally, combine Vault with other apps and use it for IP restriction, helpdesk integration, and data backup.
The product comes with a free 15-day trial, after which you can decide between a Free Forever plan, a Standard plan ($0.9/user/month), Professional ($3.6/user/month) and Enterprise ($6.3/user/month)
Also part of the Zoho apps for IT are:
Bugtracker – Helps you fix bugs quickly and release codes
Site 24×7 – Website monitoring app
Mobile Device Management – Set-up, supervise and secure your enterprise mobile devices
Patch Manager Plus – Update to the most recent versions to stop cyber-attacks.
Identity Management – Manage and monitor applications from one console.
Log Management Cloud – Analyse stored network security issues
Catalyst – Secure, high-performance platform to build your solutions.
BI & Analytics
Analytics


Previously Zoho Reports, Analytics offers you the advantage of business intelligence, reporting, and analytics software. This self-service solution lets you create appealing data visualization and insightful dashboards. Transform large amounts of raw data into actionable insights. Identify and track your key business metrics, longtime trends, outliers, and put together a report or maintain a dashboard. Integrate with Zia, the Zoho AI, and leverage the power of machine learning (ML) and natural language processing (NLP). Share the results securely with your team and strategize around the points of interest. Embedding analytics throughout your brand provides multiple channels of raw data.
Choose from the following plans:
Basic – $22/month
Standard – $45
Premium – $112
Enterprise – $445
You can add users at $8 per user/month.
Email & Office
Mail
Zoho mail is a secure email hosting service for businesses. It offers a streamlined and seamless integration of all aspects of your business. The extensive control panel lets you set up and manage your business's inbox more effectively. GDPR compliance and extra security measures, like 2FA, EAR, S/MIME, and TLS, enhance your data protection.
Finally, Zoho Mail has three main pricing options. The Mail Lite plans come with specific Calendar and Contact features. The Mail Premium Plan, on the other hand, includes huge attachments, archival memory, and S-MIME. The Calendar feature also includes resource booking. Pricing for Mail Lite and Mail Premium are $1/user/month, $4/user/month. The Workplace feature starts from $3/user/month.
Office Suite
A combination of documents, spreadsheets, and presentations to help your teams share and collaborate. The Zoho Office Suite works significantly well with other apps in the ecosystem like:
Writer – A word processor available for all your devices to create and collaborate in real-time. Use Zia, feedback tracking, sync on content platforms, and integrate with CRM.
Sheet – Create, edit, and share spreadsheets online.
Show – Design, collaborate, present, broadcast, and publish presentations across all teams.
Notebook – Jot, list, record, sketch, or snap whatever notes you need on desktop or web.
Wiki – Effectively share knowledge within teams.
Project Management
Projects
Manage your projects effectively with the cloud-based solution that helps plan your work, track, collaborate, and deliver on your projects. Sequence your project jobs, delegate work, manage resources, and schedule your tasks effectively. Zoho Projects keeps you aware of critical tasks, risks, and dependencies and keeps track of planned vs. actual progress of the project. Log billable and non-billable hours on timesheets to charge customers. Use it for task management and automation, charts & reports, and maintain issue log,
Lastly, the Standard plan is $150/year; Express is $480/year; Premium is $1020/year, and Enterprise plan is $1500/year.
Sprints
There is compelling evidence that Agile project management is evolving. This solution allows you to use this technique to deliver consistently excellent products. Additionally, plan your projects, track progress, and ship software well before deadlines. Sprints use:
Backlog – Project history to help plan your product roadmap.
Board – Customize your work status on your scrum board
Epics – Hierarchy of products and project to get a clear picture
Work Item Management – Checklist and labels to streamline your sprint planning
Reports – Evaluate and improve your sprint performance
Dashboard – Visual sprint data and history representation
Global view – Get the bigger picture of the project
Overall, the pricing is based on the number of users. The basic version is with 12 users/month and starts at $10. You can calculate the price for more users with the free price calculator.
Collaboration
Workdrive
Firstly, Workdrive is a Cloud-based file management solution for teams that work together. Secondly, you can offer a unified space to your team to store, share, and collaborate on files in real-time. Thirdly, all your team members can work on private and public spaces, access folders based on their roles, get updates about their work, and exchange feedback both about rough and final drafts of a task. Finally, you can store your work on desktop, access, and work on them offline and synch again with it when you are online.
The pricing increases from the Starter plan at $2/user/month, to Team plan at $4/user/month and Business plan $8/user/month.
Additionally, a few other products in the collaboration space are:
Docs – Online file management for teams
Cliq – Simplify team communications and organize conversations
Sign- Digital signature app for business signatories
Conclusion
To summarize, as you saw from the variety of offerings, Zoho has developed many software solutions. These aim to help businesses streamline their operations. While some of the solutions are internal, many of them are client-facing and can be added with third-party programs as well. An advantage of using the complete suite of products from Zoho is advanced automation and collaboration between different teams. It is important to remember that no team is an island; all teams interact with one another and come together to take the company forward. All the apps work together to provide a space for creation, design, development, and collaboration. The products are a result of their vision they mention on their website – the long term goal to transform the way businesses work.