If you are a business owner, you've probably heard of adages such as, 'The customer is king' and 'The customer is always right even when they are wrong.' Whether or not you hold fast to these adages, the fact is that customers form the backbone of any business. After all, what's the use of a great product, if there is no one to buy it? Take any top 10 list of reasons businesses fail, and you will find that a lack of customer management features in it. In fact, about 30% of businesses go belly up because they have either ignored their customers or have failed to appeal to them effectively.
Additionally, the numero-uno reason customers stop using a brand is because they felt unappreciated by it. The message is clear: Brush aside customers at your own peril. This aspect makes contact management software (CMS) or (CRM) an essential tool in a business's push towards productivity.
What is contact management software?
If it were just a question of storing all your customer's names and email addresses, you could do that by maintaining a large excel sheet. Contact management software goes one step further. As the name suggests, it is software that helps you not only store customer data but also tracks and analyzes it to give you valuable information. These functionalities are something an excel sheet is ill-equipped to do.
Advantages of contact management software
Over the past two years, CRM usage has gone up from 56% to over 70%. Here are a few reasons why it is so ubiquitous today:
Gain customer insights
CMS helps you collect extensive information on your customers besides just their names and email addresses. These include critical analytical data, such as age, gender, location, and industry. Additionally, it gives you a customer's behavioral data such as page views or email sign-ups that show you how they like to engage with your business. All this data allows you to paint a clear picture of who your customers are and what they want.
Easy data management
Storing valuable customer information is one thing. Finding it is quite another. CMS collects all pertinent customer data and saves it in one easily accessible central database. What's more, it syncs customer information across all your platforms from social media to your website. This feature makes it handy for those pre-coffee customer phone calls when you just can't recall anything about them. Running a quick search using the customer's name or email address will give you everything from their last email to their payment history.
Personalized marketing and customer interaction
Almost 80% of consumers say that they are more likely to engage with a personalized marketing campaign than a generic one. With the centralized database and customer analysis that a CMS provides, it is easy to set up personalized advertising campaigns that cater to your customer's interests. Moreover, you can record nitty-gritty details of your customers and use this to your advantage. Nothing can convince a customer that you are aware of them than remembering his or her pet's name.
Increased productivity
At the end of the day, it comes down to the ROI. On average, companies using CSM see an ROI of over $8 for every dollar spent on it. This ROI is not only because of the improved customer capture and retention rates that using CMS can give you but also the time and effort you save on arduous administrative tasks. By automating processes such as data entry, customer scheduling, and invoice generation, CMS frees up you and your team to focus on other areas to grow your business.
Top 10 customer management software
There are over 300 different customer management products available today. Here are our picks for the top 10.
1. Zoho CRM
Features
Zoho CRM is a cloud-based customer management software with features and pricing plans tailored to meet small and midsize business needs. Its features cover all areas affecting a customer life-cycle, from sales to marketing, customer support services, and even inventory management.
The software's SalesSignals feature tracks leads and prospects from a variety of platforms such as web forms, email, social media, and chats. This feature alerts users every time a potential lead mentions their company's name in a Facebook or Twitter post. Besides, it integrates with LinkedIn Sales Navigator to give users professional information to help engage them better. Helpfully, Zoho CRM assigns a score to each lead based on user-set rules to help them determine which lead to focus on.
Zoho CRM lets users segment customers using their keyword tagging feature. This feature allows them to create targeted marketing campaigns with ease. Adding to this ease is the plethora of email templates available that frees users from the tedious task of drafting them. Additionally, the software's AI feature, Zia, suggests optimal times to send these targeted emails.
This CMS also has a robust set of analytical tools that give users real-time reports on a variety of metrics. These include leads created, leads converted, sales trends, and campaign comparisons.
Pros
Multichannel lead generation
Comprehensive email marketing tools
Robust reporting tools
Cons
Customer support limited to weekdays
Price
Zoho CRM has five pricing plans.
Free Plan
Free for three users
Leads, contacts, and accounts
Social media integration
Workflow management
Marketing automation
Webforms
Standard Plan
$18/user/month billed monthly
Sales forecasting
Encrypted data transmission
100,000 records
Professional Plan
$30/user/month billed monthly
Email integration
Social CRM
Google AdWords integration
Unlimited records
Enterprise
$45/user/month billed monthly
Encryption at rest
Predictive AI
Anomaly detectors
Ultimate
$100/user/month
Premium support
Email sentiment analysis
Automation Suggestions
2. HubSpot CRM
Features
With one of the best free plans on the market, HubSpot CRM is ideal for small businesses with tight budgets. Not only does this free plan have a ton of features, but it also lets users add unlimited team members and a whopping 1 million contacts.
HubSpot CRM has an easy-to-use dashboard that gives a complete overview of the user's sales funnel. Users can track everything from leads won or lost, customer email interactions, appointments scheduled, and team performance. With its Gmail and Outlook integration, users can track clicks, and email opens. What's more, it shows all the tracking stats in real-time.
Users can place calls to customers directly from the app's web browser. They also have the option of recording these phone calls for quality reviews. Importantly, the intuitive software tracks these calls and adds them to the CRM reports. Another great tool is its live chat feature. Customers can interact with team members in real-time, which helps to build rapport and convert leads to paying customers.
The software integrates seamlessly with HubSpot's marketing, sales, and service hub to give users the tools to build a comprehensive customer engagement strategy. However, depending on the add-ons you choose, it can end up becoming very pricey. As your company grows, you will need these add-ons, and so it is important that you take this future cost into consideration.
Pros
Free premium features
Unlimited users and contacts
Easy to set up and use
Live chat and customer calling options
Tracks digital body language
Cons
Add-ons lead to a disproportionate ramping up of price
Weak reporting tools
Price
HubSpot CRM is free software that has the following features:
Contact management
Contact activity monitoring
Gmail and Outlook integration
Live chat
Customer calling
Email scheduling
Email templates
Forms Reporting dashboard
HubSpot add-ons
Sales hub add-ons
$50-$1200/month
Unlimited email tracking
Call transcription
Salesforce integration
Marketing hub add-ons
$50-$3200/month
Advanced analytics
YouTube integration
Service Hub add-ons
$50-$1200/month
Advanced scheduling options
Custom reporting
3. Salesforce Sales Cloud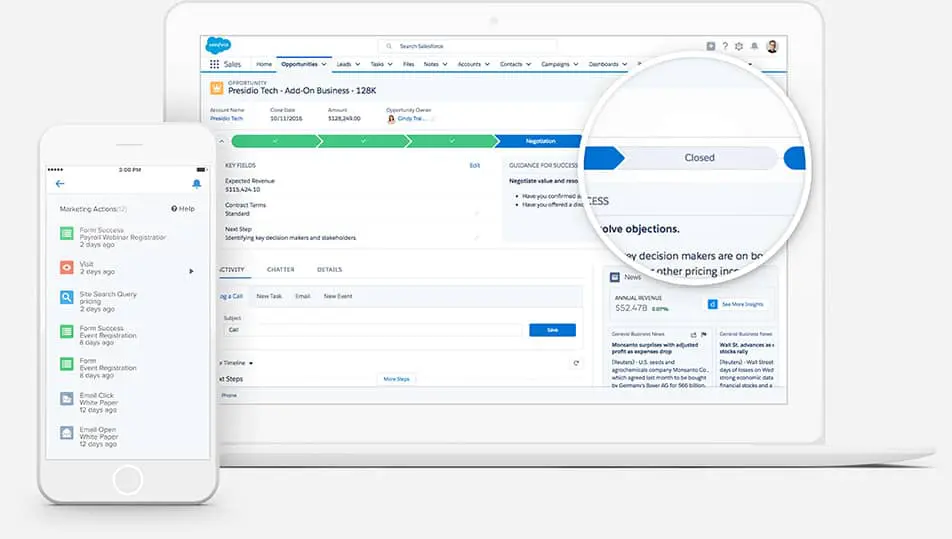 Features
A pioneer and market leader in the CRM software industry, Salesforce Sales Cloud has the pedigree and features to match its status. It has functions that cover every aspect of contact management, customer engagement, task management, and analytics. Add to this a robust mobile app and vast ecosystem of third-party integrations, and it is easy to see why they are popular. All these premium features come at a premium cost, however, putting it out of reach for businesses with tight purse strings.
Salesforce offers users comprehensive lead management. With it, users can get a bird' s-eye view of a customer, including their communication and activity history. It even culls customer data from social media to provide a complete picture. Every time your business gets a lead, the software creates a task. Helpfully, Salesforce has automated workflows that assign these tasks to team members. Also, with features such as automated follow-ups and lead tracking, the Salesforce software ensures that no leads fall through the cracks.
The Salesforce reports feature collects data from all avenues to give users detailed analytical reports on everything from the sales team's performance to weekly forecasts and much more. The analytics is bolstered by adding on the software's AI platform called Einstein. Einstein uses historical data and other metrics to assign scores to each lead. Along with this, it gives users advanced analytical insights and helps users keep tabs on at-risk customers. This add-on starts at $75/month.
Pros
Highly customizable
Over 1000 third party integrations
Easy-to-use UI
Multichannel customer service
Price
Salesforce Sales Cloud has four pricing plans. All plans are billed annually and have a 30-day free trial.
Essentials
$25/user/month
Accounts, contact, and lead management
Email integration
Mobile app
Professional
$75/user/month
Lead registration
Lead scoring
Collaborative forecasting
Enterprise
$150/user/month
Workflow automation
Approval automation
Advanced reporting
Unlimited
$300/user/month
Unlimited customization
Multiple sandboxes
24/7 Support
4. Agile CRM
Features
Agile CRM has a wide range of features that make it appealing to both small and enterprise-level businesses. These include project management, scheduling, sales automation, marketing, and customer service features. Compounding, this is the software's robust free plan, which, though not as good as HubSpot CRM's, has enough features to satisfy the needs of a fledgling business. The free plan is thus a great choice for startups, and small businesses where every penny spent can have an impact on the bottom line.
The software provides users with a single-page view of customer data with integrated sales and marketing processes. This view makes it easy for them to ensure both departments are in sync, manage projects, and delegate tasks. The software's drag-and-drop functionality enhances user-friendliness. For contact management, users can store and organize customer information any way they want. Importantly, the software provides a chronological view of customer data obtained from every angle, including social presence, web activity, and call notes.
Agile CRM has advanced automation features that make marketing a breeze. Apart from email and newsletter marketing, these features also include web forms and pop-ups as well as push notifications and exit strategies. Crucially, due to its integration with apps such as VoIP and Twilio, users also have the option of telemarketing. Another great feature is the software's calendar functionality with which users can automate client-scheduling and appointment processes.
Pros
Robust free plan
Powerful marketing tools
Calendar scheduling
User-friendly UI
Price
Agile CRM has four pricing plans.
Free
Up to 10 users
50,000 contacts
Lead scoring,
Appointment scheduling
Email tracking
Starter
$9.99/user/month billed annually or $14.99/user/month billed monthly
Web engagement
Landing page builder
5000 branded emails
Marketing automation
Social monitoring
Regular
$39.99/user/month billed annually or $49.99/user/month billed monthly
Basic reports
Organized ticketing
Enterprise
$64.99/user/month billed annually or $79.99/user/month billed monthly
50+ plugins
Email and phone support
Advanced reports
5. EngageBay
Features
EngageBay is a CRM solution that integrates the platforms of sales, marketing, and customer services into one. Its features include sales and marketing automation, email marketing, and landing pages, to name a few. The software's affordable and scalable pricing plans, not to mention its feature-packed free plan, make it a great fit for startups and small businesses.
As the company name suggests, it excels at engaging and capturing website visitors and converting them into leads. The software provides users with several landing page templates that even non-tech personnel can use to create an engaging landing page. Also, marketing tools such as pop-ups, inline forms, and live chat boxes are at the user's disposal to keep customers engaged.
This CMS software has several features that boost its marketing capabilities. First, it has a plethora of email templates to choose from that make email marketing easy. Second, its marketing automation features efficiently target leads across multiple channels and ensures that no customer falls through the cracks. Third, users can attract their target audience with Facebook ads and customizable SMS campaigns.
Pros
Robust sales and marketing automation features
Facilitates social media engagement
Affordable
Price
EngageBay has four pricing plans.
Free
1000 contacts and branded emails
Contact management
Email marketing
Landing pages
Live chat
Basic
$14.99/user/month
15,000 contacts + 10,000 branded emails
Email templates
Pop-ups
Lead scoring
SMS marketing
Growth
$49.99/user/month
50,000 contacts + 25,000 branded emails
Marketing and service automation
Push notifications
Pro
$79.99/user/month
Unlimited contacts + 50,000 branded emails
Advanced analytics
Custom reporting
Dedicated account manager
Phone support
6. Apptivo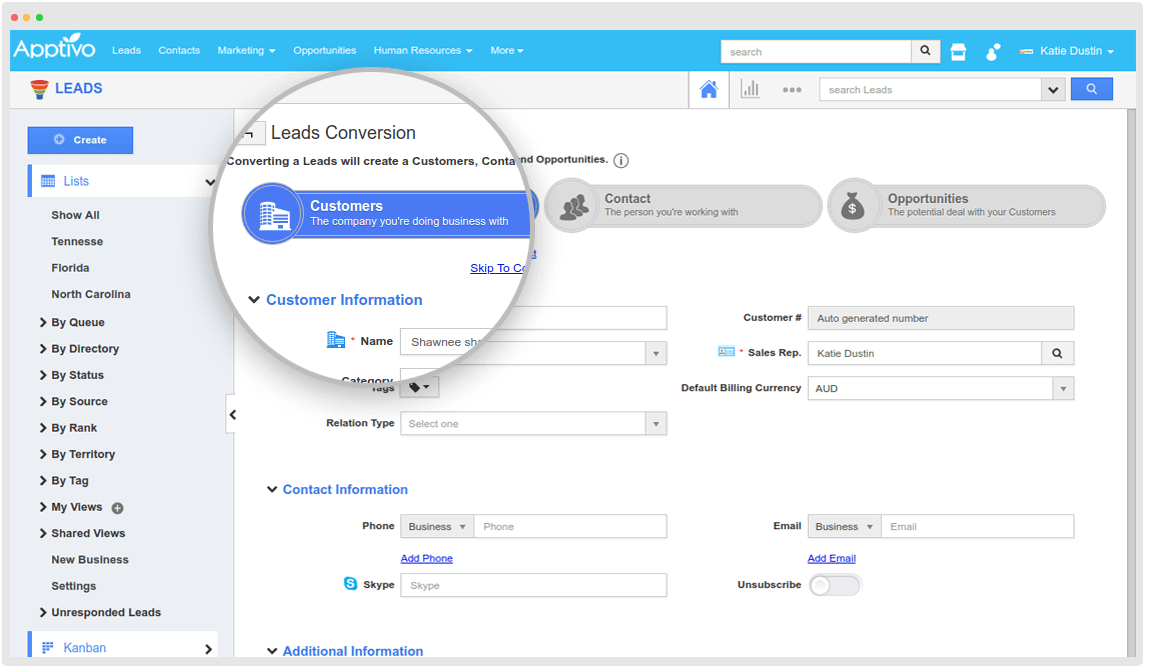 Features
Apptivo is an affordable yet robust cloud-based CRM solution targeted at small business owners. However, it has features such as project management, contract management, estimates, and invoices that larger companies will find useful. Additionally, the pricing plans are scalable enough to include a spectrum of budgets too.
The software's contact management system allows users to maintain a central database of customer data. It integrates seamlessly and syncs contacts with all G Suite apps, saving users the time and effort needed to import or manually enter the data. This integration is important for small businesses since it allows them to make the transition to using professional CRM software smoothly. The software's Profile Enrichment feature mines customer data from social media and LinkedIn as well. Apptivo makes it mandatory for users to input a closing date for each captured lead. This requirement motivates them to commit to the process of moving leads down the pipeline from potential customers to paying customers.
Apptivo has over 40 features ranging from campaign management to document and inventory management. Most of these features are customizable so that users can tweak things to suit their needs. Enterprise plan users can take this customization to the next level by white-labeling their website to replace any Apptivo branding with their own. Rounding off its impressive features is Apptivo's stellar mobile app that is just as good as the desktop version.
Pros
Easy to set up and use
Affordable
Highly customizable
Excellent customer service
Cons
Limited third-party integrations
Price
Apptivo has four pricing plans
Starter
Free for three users
500MB/user
Basic contact management
Standard reports and support
Premium
$10/user/month
3GB/user
1000 emails/user
2000 API calls
Ultimate
$25/user/month
10GB/user
3000 emails/user
20,000 API calls
Priority support
Enterprise
Custom pricing
5000 emails/user
White labeling
Custom integration
Dedicated account manager
7. Freshsales
Features
Freshsales is just one of the growing lineup of products put out by Freshworks. It is its parent company's sales CRM product. Being part of the Freshworks family means that the software integrates with all of its siblings to provide a range of functionalities from customer messaging to IT services management and even human resource management. Freshsales is easy to use and robust CRM software with an affordable pricing structure; all features that make it appealing to SMBs.
The software is excellent at gathering and managing leads. It gives users a comprehensive view of leads generated, conversions made, and deals won or lost. Furthermore, each lead is ranked based on online behavior and other metrics. This way, users can spend more time nurturing leads instead of trying to read between the lines.
As for marketing, Freshsales allows users to send out bulk, automated email campaigns. These emails can be created using customizable email templates, which helps save a lot of time for your marketing team. More importantly, the email tracking feature lets users track the performance of all their marketing campaigns.
Pros
Powerful CRM features
Affordable
Easy to set up and learn
Cons
Limited third-party app integrations
Price
Freshsales has five pricing plans
Sprout
Free Unlimited users
Contact and lead management
Phone marketing
Mobile app
Blossom
$12/user/month
Pipeline management
250 emails/user/day
Two sales campaigns/user SMS integration
2-way email sync
Lead scoring
Garden
$25/user/month
500 emails/user/day
Five sales campaigns/user
Advanced reporting and customization
Estate
$49/user/month
1000 emails/user/day
Ten sales campaigns/user
Advanced lead scoring
Event tracking
Reports dashboard
Forest
$79/user/month
2000 emails/user/day
25 sales campaigns/user
Audit logs
8. Pipedrive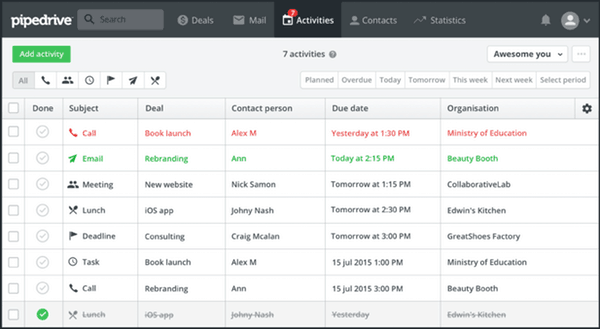 Features
Pipedrive is an intuitive and efficient CRM tool that solo entrepreneurs and small businesses can use to not only manage their contacts but also sell their services more effectively. As its name suggests, it focusses on pipeline management. It gives users a 360-degree view of the sales pipeline along with suggestions on the right deals and activities to prioritize. The software even notifies users when a deal stays inactive for too long. Besides, users can create unlimited and customizable pipelines that reflect their company's unique goals.
Likewise, the software boasts of efficient contact management and lead collection system. Apart from its customizable web forms, Pipedrive's many integrations ensure that you can import leads from multiple platforms, including email and social media. Users also have the option of embedding a chatbot on their webpages to qualify and route new leads into a pipeline. These chatbots can also schedule meetings and answer customer queries.
This CRM software has workflow automation features that negate the need for users to waste time on repetitive processes. Once you record a process once, all it takes is the click of a button to repeat that entire process. What's more, the Sales Assist AI feature lets users know which third-party integration can automate a manual task. Along with this, Pipedrive has several email templates complete with images and rich text that make the marketing process an easy one.
Pros
Intuitive UI
Google Calendar and Maps integration
Supports multiple languages and currencies
Price
Pipedrive has four pricing plans
Essential
$15/user/month
Custom pipelines
Activities and calendar view
Customizable dashboard
Advanced
$29/user/month
Sales automation
AI sales assistant
Email integration and tracking
Professional
$59/user/month
One-touch calling
Call tracking
Bulk emails
Team management
Revenue forecasting
Enterprise
$99/user/month billed annually
Custom onboarding
Dedicated account manager
Phone support
Advanced customization
Advanced security
9. Salesmate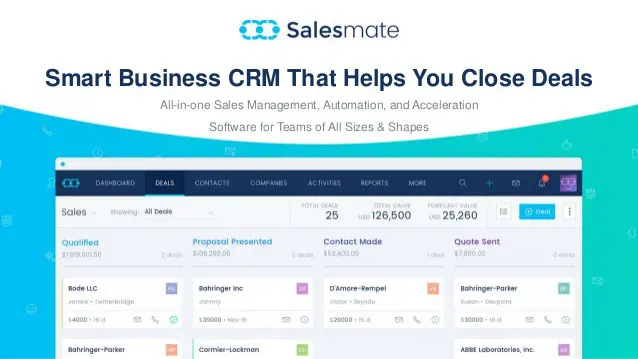 Features
Salesmate is a cloud-based CRM software that is focused on streamlining a business' sales workflow. The software's key features include sales pipeline management, contact management, inbuilt customer calling, and email marketing. These, along with its affordable pricing plans, make it appealing to small businesses and solo entrepreneurs.
Managing a company's sales pipeline is where Salesmate excels. Salesmate's deal management tool gives users a real-time view of all sales pipelines. This visual pipeline helps users not only move their leads through different stages faster but also helps them spot roadblocks in their team's performance with one glance. What's more, users can customize each pipeline, adding as many stages, activities, and team members to it as they want.
The software's contact manager syncs contacts from various platforms through its vast network of integrations such as MailChimp and G Suite integration. Importantly, users can view and manage all their contacts through a single page. Also, Salesmate gives users a graphical timeline of a contact's history that acts as a visual guide in monitoring and planning the next steps for that customer.
Furthermore, Salesmate has an inbuilt virtual phone system with which users can contact their customers through text and calls. The software's workflow module helpfully assigns these calling and texting tasks to team members. Other key features here include call forwarding, recording, and tracking.
Pros
Affordable
Intuitive and easy-to-use UI
Robust contact and pipeline management
Inbuilt customer calling
Excellent customer service
Cons
Weak marketing automation tools
Pricing
Salesmate has two pricing plans.
Starter
$15/user/month
Contact management
Calendar sync
Pipeline management
Deal and activity management
Email sync, tracking, and templates
Built-in calling
250 emails/user/day
Growth
$30/user/month
Service management
Email and text scheduling
Custom reports
Email analytics
500 emails/user/day
10. ActiveCampaign
Features
This integrated CRM, sales, and marketing software boasts of email marketing features that rival those of MailChimp and Constant Contact. Add to this, its powerful automation tools, and it is easy to see why they have become a powerhouse in the marketing industry.
With ActiveCampaign, users can send a variety of emails from mass broadcast emails to targeted emails and everything in between. Users can additionally set parameters that trigger emails based on purchases or website engagement. Importantly, the software has a vast library of templates with a drag and drop functionality that lets users set up email campaigns with ease.
Adding to this ease is ActiveCampaign's robust automation features that can be applied to everything from creating custom email campaigns to personalized SMS messaging and Facebook advertising. What's more, users can test out any automation they implement with A/B testing to see what's working and what's not.
Not just marketing, ActiveCampaign also has sales automation tools that take tasks such as nurturing leads, updating deals, and creating and assigning tasks off the user's hands, allowing them to concentrate on other vital processes. Besides, the software intuitively assigns a lead score to each contact based on their online behavior.
Pros
Powerful marketing automation tools
Excellent tracking and reporting functionalities
Reasonably priced
Good customer support
Cons
The moderate learning curve for non-technical personnel
Price
ActiveCampaign has four pricing plans
Lite
$15/month
Up to 3 users
Email and newsletter marketing
Subscription forms
Marketing automation
Plus
$70/month
Up to 25 users
Sales automation
Facebook monitoring
Lead scoring
SMS marketing
Custom user permissions
Professional
$159/month
Up to 50 users
Predictive content and sending
Advanced reporting
Site messaging
Free Onboarding consultation
Enterprise
$279/month
Unlimited users
Custom domain
Free design services
Free social data
Dedicated account manager
Phone support