What Is A Scheduling App?
We have all noticed the rising trend of online businesses. Be it a nail salon or a hairstylist or even pool cleaners, small local businesses have taken off in a big way. These local businesses usually find special love from the community. Scheduling appointments is a huge part of managing these businesses. Clients, customers, and vendors all want to contact you for an appointment. If you have a local store, the chances are that you might be the business owner, the receptionist, and also the operations person! With this being the case, it would be a miracle if you found the time to take appointments from customers by yourself as well. Thankfully, there are appointment booking apps that will help you take care of this.
If you have a website based business, scheduling apps make a lot of sense. These apps allow customers to get their appointments done without talking to you. All they have to do is go online to your website. There, they'll be able to look up the available slots and book an appointment for your services. There is no hassle, especially when dealing with multiple time slots, missed appointments, or emergency cancellations.
How Scheduling Apps Work
First and foremost, booking apps help you organize your calendar. They take over your contacts and timelines, and thanks to the magic of technology, you get a cleaner, clearer, and more organized schedule as a result. You can manage resources and time more efficiently and quickly than if you were to send emails. For a calendar app to be successful, it must:
Show your current schedule
Show upcoming events
Notify you when the events happen
In case this calendar app is customer-facing, the person that is trying to book the appointment must be able to see other available slots. There must also be options for them to enter a waiting list. So you see, appointment booking apps must serve a different purpose for the customer.
The way in which appointment apps work for different businesses is also different. For example, the process of booking a hairstylist will be vastly different from booking a pool cleaner. A scheduling app will help avoid double bookings and also minimize the chances that a resource will go for a long time without being used. These apps use their algorithms to determine how many times Stylist A can meet customers in an 8-hr work period. You can set all the constraints – working hours, lunch hours, the time it will take to service one customer, and any breaks in work. All these make scheduling apps extremely useful in making small businesses successful.
How Calendar Apps Help Your Business
I have to point out that most businesses use the ubiquitous Outlook or Google Calendar. While these calendars work for some business owners, other online business owners might need an app with more robust functionality. In reality, they cannot afford to miss out on the more advanced features that scheduling apps can offer. There are free and paid versions of calendar apps available. Of course, the free versions of these apps either offer limited aspects of calendar management or are open only for a specified period.
For instance, imagine you run a catering business whose services people can reserve and hire online. In this case, calendar apps become very important for visibility. You may not be available over the phone. It may even be impractical to want to call and talk to every single client over the phone to negotiate your time slots. Let's go one step further and look at a business like a nail salon, where customers come in daily. While walk-ins are essential to every business, appointments, and bookings are highly attractive since a customer knows they can come in at a particular time and be out in a while.
Another point to consider is that when people schedule appointments by themselves, they are more responsible and accountable. They inform the business/owner of any delays or changes, and this, in turn, saves time and increases revenue.
Given the technological advancements of today, the apps also give you statistics and actionable insights on aspects like busiest time for your business, frequency of customers, maximum capacity at a point, highest ROI, etc. Consequently, you maximize profits and cut down costs.
Benefits of Calendar Apps
In short, scheduling apps help you and your business:
Improve efficiency
Manage time and resources better
Prioritize work and tasks
Increase cost savings
Acquire and maintain responsible customers
Factors To Consider When Picking An Appointment App
At this very moment, if you were to search online, there are many scheduling apps that will make your business more efficient. But how would you know what to look for? Well, we have a few suggestions on what we think a good scheduling app must include. We will also be looking at a few apps in the market, review them, and weigh in on their benefits.
So, what are some features that appeal to business owners when they consider investing in a scheduling app?
Ease of use
Ease of access
Customization to your business
Calendar integration
Payment platform
Ease of use:
First and foremost, the app should be easy to use. Your client must be able to log on to the portal quickly and easily. They must be able to log in, view all available time slots, book an appointment, and log off. When the need arises to cancel, the process must be just as easy. Well designed apps eliminate the difficulty and ambiguity so that the customer does not feel that they are missing out on the experience. At the same time, they should feel confident about getting the appointments done themselves. The portal must be clear visually, and the icons and buttons used must be easy to understand and navigate.
Ease Of Access:
When the customer logs on to book an appointment, they must be able to see the full view of features and services available. They should also be able to access the website from any device, be it a laptop or a mobile phone. The user experience should remain the same.
Customization To Your Business:
This factor is a no-brainer. As you know, every business is unique. A nail salon's calendar app would look different from a salon's. As a result, each app should be able to tailor-fit to the business. Some apps fit all, whereas others need customization for each activity. As a result, it is crucial to understand the goals of your business since it will help you define your expectations of a scheduling app.
Calendar Integration:
Crucially, you must be able to let the customer view other information besides just a time slot availability. You could be running a promotional offer at your landscaping business during a specific period. This information could make a difference in a customer choosing to book your service. Integrating your calendar app with another calendar is very useful to inform your customers of the hours of operation and closure, and any special holidays.
Payment Platform:
This feature is often essential. Many customers prefer paying upfront, so when they visit or use the service, they are all about the experience. The scheduling app needs to have a secure payment processing platform. If you recall, we spoke a little earlier about these scheduling apps leading to accountable customers. If, for any reason, the customer does not end up coming in for the appointment, you will not lose the money from their business entirely. Customers understand the risk when they are unable to keep up the appointment.
In a nutshell, these are a few aspects that each scheduling app or software is expected to possess. Keep these in mind while evaluating the apps that we have for you today:
Acuity Scheduling
Booker
Gigabook
Setmore
SimplyBook
Let's now look at these in a little more detail.
Top 12 Appointment Scheduling Apps – Review
Acuity Scheduling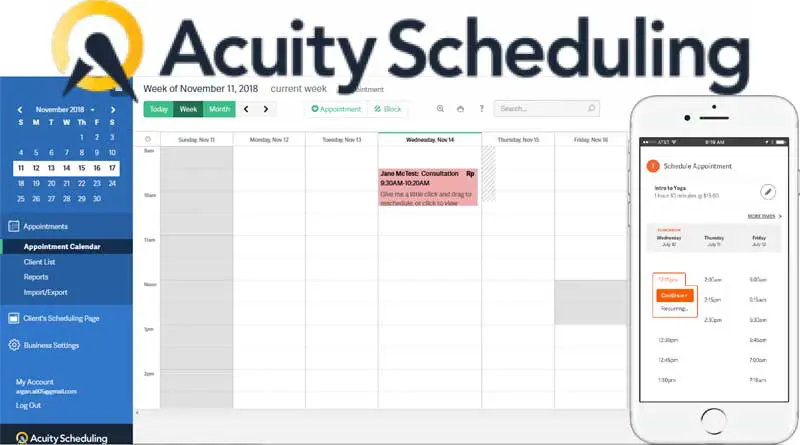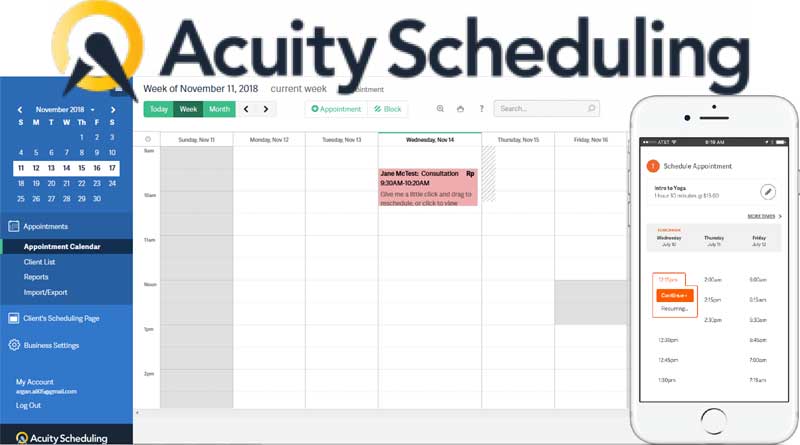 Clients usually want to view your availability and self-book their appointments quickly. In other words, they want greater control over this experience. Acuity Scheduling moves the power to the client but ensures that it captures all vital information about the customer.
First, one of the features that you see on the website is the way appointments can be booked for different businesses. You can see examples of yoga studios, coaching classes, and massage and spas appointments. This first experience of the product helps drive down the fact that Acuity can be tailor-made for your business.
Second, another option that you can choose with Acuity is the ability to book recurring slots. You can also offer coupons and promotional codes for availing a discount during checkout. Finally, another attractive feature is that you can shop around to add more services that you like when you are making your appointment.
More on Acuity Scheduling:
One of the features that stand out is that the schedule is adjusted based on the time zone. If you are trying to schedule online coaching classes, you know how pesky the time zone conversions can be in your head. The app also lets the clients send themselves reminders – another way they become responsible for your time. The reminders are customizable. So, you can have a reminder that reflects your brand and at the same time, performs the essential duty of letting the customer know their appointment details. Double duty!
The app is also flexible in showing your multiple locations and employees, giving clients various choices. Not only this, but the program also collects all the essential information you need and organizes it neatly for you to analyze later on.
All this is on the client-facing side. Now, looking at the viability of this app for your business, each time you get an appointment, the app informs you immediately. You will never miss a lead or a booking. Remember how we said calendars on these apps integrate with yours? Acuity Scheduling can integrate with Google, Outlook, iCloud, or Office 365. You can access this via any Android or iOS device. Acuity Scheduling can be shared via link, or you can embed it on your website. It also gives you the option of creating a booking icon on your site.
As a business, undoubtedly one of the most important things you are concerned about is the financial aspect. You can try Acuity for seven business days without making any monetary commitments. After this, the monthly fee is $15 for one calendar location, $25 per month for six calendar locations, $50 per month for 36 calendar locations.
Based on the plan, your app will include:
Advanced Features like embedding and synchronization of schedule in your calendar
Integration with third party meeting apps, invoicing and accounting apps;
Marketing automation
Accepting payment through different payment processing platforms
Text Messaging
Offer Subscriptions / Memberships
Sell Appointment Packages & Gift Certificates
Custom API & CSS
Sign BAA for HIPAA Compliance
Reasons to Choose Acuity Scheduling for your business:
A high degree of customization
Flexible subscription charges
Overall ease of use
Client self-scheduling
Reminder emails
Branded reminders
Additional service add-on at checkout
Automatic time zone conversion
Advanced reporting on clients, appointments, and no-shows
Simplybook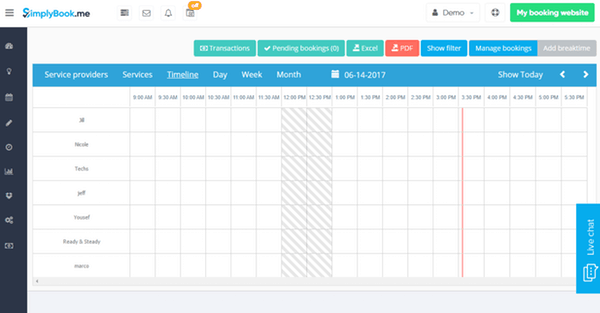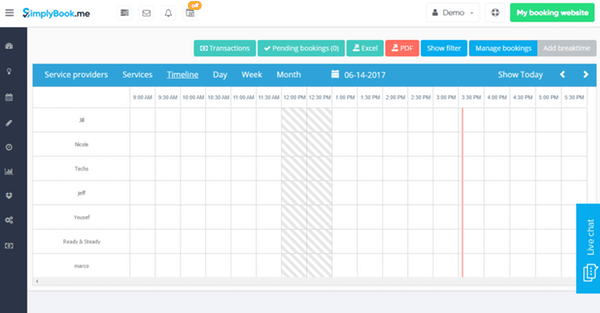 One of the most prominent features on the website of Simplybook is the emphasis on security. Simplybook is GDPR compliant; all your data is backed up daily, and there is a dedicated security team for the account. The platform accepts online bookings and payments through a variety of payment processors. Additionally, they also offer the choice of cash or check onsite while booking the appointments. Simplybook.me offers multiple channels for demand generation and increases the chances of booking. The platform sends reminder notifications via SMS or email or both. The app integrates with Facebook, Instagram, Google My Business, WordPress, and other CMS systems. You can also customize it with the Simplybook API, thus making it your own.
The app caters to both small and big business, being capable of scaling up as your business grows. One of the most significant differences between this platform and others is that this software charges fees not based on the calendars but based on the number of bookings and customization for the business.
More on Simplybook.me
Simplybook.me recognizes that your business will be international. To cater to this, Simplybook.me comes in a variety of languages – French, Spanish, Dutch, Italian, Portuguese, Russian, Chinese, German, Japanese, and Korean. The setup is simple, and you can be up and running in a few minutes. If you have a website already, you can add the widget on the site, or add a booking button to your facebook fan page.
The platform offers a single dashboard for visual monitoring of your bookings and provides visibility into your online reservations. The platform works well for businesses that provide appointment-based services, renting equipment, or classes and events. If you are a small business with products or services that you would like to showcase, you can publish those images of your previous work using the image gallery custom feature.
Many businesses frequently employ both full time and part-time employees. In case your company employs part-time employees, the app sends reminder notifications even to these employees to remind them of upcoming appointments.
Simplybook.me is also very conscious of new companies and emerging businesses. They offer the app free for such companies that have one calendar. The program is free for a 14-day trial and includes most features without payment. The other paid plans include $9.90, $29.90, and $59.90 per month for the free, basic, standard, and premium plans, respectively.
Essential Features
Unlimited number of staff, services, and clients
Advance employee and resource schedule management
Configure different service duration and buffer times
Decide prices for services
Set recurring appointments for clients
Website integration
Mobile synchronized booking platform
Reasons to choose Simplybook.me for your business
User-friendly online booking calendar
Filtered view of appointments calendar
Easy scheduling, canceling and rescheduling
Third-party integrations
Social media integration
Setmore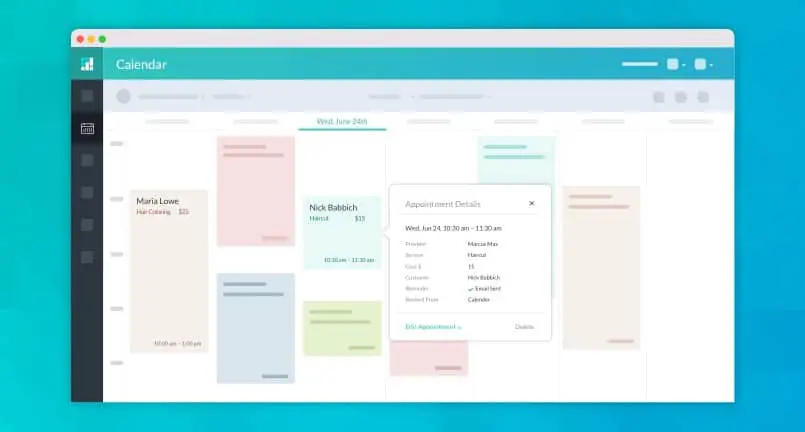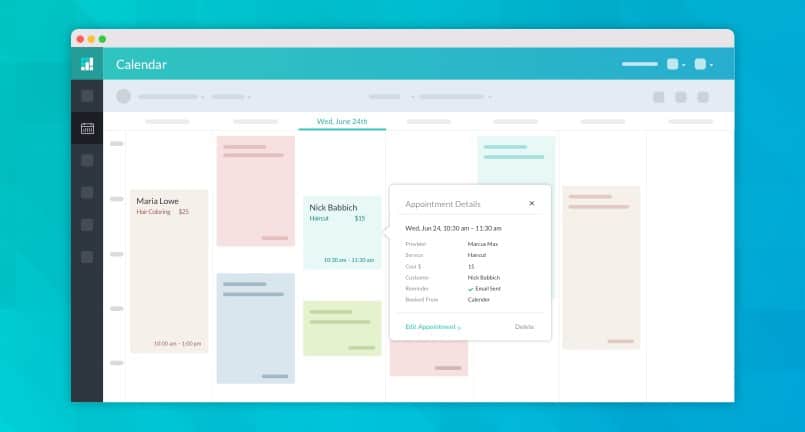 Setmore offers the best online scheduling software for offline access situations. The platform allows integration into multiple third-party CRM software. Their code is plug-and-play, where you can build it into your current website straightaway or create a new link from the ground up.
You can customize the bookings for each resource so that your staff members never miss one of their appointments. As a result, client engagement and accountability increase. Additionally, the Setmore calendars integrate with Google, iOS, Office 365, and Outlook. Clients can self-schedule recurring appointments for themselves or a group and pay online via Stripe or Square.
The subscription options are free for 1-4 logins, $25 per month for Premium, and $89 per month for Live bookings (US & Canada).
Essential Features:
Add on calendars and login
Automated emails and text reminders
Payment processing with Stripe, and Square
Reasons to choose Setmore for your business
Scale-up logins and access
Integrations with third-party site builders
Supports popular payment processing platforms
Notifications are sent for all bookings
Reminders via text and email
Booker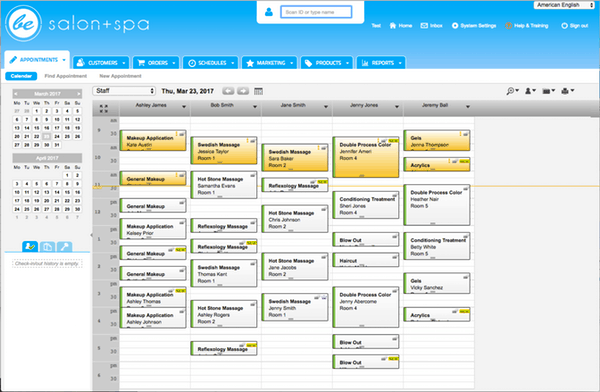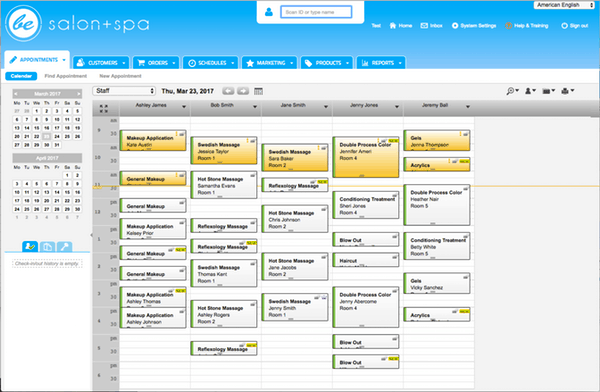 Online booking for salon and spa services has been made easy with Booker. With Booker, you can allow your clients to book their appointments 24/7 online, with mobile or on social media. You can choose to use POS devices, e-gift cards, or e-commerce. With Booker, you can also advertise your business on Yelp to help increase demand and lead generation. Any business needs insight into their client bookings to understand the direction that their business is going in. Booker offers technology with easy-to-use tracking and reporting tools. On their website, apart from providing the primary solution, Booker also provides a cheat sheet for businesses to leverage social media to increase lead generation.
This cloud-based business solution manages your appointments and helps manage your resources. On the online booking dashboard, your clients see the available time slots, descriptions of your services, and the capability to add on more services and even add additional guests. In the admin view, you can view the calendar based on the individual resource and service. Indeed, this helps you manage your resources and services more efficiently to maximize profits.
More on Booker:
One of the other features includes sending notifications to both the customer and your staff, so neither one of them misses out on the appointment. The reminders can be sent out on demand. The payment processing uses both online and mobile payment platforms so that the checkout is much smoother.
Lastly, the pricing varies between $129, $239, $349 per month, and the features include unlimited logins, integrated point of sale, detailed customer records, gift certificates, customer referral programs, advanced marketing reports, and personalized drip campaigns.
The business intelligence dashboard of Booker works well with:
Marketing automation
Memberships software
Customer relations and retention software
Inventory management
Reasons to choose Booker for your business
Online appointment booking
Smart email targeting
Integrated calendar management
Online gift certificates and promotions
Detailed customer records and document storage
Package, series and membership management
No sign-up, no activation fees
Gigabook
Gigabook offers appointment software that makes client bookings super easy. You can integrate Gigabook into popular website builders and third-party platforms. Besides, the platform also provides a free booking page and custom forms for client booking. You can track multiple locations with their open API solution. This simple solution is multi-device friendly.
Another attractive feature is group bookings for clients. Gigabook also allows to-do lists for customers and clients and helps you to track success and translate the bookings into successful experiences. Not only this, the app enables downloadable reports that can drive better project management, where a business owner can manage their resources and time better.
To train customers to use the platform, Gigabook offers video tutorials to manage the setup, the business dashboard, and process payments, invoices, and deposits. Moreover, notifications are automatic and customized to each business and can be sent via email and SMS.
Subscriptions start as low as $12 per month, with an additional $8 for each extra resource. You can add unlimited clients, services, and classes.
Essential Features:
To-do lists
Project Manager
Customizable business tools
Add on options
Reasons to choose Gigabook for your business
Easy and fast set up
Project Manager for your account
Visual dashboard and reports
Multi-location and multi-device friendly
Access management
Client management
Dynamic pricing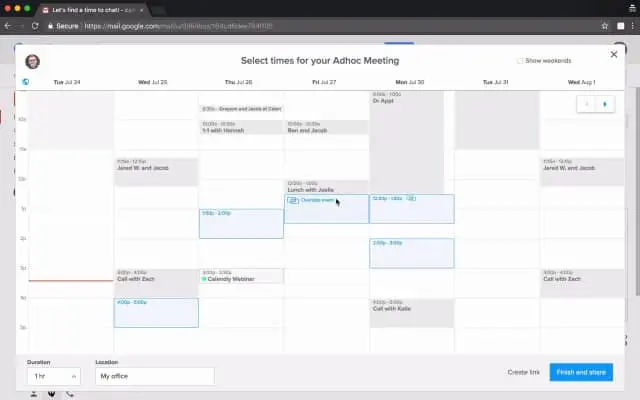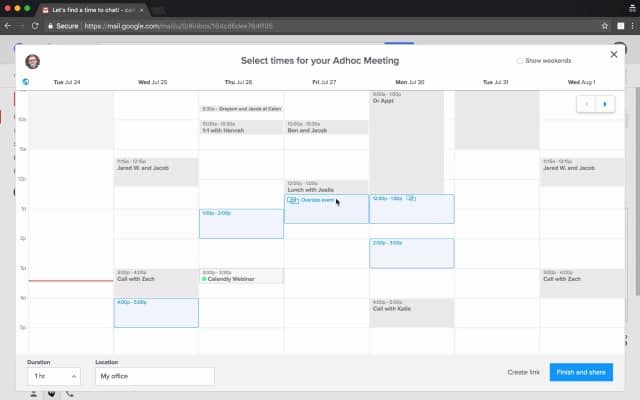 Almost all businesses today are dynamic and fast-paced. As a result, there is a need for quick and easy scheduling. Enter, Calendly! It is a minimalistic software that aims to streamline the process of booking appointments. This particular software is more suited for setting up meetings rather than appointments for a service like hairdressing. However, this is not to say that individually-run businesses cannot make use of a wide variety of features available.
First and foremost, the interface is intuitive and very easy to navigate. Hence, there is not much of a learning curve for both you and your clients. The entire booking process can be initiated by either sending a link or by embedding the widget on your website. Secondly, you can choose between various types of meetings, depending on the number of people involved. Options range from 1:1 meetings and round-robin scheduling to collective and group meetings. Collective meetings enable your invitee to schedule a time with multiple team members. Group meetings can host multiple invitees at the same event (think, webinars).
Lastly, pricing is paramount. You can get a stripped-down version of the full experience for free before investing in Calendly's Premium or Pro packages. They offer a more extensive range of features like multiple calendars per user and more exhaustive metrics to track your growth. Thus, at $8/mo per user (billed annually) for the Premium version and $12/mo per user (billed annually) for the Pro version, it offers tremendous value for time and money.
Noteworthy Features
Integrates seamlessly with most business apps and calendars
Automatically detects time-zones and schedules accordingly
Option to add buffer time before/after each event
Synchronize availability of multiple team members
Fully optimized for desktops, tablets, smartphones
Allows for automation through integration with a multitude of apps
Reasons To Choose Calendly For Your Business
Simple solution – Anyone can get started
Annual and monthly pricing options available
Wide variety of notification options (SMS, Email, Push notifications, etc.)
Save time daily – time is money!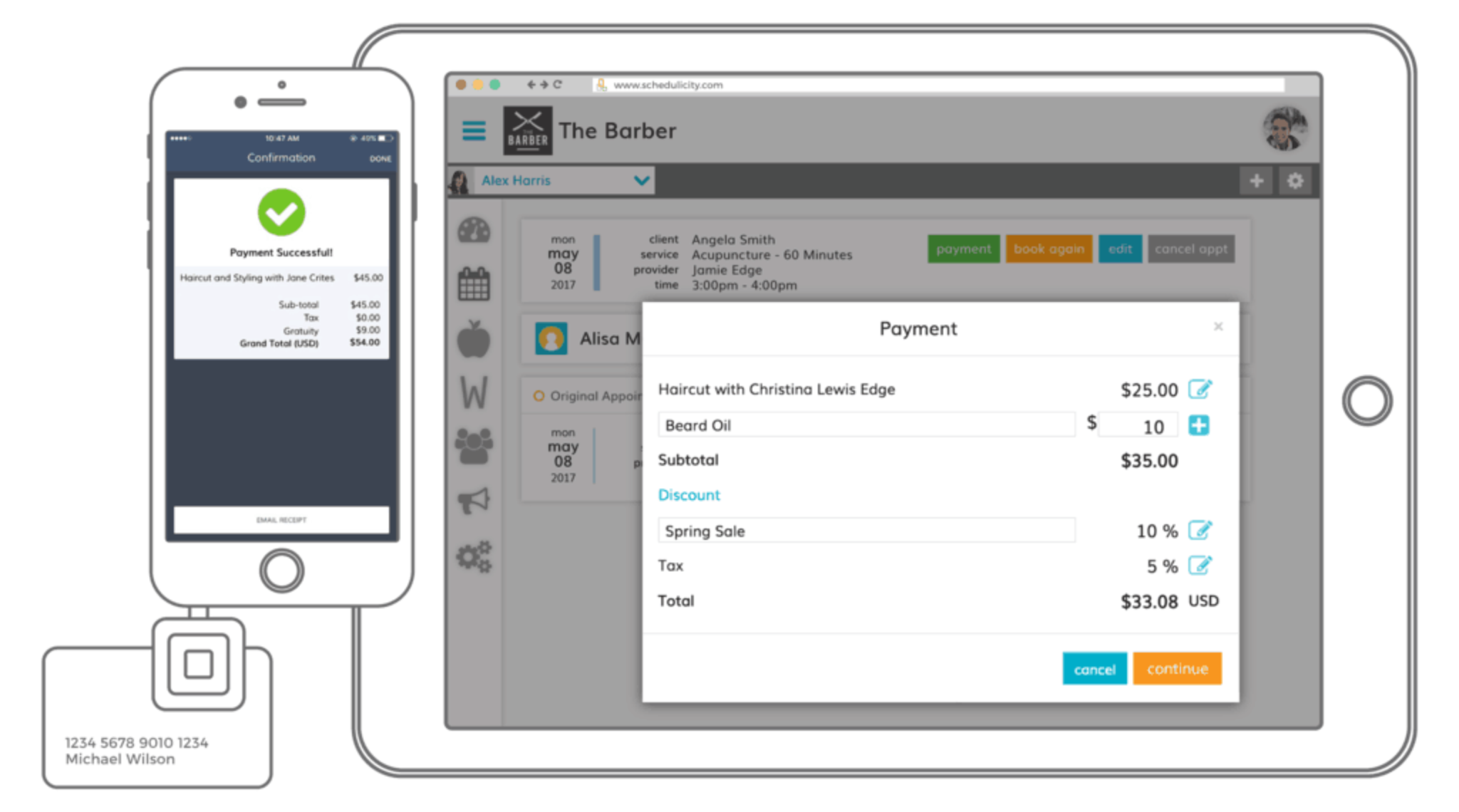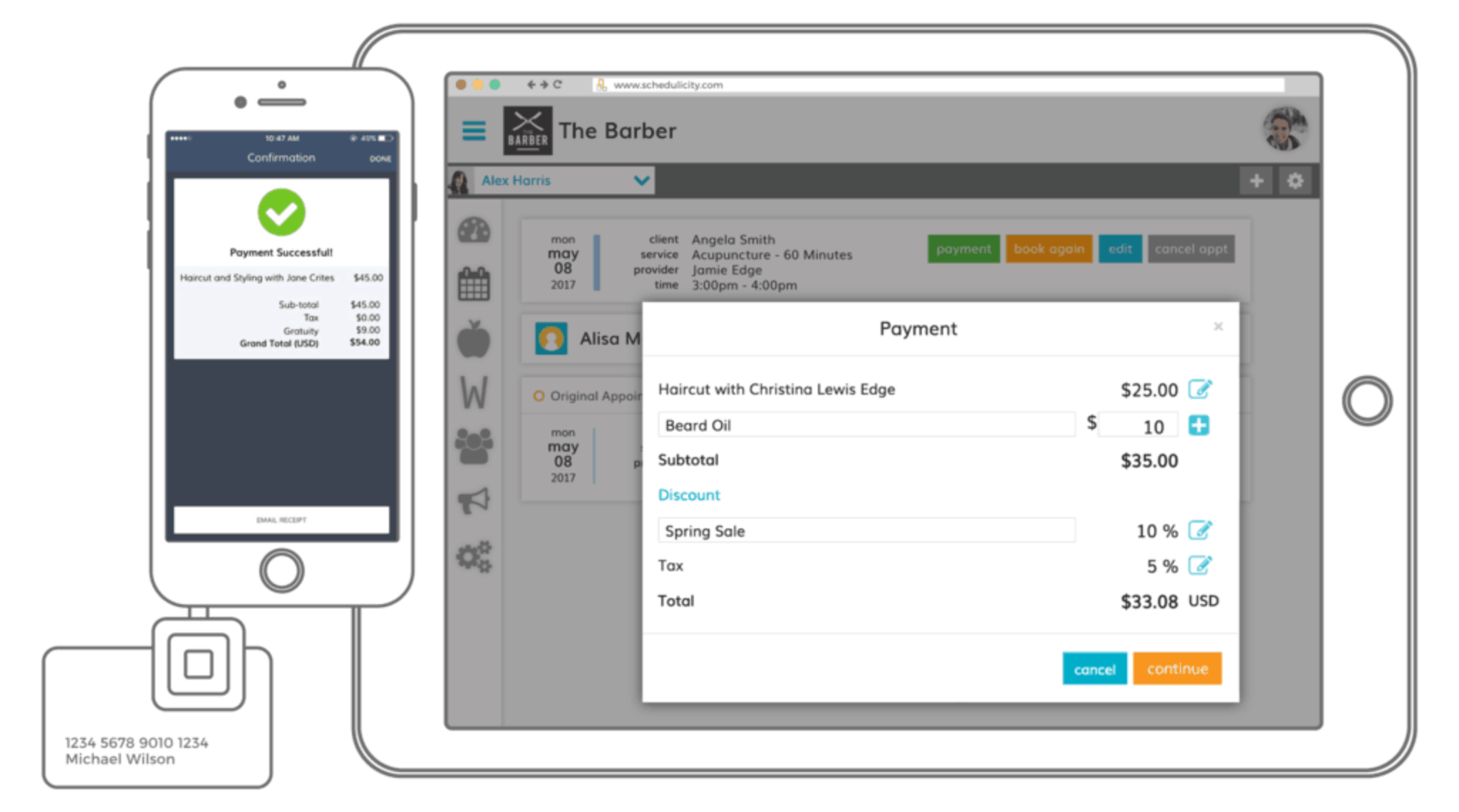 This app serves as a multifunctional platform. In addition to providing solutions for efficient appointment booking, it also helps clients discover your business. As such, it is handy for small/individual companies and freelancers who are looking to get their brand out there. Clients can book instantly through web-based or mobile applications. From your point of view, it is effortless to get booked and expand your business.
The most impressive feature of this platform is the ability to get discovered. Local businesses thrive on the customers in their locality, and Schedulicity helps you do just that. You can even list discounts and promotions to turn more heads and get clients through the door. Furthermore, fully customizable email options allow you to send "good news," like birthday discounts. Lastly, this app caters to a community of small business owners and does its best to help promote their services. So you can rest easy knowing that your business will be out there for potential clients to see.
The base software is free to use. The pricing henceforth is very modular, and you only pay for the features you may need. With an additional $20/mo to get unlimited bookings, you will be in pretty decent shape. In essence, you can get started for free and then add stuff as you go on. This allows for unparalleled flexibility in pricing options.
Noteworthy Features
Also functions as a marketplace
Ability to add "book" option to social media handles
Simple-to-use app
Client-reliability tracking
You can manage classes with check-in and automated waitlist features
Reasons To Choose Schedulicity For Your Business
Simple payments at the lowest rates
Easy to view transactions
All popular payment methods are accepted
Expanding clientele by being discovered
Vagaro acts as a search engine for services. It is specifically tailored towards the beauty and fitness spheres. Akin to Schedulicity, here too, clients can discover new businesses. You can find and book services near you through the phone or web application. If you are a small/medium business in this industry, this app surely deserves serious consideration.
Vagaro is rich with features that make it an indispensable tool. It is very customer-centric and helps keep track of your clients. The 'pop-up notes' feature enables you to add details about each client to deliver a more personalized experience. Recurring bookings are made effortless without the client having to book every time. Moreover, it provides seamless integration with Yelp, Facebook, and your website.
The cherry on top is the competitive pricing. It starts at $25/mo for one bookable staff. Adding more staff to the app invites increased costs with up to $85/mo for a business of 7+ bookable staff. The feature set, however, remains the same across all price ranges. When combined with custom client-side and back-end mobile apps, Vagaro seems to check all the boxes. 0
Noteworthy features
Ability to sync with various accounting apps for streamlined accounting
Resource scheduling can also be done through the app
Works with almost all popular calendars
Push notifications available through the Vagaro client app
The dashboard encompasses all significant info and makes it accessible across all platforms
Reasons To Choose Vagaro For Your Business
Grow your audience by being discovered
Ability to book directly from Instagram, Facebook, and Yelp
Send out custom notifications via email and SMS
Manage inventory by running inventory reports
Furthermore, payroll management is simplified using clock-in/clock-out tools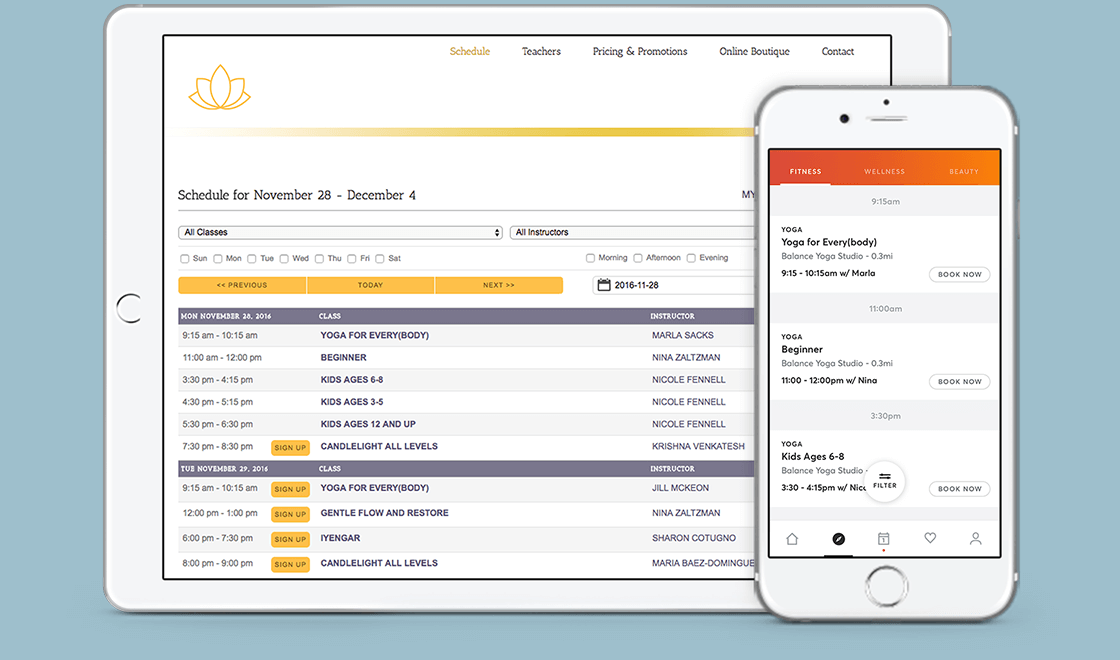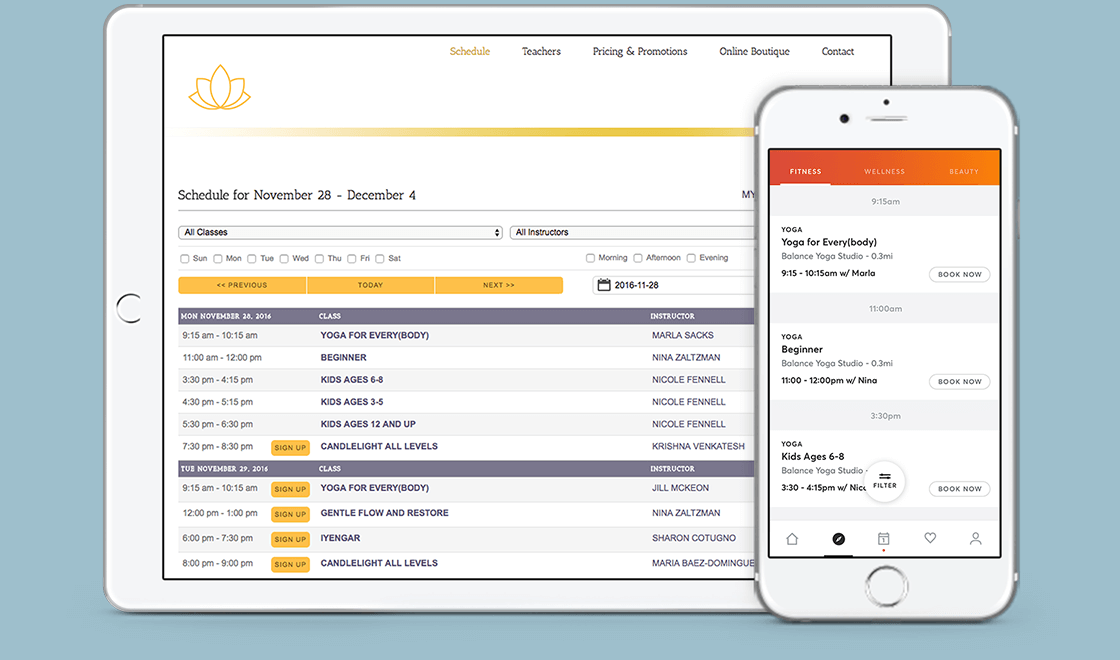 True to the name, this app caters to fitness freaks. Both from the client and business perspectives, this app aims to streamline the end-to-end processes. MINDBODY allows you to create a branded app that looks and feels like your own. This feature helps further strengthen relationships between you and your clients.
There are a host of marketing features baked right into the app. Direct integration with Google search makes a "book" button available whenever they come across your service. Dynamic pricing features are an innovative way to make sure your classes are full while giving your clients the best possible price. Additionally, billing for the marketing features done only when clients interact with them. This aspect essentially means that you do not pay for the marketing itself, and only pay up when it delivers results.
When it comes to pricing, MINDBODY is a rather expensive option. There is no free version to test the waters, and the entry-level package costs $149/mo. Also, the pricing goes all the way up to a maximum of $389/mo for the full set of features. While this may be a little too much for small businesses, if you are looking to shave off some time on the daily, MINDBODY is an option worth considering.
Noteworthy Features
Also, it acts as a marketplace – you can reach out to a bigger audience
Optimized for all platforms and devices
Payroll tracking
Send personalized messages to your clients
Available all around the globe
Reasons To Choose MINDBODY For Your Business
Targeted marketing options
Multiple POS services
Ability to give intro promotions and other deals
Seamless integration with your website and Facebook
ScheduleOnce caters towards medium-sized enterprises. It is a top-of-the-funnel scheduling solution. It allows you to book product demos, discovery meetings, or any other meeting with exceptional ease. Besides, this software is GDPR compliant, making it an attractive option if data security is of high priority to your business.
This app is commonly used to book meetings, more than setting up appointments. A wide variety of its features also revolves around this theme. Notably, the 'Resource Pools' feature helps dynamically assign bookings to team members. Besides, this feature also allows you to keep track of the assigned bookings over time. Round-Robin scheduling assigns bookings to the next available member in line. This function allows for a fair distribution of work across all your team members. Furthermore, you are given the tools to monitor this distribution and see how it impacts your business over time.
Up to three users, you can avail of their services at a flat fee of $15/mo. For teams having 4-100 people, it costs $10/mo per user. All the features are available regardless of the size of the group. When coupled with custom time-slot rules and the option to add buffers before/after bookings, it rounds up a complete package.
Noteworthy Features
Ensures fair scheduling to all staff members
Automatic time-zone detection
Seamless integration with a host of business calendars and apps
Allows for automation through integration with many apps
Reminders can be delivered through email and SMS
Additionally, resource scheduling and monitoring through the app and reports
Reasons to choose ScheduleOnce for your business
Takes into account idle time, for pooled availability
Pooled availability also takes into account meeting rooms and other resources
Seamless integration with a website – also includes CTA buttons
Fully customizable calendar and notification settings to make the customer experience smoother
This app is a comprehensive, all-in-one platform for CRM, marketing, scheduling, etc. It is used as both an employee and appointment scheduling software. It is an attractive option for solo entrepreneurs.
The presence of a branded, online calendar allows your clients to request appointments from the website itself. You can also issue a branded invoice using vCita. Aside from all this, you can also execute CRM activities and perform targeted marketing. For example, Reserve with Google can be used to let your business be discovered by potential clients. The powerful built-in page builder can be used to create attractive landing pages that drive clicks and views to your business. The most prominent feature in this software is the integration with a wide variety of business apps for unmatched automation. Hence, vCita offers a turn-key solution to a lot of challenges faced by small businesses.
The pricing schemes are also not overwhelming. Starting at an annual billing of $19/mo, it does not break the bank to get started right away. Nevertheless, you might want to consider upgrading to their 'Business' or 'Platinum' packages priced at $45/mo and $75/mo, respectively.
Noteworthy Features
Create marketing campaigns from within the platform
Email and SMS notifications
Fully optimized for all platforms
Built-in library of ready-to-send email templates covering various business messages and occasions
Besides, shared team calendar to keep track of your team effortlessly
Reasons To Choose vCita For Your Business
Annual and monthly billing options available
Client segmentation available for targeted marketing
Lead generation features offer powerful tools to catch the eyes of potential clients
Marketing automation
Additionally, clients can choose which staff they want to book with – keeps the client at the focus
Doodle is no stranger to the scheduling space. In fact, it is the world's leading scheduling app provided with over 30 million users per month. This software eliminates the need for back-and-forth email communication. It is complete with native app support for iPad and iPhones.
One of the highlights of this app is the ease with which you can manage group scheduling. Besides, the software gives you the ability to sync across multiple calendars. This facility provides exhaustive at-a-glance information about your entire team. Without a doubt, what sets this app apart from its competition is the usage of 'polls.' The whole process of scheduling events is done by asking the members to vote 'yes' or 'no' for the date in question. Additionally, they are given a third choice, 'if need be.' This feature allows members to clear their schedules if necessary.
End-to-end security is provided through SSL encryption to ensure secure data transfer. It is also hosted on Amazon's AWS platform, further enhancing security. All this is priced at an affordable $4/mo per user, billed annually. Enterprise solutions are also available for purchase. Generally, pricing will depend on the customization options you choose to include. This makes it a remarkable option for businesses of all sizes.
Noteworthy Features
Secure hosting made possible due to AWS
Time-zone smart
Automation is made possible through integration with Zapier
Comprehensive user-management features
Group scheduling features are present
Also, Doodle API allows for website integration
Reasons to choose Doodle for Your Business
World's leading scheduling app provider – 30 million users per month
Custom logo and branding options available
"If need be" option allows for people to make time if necessary
Also, Integration with all popular business apps makes for easy administration
Conclusion
To summarize, you see the variety in these scheduling apps, but you can also see the common thread in these platforms. In particular, a simple, easy interface leads to more customers booking your services, Automated notifications and reminders ensure that you never lose out on these bookings. Payment processing is convenient with integration with third-party apps. Another essential feature that wins is the ability to provide visual insights into how the business is doing – namely, a dashboard that will show the conversion of bookings into success, rescheduled appointments, and canceled appointments. Overall, tell us, what is your preferred scheduling app? Is there one that you like that we have not reviewed? Finally, what feedback have you received from the app that you use currently? Let us know in the comments below.