If you own a business involving health or wellness centers, you need help managing your clients. Management software will help you automate your processes and manage your clients with ease, thereby saving time. Two of the best wellness and health management software are Zen Planner vs MINDBODY. Here's a look at the detailed comparison and features of both.
Zen Planner vs MINDBODY Comparison Table
| | | |
| --- | --- | --- |
| Features | MINDBODY | Zen Planner |
| Pricing | Starts at $129/month | Starts at $117/month |
| Suitable for | Small, medium and large businesses | Suitable for businesses up to 250 members |
| Platforms supported | Windows, Linux, Android, iPhone, Mac, Web-based | Windows, Android, iPhone, Mac, Web-based |
| Available Support | Email, phone, live chat | Email, phone, training |
| Free trial | No | No |
| Pricing Plans | Click Here | Click Here |
| Languages Supported | English | English |
| Integrations | Integrates with Facebook, Google Analytics, Google Calendar | Integrates with SugarWOD, Infusionsoft, and MailChimp |
| Pricing Model | Monthly subscription | Monthly subscription-based on active members |
MINDBODY – Overview
MINDBODY is an all-in-one fitness software designed for fitness facilities, yoga studios, gyms and, martial arts centers. It helps with every process involved in the business. MINDBODY is an easy-to-use CRM and business scheduler that has several useful features. Many of its capabilities are customizable to your business, which is a great plus. The sheer range of functionality of MINDBODY is also impressive. This single application can do so much right from scheduling, POS to online booking and marketing, making it a great choice in terms of simplicity.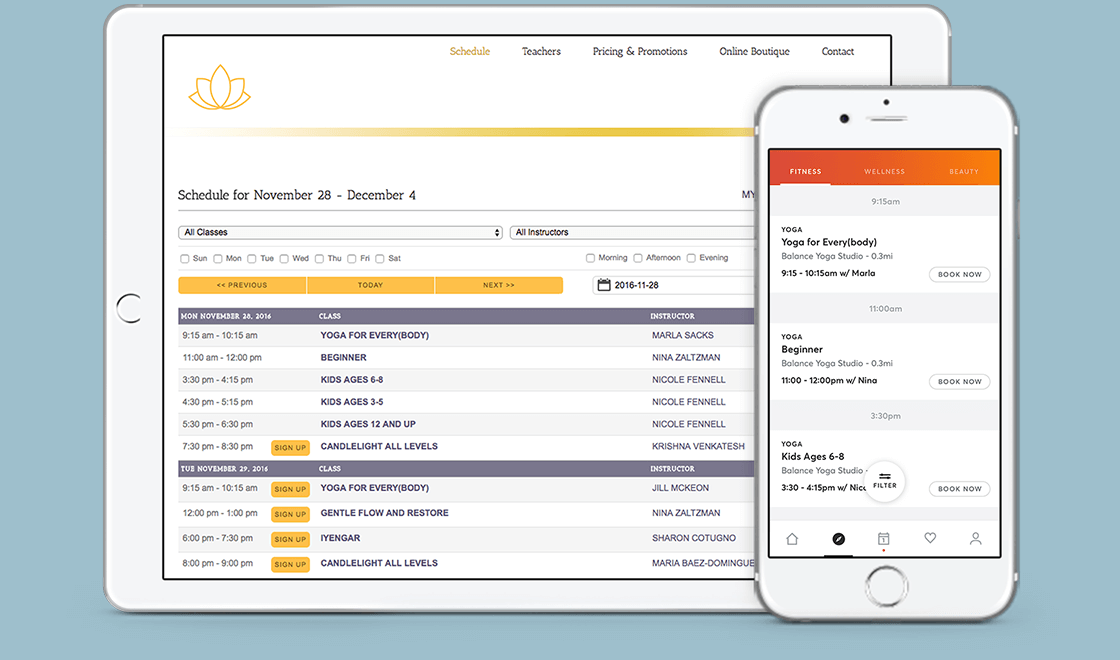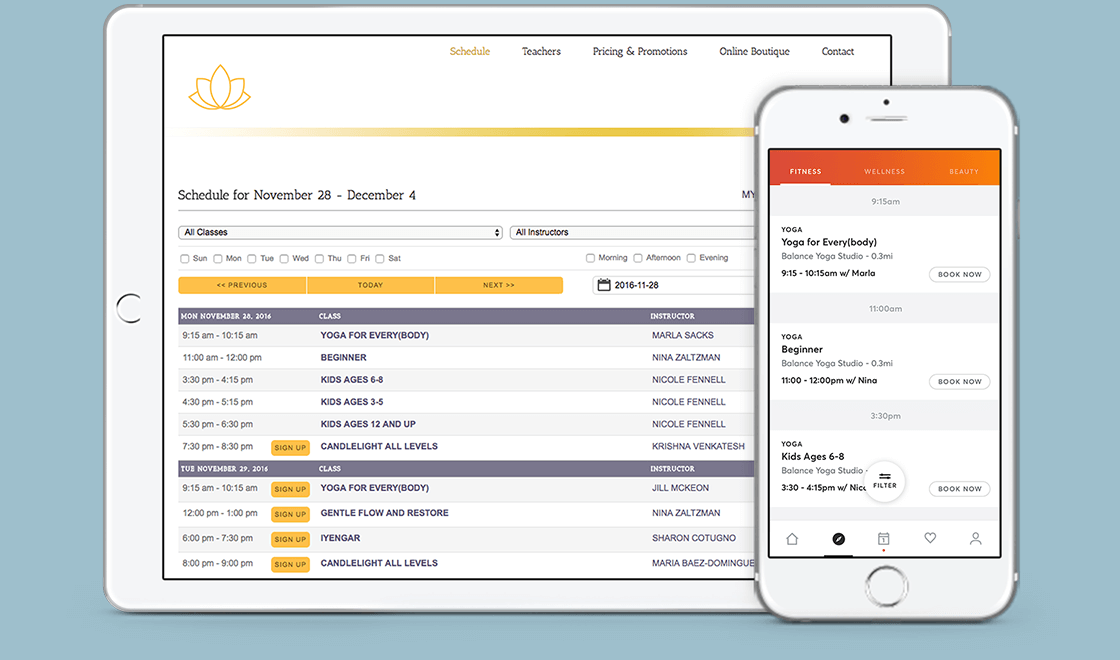 Features of MINDBODY
Online Booking
Marketing
Point of sale
Staff resources
Automated notifications and reminders
Works on multiple platforms and devices
Schedule, and book from your website and pay instantly
Detailed reporting
Website and Facebook integration
Multiple filters
Android and iOS app for clients
Gift cards
Class scheduling
Refills slots automatically
Benefits of MINDBODY
MINDBODY has some fantastic benefits like its flexibility, mobile app, customer support, and multi functionalities. It provides you tools to automate your business and grow it effectively. Clients can book appointments online, and you can link the app to your Facebook page to publish updates in real-time. Payroll processing is also hassle-free.
Ease of Use
It is simple to use, with an easy-to-understand interface and colors that are easy on the eye. The navigation bar contains every business-specific need like reports, clients, appointment scheduling, retail, etc.
Integration with other applications
Many third-party applications integrate with MINDBODY more than Zen Planner. Some of the integrations include Mailchimp, Google Analytics, Facebook, Infusionsoft, and WordPress.
Mobile app
Your business will get an exclusive mobile app. This app helps in engaging and retaining customers.
Point of sale (POS)
MINDBODY helps you process purchases like booking of appointments, classes, manage memberships, make gift card purchases, and much more.
Online Booking
Online booking offers your customers the convenience of scheduling their appointments from any place and at any time. MINDBODY allows scheduling, booking, and payments directly on your website. It also updates your available schedule in real-time.
You can also schedule directly on your Facebook page, thus making bookings available for customers on your Facebook page while they check your social updates.
Pricing Information
MINDBODY has three different levels to match your business goals. The model is subscription-based, and you get to choose between 3 packages. It is not a members-based fee structure but priced on the features you pick.
Essential
Essential is suitable for streamlining everyday services, helping you manage your services, and sell them effectively. It is priced at $ 129 / month.
Accelerate
Accelerate, besides helping you automate your processes and providing online booking, also gives you the advantages of automated marketing, strategic email campaigns, and smart contact lists. It has a price tag of $ 239 / month.
Ultimate
Ultimate helps you boost your business with some advanced marketing tools and analytics. You get access to a fully automated email and text messaging campaign, as well as supporting customer feedback and reviews, all for $ 349 / month.
Besides this, you can opt for a customized and scalable software tailored to suit your growing business. Apart from each plan's separate features, they also come with plenty of business education resources, including MINDBODY app listing, 24/7 live customer support, and management from any device.
Pros and Cons
Pros
MINDBODY offers many apps for consumers and businesses
Apps can be integrated into your website
Very easy to use
Excellent customer support
Cons
Not very intuitive and sometimes inconsistent
Expensive compared to other software
For advanced reports, you need to upgrade their level of service
No free-trial
Customer Support
The customer support is excellent, with quick response times. You get access to live support as well as telephonic support. They also help you with their initial set-up. With a little extra fee, you can get your business completely set-up in their system.
Zen Planner – Overview
Zen Planner is a popular management software for gyms, yoga studios, boxes, affiliate gyms, schools, and wellness centers that is fully customizable and loaded with features. It helps you save time, thereby focussing on the essential tasks, which include administrative tasks like scheduling, billing, and payroll processing, thus giving you time to build customer relationships. It integrates with several third-party software and helps with digital marketing. Zen planner offers you a 15-day free trial and is designed especially for Group Fitness Centers rather than personalized training. With the Zen Planner Suite, you can work towards your passion and get all services rolled into one! It is member management software, containing integrated marketing, customer retaining, and members automated services, thus enabling you to concentrate on other aspects of your business while increasing your client base.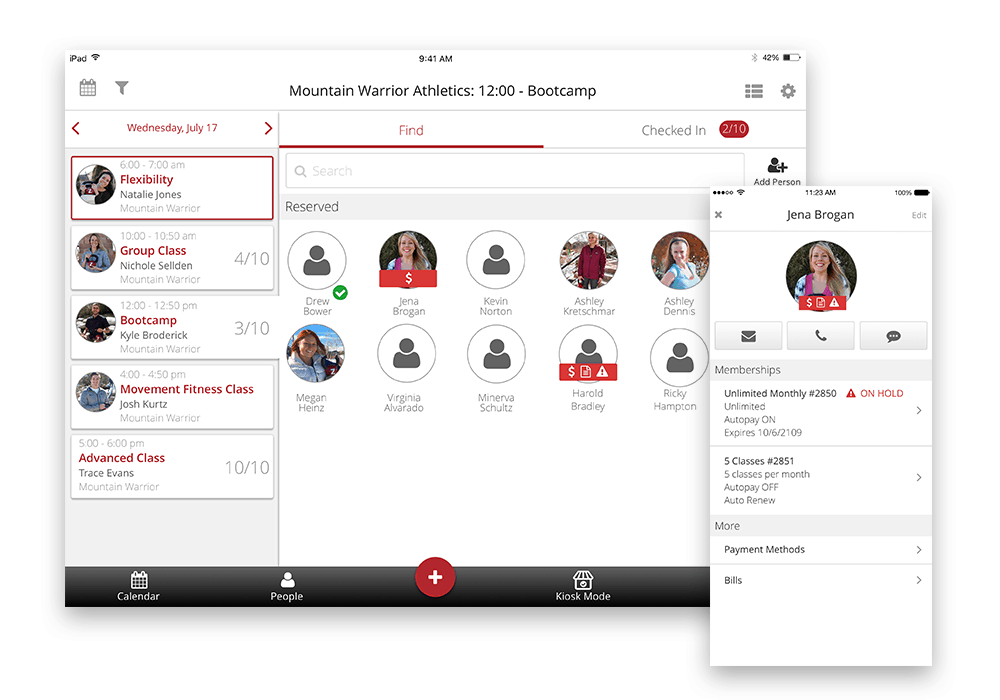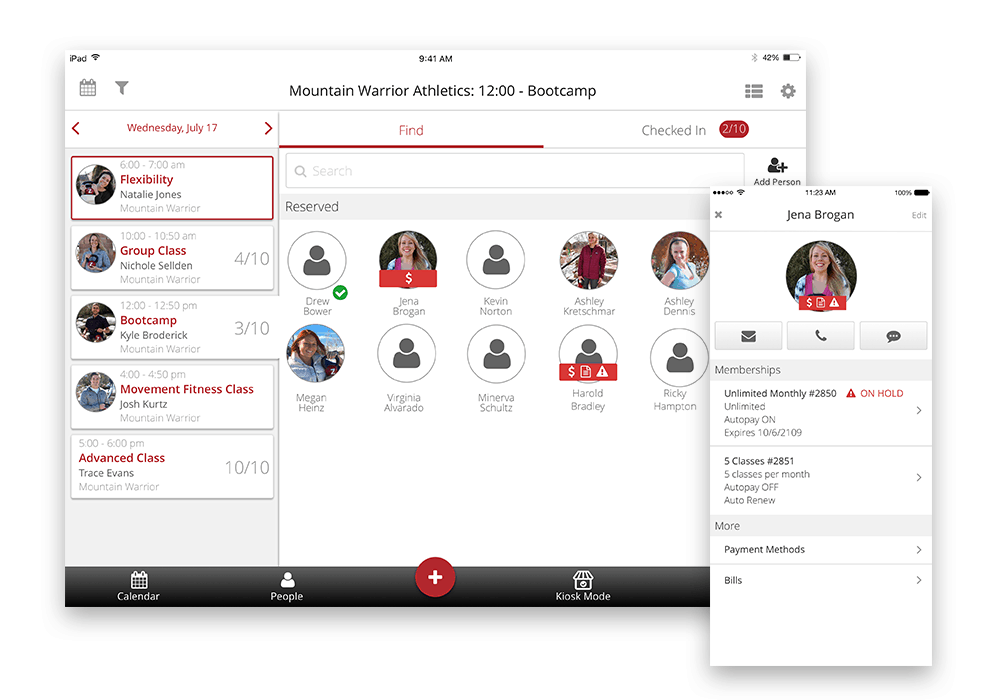 Zen Planner is easy to set-up, with phonetic support to help your account set-up properly. Getting your programs set up correctly is tricky initially. Hence it's crucial to get it right. Else you might have a lot of re-work. Zen Planner has a bunch of cool features, which makes them easier to use than MINDBODY, like the latest version of their customer apps. Zen Planner is the best option for small businesses. It is ideal for single-location businesses with less than 250 clients. However, if your client base exceeds 250, the Zen Planner platform can pose constraints.
What are the features of Zen Planner?
Online scheduling for clients
Integrated website
Automated billing, payment processing, and attendance tracking
Advanced Website tracking
Automation
Customized reports
Android and Apple apps for members
Event and Inventory Management
Point of Sale
Benefits of Zen Planner
Ease of Use
While MINDBODY is easy to use, we vote for Zen Planner when it comes to ease of set-up and use, besides getting customized reports in a jiffy. The back end is quite easy to use, and customers love the app, which makes online booking so simple.
Marketing tools
Get email automation and Integrated Websites to enable the growth of your business by adding a personal touch.
Integrations with Third Party Sites
Zen Planner integrates with the likes of MailChimp and Infusionsoft for engaging with prospective customers. Zen Planner's interface gives you the ability to create workouts and track trainees' performance.
Point of Sale
Zen Planner offers a POS and an inventory tracking feature.
Customized reports
Zen Planner's reports include pre-set ones like income made, which you can obtain by just entering the date. It's effortless to create custom reports and use them for analytics.
Mobile app
Zen Planner has a mobile app for staff, which is very to use besides another one allowing clients to reserve a class, manage their accounts, and track their workouts. It is updated continuously.
Zen Planner Pricing
The pricing is straight-forward based on the number of members in your business. Here's a breakup of the pricing scheme.
Up to 50 members: $117
Up to 100 members: $157
Up to 200 members: $197
Up to 400 members: $227
With the monthly fee, you get access to virtually all of ZP's services and features: automated marketing emails, reports, membership, and client tracking, apps, and lots more.
Customer Service
You do not have a live chat feature, unlike MINDBODY, but have to either email or phone-in. That being said, their support team is in-house and has an impressive track record of 90% live call answer rate. Support is available all seven days of the week, while weekend support is only through email.
Pros and Cons
Pros
Very user-friendly
Easy online booking
Client mobile app
Detailed, customized reporting
Extensive online support suite
Automated emails and messages
Cons
Cannot customize apps without upgrading
Does not have a wide range of features like MINDBODY
Conclusion
So if you wish to choose the better one of the two, we would suggest it depends on your business. For smaller firms, Zen Planner, with its better reporting tools and ease of use, is no doubt a great choice. But MINDBODY offers you comprehensive features and also better marketing options besides covering a more extensive range of industries. While today's businesses want the best Club Management Software to remain competitive, choosing the best software boils down to the minute details of their individual modules' capabilities and your requirements.
Checkout out our top appointment scheduling software post to see all of the top applications available today.