With the advent of technology, an increasing number of businesses are beginning to make the switch to automated processes to boost their brand value and market share. These businesses include the health, beauty, and wellness industry as well. More salons and beauty spas use management software to help increase their business, generate reports, offer memberships, and other features like online booking for clients. The best Health & Wellness Business Management Software include the likes of Vagaro vs MINDBODY. Here's a detailed comparison of the two, which should help you decide the one best suited for your requirements.
Vagaro vs MINDBODY Comparison Table
| | | |
| --- | --- | --- |
| Features | MINDBODY | Vagaro |
| Starting Pricing | $129.00/month | $25.00/month |
| Platforms Supported | Android, iPhone/iPad, Mac, Web-based, Windows, Linux | Windows Phone, Android, iPhone/iPad, Mac, Web-based, Windows, Linux |
| Businesses supported | MINDBODY supports small-, medium-, and large-sized salons, gyms and fitness studios | Freelancers, Beauty and Wellness Clinics including salon, spa, Pilates, yoga, dance studios and more |
| Pricing Plans | Click Here | Click Here |
| Free Trial | No | Yes |
| Integrations | 30+, including Google Analytics, Facebook, Mailchimp, etc. | 9 integrations, including Google Calendar, Facebook, Microsoft Outlook, etc. |
| Customer Support | FAQs Knowledge Base 24*7 Chat Phone Email Video Tutorials | 24*7 chat support Knowledge Base FAQs Phone Email Video Tutorials |
| Languages Supported | English | English |
| Multi-location | Yes | Yes |
| Facebook booking integration | Yes | Yes |
| Website Integration | Yes | Yes |
MINDBODY – An Overview
MINDBODY is suited for all types of salons, spas, and gyms, be it small, medium, or large-sized. It is a simple cloud-based software that helps you organize your day, automate your processes, and get new clients. Gyms, massage centers, salons, spas, yoga studios, and all types of fitness and wellness centers use MINDBODY. It is a streamlined product that is easy to use and simple to navigate. With MINDBODY, you can effectively manage your business and marketing operations. Besides offering appointing, scheduling, and staff management tools, its myriad marketing management features include targeted marketing campaigns and promotional emails.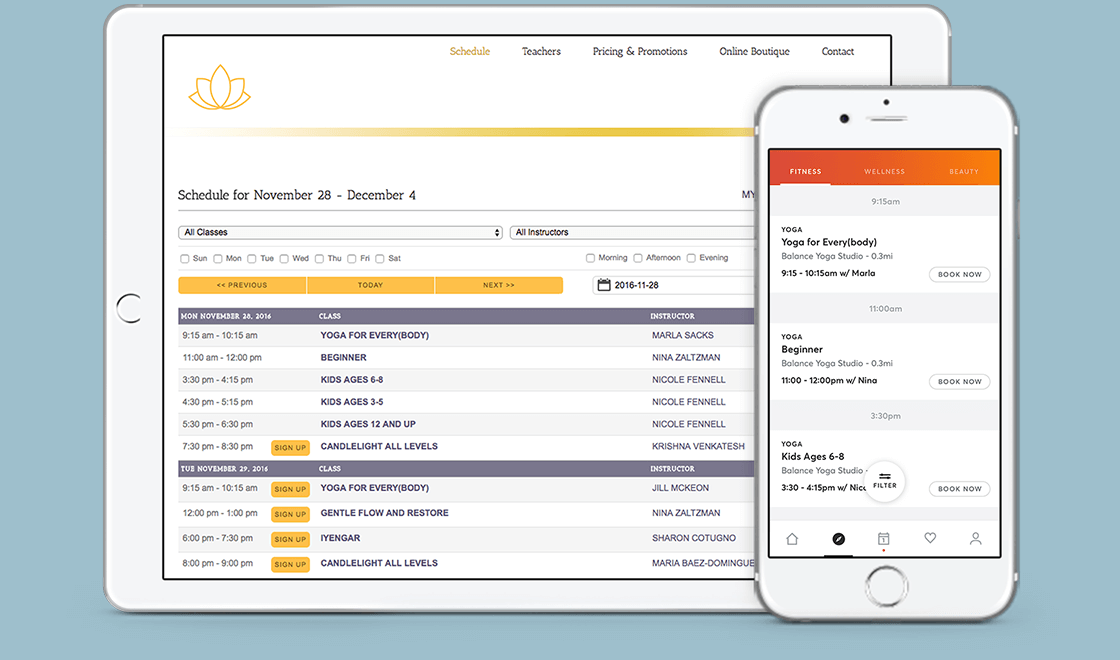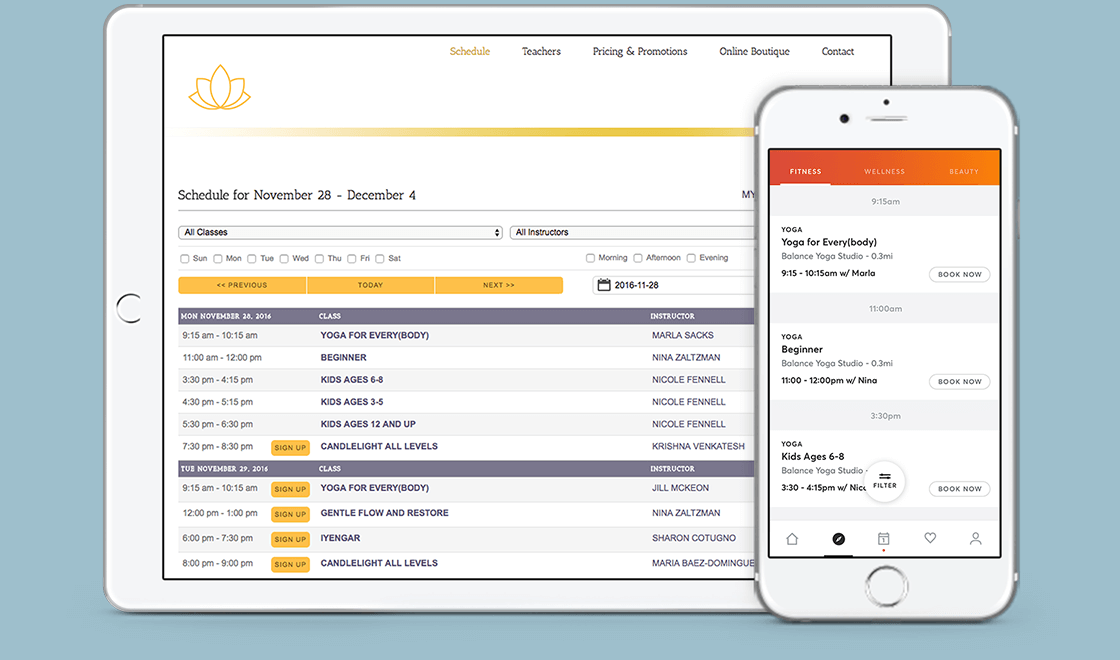 The software can be installed across multiple platforms and devices. They offer amazing features like automated notifications and reminders besides tracking trends like monthly revenues, sales, retention levels, and much more. MINDBODY can help you achieve your business goals and completely transform your business. You can set it up in no time and use it effortlessly since this is highly user-friendly. The platform can handle multiples users and is scalable and also takes into account independent contractors.
Features Of MINDBODY
MINDBODY has plenty of features that make it a top choice among businesses and customers alike. Some of the most prolific features include:
Online Booking
Marketing
Staff resources
Point of sale
Customers can schedule, book and pay directly on your website
Automated notifications and reminders
Works on multiple platforms and devices
Website and Facebook integration
Detailed reporting
Android and iOS app for clients
Multiple filters
Gift cards
Class scheduling
Refills slots automatically
Top Benefits Of MINDBODY
Automated Processes
All staff management and other processes can be streamlined and automated to take care of essential tasks like managing your staff's schedule, giving them logins, and taking care of payroll.
Point Of Sale (POS)
With MINDBODY, you can process purchases like booking of classes and appointments, manage memberships, gift card purchases, and a lot more. Since it logs into the client's profile, it makes for easy reference later.
Customers' Online Booking
Clients' can schedule their next class or appointment and choose from the slots available. They can book and pay directly on your website and access it from any location or device.
Reports
Get reports to analyze parameters like attendance, revenue, membership growth, and use the data to get a comprehensive picture of the performance of your business.
Marketing Tools
They help you acquire clients through search and social media and retain them with notifications, customizable messages, and campaigns.
Pricing Information
MINDBODY is reasonably priced with three different levels to match your business goals. It has a subscription model offering you choices between Essential, Accelerate, and Ultimate.
Essential is suitable for streamlining everyday services, managing your schedule, and marketing your services. This package is the least expensive at $129 / month.
Accelerate goes beyond basic business management and gives you the added advantage of building relationships and retaining clients with strategic email campaigns and smart contact lists. It comes at $239 / month.
Ultimate helps you boost your business with some advanced marketing tools, more automation, and analytics. Priced at $349 / month, it supports customer feedback and ratings and also an advanced referral program besides offering your custom mobile app.
Pros And Cons
Pros
Very user-friendly
Great Customer Support
Plethora of features
Client interaction through auto-e-mails/texts
Cons
Not very intuitive for especially for those who aren't tech-savvy
Very expensive
Customer Support
One of the most significant advantages of choosing MINDBODY is the fantastic customer support you get. There are plenty of options to choose from, like the FAQ section, the discussion forum, and knowledge base. For instant queries, you have telephonic support and online support (24*7) as well. The staff is friendly and knowledgeable, and you can expect a short response time and quick resolution of queries which will leave you pretty satisfied.
Vagaro – An Overview
Vagaro is another highly ranked software solution for health and fitness centers, helping them promote their services and manage smooth operations. The company helps business owners build a customized website and offers a platform for users to register, book appointments and classes, advertise, and promote their brand. They can also send text or email notifications to their customers, confirm appointments, and send reminders. With the history tracking feature, you can track each customer's history like the number of appointments, visits, and choice of services to expand your business.
With Vagaro, salons, spas, studios, as well as yoga centers, you can build a strong customer base. Besides this, it can help generate sales & service reports, log staff attendance, and map to payroll.
As of now, Vagaro is available in Australia, Canada, the United Kingdom, and the United States. Businesses can display their convenient booking slots available for the day, week, or month and customers can book appointments. It can then be confirmed with email or text notifications, followed by reminders. You can advertise other promotional details like discounts and specific offers, making this a suitable application for all types of businesses.
Features Of Vagaro
The main features of Vagaro include
Appointment scheduling
Import contacts from Excel, Google, Yahoo
Email marketing
Reporting
Inventory management
Business reports
Payroll & Commissions
Point of Sale (POS)
SMS text reminders
Reminders
Social Marketing
Loyalty Program
Benefits Of Vagaro
Online Booking and Payment
Clients can easily schedule their next appointment through the Vagaro App, Yelp, Facebook, Instagram or your site with their booking widget
Point of Sale
You can integrate payment processing from your desktop or your mobile device. Users can have Points of Sale, which helps them reach out to potential customers through various schemes like gift selling points and coupons, which can be redeemed online.
Email, Text, Push Notifications
Vagaro sends email, text, or push notifications to clients so that they don't miss their appointments. It helps business owners know when customers book or reschedule their appointments.
Marketing
Send reminders to old customers and retain them. You can launch promotions and daily deals besides automatic emailing about birthdays, follow-ups, and reminders to clients. They can launch email marketing campaigns and connect with their customers providing them with a personalized experience to increase customer satisfaction and thereby retention.
Pros And Cons
Pros
Easy to set-up
Most downloaded Apple and Android app
Free Trial
Good customer Support
App available for Windows Phone
Cons
Suited mostly for smaller organizations
Extensive customization of reports is missing
Booking multiple services are complicated
Pricing Information
Pricing is subscription-based and quoted based and depends on the number of users varying from two to seven, with an enterprise-pricing plan for larger teams. Here's a look at the packages.
One user – $25/month
Two users – $35/month
Three users – $45/month
Four users – $55/month
Five users – $65/month
Six users – $75/month
Seven+ users – $85/month
The packages start at @$25/month with 1 Month Free Trial. All packages include the following features:
Calendar
Online Booking
Notifications
Customer Tracking
Memberships
Forms ($10/month)
Marketing
Build a Custom Website ($10/month)
Reports & Payroll
Website Builder ($10/month)
POS & CC Processing
2 Great Mobile Apps
Customer Support
You can avail of their customer services through email, phone, or live support. The customer service has been described as the stand-out feature by almost all customers who have used Vagaro.
Conclusion
MINDBODY and Vagaro are among the two leading Salon Management tools for all types of businesses. Based on the information provided here, you can compare the features, pricing, platforms supported, and integrations and decide on the best software based on your requirements. You can start a free trial with Vagaro or request for a demo with MINDBODY right away and find the right solution to improve your business and save time.
We hope this guide goes some way in helping you choose the right platform. Do let us know what you think of the article in the comments section.
Checkout out our top appointment scheduling software post to see all of the top applications available today.