Asana is a project management tool that allows teams to track, manage, and organize their work. The simple interface makes working as a team easy, and with Asana available in 195 countries, your virtual team can be connected from anywhere at any time of day. The program features boards that organize your projects for easy visualization, and Timeline to track your team member's progress. Asana also features automation to simplify workflow and reduce errors and a calendar that can help you schedule out project needs for the future. You can also integrate Asana with dozens of apps to access email, Google, Slack, OneDrive, and more.
While Asana is a great web-based team collaboration tool that is best for workflow management, it is not necessarily project management. It doesn't have native time tracking and some of the more advanced tools used in project management software such as IP address tracking, keystroke, and screen grabbing, among others. If you're looking for excellent workflow management, Asana is for you, but if you're looking for an online collaboration tool with other capabilities, check out these top 5 alternatives to Asana that will make your workflow and project management easier.
Zoho Projects
When you need a project management tool that has all the communication capabilities of Asana, but with cloud management and a feature-rich interface with advanced capabilities for small teams, Zoho Projects is a great alternative. Zoho is easy to use, customizable and offers two-factor authentication to ensure that your projects and team member information are kept secure. A chat box is built into the workspace to make team collaboration easy and simple, with direct messaging between individual team members also possible. If you need an audio or visual conference call, your team members can all get connected through the Zoho Meeting App.
The Project Management Software Features We Love from Zoho Include:
Task and milestone setting
Built-in timer for time tracking (express accounts only)
Kanban view
Resource management reporting
Time tracking with Mavenlink integration
Manual time tracking on the weekly time log
Issue tracking
Access to an entire suite of business apps
One of the things we like best about Zoho Projects is the built-in app store that offers more than 100 apps and programs that can be integrated with Zoho Projects to take your team to the next level and get even more in-depth reporting and analysis. Almost all of the tools have mobile apps as well, which makes working while you are on the go easier than ever.
Teamwork Projects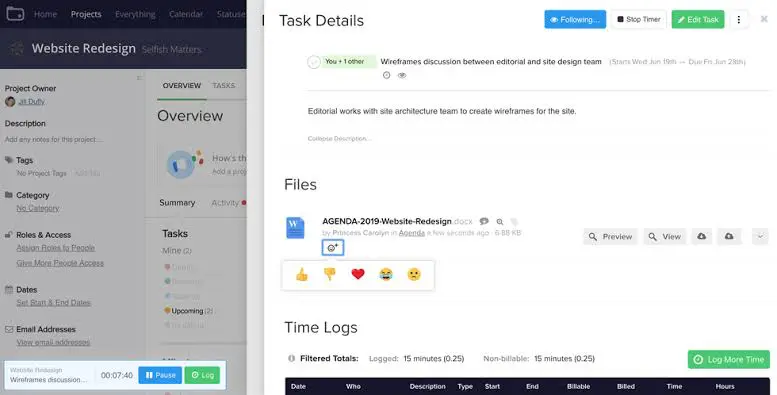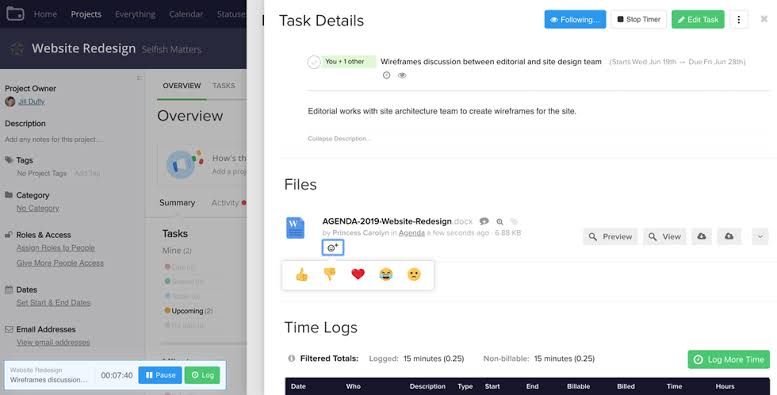 Teamwork Projects is a simple and easy-to-use project management tool featuring an intuitive design, optional Kanban boards, calendar integration, dashboards that are easy to read and full of useful information about your projects.
Teamwork Projects feature we love:
Time tracking
Billing
In-app timer
Manual time tracking
Task setting
Tags
Invoicing
Expense reporting
Billable time organization
Gantt Charts
Dozens of integrated services
Teamwork Chat
Document editing in Teamwork Spaces
PDF Markup tools
Teamwork Projects is the ultimate project management tool that offers a wide range of tools for small businesses or large. Teamwork Projects is also considered one of the most affordable online project management tools available, which is perfect for small businesses and home services industries that can use the billable hours and invoicing features.
LiquidPlanner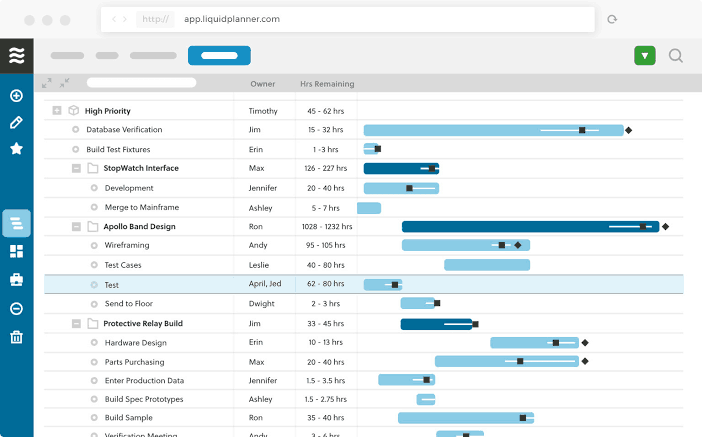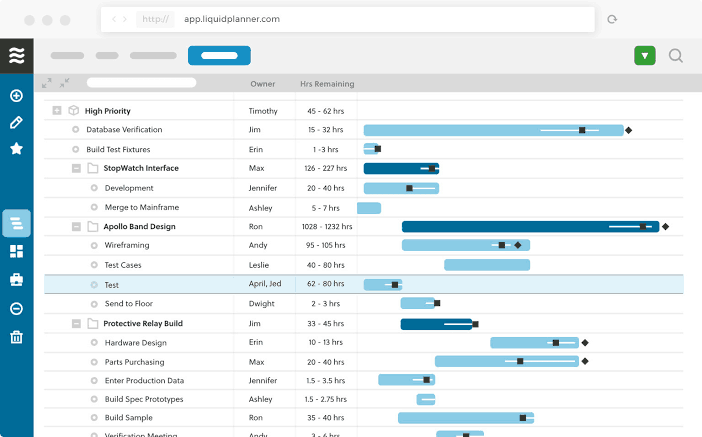 When you have many projects happening, invoicing to be done, employees to track, and dozens of other tasks on your mind, LiquidPlanner will be your project management tool to live by. The complex system is one of the best for complete project management currently available and can help you track your resources and other data in addition to your workflow. Liquid Planner is ideal for large companies since the software can handle up to 2,000 tasks and 100 clients. There are also 10 external dashboards and the ability to add up to 25 team members when you choose a professional account. The enterprise account allows you to go even bigger with unlimited dashboards and up to 50 team members; however, LiquidPlanner is a bit more expensive than other project management tools with a minimum start-up cost of $2,700 per year.
LiquidPlanner Features We Love:
Priority-based scheduling
Time tracking
Built-in collaboration
Drag and drop
Document storage
Client sharing
Project Analytics and reporting
Access controls
Workspace chatting
iOS App
Android App
Checklists
Cross-referencing tasks
Baseline view
Contract fields
Access control
We love that LiquidPlanner is data-driven and offers automated and predictive scheduling, which is unlike most other project management tools. Conversations in LiquidPlanner are also attached to tasks, so that information and chatter stay relevant and organized. The dashboards in LiquidPlanner are also ideal and highly customizable for people who love to create their own visual workspace. Free trials are available; however, there is a tiered pricing version up to $69 per month per user.
Podio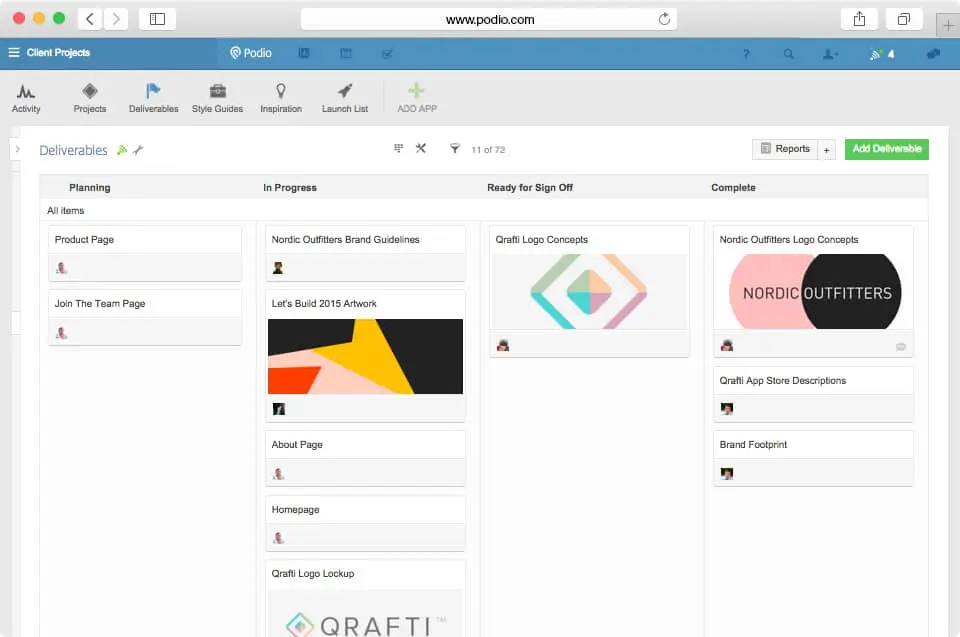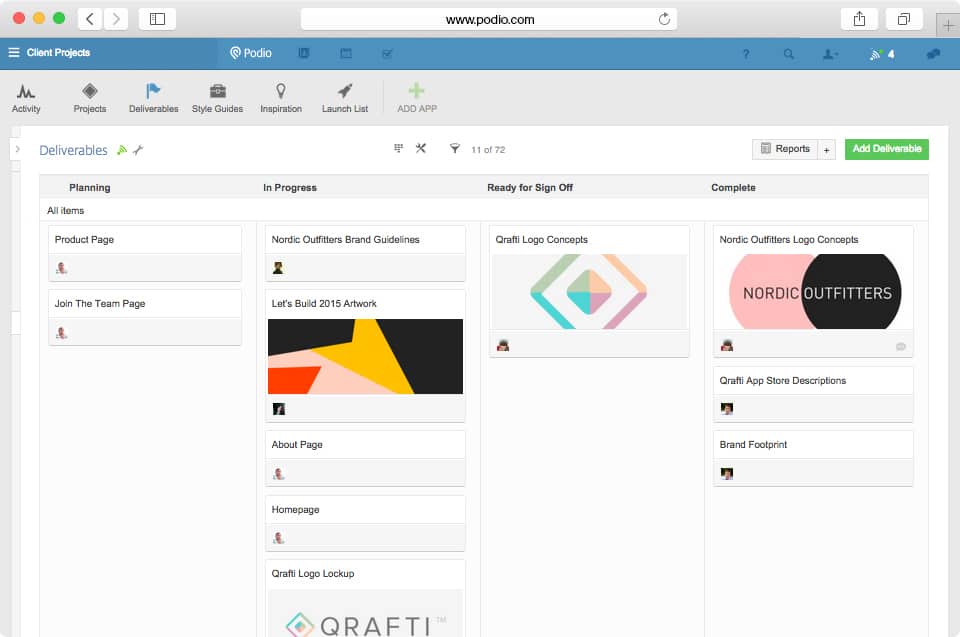 One of Asana's biggest rivals is Podio, mostly due to the powerful, open API that allows users to connect dozens of apps on an intuitive interface. Podio also supports in ap chatting as well as video conferencing, which makes virtual team meetings super easy. Another great selling point for Podio is the unlimited file sharing and document storage, as well as the highly customizable templates for various projects or workflow teams.
Podio Features:
Public workspaces
Private workspaces
Team chat
Video messaging
App integration
File and document sharing
Dashboards
Task management
Milestone tracking
Apps Marketplace
One of the best features of Podio is the Apps Market that comes with easy-to-use add ons for Podio for events, business development, sales, CRM, software, communication, marketing, and more. You can even manage conferences, organize suppliers, guest lists, venues, and more through the highly customizable platform. The API also allows developers to use several programming languages if your company is large enough for an IT team. Unfortunately, if you need assistance with Podio, the only method of contact with their company is through the email request form.
Trello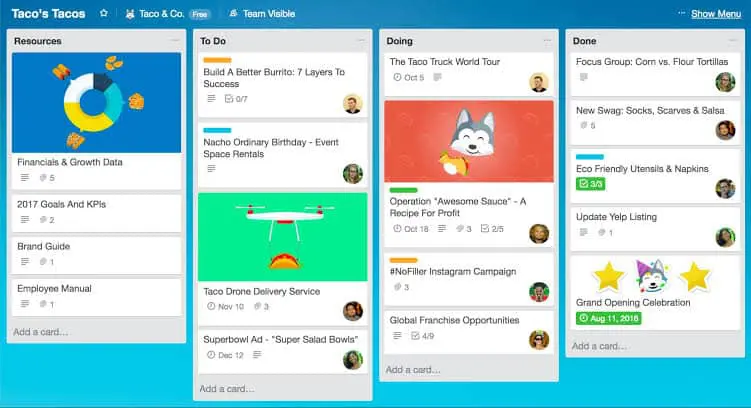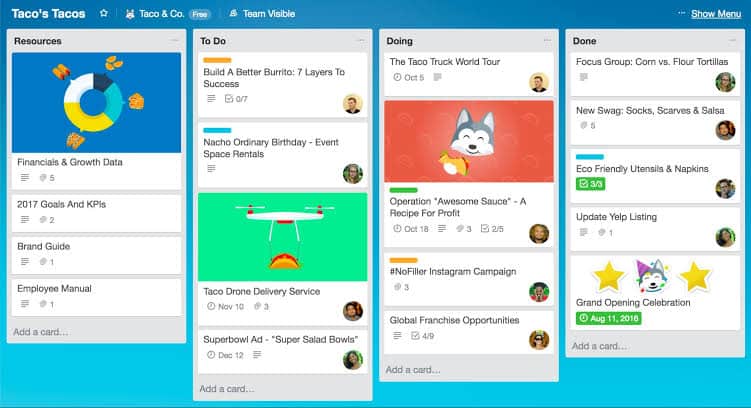 Smaller teams looking for easy collaboration and project management will think Trello is a great option. Trello is a tried and true option that made the use of the Kanban board popular and offers easy to use drag and drop task management tools that create to-do-list style organization with checklists and progress tracking. You can also set reminders for users or yourself, file and document share, and there's even a free version!
Trello Features:
Unlimited app integration including Google, Salesforce, Evernote, Github, Slack, and more
Attach files up to 250mb
Add comments to discussion boards
Custom branding
Export team data
iOS App
Android App
Card system of organization
Clean interface
Notification management
Trello Powerups
Trello is perfect for managing small projects with a limited number of team members because the free tier is so great and includes so many features that you can only get with competitors on their paid tier pricing. We also love the Trello Powerups, which add more functionality to your boards through buttons that preview attachments, add calendars, polls, and integration with Google Drive and more.
No matter how big or small your business is, if you need your team to collaborate together efficiently and effectively, you're going to need a web-based project management tool that makes your workflow easy. Not only do these Asana alternatives allow project managers to track progress, but some of the programs can eliminate entire departments to save overhead and increase profits!
featured image credit, Monday.com