Using link tracking software is something that identifies a marketing professional. Running an online business frequently involves struggling for rankings, visibility, and conversions.
You spend a lot of money on Google, Facebook and other paid ads to market your product or service. Such kind of promotion requires keeping an eye at breaking even/ making a profit, otherwise those expenses quickly become unbearable and may even ruin your business.
The great news is that you can easily avoid the losses implementing link tracking software.
Think about it like this – you are tracking your ranking positions on Search engines, aren't you? Sure, because losing the top positions on Google will cost you heavily. Well, not tracking your marketing link clicks will harm you the same, therefore, you need a link tracker.
In this article, I decided to come up with this list of top link tracking software suitable for any type of online business you might be into including affiliate marketing.
At the end of the best link tracking tools, you will find a bonus item, an awesome backlink checker to monitor the backlinks of your resource as well.
1. ClickMagick

ClickMagick is a link tracking tool that can be used to easily track and optimize even the most complicated sales funnels. Just use the links the Funnel Builder software generates for you, and add ClickMagick "tracking pixels" to your conversion pages to get valuable insights.
Here are some of the key features of ClickMagick app:
Automated & intelligent split testing.
5 different kinds of pop-ups including "on load" or delayed, exit pops, and exit redirects that you can add to any resource.
Intelligent countdown timers to utilize the power of scarcity for conversion increase.
MagickBar technology by ClickMagick allows you to add a notification bar to any website. This notification bar can include any type of content you want to show, such as opt-in forms, countdown timers, and more.
Advanced Retargeting by ClickMagick allows you to add a retargeting pixel (from any retargeting network) to any of your tracking links.
5 different types of rotators and dozens of options including the ability to deliver traffic based on time, location, device type, and lots more to distribute incoming traffic to as many different URLs as you want.
2. Linktrack
Linktrack is a link tracking software to accurately monitor every click and get real-time updates so you know where your traffic is coming from.
It is a great companion for tracking pay-per-click campaigns, email marketing campaigns, social media advertising, and affiliate partnerships.
Here are some of the major features of Linktrack:
You get unlimited clicks and links with any of the premium accounts
You can use your own domain name for tracking links, which is much better for your brand image consistency.
The tool is extremely easy to use for ad tracking, click tracking, and impression tracking.
Having all of your data in one place you get total control over it.
Looking at the free full-color graphs it's easy to understand where you're getting the best results.
Real-time reports on the web site are available for download or through the Linktrack API.
3. RedTrack.io
RedTrack.io is cloud-hosted ad tracking software that provides data analytics and campaign optimization solution. The platform allows affiliate marketers and media buyers to tackle complex performance tracking and data using a single, agile tool that scales and adapts as they grow.
Some of the key RedTrack.io features include:
Automation of the routine tasks and consolidation of data for media-buyers.
Providing campaigns, sources, traffic and conversions reports.
Setting automation rules and real-time notifications to prevent loss.
Automation and API integration with traffic sources to pause campaigns and blacklist placements.
One easy-to-use UI for media-buying ad affiliate/publisher management.
Native support performance-focused and brand-awareness advertising campaigns.
Tracking every parameter of your campaigns: with or without redirects, 100 or 100 mln clicks per day, costs tracking using CPC, CPM, popCPM, CPA or Revshare.
Setting up multiple conversion events and postbacks.
Making accurate, data-driven decisions with 40+ standard and custom data points about every impression, visit, click and conversion.
4. Linkly
Linkly provides you with a single link for everything which helps your followers easily discover all your social media accounts and websites.
With this free tool, you can list all your social media, websites (e.g. shop), sponsors and more. What's important, you can provide all this information to interested people using only one link.
Linkly offers a free build-in URL shortener as well. All aliases are available to you since you are provided with a personal URL. For example https://linkly.co/username/youralias.
5. Improvely
Improvely is link tracking software for tracking, testing and optimizing your online marketing.
Here are some benefits you can get from using the tool:
Real-time tracking of Improvely can identify and protect against suspicious click activity on your ads so that you can stop paying for fraudulent clicks.
Improvely allows you to quickly identify the best and worst-performing traffic sources and segments for your site. This way you will focus your marketing to maximize conversions while cutting the ads, keywords and landing pages that waste your money.
Improvely has built-in split testing allowing you to add or remove landing pages from many ad placements without waiting for 3rd parties to approve changes.
Improvely builds a profile of every person that visits your site revealing the activity that contributed to each conversion — every ad click, web search, and link referral.
Improvely updates in real-time as people arrive and interact with your site, therefore, you can quickly react to new inbound links, search queries and changes in marketing campaigns.
Improvely brings analysis of all your traffic sources together in one convenient place.
Improvely is a hosted service, so there's no software to install and you never have to pay more to access the latest version.
Improvely is constantly updated. You don't need to purchase a new version or download any updates to access new data, reports, and tools to improve your marketing results.
Bonus SEO & link building tool
6. Linkio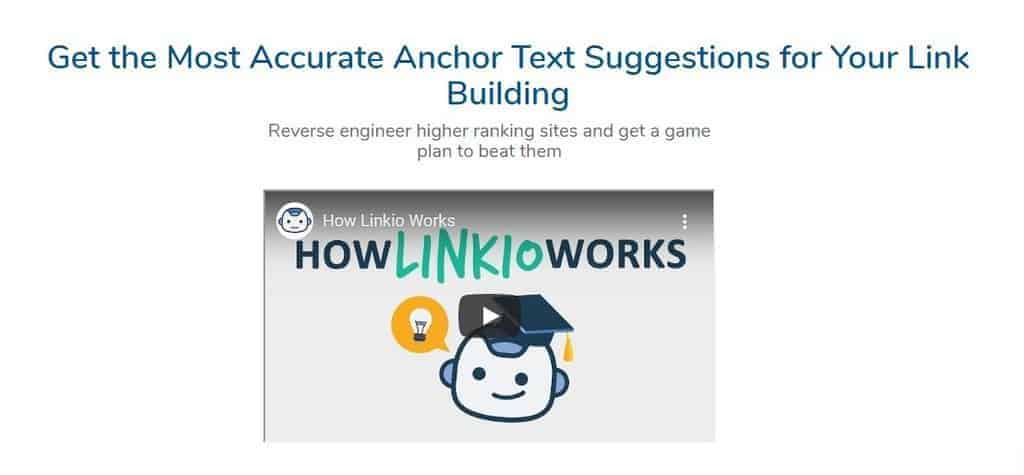 The last but not the least, Linkio is a practical tool for monitoring your backlinks. What Linkio gives you is ideal anchor text ratios for your keyword. This way you know what anchor text to build next.
Linkio can become your secret weapon for link building. To be more accurate:
it checks your links,
checks competitor's links,
suggests anchor text,
and monitors your rankings.
Linkio is developed for SEO experts and seamlessly integrates with most of the Ahrefs tools. It is designed to give SEO pros the right anchor text to build next, by using insightful data to help you make better-informed decisions. It's flexible, automated and remarkably easy to use.
You would never start building a house without a blueprint. Similarly, and you shouldn't start any link building campaign without an anchor text roadmap. Linkio gives you the data to base your campaign plan on. This is a sure way to increase your chances of success and client loyalty.
Final thoughts
There you have it – the list of top five link tracking software plus one bonus backlink checker tool. Almost all of them can be used by both beginners and experts as well as affiliate marketers for monitoring link clicks, analyzing data and optimizing for conversions. Some of the featured tools provide advanced features for tracking the links on a large scale.
I hope you have already pinpointed the click tracker that can meet the operational and budget requirements of your online business.