Fleet management solutions allow fleet business managers and owners to maintain, track, and analyze their operations. They record driver information while monitoring tax and fuel expenses at the same time. Moreover, these solutions can help managers schedule equipment maintenance and assign tasks to employees.
The more advances management systems can rank driver's performance based on driving behaviors like harsh braking and aggressive acceleration, as well as total working time. This enables fleet managers to identify offensive behaviors and improve driver safety by reprimanding reckless drivers.
However, most solutions are primarily intended to truck delivery status, vehicles, and other fleet assets. Typical features include dispatch management, employee management, GPS tracking, and routing. Depending on the plan you sign up for, you can get fewer or more features and capabilities.
In addition to the features, you should also consider the cost of management software to find an option that suits your budget. You are also advised to check integration capability to find out which applications can be integrated with your software or hardware.
AssetWorks is a fleet management solution that comes with multiple modules. It allows fleet managers to keep close tabs on vehicles and drivers, monitor fuel consumption, and much more. Let's see what else you can do with this software.
A Few Words About the Company
If you are dealing with management tools and assets, chances are good you've heard of AssetWorks, given that this company was founded in 1983. It is located in the United States. Beyond North America, they have offices in the United Kingdom.
AssetWorks develops customized consulting services, as well as integrated hardware and software, for infrastructure- and asset-intensive businesses. From local and state government to education and utilities, they have tapped into different industries.
Their all-inclusive platform comprises a number of solutions that help both county and city municipal departments with everything from data integration and data visualization to workforce mobilization. There's a full suite of practical and innovative solutions, such as:
Fleet Management Software
MobileFocus Enterprise
Integrated Fuel Management
Life-cycle Cost Analysis (CAM)
Benchmarking
GPS and Telematics
Motor Pool Management
Vendor Management
Fluid Management
Fuel Purchase Card
Please note that we will focus on the Fleet Management Software (also called FleetFocus). So let's take the plunge into the features and components of this solution and reveal all the important facts about it.
What is AssetWorks?
AssetWorks Software is a fleet management solution that allows businesses to manage assets, such as facilities, infrastructure, buildings, vehicles, and so on. It can streamline the processes and improve operations from the workflows to the staffing of the facility.
This integrated system is actually intended to manage equipment, fleets, and consumables in a more efficient manner. Consequently, it reduces operating costs and improves ROI over time. AssetWorks can reduce asset downtimes and improve organization from a single interface.
There are a lot of modules available, including Fleet Management. Aside from that, the EAM (Enterprise Asset Management) module includes public works tools that allow municipalities to streamline their processes. Inventory and Risk Management, on the other hand, help asset managers report and manage information effectively.
How Does It Work?
Basically, AssetWorks fleet management software collects and records information on the assets, including transfer details, asset location, repair tracking, status, and maintenance notes. The software captures real-time asset data on a minute-to-minute basis.
So, users can access data in real-time. For every single asset, the software can keep history in the database as long as you need it. The data can be stored in multiple asset profiles (within a consolidated system) and used later when needed. This makes it easy to store and access information securely.
The AssetWorks system works by combining a broad range of database activities into an intuitive interface that avails the centralized resource library. This means that all the operations and tasks can be done from a single platform. It consists of numerous asset management solutions for asset tracking throughout the whole life cycle.
There are a variety of analytical tools that are aimed at managing data quickly and smoothly for more productive reporting. The consolidated platform also incorporates management tools for real estate professionals and public sector facilities.
Who Can Use It and How?
AssetWorks is a cloud-based management solution that can be utilized in many different industries, including transportation, utilities, government fleet, as well as higher and K12 education. While it's suitable for organizations of all sizes, AssetWorks is mostly geared towards medium businesses and large enterprises.
This fleet management solution is great for both private and public fleets. FleetFocus enables businesses to run both standard and user-defined reports. Additionally, it can help in importing and exporting the important data for different metrics.
The businesses can also employ this useful solution when maintaining data integrity through an approval process or audit trail. The companies can incorporate this versatile software into their working methods, policies, procedures, and more.
Asset managers can also take advantage of reporting tools to make data-driven decisions. In addition to managers, technicians, analysts, and admins can also make use of AssetWorks solutions.
Fleet Management (for fleet managers and supervisors): It can be used to manage different aspects of the maintenance facilities, fleet vehicles, and workforce.
Parts Room or Shop Floor (suited for technicians): It includes shop schedules, work orders, and parts requests.
Analysis or Data Management (helpful for analysts): Use essential data and effective reports to keep the information going smoothly.
Administrative or Procurement (perfect for admins): The admins can use it to handle processes, such as procurement and billing, more efficiently.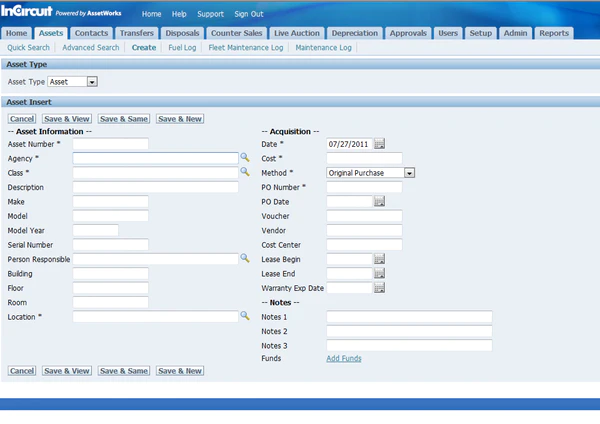 AssetWorks – Top Features
Listed below are the key features and functionalities provided by FleetFocus Fleet Management Solution. Let's take a closer look.
Complete equipment and vehicle life-cycle management
Training management and technician certification
Robust work order functionality
Parts inventory management
Over 200 standard reports and customization setups
Real-time, seamless integration with the FuelFocus system
These are the core features of all the AssetWorks solutions. Other features worth mentioning are explained below.
Maintenance Management
The software provides preventive maintenance scheduling to help organizations and companies streamline their repair processes. Alerts are sent when any repeating maintenance task should be performed.
Fleet management is seamless. It comes with an array of tools that aid commercial fleets to streamline each facet of their workforce and vehicles by making orders and shop schedules.
The administrative tools facilitate functions like warranty, procurement, and billing, whereas analytical tools allow users to manage data more effectively when generating reports.
Inventory Management
The AssetWorks solution makes it easier for users to carry out procurement processes, check the progress of stockroom levels, handle spare parts, and assign every barcode to the particular item or equipment. The system is excellent at eliminating inefficiency, waste, and redundancy from disposal to acquisition.
Work Order Management
From formulation to recording and completion, this management solution can effectively streamline any work order process. The specific tasks are assigned to technicians or carriers more effectively.
Property Risk Management
Additionally, AssetWorks features powerful property risk management. This module comes with tools that are great at keeping values up to date and enriching property data. The companies may utilize these tools to streamline internal procedures and maintain property data.
GPS & Telematics
Besides tracking multiple vehicles in the field at the same time, you will be able to maintain them in the shop alike. AssetWorks comes with robust telematics integrations that help in enhancing productivity.
Mobile Access
Assets can be managed on-the-go with this helpful solution. It lets you access everything you need through the desktop interface or via mobile apps. All you need to do is download the app to your mobile device or smartphone.
ELD Compliance
AssetWorks provides ELD solutions and electronic logs, too. Finding an electronic logging device that is both rugged and reliable is not an easy task. They can help you find an ELD solution that works best for your business.
AssetWorks ELD is a durable and portable device that goes far beyond ELD compliance. This is a good option for fleets to eliminates paperwork, streamline audits, lower crash rates, and simplify regulatory requirements.
What Makes AssetWorks Different
AssetWorks software relies on the centralized resource library. Unlike some fleet management solutions, it doesn't keep records in filing cabinets. Instead, it combines different database fleet activities into a web-based interface. That sets it apart from the rest.
Benefits of Using AssetWorks
Why use Assetworks? If you are still not sure whether this solution is really beneficial, we are going to point out the benefits of using AssetWorks in this section. Have a look!
Reduced costs of vehicle ownership: By combining PM scheduling with parts and inventory tracking, as well as labor tracking and work order, this management solution can help you avoid any ownership costs that are not necessary. That way, it will save you money.
Improved efficiency: With this powerful fleet management system, you can minimize downtime and maximize efficiency. It helps companies prevent asset breakdowns and cost-effectively run the entire fleet.
Extended life of vehicles: The idea is to maximize the useful life of every vehicle utilizing preventive maintenance schedules. AssetWorks enables businesses to extend the lifespan of vehicles and equipment through depreciation methods, asset monitoring, and preventive maintenance.
Enhanced availability of equipment: FleetFocus harnesses the power of the latest tracking technology to help fleet owners track their vehicles in real-time. Thus, they can have a better idea of which vehicles are available at all times.
Improved security: The AssetWorks solution also helps in maintaining data integrity and audit trail, thereby ensuring that your fleet meets all industry standards.
Increased warranty recovery: Warranty recovery helps fleets manage maintenance expenses. It let them recover repair and labor costs.
Inventory optimization: This awesome software can manage each aspect of fleet vehicles. It leads to optimized inventory levels. This is an effective way to improve performance and define optimal inventory levels for your business.
Improved data availability: This solution also promotes data transparency. By providing data in less time, FleetFocus can help fleet managers better understand how their fleet operates. As a result, they can complete data analysis faster and with less hassle.
Training Programs
AssetWorks Academy is a training program that you can access as a user. It incorporates a wide range of software solutions. This comprehensive program includes hands-on classroom training and in-person networking. It also includes brainstorming or discussion sessions with peers and industry leaders.
Pricing & Plans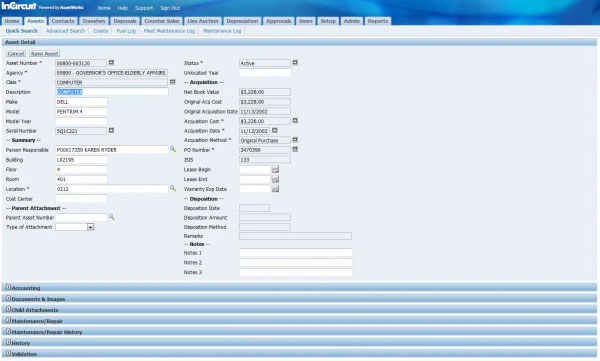 Since the vendor does not provide the pricing models, nor are they publicly available, you will have to contact the company for details. There is a contact form on the AssetWorks website. The prices are provided upon request.
So don't hesitate to contact them. They will surely find a quote-based plan according to your needs and budget as well. Everything we can reveal here is that there's no free trial.
Pros:
Suited for fleets of all sizes
Multiple modules available
Fairly clean and intuitive layout
Easy to read reports
Good customer support
Cons:
The search option could be better
Data importing is slightly complicated
Wrapping Up
Did you find this review useful? We have tried to help you get a thorough understanding of how AssetWorks functions and what it provides. Let's try to sum things up at this point and shed some light on the most important facts and benefits.
As you can see above, AssetWorks can make fleet operations more productive by overseeing all aspects of the workforce, vehicles, equipment, and maintenance facilities. It is meant to help businesses and organizations with their shop schedules, work orders, and parts requests.
The most notable features include complete life-cycle management, parts inventory management, property risk management, and robust work order functionality. The system comprises a large number of customization setups and real-time reports.
So, if you are looking for a comprehensive fleet management solution to minimize downtime and boost efficiency, be sure to consider using AssetWorks. It can help you extend the life of your vehicles, increase warranty recovery, reduce operating costs, and save money.