Some businesses are looking for a fleet management solution to improve maintenance performance, while others need it just for the sake of the ELD mandate. Whatever the case, you should look for a cost-effective solution that can be customized to fit your needs.
You will want a solution that provides extensive reporting functionality, vocation specific fleet planning, and dedicated fleet maintenance. Ideally, it should include multiple DVIR management programs and extended service hours.
Not many fleet management solutions offer all of this. Vector Fleet Management is the exception. Unlike most fleet management service providers, they can adapt their maintenance plans to just about any operational needs.
Their extensive fleet management information system delivers a wide range of operational tools alongside analysis and reporting tools that help fleet managers make smarter decisions. Life cycles, vocation, applications, operators, and equipment are all factored and evaluated in customer engagement.
We have checked a variety of services and programs provided by this company to help you get a sense of Vector Fleet Management. Here, you can find all the important facts about this fleet management solution, including key features, benefits, advantages, and much more. So, keep reading!
Who Is Vector Fleet Management?
Vector Fleet Management offers a number of management and maintenance programs that favorably affect different service levels, maintenance performance, and operating costs alike. The company has been around since 1988.
They consistently work on improving fleet management systems to come up with customized, reliable, and cost-effective business-specific solutions. Aside from deploying experienced personnel, the company is also known for world-class management systems, competitive parts sourcing, and vocational fleet planning.
Their management team is dedicated to optimizing all of these components using proven fleet maintenance tactics and strategies. Since every fleet is unique, Vector Fleet Management develops a scope of services for various client deployments.
Vector Fleet Management: Features & Components
Vector Fleet Management has an FMIS platform within its fleet maintenance programs whereby users can utilize a full suite of features and capabilities. Listed below are the key features and components of this fleet maintenance system:
Customized Preventive Maintenance Inspections Intervals & Notification settings
Fuel Management & Mileage updates
Real-Time data across different Vector client operations
Integrated Warranty Tracking
Parts Management
Extensive Reporting
On-Line 24/7 Client Access
Shop Maintenance Planner
Shop Floor Mechanic Workstations
Detailed Unit Masters
Department level Fleet Cost Centers
Let's take a closer look at some of these features.
Parts Management
The management and supply of tires and parts is an important element of their program. The main goal of this service is to support the fleet maintenance mandate. Through comprehensive Parts sourcing networks, Vector Fleet supports clients and businesses across the country.
The main features of Parts Management include:
Inventory carrying costs
National agreements to reduced acquisition costs
RO level assignment of parts
Accurate inventory tracking
Elimination of parts obsolescence
Supply Chain metrics like Reorder points and Lead times
Integrated Warranty Recovery
Vetted supplied network that covers Off-Road, Light-Duty, and Heavy-Duty parts
As for the Tire Program, it includes everything from Warranty Recovery and Scrap Tire Analysis to Specific Compound and Treads selections. The users can also benefit from wheel reconditioning, mounted tire program management, and alignment program. Every Tire and Parts program is created based on the specific needs and specifications of a fleet.
Vector Fleet Management also ensures its clients maximize claims by implementing warranty tracking methods. That can be achieved through their Fleet Management Information System (FMIS) as well as Original Equipment Manufacturer (OEM) and Replacement Component Warranties.
Other features worth mentioning include:
Integrated Warranty alerts at Mechanic Workstations
Automated Daily Warranty Summary
Regular Scrap Tire Analysis
Fleet Maintenance Tracking
Vector Fleet Management provides Fleet Maintenance Tracking via an FMIS platform. This comprehensive platform is included in their fleet maintenance program. The clients have the ability to examine options and use this incumbent platform to their advantage.
There is a broad range of features and tools to choose from. The best ones include Preventive Maintenance Inspections, Fuel Management, Parts Management, Real-Time info across Vector client operations, Extensive Reporting, and Mileage update imports.
And that's not all. Vector Fleet Management implements maintenance tracking by means of Re-Work and Chronic Repair tracking, Paperless Shop Floor, Preventive Maintenance notifications, mileage updates, Business Intelligence, and Department Cost Allocations. All of these features are combined in such a way to ensure complete fleet maintenance tracking.
Business Specific Solutions
Every fleet has unique needs, which is why every fleet maintenance program should be tailored to fit the specific requirements and goals. Unlike generic platforms and assumptions, Vector Fleet Management services are developed specifically for every client deployment.
Things like a vocation, usage, fleet operators, life cycles, assets, and equipment are evaluated separately and incorporated into every customer engagement for the best results. As a result, their fleet maintenance programs are well planned and customized.
The following are the most important features and Vector Fleet Management services included in the business-specific solutions:
Fleet Management Information System platform through Vector incumbent or supplied system
Safety Protocols for MSHA, OSHA, State, and Customer specific initiatives
Technician and Support Personnel Staffing
Facility Specs – available at dedicated lease site or client facility
Repair & Preventive Maintenance Scheduling Protocols
Hours of Service (HoS) for fleet maintenance
In addition to these key features, business-specific solutions also come with:
Tire Supply and Parts Management
Subcontracted Services Management
Emergency Response Planning
Reporting for things like Performance Metrics, Department Level Budgeting, and Life Cycle Costing
Implementation & Service Transition Plans
Waste Stream & Environmental Specifications
Work Flow Optimization
The workflow plays an important role in fleet maintenance. The fleet operations should be optimized and scheduled in the best possible way. Vector Fleet Management can help businesses optimize their operations.
To establish protocols and maintenance intervals, the company is ready to work extended shifts and run client meetings as needed. By implementing and planning the most effective strategy, client meetings can bring success to your business.
The process consists of these steps:
Step 1: When your fleet is available, Vector Fleet Management will provide preventive maintenance.
Step 2: Thereafter, PMI (Preventive Maintenance Inspection) schedules will be tracked automatically. You will receive alerts via e-mail. This way, a certain amount of work will be "pre-loaded" for the shop. All the tasks are recorded in the Shop Planner.
Step 3: Supervisors will use the data entered into the Shop Planner when assigning repair and maintenance tasks.
Step 4: Once the tasks are assigned, the technicians will access certain assignments at Mechanic Workstation.
Execute consistently is the key to workflow optimization when it comes to fleet maintenance. With Vector Fleet Management, your fleet is more likely to deliver good results consistently.
Safety & Training
It should be noted that these training programs are intended for maintenance technicians within the Vector Fleet Management team. They are not created for carriers and fleet managers. The most popular training programs are as follows:
First Responder First Aid training
Emergency Vehicle Training (EVT)
Mandatory ASE that promotes cross-training
OEM training for diagnostics and components
State-level safety training
OSHA and MSHA training
IS Networld programs
What Makes Vector Fleet Management Different
As stated above, most fleet management programs come with generic services and platforms. What sets Vector Fleet Management apart from the rest is that they provide tailored solutions in order to support different transportation fleet operations.
Their playbook can be adjusted for any specific needs. Likewise, their maintenance plans can be adapted to meet specific business requirements or expectations. All you need to do is choose a program that includes all the features or tools you need and suits your objectives as well.
How Does It Work?
All the features and functions are incorporated into the fleet management information system (FMIS). Vector Fleet Management actually utilizes this FMIS platform to provide real-time information, customized maintenance inspections, notifications, reports, and everything in between.
Their FMIS platform uses TMT software along with the TMW system and includes an array of functions that can help fleets maintain their services successfully. Some of the most significant features include:
Chronic Repair tracking
Reporting via an On-Line portal
E-mail notifications for preventive maintenance
Integrated parts assignment
Technician managed RO's
Automated accurate mileage updates
Department Cost Allocations
Equipment and Vehicle Life Cycle Cost analyses
Maintenance Spend analyses
Accurate Parts inventories
Dashboards and KPIs
Truck and Tractor-Trailer Fleet Maintenance
Vector Fleet Management aims to cover all transportation fleet operations by providing tailor-made solutions that support truck and tractor-trailers. This is actually their core business, and almost all of their services revolve around this.
Since the trucks and tractor-trailers are the most valuable assets of most fleets, Vector Fleet Management has developed programs that fulfill specific operational requirements. They have extensive experience with nearly any make of trailer and tractor equipment.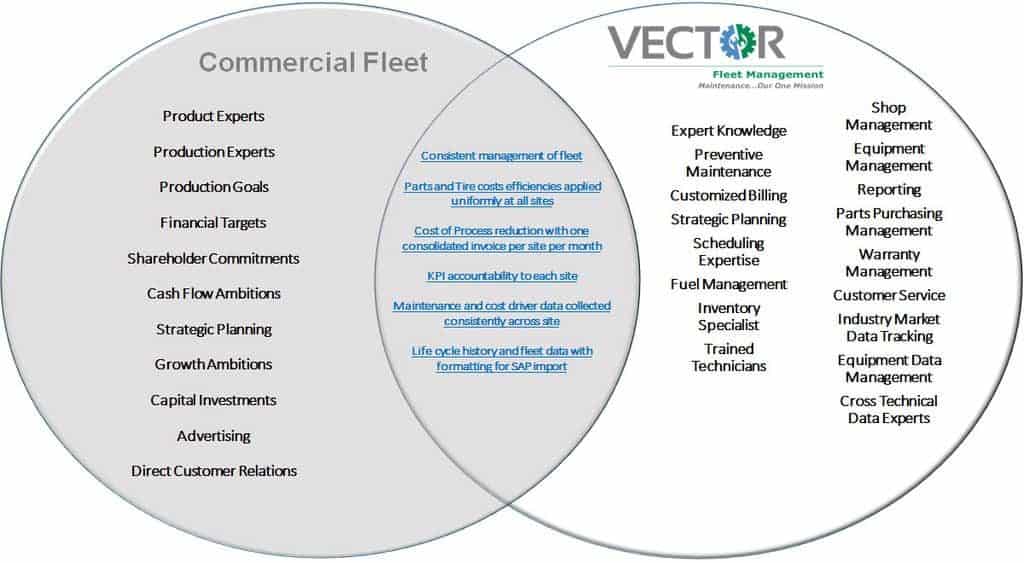 These programs include preventive maintenance planning, extended service hours, and repairs, among other things. All of this contributes to enhanced deliveries for clients. Based on your business needs, Vector Fleet Management will provide you with a cost-effective and customized solution that fits your goals.
So, when it comes to truck and tractor-trailer fleet maintenance, Vector Fleet Management programs include:
Customized mobile and fixed-bay solutions
Build-to-suit maintenance facilities or dedicated lease
Extended Service Hours adjusted to equipment at non-peak hours
Advanced On-site diagnostics that accelerate repairs and maintenance
Maintenance Contracts duration for logistics commitments timeline
Driver Vehicle Inspection Report (DVIR) Management programs
Monthly Service Performance Dashboard
Parts sourcing via National Network & Warranty Recovery
Customized Tire & Retread programs
In addition, Vector Fleet Management also offers turn-key strategies that include tires, parts, emergency road service, as well as preventive maintenance and repair. These are all covered by their programs.
What Are the Benefits of Using Vector Fleet Management
Vector Fleet Management provides benefits and perks that tangibly increase the performance, readiness, and availability of fleets while reducing costs at the same time. More specifically, fleets can reap the benefits from this FMIS platform by:
Achieving high levels of technician productivity on a consistent basis
Creating maintenance profiles for Condition-Based and PMI services
Ensuring PMI currency through fuel report imports
Reducing costs via Warranty Funds regained from claims
Pros:
Extensive reporting functionality
Dedicated fleet maintenance
DVIR management programs
Vocation specific fleet planning
Real-time information
24/7 client access
Cons:
Pricing plans are not transparent
Price & Plans
Unfortunately, prices and plans are not shown transparently on their website. That's because each program is customized. So you will have to contact them and discuss the pricing with their team.
Summary: Is It Worth a Buy?
Now that you know more about Vector Fleet Management, you should be able to make an informed judgment about whether this solution is worth the investment. You should also have a better idea of how it works and whether it can meet all of your needs.
There is no one-size-fits-all solution. Since each fleet is unique, the fleet maintenance programs are customized and tailored to suit specific business needs. From commercial construction to public works to equipment, trucks, and tractor-trailer, Vector Fleet Management covers it all.
This fleet management solution geared towards increasing fleet performance and reducing costs. So, you can rest assured that this investment will pay for itself in the years ahead. By the way, you will benefit from features like extensive reporting, real-time data, fuel management, mileage updates, integrated warranty tracking, parts management, and preventive maintenance inspections.
However, keep in mind that this is neither a typical fleet tracking solution nor an E-Log. You don't get any electronic hardware to record driving hours. Everything you could possibly need is provided on the Vector Fleet Management has FMIS platform.