According to a survey, over 50% of business owners or managers spend a minimum of 2 hours a day on administrative tasks such as scheduling appointments and managing staff schedules. That amounts to 10-12 hours a week and a whopping 40–60 hours a month on repetitive, but necessary chores to run your business smoothly. Handling this repetitiveness is where scheduling software comes in. It takes the arduous task of scheduling off your hands so that you can give your 100% focus on your clients. There are tons of customer scheduling apps available on the market today. So you need not spend hours researching the market leaders in this department, we are doing it for you. In this article, we will compare two popular ones: vCita vs Acuity Scheduling.
vCita vs Acuity Scheduling Comparison Table
| | | |
| --- | --- | --- |
| Features | Acuity Scheduling | vCita |
| Rating | | |
| Integrations | 82 | 31 |
| Mobile App | ✓ | ✓ |
| Customer Support | Email | Email + Phone |
| HIPAA Compliance | ✓ | ✓ |
| CRM | X | ✓ |
| Performance Reports | ✓ | X |
| iCalendar Support | ✓ | X |
| Google Calendar Support | ✓ | ✓ |
| Widgets | X | ✓ |
| Security Breach Alerts | X | ✓ |
| Price | Starting at $15 | Starting at $19 |
Scheduling options
Acuity Scheduling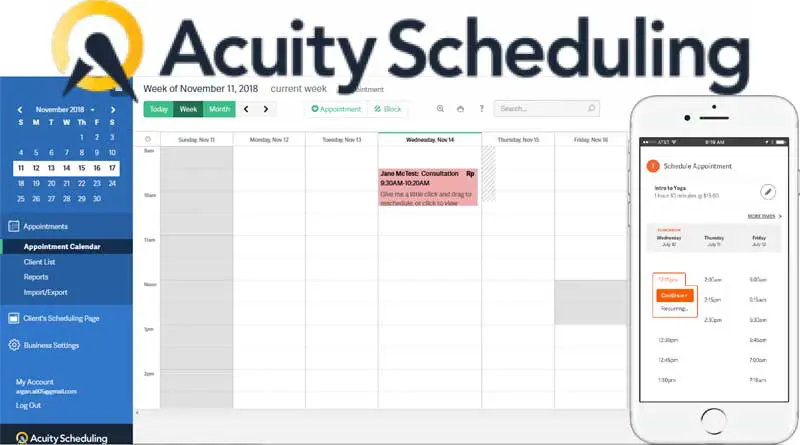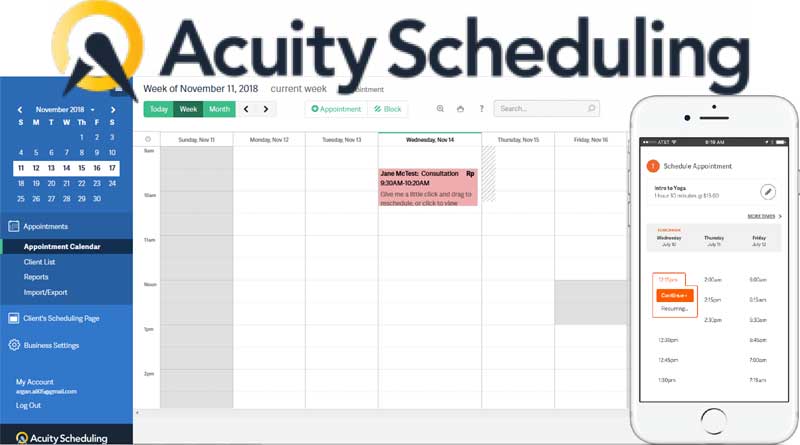 This scheduling software's main selling point is its main calendar feature. It has several scheduling options you can use to create a customized schedule that fits your needs. Apart from customizing the duration of each appointment, you can set buffer times before and after each appointment, a useful feature if you want to take a break or need some time to prepare for the next appointment. In case of a group booking, you can define the number of appointments made. Additionally, this software's time-zone based scheduling feature ensures that a customer always sees appointment times in his or her time zone.
If you have a lot of open appointment slots but want to appear in-demand, you can use a feature called 'Make Me Look Busy.' This feature allows you to show only a percentage of open slots to your customers. With a real-time view of your calendar, customers can easily book, reschedule, or cancel an appointment with you. What's more, they can also set up recurring appointments or put themselves on a waiting list if your schedule is full. Another great feature is that you can allow customers to pay and tip you from within the application before your appointment with them.
vCita
vCita's scheduling options are as robust and varied as that of Acuity Scheduling. The vCita calendar feature has two main functionalities. First, it shows your availability to prospective customers, and, second, it lets you manage your appointments. You can use the scheduling options to set appointment time slots and define your business hours. Importantly, it allows you to set a break in your day too.
vCita also gives you the option of displaying appointment times in your customer's time zone. It syncs with Google Calendar seamlessly to ensure you don't get double-booked. Besides, you can create group events or classes and invite customers to attend them. The software's client portal is an intuitive landing page that displays all your business information, including your address and a list of services you provide. It allows customers to send you a message, share files, book an appointment, reschedule or cancel an appointment, and even get directions through Google Maps.
Customizations
Acuity Scheduling
Acuity Scheduling has customizable intake forms. Not only does this allow you to gain more information from first-time clients besides just their names and email addresses, but it also speeds up the check-in process on the day of the appointment. Another excellent customization feature is that the software allows you to white-label your page. You can replace the Acuity branding with the branding of your own to get a uniform look throughout your website.
vCita
Everything from color to background images and text fonts is customizable on vCita. Any invoice sent to a customer can be branded with your business logo and color. Also, you can customize your client intake forms as well as email confirmations, reminders, and follow-ups.
Marketing Options
Acuity Scheduling
Acuity Scheduling allows you to sell memberships, gift certificates, coupon codes, subscriptions, and other merchandise on your booking page. In addition, the software lets you create packages and group discount deals to attract more customers.
vCita
With vCita, you can create practical and mobile-friendly email and SMS marketing campaigns effortlessly. Their pre-built templates cover a range of festivals, complete with compelling visuals and engaging text. The email templates can additionally be customized to include personal details such as the client's first name. Apart from group email campaigns, vCita also has targeted individual email marketing campaigns. For example, they have a 'Happy Birthday' email template for regular customers and an 'It's Been a While' one for inactive customers. You can schedule these targeted emails in advance using the Automated Campaigns feature.
Client management
Acuity Scheduling
Acuity Scheduling stores all client-related information, including their past appointment history for later viewing. Its reports feature gives you a comprehensive breakdown of each client with metrics such as hours scheduled, payment history, and the number of no-shows. The analytics gives you a bird's-eye view of a customer and helps you make crucial decisions. For example, if a customer has a history of faulty payments, you can blacklist and ban him or her from booking an appointment with you ever again.
vCita
vCita is as much a CRM tool as it is a scheduling tool. It stores everything from the client's appointment history, payments made, files shared, to their pet peeves and preferences in one central database. One of its most robust CRM features is the Client Tag feature that lets you sort customers into groups with tags. With this feature, you can send out targeted email campaigns and perform data analysis smoothly.
Integrations
Acuity Scheduling integrates with 82 apps, while vCita has 31 integrations. Importantly, both integrate with Google Calendar, PayPal, QuickBooks, Facebook, WordPress, Google Analytics, and Zapier. However, Acuity Scheduling scores brownie points for its integration with services such as Microsoft Outlook, MailChimp, and Office 365.
Customer support
Acuity Scheduling
Acuity Scheduling offers a ton of helpful video tutorials and live webinars along with instructive blogs and articles explaining how to use their features, set limits, and integrate with other apps. Also, all paid plans get email support on weekdays from 7 AM to 8 PM. If that does not satisfy you, the software has a network of independent experts with whom you can set up a virtual or phone meeting to solve your issues. These, however, come at an additional cost.
vCita
With vCita, customer support changes according to your package. All packages have a plethora of video tutorials, detailed blogs that cover a variety of topics, and a meticulous FAQ section at your disposal. Purchasing their lowest-priced package, the Essentials plan, gives you email support. The mid-level package, the Business plan, will fetch you email and phone support. The Platinum plan gives you priority support.
Price
Acuity Scheduling
Acuity Scheduling has four pricing plans. All the paid plans come with a 7-day free trial.
Freebie Plan
Free
Limited to one user with no calendar sync
Emerging Plan
$15/month
One user and single location
Calendar sync
Growing Plan
$25/month
Up to 6 users and locations
Text messaging
Sell appointment packages and gift certificates
Powerhouse Plan
$50/month
Up to 36 users and locations
Custom API and CSS
HIPAA compliant
vCita
vCita's pricing plans fall into two segments: Solo pricing plans and Team pricing plans
Solo Pricing plans
Essentials Plan
$19/month billed annually or $29/month billed monthly
Online scheduling and payments
Client management
Billing and invoices
Facebook integration
Business Plan
$45/month billed annually or $59/month billed monthly
Email and SMS marketing
While-label customization
SMS notifications and reminders
Platinum Plan
$75/month billed annually or $99/month billed monthly
Priority support
Google Analytics and Zapier integration
Team Pricing Plans
Business Plan
$45/month billed annually or $59/month billed monthly
Up to 2 team members
Team calendar
Automated campaigns
Email and SMS marketing
Access to all integrations
250 monthly SMS credit
Platinum Plan
$75/month billed annually or $99/month billed monthly
Up to 5 team members
Priority support
500 SMS credits
Two set-up and installation sessions
Platinum 10 Plan
$117/month billed annually or $196/month billed monthly
Up to 10 team members
1000 monthly SMS credits
Full onboarding
Platinum 20 Plan
$196/month billed annually or $239/month billed monthly
Up to 20 team members
2000 monthly SMS credits
Unlimited email and SMS campaigns
Conclusion
There is very little to choose between the two scheduling software. Both are easy to set up and use and have functional mobile apps. In terms of scheduling ease and brand customizations, they are neck and neck. While Acuity Scheduling edges out vCita in the integrations, analytics, and price department, the latter makes up for this with its robust CRM and marketing tools. In the end, it comes down to choosing one with features that suit your business needs and budgetary constraints the best.
Checkout out our top appointment scheduling software post to see all of the top applications available today.