There are over 100 scheduling apps on the Google Play app store. These scheduling apps range from those targeted at individual users to enterprise-level corporations and everything in between. There are two sides to this abundance equation.
On the one hand, if you are looking for scheduling software to help run your business, you are spoilt for choice. On the other, it is easy to become overwhelmed, given the sheer number of options available on the market today. So you don't have to spend sleepless nights researching on the choices (or conversely give up and go back to shooting an insane amount of back-and-forth emails to schedule a client), we have compared two popular ones: ScheduleOnce vs Acuity Scheduling. They both target small to midsize businesses.
ScheduleOnce vs Acuity Comparison table
| | | |
| --- | --- | --- |
| Features | Acuity Scheduling | ScheduleOnce |
| Integrations | 82 | 22 |
| HIPAA Compliance | ✓ | ✓ |
| Social Media Integration | ✓ | X |
| Custom API | ✓ | X |
| Performance Reports | ✓ | X |
| Multi-Factor Authentication | X | ✓ |
| Mobile App | ✓ | X |
| Customer Phone Support | X | ✓ |
| Customizable Branding | ✓ | ✓ |
| Performance Reports | ✓ | X |
| Free plan | ✓ | X |
| Data Encryption At Rest | X | ✓ |
Scheduling Options
Acuity Scheduling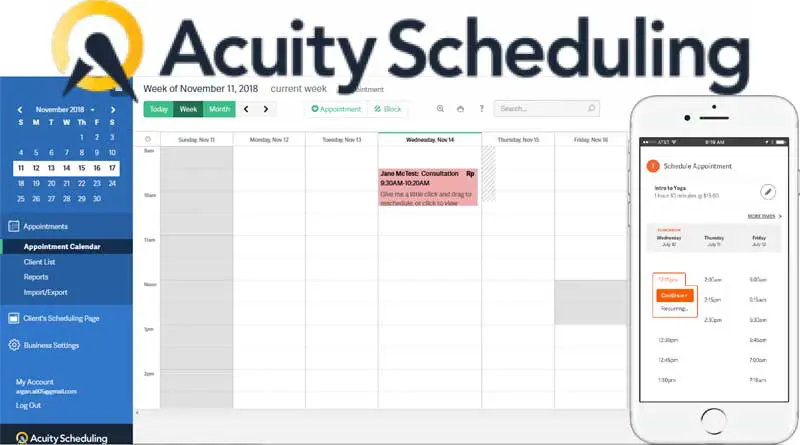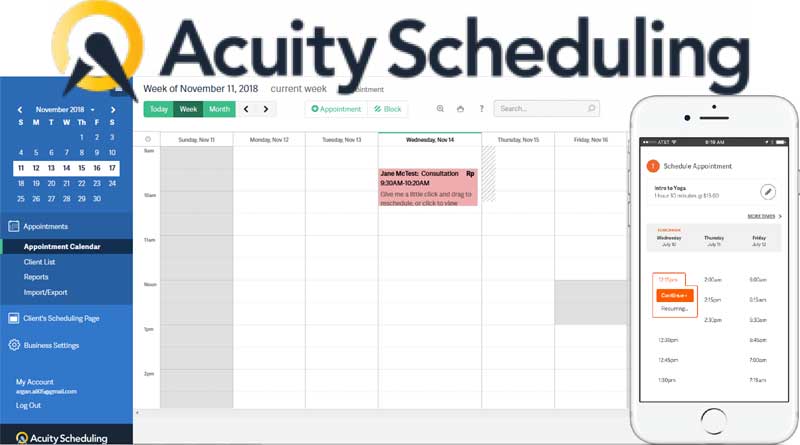 Acuity Scheduling has a calendar-based approach to scheduling. There are several limits you can set with this scheduling software to ensure a customized schedule that fits your needs. Apart from customizing the duration of each appointment, you can, crucially, set buffer times before and after each appointment. This feature is helpful if you want to take a break or need some time to prepare for the next appointment.
Additionally, you can choose between setting the time slots for your availability (For example, 2 PM–4 PM) or just defining your start times (appointments start at 9 AM). In case of a group booking, you can restrict the number of appointments made, a useful tool if your room has a seating capacity. What's more, you can even blacklist a customer and ban him or her from booking an appointment with you ever again.
Acuity Scheduling offers clients a comfortable booking experience. With a real-time view of your calendar, they can self-book, reschedule, or cancel an appointment with ease. They will also receive a price quote from you when booking an appointment. Helpfully, Acuity Scheduling allows clients to put themselves on a waiting list if your calendar appears full.
ScheduleOnce
Like Calendly, ScheduleOnce has an event-based approach to scheduling. The software has three default event types: 15 minutes, 30 minutes, and 60 minutes. Crucially, you can either stick with these fixed durations or allow customers to select a duration that works for them when they book with you.
For each event, there are several scheduling options available. First, you can specify if appointment bookings are to be accepted automatically or only after your approval. Second, you can indicate if an event has a single session or multiple sessions and, third, if it is one-on-one or group event. Additionally, you can also configure each event with a customized time slot, workload, and time-zone conversion rules. Once you have set up an event, you can then publish it on your website or social media accounts.
ScheduleOnce's cancellation and rescheduling features give you plenty of wiggle room. It lets you define a cancellation policy that suits you. Not only can you set a cut-off time for cancellations but also determine the percentage of the payment that customers get back if they cancel. Furthermore, you can invite a customer to give you a reason for canceling. Similarly, with the reschedule feature, you can set a cut-off time for rescheduling, charge a fee for it, and ask for a reason.
Winner: Tie
Unique Features
Acuity Scheduling
One of Acuity's unique features is that users can set up different payment plans for their customers to choose from. They can offer everything from membership and group discounts to package deals. The software also allows you to sell gift certificates, coupon codes, subscriptions, and other merchandise. Additionally, clients can book multiple appointments in one go.
Scheduling features such as 'Make Me Look Busy' and 'Minimize Gaps' allows users to control the client's view of their schedule. They can use these features to hide a percentage of open slots, so they appear busy, and therefore in demand, to the client. Alternatively, they can use it to show only the slots available before or after an existing appointment.
Acuity Scheduling provides time-zone based scheduling. This feature is useful for businesses that have clients from all over the world. It succinctly avoids any confusion by showing each user the schedule in their time zone. Another great feature is that you can allow customers to pay and tip you from within the application before your appointment with them.
Users can customize the intake forms to gain more information from first-time clients besides just their names and email addresses. The most significant advantage of this is that clients can also fill out the required paperwork online before the appointment, speeding up the check-in process. Importantly, Acuity Scheduling has a customer database that stores all client-related information, including their past appointment history for later viewing.
Lastly, this scheduling software also lets users measure their overall income and gives them a breakdown of various metrics such as the paid appointments, no-shows, and average hours scheduled.
ScheduleOnce
ScheduleOnce's booking page feature represents the availability of your employees. Using the round-robin feature, you can assign bookings to the team member next in line. This feature ensures a fair and equal booking distribution among your employees. Importantly, the software's algorithms take no-shows, cancelations, and reassignments into account when creating the round-robin schedule. Conversely, with the priority-based assignment feature, you can assign priority values to your employees, depending on their qualifications or expertise. This way, when a customer books an appointment, it goes to the available team member with the highest priority.
The software's master page feature allows you to integrate multiple booking pages and event types into one point of access for your customers. This way, your customer can choose between booking an event or a one-on-one session with a team member. Bookings made on a master page can be automatically assigned to team members according to the rules you have defined or according to the customer's selection. Here too, you can set the scheduling flow. You can allow customers to select an event type, after which they are shown the team members assigned to that event. Alternatively, customers first choose a team member and then see the events that those team members cater to.
ScheduleOnce has several branding features to make it your own. With its Theme Designer feature, you can customize everything on your booking page from the logo to the font, background image, and a whole lot in between. It offers white-label website integration so that you get consistent color and font coordination throughout your website. You can also customize your email reminders. However, this feature is available only on the enterprise plan.
Winner: Acuity Scheduling
Integrations
Acuity Scheduling integrates with over 80 popular apps, while ScheduleOnce has only around 22 integrations. Crucially, both integrate with Google and Outlook calendars, Office 365, PayPal, and Zapier. However, Acuity Scheduling scores brownie points with its integration of Facebook, MailChimp, and WordPress, to name a few.
Winner: Acuity Scheduling
Security
While both are HIPAA compliant, ScheduleOnce has more robust security features. These include encryption of sensitive data at rest, security breach alerts, and options for multi-factor authentication.
Winner: ScheduleOnce
Mobile app
ScheduleOnce operates only on a web-based platform. Conversely, Acuity has a robust Android and iOS app.
Winner: Acuity Scheduling
Customer Support
While both have email support along with a plethora of detailed video tutorials, ScheduleOnce goes one up in this department by providing weekday phone support as well. Their enterprise plan users also get weekend phone support as well as free consultations.
Winner: ScheduleOnce
Price
Acuity Scheduling
Acuity Scheduling has four pricing plans. All the paid plans come with a 7-day free trial.
Freebie Plan
Free
Limited to one user with no calendar sync
Emerging Plan
$15/month
One user and single location
Calendar sync
Growing Plan
$25/month
Up to 6 users and locations
Text messaging
Sell appointment packages and gift certificates
Powerhouse Plan
$50/month
Up to 36 users and locations
Custom API and CSS
HIPAA compliant
ScheduleOnce
ScheduleOnce has three pricing plans. Each comes with a 14-day free trial. It does not have a free plan.
Up to 3 users
$15/month
Unlimited bookings
Multi-users
Calendar integration
4-100 users
$10/user/month
Time zone support
Bookings with approval
Growing
Pricing on request
Weekend support
Free consultations
Conclusion
It is a little hard to pick an outright winner. In terms of features and integrations, Acuity Scheduling is the clear winner. However, ScheduleOnce offers enough in these departments to satisfy the average small-business owner's scheduling needs. With both software starting at $15/month, they are neck and neck in the pricing department. While Acuity Scheduling scores with a free plan, this advantage is negated because the free plan lacks calendar sync. It ultimately comes down to choosing the one that suits your business needs the best. Thankfully, they both have free trials that can let you do just that.
Checkout out our best scheduling software post to see all of the top applications available today.