Check any top 10 list for scheduling apps, and the chances are that both Calendly and Acuity Scheduling would feature on it. Both are software that frees you from the arduous task of scheduling, giving you the flexibility and scalability to grow your business. Simply put, they both get the job of scheduling done and then some!
So, if you are scratching your head, wondering which one is best for you, you've come to the right place. We have done the research to compare key features and offerings from both, so you don't have to. Just read our comparison and make an informed decision instead.
Without further ado, let's get into the nitty-gritty details for this.
Calendly vs Acuity Comparison Table
| | | |
| --- | --- | --- |
| Features | Acuity Scheduling | Calendly |
| Integrations | 82 Apps | 62 Apps |
| Customizable Branding | ✓ | ✓ |
| HIPAA Compliance | ✓ | X |
| Email Alerts | X | ✓ |
| Automated Billing | ✓ | X |
| Customer Activity Reporting | ✓ | X |
| Mobile App | ✓ | X |
| Annual Subscription | X | ✓ |
| Email Customer support | ✓ | ✓ |
| Price | Starting at $15/month | Starting at $8/month |
Unique Features
Acuity Scheduling
One of Acuity Scheduling's stand-out features is that you can set up customizable payment plans for your customers to choose from. You can offer membership, packages, and group discounts. Additionally, you can offer your clients bundled deals that let them book multiple appointments in one go. The software also allows you to sell gift certificates, coupon codes, subscriptions, and other merchandise.
The software's 'Make Me Look Busy' and 'Minimize Gaps' features will allow you to control the client's view of your schedule. You can hide a percentage of open slots, so you appear busy, and therefore in demand, to the client. Alternatively, you can show only the slots available before or after an existing appointment.
Acuity Scheduling provides time-zone based scheduling. This feature is useful if you have clients from all over the world as it shows each user the schedule in their time zone. Another great feature is that you can allow customers to pay and tip you from within the application before your appointment with them.
The customizable intake forms allow you to gain more information from first-time clients besides just their names and email addresses. Clients can also fill out any required paperwork online before the appointment, thereby speeding up the check-in process. Importantly, Acuity Scheduling stores all client-related information, including their past appointment history for later viewing.
Lastly, this scheduling software also lets you measure your overall income and gives you a breakdown of various metrics such as the paid appointments, no-shows, and average hours scheduled.
Calendly
Calendly is a great scheduling software if you regularly need to schedule both individual and group meetings. The vast pool of event types to choose from makes it appealing for both solo entrepreneurs and large teams. However, the free plan restricts users to the one-on-one event type.
Instead of a generic URL, Calendly allows you to generate custom URL links to send to your clients. So, in place of the URL reading, 'calendly.com/(your name)/123456(random number)', it will read, 'calendly.com/(your name)/(event name or type).' This feature adds a touch of professionalism to your event and makes it easier for clients to remember it. The unique event link can also be embedded into your website so customers can book directly from there.
Apart from the customizable URL, Calendly also offers you the ability to customize the event's notification, reminder, and cancellation emails to add whatever personal touch you want to. Additionally, if you have multiple activities scheduled, you can color-code each with a different color for easy distinction.
Though not as extensive as Acuity Scheduling's, Calendly also allows you to ask your clients for additional information. This query is through the software's Invitee Questions tab where you can set the questions and indicate if answering them are mandatory or not. What's more, you can also set multiple answers to these questions and put checkboxes against each answer. That way, the client need not type in an essay in the answer field.
Winner
With over 50 features, Acuity Scheduling edges out Calendly in this department.
Scheduling Options
Acuity Scheduling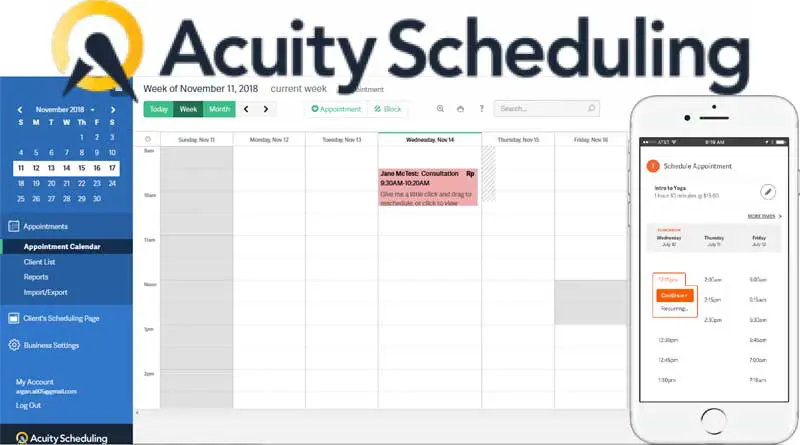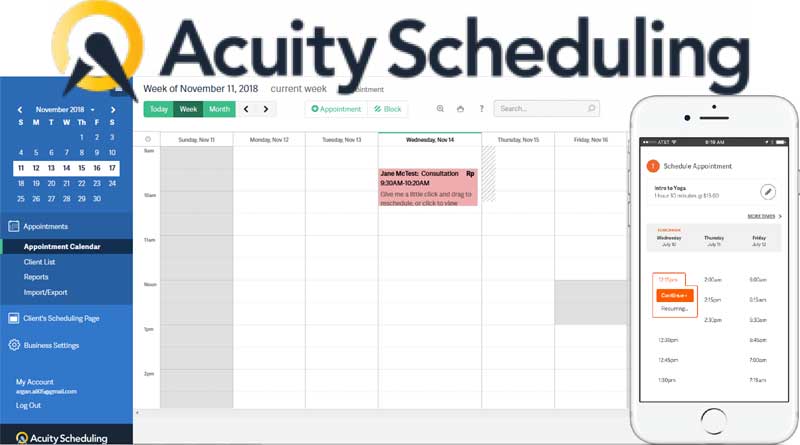 There are a ton of scheduling limits you can set with Acuity Scheduling to ensure a customized schedule that fits your needs. These include setting the time slots for your availability (For example, 2 PM – 4 PM) or just your start times (appointments start at 9 AM). Also, you can customize the duration of each appointment.
Crucially, you can set buffer times before and after each appointment if you want to take a break or need some time to prepare for the next appointment. In the event of a group booking, you can restrict the number of appointments made in case your room has a seating capacity. And finally, you can even blacklist a customer and ban him or her from booking an appointment with you ever again.
Clients get a real-time view of your calendar, so they can self-book, reschedule, or cancel and appointment. They will also receive a price quote from you when booking an appointment. Acuity Scheduling, helpfully, gives clients the option of putting themselves on a waiting list if your calendar is full.
Calendly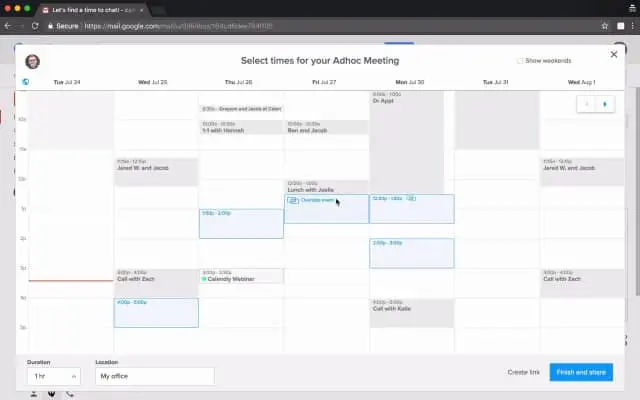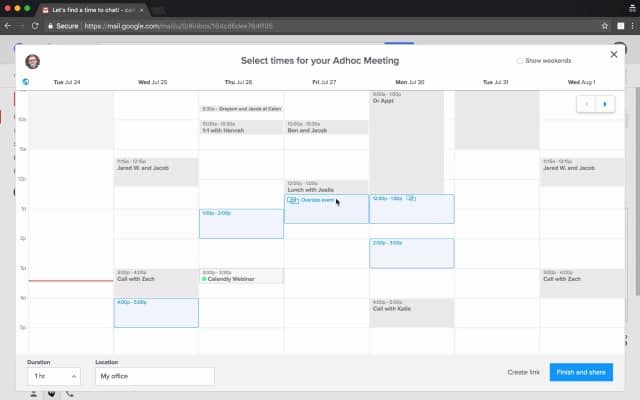 With Calendly, rather than displaying your calendar to your clients, you instead set up events for them to book. The software offers users the option of choosing between the one-on-one, group, and round-robin (where clients can meet with any available team member for a consultation) event type. This kind of setup makes it great for hosting webinars, workshops, or podcasts.
Setting up an event is an easy task. You will need to provide details such as event name, type, description, and location. Once you fill all these details, Calendly provides you with a URL to share with your clients. Every time a client signs up, you will receive email and text notifications of the same. Additionally, Calendly syncs with your existing calendars to ensure there are no scheduling conflicts or double bookings.
Winner
It's a tie!
Integrations
Acuity Scheduling integrates with a total of 82 external apps while Calendly integrates with 62. Crucially, both integrate with Google and Outlook calendars, Office 365, MailChimp, PayPal, Stripe, and Zapier. Acuity Scheduling scores over Calendly with its integration of Facebook, Google Analytics, WordPress, and Wix. Conversely, Calendly wins brownie points for integrating with Gmail, HubSpot CRM, and Zendesk.
Winner
Acuity Scheduling. Overall, Acuity Scheduling integrates with 70% of the popular apps that businesses use and Calendly with a little over 60%.
Interface/Ease Of Use
One of the top reasons both these scheduling apps are among the popular scheduling apps today is their user-friendliness. Both are simple to set up and use. What's more, this ease of use translates both for the service provider and the customer.
Winner
It's a tie!
Mobile App
This is one department in which Acuity Scheduling is an outright winner as it has an Android and iOS app. Calendly only has a web-based platform.
Winner
Acuity Scheduling.
Price
Acuity Scheduling
Acuity Scheduling has four pricing plans. All the paid plans come with a 7-day free trial.
Freebie Plan
Free
Limited to one user with no calendar sync
Emerging Plan
$15/month
One user and single location
Calendar sync
Growing Plan
$25/month
Up to 6 users and locations
Text messaging
Sell appointment packages and gift certificates
Powerhouse Plan
$50/month
Up to 36 users and locations
Custom API and CSS
HIPAA compliant
Calendly
Calendly has three pricing plans. All the paid plans come with a 14-day free trial.
Basic
Free
Limited to 1 calendar/user and one event type
Premium
$8/user/month
Two calendars/user
Unlimited events
Group scheduling
Metrics and reporting
Pro
$12/user/month
Six calendars/user
SMS notification
PayPal integration
Winner
Calendly. Crucially, both apps have free plans. Calendly's free plan, however, edges out its competitor's as it allows admins to add an unlimited number of users to it and syncs with Google Calendar.
Pros
| | |
| --- | --- |
| Acuity Scheduling | Calendly |
| Robust Mobile App | Custom URL |
| Facebook Integration | Gmail Integration |
| Customized Scheduling | Multiple Event Types |
| Customer Data Management | Free Plan With Calendar Sync |
Cons
| | |
| --- | --- |
| Acuity Scheduling | Calendly |
| No Gmail Integration | Weak Analytics |
| Free plan does not have calendar sync | No customer database |
Conclusion
As you can see, there is no one clear winner overall. Choosing one from these two comes down to finding the one that suits your business needs and budgetary constraints the best. Both Acuity Scheduling and Calendly are best suited for small to medium businesses. However, there is a subtle difference here. Acuity Scheduling is an opportune software for service-based companies such as salons, health clinics, and photography studios. Calendly, on the other hand, is excellent for companies who have to manage a lot of online and group appointments such as event management or online tutoring companies. They also differ in their approach to scheduling. While Appointy allows clients to book after looking at your calendar, Calendly prefers to take the client invitation route.
Whatever may be the case, we hope this comparison has helped make your decision a simpler one.
Checkout out our best scheduling software post to see all of the top applications available today.