It is virtually impossible to successfully manage a lot of vehicles simultaneously and have complete control over all employees without outside help. This is especially true for large fleets consisting of more than 25 trucks. That's where management and tracking solutions come in.
Fleet management systems help businesses of all sizes manage and track their assets alongside drivers behind the wheel. Typically, the vital data are stored on the online platforms and can be accessed through smartphones, tablets, or other mobile devices via different apps. The users can log in through web browsers and use alternate devices at a time.
However, before making your purchase, you need to test and compare different solutions to get the best deal and find one that fits your needs. Ideally, it should be easy to use, reasonably priced, and dependable. You will also want it to provide comprehensive and accurate reporting.
Let's face it. Not many fleet management solutions can meet all of these requirements. By the way, not every fleet management software can be used for businesses of all types and sizes, even though there is a huge number of fleet management providers these days.
What about Verizon Connect? Can it live up to all our expectations? Read on to find out more about this fleet management solution. From key features and benefits to pricing and packages, we will reveal all the important facts about Verizon Connect.
A Few Words About the Company
From asset tracking and field service management to ELD compliance, Verizon provides everything you could possibly need to run a fleet. Their offices are located around the world, including North America, Latin America, Asia Pacific, Europe, the Middle East, and Africa. So, no matter where you live, you can use Verizon services.
Their services and products are suited for businesses across different industries, such as:
Construction & heavy equipment (Highway Engineering, General Construction, Domestic Contractors, Marine Construction, and Renovators)
Distribution (Private Fleets, Food & Beverage, Retail, Delivery)
Government & public safety (Municipal Agencies, Law Enforcement, Fire Fleet, Road Repair, Public Sector)
Oil, gas & mining (OGM Services, Surveying, Pipeline Construction)
Utilities (Utility Coops, Utility Mutual Aids, Cabling Services)
Services & specialty trades (Cable & Telecom, Electricians, Airline Services, Roofing, Landscaping, Contractors, Plumbing, HVAC)
Transportation & logistics (Distributors, Owner-operators, For-hire Carriers, Long Haul)
When it comes to transportation and telematics solutions, Verizon Connect is no doubt one of the most popular products. It is a blend of 3 GPS tracking services for enhanced scalability. Let's dig a bit deeper and see what it is about.
What is Verizon Connect and Who Can Use It?
Formerly known as Fleetmatics, this fleet optimization and management software is aimed at improving asset utilization. Connect combines the features of three industry players: Verizon Networkfleet, Fleetmatics, and Telogis. So you can get support from 3 reputable companies and choose a service plan that suits your business needs.
It is great for mid-sized and smaller fleets consisting of five or more vehicles. In fact, Verizon Connect is perfect for service-based companies and organizations that run their fleets on a daily basis.
Designed as an enhanced management solution for companies of almost all sizes, Verizon Connect comes with advanced technologies and features like route optimization, mapping, GPS turn-by-turn navigation, around-the-clock tracking, and scheduling.
Each feature is intended to either improve productivity or assist fleets in complying with current regulations and rules. When combined, they can ensure that every driver is road-legal while the vehicles are road-worthy.
Additionally, this multi-faceted telematics solution comes with innovative tools that help fleet managers monitor the mobile workforce as well as the equipment or vehicles assigned to them.
Fleet managers can view drivers and vehicles on a map and quickly detect behaviors and vehicle misuses like hard corning, harsh braking, and quick starts. Dispatchers and supervisors receive real-time push alerts in case of dangerous driver behaviors.
How Does It Work?
There are all the basic functions of fleet tracking software you'd ever need. This cloud-based management solution is backed by Verizon map technology. The users can measure their performance and analyze trends using Verizon reporting tools and smart dashboards.
The Connect refreshes every 30 seconds, so you'll know where every driver is at any moment. What's more, you will be receiving up-to-date information about all the activities within your fleet. This way, you will stay in tune with any updates.
Are any integrations possible? Yes, Verizon Connect can integrate with a handful of business applications and systems, including Xero, MYOB Live, QuickBooks, and SAASU. Mix and match these apps and systems to fit your needs.
In addition, it supports a number of devices, including Android, iPhone, iPad, Mac, Linux, Windows, and Windows Mobile. As for the fleet deployment, it is available as a cloud-hosted software. It can be managed and hosted by a third-party vendor or the software manufacturer.
Verizon Connect also provides drivers with mobile applications for Android and iOS devices that let them track their performances through a phone. Once you log in, you'll be able to see nearby vehicles and get assignments right away.
Benefits of Using Verizon Connect
Moderated Fleet Expenses: Maintaining a fleet could be an expensive venture that undermines profitability over time. By implementing Verizon Connect, you can cut down on expenses and operate your fleet more efficiently. It can help you uncover unnecessary costs, reveal the potential for higher efficiency, and move your business forward.
Reduced Fuel Costs: Besides reducing operating costs, Verizon Connect can help you optimize delivery routes. It can help businesses minimize fuel-related expenditures by monitoring their drivers' behaviors as well as the routes they're taking. This results in reduced fuel costs.
Boosted Productivity: Verizon Connect can help you improve organizational compliance and organize your workforce more effectively, and thus, optimize asset utilization while decreasing the amount of paperwork.
Improved Customer Satisfaction: Through innovative technologies, Verizon Connect allows businesses to increase customer satisfaction. For example, this solution allows them to react faster to late jobs and respond to last-minute customer requests. The customers can always know where the delivery vehicles are and if they will be arriving on time.
Increased Safety: Verizon Connect comes with useful tools you can utilize when monitoring and managing fleet assets, equipment, drivers, and worksites. This way, it can improve fleet security. Verizon Connect promotes prudent driving behaviors, too. It lets fleet owners manage unauthorized use and unsafe behavior.
What Makes Verizon Connect Stand Out?
Now that you know how Verizon Connect works and what it offers, let's see what makes it different from other fleet tracking and management solutions on the market.
It doesn't rely solely on Google Maps, unlike most fleet solutions out there. The software provides dispatchers with a dynamic map view of vehicles and drivers, allowing them to promptly create customer service quotes.
Another thing you will love about this software is the 30-second refresh time. Most fleet management solutions we've reviewed refresh every 60 to 180 seconds.
You can create geofences directly on the Verizon platform and overlay weather and traffic data, among other things. Not many fleet management solutions provide this awesome feature.
Key Features of Verizon Connect
Here, we will take a closer look at the most important features that can be used with Verizon Connect.
Field Service Management
With Field Service Dispatch, you will be able to manage and schedule multiple jobs at once. A straightforward calendar will simplify scheduling in different ways. For instance, you can add customer information, schedule jobs and service calls, see which workers are available, and much more.
Verizon Connect also enables you to dispatch jobs to different field technicians. Respond to requests of your customers with enhanced visibility of job status and technicians with the field service software.
Send reminders and appointment confirmations to your customers. Eventually, your ETAs will be more accurate, thanks to GPS tracking data.
Asset Tracking
Track your high-value assets and equipment with the Verizon Connect asset tracking software. Know where they are at all times and where they have been. This will help you pinpoint project-critical assets.
In addition to the location of your assets, you can also see the usage history and current status of your workforce. Even if you have hundreds of assets, you can monitor them all on the Verizon Connect web-based dashboard. Besides clustering assets, it offers quick tag filtering or searching.
Real-time Alerts
By setting real-time alerts, you will in tune with any safety incidents. The software will let you know when the vehicles enter or leave geofenced areas. Additionally, you will also receive alerts when your drivers accelerate or brake harshly.
You can also benefit from extensive compliance and reporting services. Verizon Connect will ensure that you comply with government rules and regulations.
Performance Reporting
This feature is intended to make fleets more efficient. With Verizon Connect, you can monitor out-of-route miles, delivery delays, idle times, and so on. Get reports on a constant basis and stay up to date with driver performance.
Manage your assets proactively by setting up maintenance alerts and keep your fleet in good working condition by scheduling maintenance reminders.
Safety Features
Verizon Connect offers a number of safety features, such as safety management information, driver scorecards, vehicle maintenance logging, and fuel efficiency data. When combined, these features can help you streamline the efficiency data and improve the safety of your fleet. It can keep both the community and drivers safe.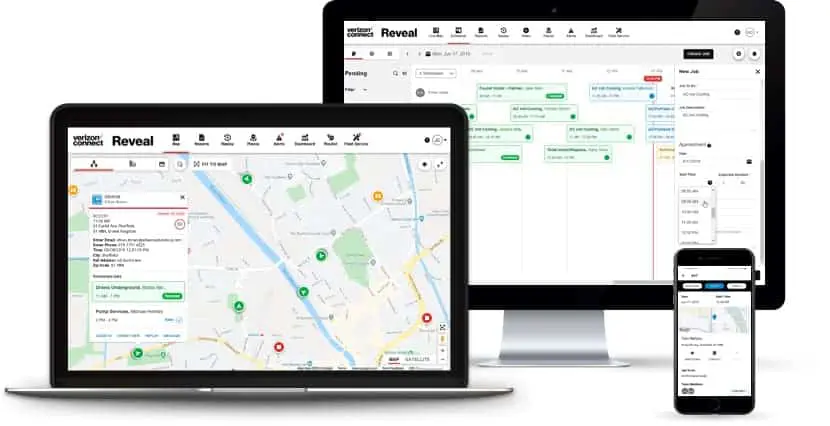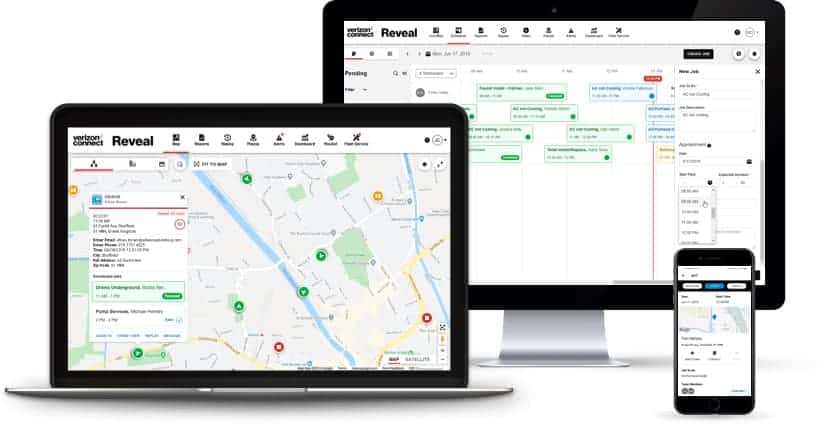 Verizon Connect and ELD Mandate
The Verizon Connect Reveal is the product that is designed to ensure compliance with the ELD rule. Actually, Verizon has acquired the hardware and technology of Fleetmatics Reveal.
Apart from the standard plug-and-play devices, there is also more advanced hardware available. The number of software and hardware you're using with the Verizon Connect depends on what plan you select.
These are offered as bundled products. The electronic logging devices feature a simple design and setup. Once installed, they will start to provide compliance reporting, onboarding assistance, 2-way messaging, and other features. Verizon ELD provides compliance management by meeting CFR, IFTA, and IRP regulations besides GPS tracking.
Pros:
Great value for money
Perfect for small and mid-sized fleets
A wide range of fleet tracking devices and services
Comes with in-cab mounted tablets
On-board assistance available
Cons:
Not ideal for large fleets
No free trial
No month-to-month flexibility
Pricing & Plans
Unlike some of its competitors, Verizon doesn't offer a free trial. However, you can request a demo before implementing it for your business.
Depending on the number of vehicles and technicians in your fleet as well as what you want to track, Verizon will provide an online product demonstration based on your request.
The plans include things like GPS fleet tracking, Proof of delivery, Dispatch and scheduling, Commercial Navigation, Roadside Assistance, and E-logging. So, you should have a clear idea of what features you are interested in.
The pricing is not listed online, meaning you need to contact the sales team (speak with sales representatives) by phone for more details on custom pricing. If you are looking for a quote-based plan, you will have to reach out to the vendor and discuss pricing directly.
Summary: Why Choose Verizon Connect
Overall, Verizon Connect is a good solution for those who operate small and mid-sized fleets. You should consider choosing it if your fleet comprises up to 25 vehicles.
It includes a multitude of tracking options and proprietary map technology to let fleet businesses track their drivers and trucks in real-time. Furthermore, this solution also offers IFTA reporting and HOS recording, thereby supporting ELD compliance.
The type of software and hardware you get with Verizon Connect will depend on what plan you pick out. When it comes to hardware, there are advanced dash cams and OBD II port or plug-and-play devices.
Note that this company operates on 3-year agreements. If you don't like long-term contracts, then you better look for another fleet management solution that offers yearly or even monthly contract options.