If you are on the lookout for a complete GPS fleet tracking solution, look no further than Rhino Fleet Tracking. You get a 3-in-1 solution: device, software, and service. It is designed for fleet companies of all sizes and offers compelling plans for businesses. The solution is capable of scaling down or up to fulfill the telematics needs of both small and large businesses.
Do you already use a fleet management or tracking solution that doesn't live up to your expectations? This is a good opportunity to make a switch. Since Rhino doesn't require any contracts, you can smoothly make a transition from another tracking system.
With this all-inclusive tracking system, you can optimize the performance of your fleet and much more. It will enable you to manage your fleet via your mobile device (Android or Apple iOS) or the Rhino web browser. The choice is yours.
Rhino Fleet Tracking provides a full suite of reporting options. The reports include exceptions, location, speed, landmark stops, service records, IFTA, HoS (Hours of Service), and so on. Besides powerful reporting, you can also make use of other features like dispatch and fuel management, routing, VIN lookup, and mileage tracking.
Did we catch your interest? Would you like to find out more about this fleet tracking solution? Then take the time to go through the Rhino Fleet Tracking review and learn more. Without further ado, let's get started!
A Few Words About the Company
If you have never used Rhino services or products, you probably want to know something about this company before making a purchase. So, who is Rhino Fleet Tracking?
Rhino Fleet Tracking was founded in 2007. It's a privately owned American company that has customers, not only in the US, but also in Canada, as well as in other countries around the world. Rhino Fleet Tracking is actually founded with the goal of optimizing fleet performance.
Their products, solutions, and services are tailored to suit the needs of businesses of all sizes. That being said, they are great for organizations and enterprises with large or small operational capacities. Most Rhino Fleet Tracking services and products are targeted at the transportation industry.
Besides fleet tracking, the company also offers a number of services and products for other industries, including:
Cleaning & Laundry
Construction
Agriculture and Farm
Auto Service and Sales
HVAC Heating and Cooling
Landscaping & Lawn Care
Electrical & Utilities
Healthcare GPS Tracking
Overview: What's Rhino Fleet Tracking?
Basically, this is a fleet tracking service. Rhino Fleet Tracking is fitted with fleet maintenance tools, integrated GPS trackers, geofencing, and after-hours alerts.
Some of the best features of this solution include Fleet dashboard, Service records, Exception Alerts, and 365 Days History. All of these features make it easier for managers to evaluate fleet activities and access organizational data.
In addition to handling vehicle locations, this web-based software makes it possible for fleet owners to manage labor operations like schedules, payroll, and driver performance. Through E-Log and HOS integrations, Rhino Fleet Tracking helps fleet managers check how long every driver has been on the road.
They can receive feedback on a monitoring device. The users get alerts whenever a truck is due for a particular service. Notifications are sent as text messages or via email.
Rhino Fleet Tracking delivers numerous built-in reports along with automated alerts. These useful and timely alerts can help them combat theft. They can track multiple routes simultaneously and have a better idea of where the vehicles have traveled.
It notifies fleet managers when maintenance is required or when a vehicle is being utilized after work hours and drivers exceed the speed limits. Moreover, Rhino Fleet Tracking comes with GeoFences feature that sends alerts when a vehicle enters or exits a designated area.
How Does It Work?
It works by combining the vehicle tracking device and cloud-based software. All data are available on the Rhino web portal. This is where users can quickly gain insights into various fleet-related data such as fuel consumption, ignition reports, routes, speed, idle periods, etc.
Created as a cloud-based tracking solution, Rhino Fleet Tracking is compatible with both mobile and desktop devices. Likewise, it can work with installed devices or OBD II. The software can be used on computers, tablets, and smartphones.
It comes with a wide variety of fleet maintenance tools that utilize GPS trackers to display routes and monitor carrier locations in real-time through Google Maps. This means you can enjoy the same things as with Google Maps apps.
Simply install it on your phone and access them through the Rhino Fleet Tracking interface. Get the traffic patterns and plan optimal routes by using Street View. Toggling between road map and satellite data is extremely easy.
The Best Features of Rhino Fleet Tracking
Real-time alerts and reports: The solution involves setting up alerts for diverse events, such as speeding or excessive idle time. Along with the alerts, you can get different reports, including fuel statistics and fleet activities. The alerts and reports can be received via text message or email.
Complete maintenance: Rhino Fleet Tracking allows you to have full control over your fleet. Besides managing the fleet's health, you will get up-to-date information on inspections and repairs like tire checks or oil changes. Use the diagnostics features of the system to check the engines of your vehicles. Proactive alerts come in handy for preventative maintenance.
Mapping: Generally speaking, Rhino Fleet Tracking is all about GPS tracking. For this purpose, it uses maps by 3rd party online systems like Google and Bing. Mapping helps fleet managers get a clear picture of the deliveries and specified routes. They track drivers and vehicles on the map from a smartphone, tablet, or computer screen.
Fuel performance: The system provides analyses on a variety of things, including fuel consumption. Take advantage of these reports to get the most out of route optimization. Detect where your fleet spends excessively on fuel and find a way to address those problems with the help of Rhino Fleet Tracking.
Hardware: Apart from software, Rhino Fleet Tracking also offers advanced hardware and plug and play devices. While the OBD-II devices are easy to install, you may need professional installation for advanced hardware. There is a vast range of tracking devices (trackers) that use up-to-date technology.
Benefits of Using Rhino Fleet Tracking
With this GPS tracking solution, businesses can easily track their assets and equipment, thereby improving their operations. Rhino Fleet Tracking can do a good job of providing real-time updates pertaining to the vehicle location. As a user, you can know the exact locations of trucks or vans at all times.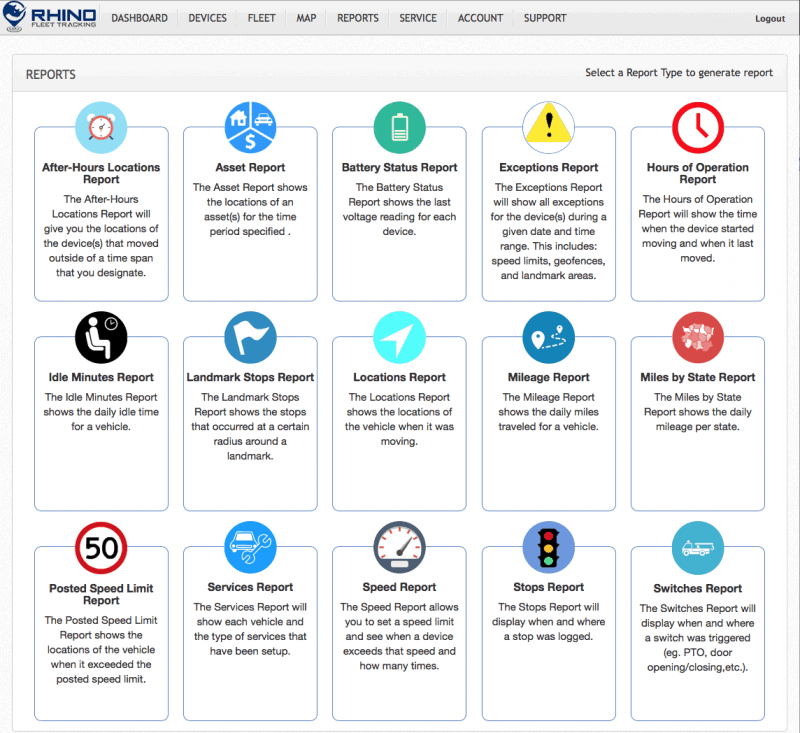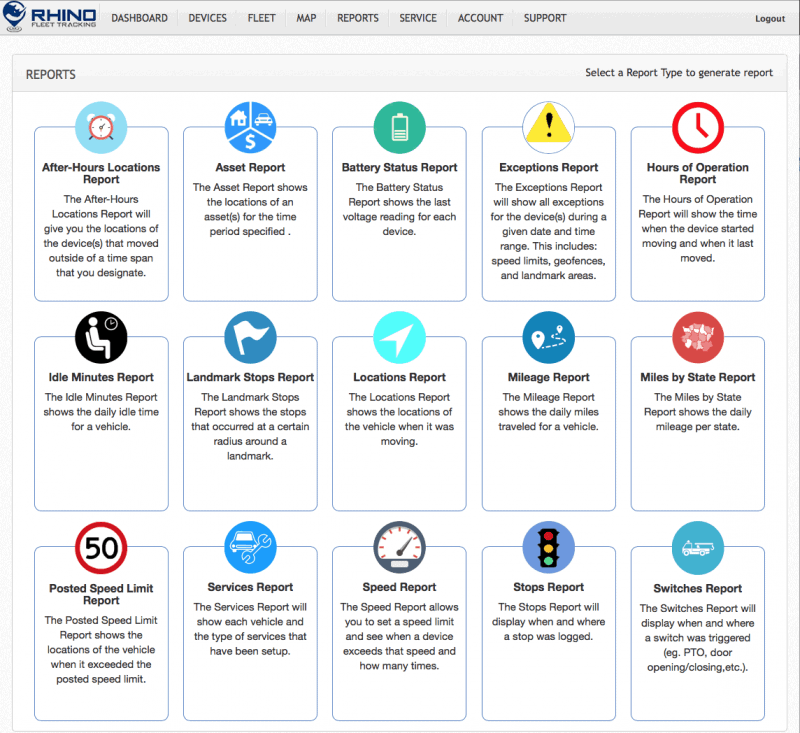 Another great thing about Rhino Fleet Tracking is that it automatically generates breadcrumb trails. It employs a routing system which ensures that vehicles use the routes that are highly efficient. This way, Rhino Fleet Tracking can help avoid heavy traffic and reduce fuel costs.
The Fleet Manager benefits come down to safety and costs. So let's check out how you can benefit from using this solution.
Safety
Eliminate theft: Coupled with powerful monitoring software, the Rhino Fleet Tracking system lets fleet supervisors know where the vehicles are at any time. It leverages the custom geographic technology that sends alerts when someone doesn't follow the predetermined route and thus protects assets.
Improve overall driver protection: Rhino fleet management solution improves driver protection by tracking things like speeding and inappropriate driving behaviors. It also takes care of regular maintenance checks. That's particularly beneficial for larger fleets consisting of a lot of vehicles.
Costs
Reduce maintenance costs: With this tracking system, businesses can lower maintenance costs by pinpointing destructive processes and activities. This is an effective way to minimize the wear and tear of vehicles or equipment and increase route efficiency at the same time.
Lower labor costs: The fleet companies can cut their labor costs by eliminating needless overtime work and creating tight schedules. Moreover, Rhino Fleet Tracking makes it easy to identify outstanding performers, reduce idle times, and understand productivity trends. This way, it helps fleets maximize the potential of their teams and be more productive.
Cut down on fuel costs: If left unmonitored, a fleet is more likely to consume fuel in an inefficient way. That results in increased operating costs. Rhino Fleet Tracking can help you identify inefficient routes and bad driving habits. In addition to increasing fuel use, these things also increase the risk of premature failures. Use this GPS tracking solution to improve routing and fuel efficiency.
Rhino Fleet Tracking & ELD Compliance
As you can see, the Rhino Fleet Tracking is primarily intended to increase productivity and profitability by allowing users to access essential reports and data. This complete tracking solution can also help in maintaining FMCSA requirements by offering a library of IFTA reports alongside standard reports, among other things.
With the Rhino Fleet Tracking ELD, you get everything needed for the mandate. For example, this FMCSA-certified ELD solution includes:
Miles-by-State for IFTA
Hubs and Carrier Information
Travel Patterns (breadcrumbs)
Vehicle Locations
15+ Standard Reports
Stop Locations & Durations
Speed & Idle Alerts
Geofencing
What People Think About the Rhino Fleet Tracking
While most people are satisfied with this fleet management solution, there are also consumers that think that the Rhino Fleet Tracking is not perfect at all. So let's see what people think about the Rhino Fleet Tracking.
Most Common Praises
Data from the system may not appear sometimes
The interface is not user-friendly
No direction feature in the mobile app
It is difficult to manage it online
Most Common Complaints
Prompt customer service
Easy to use
Shows separate maps by vehicles
Can filter out individual assets
Transparent pricing
Useful real-time alerts
Live location updates
Good highly detailed reporting
Pricing, Contracts & Plans
Rhino Fleet Tracking offers a very attractive pricing structure to businesses of all sizes. You need to compare quotes and select one that best suits your needs. Aside from the size of your fleet, you also should consider which features you really need to choose the perfect plan.
Pricing is per month just as with most fleet management and tracking solutions out there. What sets it apart from other telematics companies is that its solutions do not require any contracts to be used. Unlike some fleet tracking solutions, there's no minimum vehicle requirement.
Simply sign up for this service and continue paying month to month as long as you need it. That makes Rhino Fleet Tracking services highly flexible and attractive. So, how much is it?
The pricing starts from $19.95 per device per month. The cost of the license goes down to $16.95 per month when using three or more devices at once.
Besides monthly service, there is also an expense for hardware – the Fleet Tracking device – of $39.95. It is also important to note that there is an activation cost of $20, too.
Yes, all of this adds to the costs. Nevertheless, we find these price points to be very competitive, considering that the purchase also includes GPS tracking devices.
The Bottom Line
In the end, we can conclude that Rhino Fleet Tracking is a good value for money. This fleet tracking solution comes with GPS tracking systems that enable companies to efficiently monitor their vehicles or equipment. It can also improve communication between managers, drivers, and staff.
Keep in mind that this solution includes hardware aside from software. So, Rhino Fleet Tracking is great for those looking for tracking devices in addition to a cloud-based system. It is suitable for both small and large businesses.
They can both reap the benefits of it. With this GPS fleet tracking solution, fleets can eliminate theft and waste, improve safety, lower maintenance costs, reduce fuel costs, and much more. Aside from maintaining a higher level of security, it can help them increase profits over time when used properly.