When it comes to bookkeeping, accounting, and invoicing for your small business, cloud software is the best way to go, and two companies are paving the way as leaders in accounting—QuickBooks and Xero. Both of these programs are top-notch programs that accountants and small business owners swear by. Still, while they are similar, there are some significant differences between the cloud-based accounting programs that you need to know before you choose one over the other.
What is Cloud Accounting Software?
Cloud accounting software is accounting software that is hosted on remote servers where data is processed off-site and not directly on the user's computer. Cloud-based accounting saves your computer from being bogged down by programs that you have to install and also allows your team members to access data remotely and make changes that everyone can see.
Cloud accounting software is also called web-based accounting or online accounting. This type of accounting is the future of business accounting, so choosing the right cloud accounting program is vital to the financial success of your small or large business.
The Best Cloud Accounting Software: Quickbooks vs. Xero
QuickBooks Online was one of the first cloud accounting programs to be widely adopted by businesses of all sizes. The advanced accounting capabilities, customized invoicing, and nearly unlimited integrations make QuickBooks a go-to option for bookkeepers and accountants. Xero is one of QuickBooks' greatest rivals and features more integration options, unlimited users, and some of the best features on the market for accounting on the web.
Accounting Features
Winner: Quickbooks Online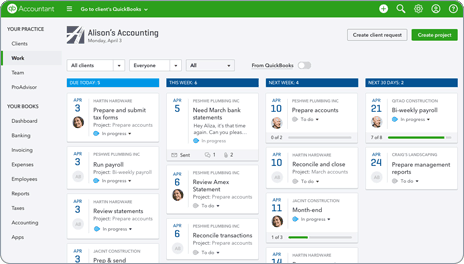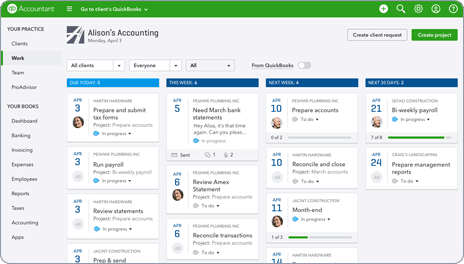 When it comes to the accounting features of QuickBooks and Xero, these two online accounting programs are nearly tied, however QuickBooks just barely edges to the top because it can generate up to 75 reports compared to Xero with 55 reports, but most importantly, QuickBooks offers tax support and lending which Xero does not.
Xero's features are easy to understand and are divided into five different sections—Dashboard, Contacts, Accounting, Business, and projects. The accounting dashboard is great for getting an overview of your business finances and is also customizable, so you can see only what you want or need. We love that Xero features an uncluttered, streamlined look.
QuickBooks features electronic banking, invoicing, billing, and payment acceptance, and the system can be customized by user preference. QuickBooks Online also allows you to set up automatic payments for your clients and customers by adding automatic payment methods to their accounts. We love that there is an expense category that organizes invoices you receive from vendors. You can pay your vendors and complete your payroll all through the QuickBooks Online Program.
Both Programs offer:
Invoicing
Quotes
Expense reporting
Bank reconciliation
Chart of accounts
Inventory reporting
Time tracking
Data analysis and reporting
Budgeting
Print checks
Multi-currency
Sales tax
QuickBooks Online also wins in accounting features because some of the capabilities of QuickBooks features exceed those of Xero such as project management tools, invoicing, and lending. In the past, all of Xero's features were available for all plans; however, the company has now moved to tiered pricing that limits advanced features to the most expensive plans. Xero also only offers one template for invoicing, and you'll need to find your own template for packing slips if you are sending out a product.
QuickBooks also offers the best mobile apps and is rated slightly higher on many of the app markets like Google Play Store and I-Tunes. Both feature iOS and Android apps, but Xero mobile version lacks some of the key features of the desktop version, which makes it harder to manage company finances remotely or on-the-go.
If you're going to pay for the best, most advanced accounting features, the best value is QuickBooks Online.
Users, Permissions, and Ease of Use
Winner: TIE
Xero offers a three-tiered pricing plan, but all users on all plans have users' permissions that administrators can control access to. QuickBooks supports a limited number of users, depending on your pricing plan. You can't beat unlimited users, especially if you're a small business owner looking to build your brand and grow in the near future.
When it comes to ease of use, however, QuickBooks is slightly better than Xero. The learning curve for Xero can be difficult for people who don't already have a background in accounting or bookkeeping. There are, however, support tools offered through Xero that teach you how to use the programs and customer support if you run into issues. Once you are able to master Xero, the program is incredibly easy to use and understand.
QuickBooks does have a much more basic setup with users being able to enter the bare minimum information to get started, whereas Xero takes eight screens and asks detailed questions during setup. The additional information will be vital in future processes that you'll end up needing to input with QuickBooks anyways, so getting it out of the way during the setup process is the best way to get started.
When it comes to customer support, QuickBooks edges above Xero due to their phone, online chat, and email support. Xero does not offer phone support. Both programs offer a vast knowledge base and help articles, in-product help, product training, and an active user community. Live phone support is always the best way to beat the competition, especially for those who have never worked with accounting software in the past.
Integrations
Winner: Xero
When it comes down to just the numbers game, Xero has 700 integrations compared to QuickBooks Online, which has 590. However, depending on which integrations you are looking to use, these programs both offer a substantial number. The more programs your web-based accounting can integrate with the more functional and useful the program will be to you.
Pricing
Winner: Xero
Xero starts at $9 per month per user and offers two upgraded plans that are $30 per user per month and $60 per user per month. The best part about Xero's tiered structure is that there is no limit to the number of users allowed on each tier. That means no matter how big or small your business is, owners can choose the cloud accounting software that best matches their needs.
QuickBooks offers four pricing plans that begin at $12 per month for only one user; $20 per month for up to 3 users; $35 for up to 5 users, and an advanced packaged for $75 with up to 25 users. This is great for small businesses that won't grow beyond 25 team members. Xero's offer of unlimited users on each tier certainly trumps QuickBooks on this front, although the latter is a less expensive option for small teams.
And The Winner Is…..
Choosing a winner between Xero and QuickBooks cloud-based accounting isn't possible unless you are referencing a specific business. When matched up, the two programs are relatively evenly matched; however, established accountants may be more familiar with the QuickBooks programs. We love that QuickBooks offers tax support, live customer support, and a lot of different reporting options that make data analysis easy. QuickBooks is great for small businesses, but Xero's foundation of unlimited users is tough to beat for large businesses that are looking to expand even more in the future.