About
A behemoth in the domain of services that help businesses boost their business, Zoho is no stranger to efficiency and productivity. With a vast ecosystem that spans numerous fields, their services are renowned for their cost-effectiveness and capabilities. With their Zoho Workplace suite, they seek to cement their position as a platform that helps teams collaborate and get things done. Also, at a reasonable cost, it handily beats the competition with the tools you need to improve your firm's capabilities.
In this article, I break down the services offered by this suite to give you an informed opinion on whether a Zoho Workplace subscription is the right toolset for your organization.
Who Is Zoho Workplace For?
No matter how large or small your team is, Zoho Workplace has the tools you need to collaborate on projects and get them done more efficiently and smoothly. Be it a single team or several teams spanning multiple departments, the subscription scales accordingly based on the number of users. With the ability to plan and organize every facet of your workflow, you can micromanage your organization based on your goals and your vision.
Pricing
Zoho Workplace offers you the option to choose between two tiers: a Standard plan and a Professional plan. You can test the waters before investing in the Zoho ecosystem with the help of a free 15-day trial for the Professional plan. If your subscription expires, you'll be downscaled to a limited plan that lets five users access 5GB of storage space per person with email hosting for one domain.
| | | |
| --- | --- | --- |
| Plans | Workplace Standard | Workplace Professional |
| Yearly Cost | $3 per user per month | $6 per user per month |
| Monthly Cost | $4 per user | $7 per user |
| Mail Storage Per User | 30 GB | 100 GB |
| WorkDrive Team Storage Per User | 5 GB | 10 GB |
| Support And Migration | Yes | Yes |
| Zoho Mail | Limited | Comprehensive |
| Zoho WorkDrive | Limited | Comprehensive |
| Zoho Writer | Yes | Yes |
| Zoho Sheet | Yes | Yes |
| Zoho Show | Yes | Yes |
| Zoho Calendar | Yes | Yes |
| Zoho Cliq | Yes | Yes |
| Zoho Meeting | No | Yes |
| Zoho Connect | No | Yes |
| Zoho Showtime | No | Yes |
Pricing Tiers
The Standard plan lets users utilize most of what makes Zoho Workplace such a compelling addition to any business environment. Each user gets 30GB of mail storage and 5GB of WorkDrive team storage. Besides, most features of Zoho Mail and Zoho WorkDrive are intact. Standard users gain full access to the Zoho Office suite, Zoho Calendar, and Zoho Clip. If you choose to ramp up to the Professional plan, your team will gain access to more features in Zoho Mail and WorkDrive. Furthermore, you also gain the ability to work with Zoho Meeting, Zoho Connect, and Zoho Showtime. Choose a plan based on what your team requires since the Standard plan offers most of the core features that make Zoho Workplace so compelling.
Applications Under The Suite
This powerful suite of applications comes with a total of ten applications that work in tandem seamlessly to give your team a sizable boost in productivity. The services that are on offer are Zoho Mail, Zoho Calendar, Zoho WorkDrive, Zoho Connect, Zoho Cliq, Zoho Writer, Zoho Show. Zoho Sheet, Zoho Meeting, and Zoho Showtime. Under a single umbrella, these services integrate to offer unparalleled experience across apps. Spend more time getting things done and less time on dealing with organizing your company's workflow.
1 – Zoho Mail
The first application in this suite is a comprehensive email business solution custom-made for your organization's needs and wants. It's more than a mere inbox, with custom domain addresses for your teams and guarantees utmost importance for your privacy. Furthermore, the Migration tool makes switching from a competing service a simple affair.
Features
With numerous applications rolled into one, get work done directly within your inbox. Take notes, browse contacts, or mark events on your calendar without leaving Zoho Mail. Work better as a team with elaborate collaborative features such as sharing tasks or notes with fellow members. And with Streams, converse with people without the hassle of cumbersome email threads that can be hard to follow. It gives emails a much-needed social-media twist.
Filters organize your emails based on the terms that you deem essential, decluttering your inbox and ensuring that only the right emails reach you. Also, advanced search tools let you find anything in your mail with the smallest detail one may remember. You can even let your contacts know if you'll be unavailable while you head for a vacation. Furthermore, email signatures keep your emails professional. And with a tiered user management structure, organize your teams more efficiently.
A Standard Zoho Workplace plan nets you most of the core features of Zoho Mail, with an attachment limit of 30MB. That increases to 250MB under the Professional Plan, in addition to features such as email retention and eDiscovery.
Integrations
In addition to Zoho's commendable integration between services in the Zoho ecosystem, Zoho Mail also seamlessly works with Zapier. A third-party store that lets you automate your workflow with services across the web, Zapier is known for its flexibility and utility. With hundreds of services available, take your productivity to the next level.
2 – Zoho Calendar
Up next in Zoho's suite of tools is Zoho Calendar, a tool that helps your team stay organized and ahead of schedule. Create events and handle group calendars on a simplified interface. Communication is critical in any enterprise, regardless of how many teams or departments your organization may possess. Keep tabs on multiple calendars and migrate at ease from other competing services to take advantage of the features on offer. You could even transfer things such as regional holidays and public events to your calendar with a few clicks.
Features
Take scheduling to the next level with Zoho Calendar. Set up timely reminders for teammates to manage time efficiently and stick to tight deadlines. Pick from a rich palette of customization options and make your calendar truly yours. Besides, manage all of your group activities using the Group Calendar feature. Expand your horizons with handy tools that let you import or export calendars with ease. Furthermore, everything syncs to the cloud seamlessly, so a change in one system will instantly show up across devices. The mobile app ensures that you can keep track of all your schedules without reaching for a computer.
All of Zoho Calendar's scheduling features are available to all Zoho Workplace users. This availability is regardless of whether your organization has opted for a Standard or a Professional plan.
Integrations
In addition to the tight integration with Zoho's excellent ecosystem of powerful services, team up with renowned calendar tools like Microsoft Outlook and Google Calendar. Export or import schedules with ease across devices and platforms. Keep yourself and your organization in the loop at all points of time with Zoho Calendar's handy integrations.
3 – Zoho WorkDrive
The next application in Zoho Workplace's list of powerful applications is a capable file management system that works across devices and systems. Zoho Workdrive transforms the way you collaborate with clients and teammates alike. From creating a concept to refining it to perfection, it offers you a workspace that boosts your workflow and lets you get things done. Team up with people across the globe and work as though they're right next to you.
Features
Team Folders lets your team members keep things organized and free from clutter. As an administrator, monitor your team and understand them better with a wide variety of customizable reports. You can tailor these to the metrics you believe are essential. And with sophisticated file encryption, ensure that your files are never lost again. Be it on the subway or in the office, don't lose your productivity streak. With mobile apps across multiple platforms, be productive wherever you are.
Instant notifications keep you updated on the latest happenings of your business, with the option to offer feedback whenever you need to. Besides, for those moments where not everyone should be granted access to a particular file, the check-in/check-out feature is a godsend. With over 160 file formats supported, your uploads will indeed be compatible with Zoho WorkDrive's elaborate cloud storage system. Sync your files across systems without even thinking about it. And with unlimited version history, you can always revert your files to their original state.
Take advantage of custom branding features to give your work a dash of personality. While most of the main features are available with a Standard Zoho Workplace subscription, opt for the higher tier for a service without limits.
Integrations
The intricate Zoho ecosystem offers a rich selection of services that work in tandem with Zoho WorkDrive. The Office suite makes light work of your content requirements, be it documents or otherwise. Zoho Show delivers presentations driven by simplicity and utility while Zoho Sheet keeps your data organized and in one place.
4 – Zoho Connect
The next service in the sumptuous suite of applications that a Zoho Workplace subscription makes available to you is Zoho Connect. A collaborative software tool that brings people and resources together it helps you manage both efficiently. Form groups to give team members the space to develop ideas and new perspectives, and build solutions to boost your business.
Features
Feeds brings user interactions to you in a way like never before. Think of it as a curated view of the interactions that matter. Keep up with the brisk pace of work by listening to the right people and keeping the right people informed. The social media element makes collaboration a breeze. Furthermore, Channels ensure that communication occurs between teams and departments to help your organization make the right decisions. Also, use the Town Hall to conduct Q&A sessions to get everyone up to speed with the latest developments in your organization.
Using manuals, organize your information to bolster your team's knowledge. Custom apps automate the process so that your team can focus on what's important. Besides, powerful admin features make it easier for you to manage policies and makes the task of keeping teams updated simple. User policies can be customized to your liking, letting only specific members create groups or files. Furthermore, Zoho Connect's analytics tools give you a clear idea of the activities of your team members.
Zoho Connect is only available to teams that subscribe to Zoho's Professional Workplace plan.
Integrations
Zoho Connect tightly integrates with numerous third-party applications that are well-known in the industry. Appear.in integration lets you perform video calls without leaving Zoho Connect, while Trello helps you follow up on your team's projects. Asana provides timely progress updates, and Zapier's elaborate store of applications lets you customize your workflow as and when you please. Social media integration is also one of Zoho Connect's strong suits. Be it Twitter, Facebook, or Slack integration, send posts as messages no matter what platform you use.
5 – Zoho Cliq
Zoho Cliq organizes your conversations to enable collaboration on a grand scale. As a part of Zoho Workplace, it brings teams and departments closer with its rich set of tools. Be it workflow optimization or data security, Zoho Cliq's got you covered. Your team is just a few clicks away. Collaborate with channels to reach the right people and propel your business forward.
Features
With all your conversations under one umbrella, don't miss out on crucial bits of information ever again. With a multi-pane view, take part in several discussions at once, or switch to a single chat window if you want to focus on a single conversation. Screen-sharing features let you keep everyone on the same page while discussing a matter of prime importance. Also, Channels is a smart platform that enables you to share ideas and resources across multiple users. You can set in-chat reminders with deadlines that ensure even the smallest of tasks receive the attention they deserve.
With Zia, a smart assistant devoted to automating your tasks, spend more time on the things that require your attention. The Fork From Here action lets you create ad-hoc chats that enable you to work with your team contextually and annotate relevant text and images with ease. Besides, share files and other vital documents through your computer or a cloud service. It doesn't need to be on Zoho WorkDrive, Zoho Cliq's rich integration with other cloud services ensures that compatibility is maintained. Get real-time updates from said integrations and turn messages into work items that you can act upon.
Craft your very own bots to automate workflows and boost collaboration across the board. Taz sends invites for events in your calendar and saves files that are important to you. A few lines of code are all that stand between you and your very own bot, tailored for your needs and requirements. Zoho Cliq is available to both Standard and Professional Zoho Workplace users at no additional cost.
Integrations
Zoho's comprehensive ecosystem of applications integrates with Zoho Cliq to boost your workflow. In addition to Zoho's suite, third party applications can also work with Cliq to gain access to new features across services. From Google Drive to Box integration to access files to Mailchimp's campaigning tools to boost reach. Stackoverflow helps you share programming queries and questions to a broad community of experienced coders. And to maximize site efficiency, Pingdom helps track metrics such as load speed, issues, and more. Zapier's store rounds off this list, offering a large number of services at your disposal.
6 – Zoho Writer
A powerful word editor that lets you collaborate with teammates across the globe, Zoho Writer, is a capable addition to any business professional's arsenal. Included with a Zoho Workplace subscription, this service lets you write anywhere, be it on the couch or during a vacation. With features that boost productivity and an interface that places simplicity at the forefront, Zoho Writer is a compelling alternative to competing word processors.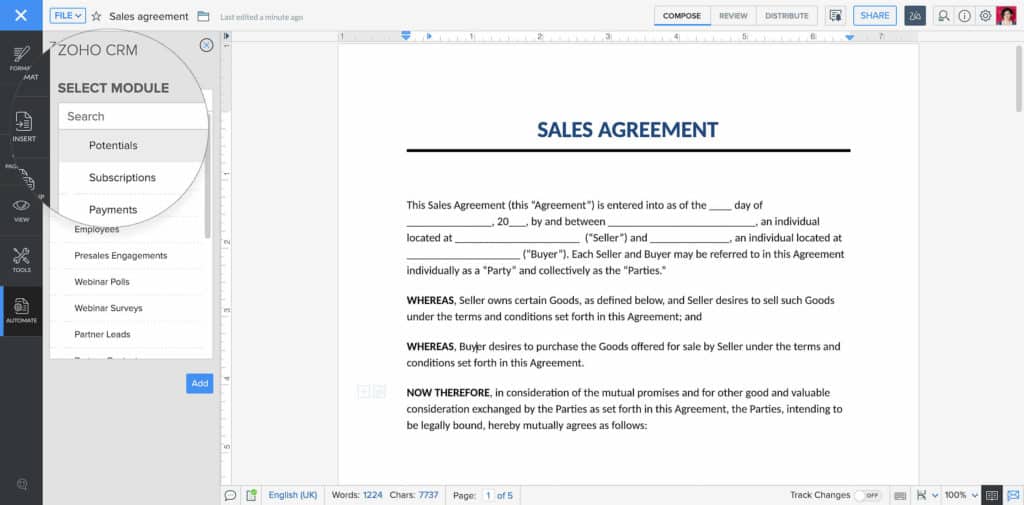 Features
A blank page is the cleanest form of a canvas, ready to be where you pour out words to inspire and persuade. With minimalism given prime focus, work on what matters most. Zia, the writing assistant, offers grammar and style suggestions that will leave your competitors in the dust. Feedback tools make short work of a process that is often tedious in execution. Post content directly on popular sites such as WordPress and Blogger to expand your organization's reach. With enhanced sign collection and automation features on offer, this is one service you should try.
It also works well with a variety of popular file formats, so your Word files are safe and sound when you make the switch from a competing service. Track changes based on who changed what at what point of time. Reject or accept them accordingly. With view receipts, keep tabs on when other teammates have viewed your document. Also, several merge tools let you automate systems such as Payrolls. With an assortment of rich templates to pick from, ensure that your document is a class apart. Furthermore, the abilities to send mass emails or merge them are a godsend for businesses wishing to expand their reach via email lists.
Creating professional documents such as project quotes and product descriptions are a piece of cake with Zoho Writer. Create forms as well with Zoho Forms integration to keep in touch with how your collaborators wish to take your business ahead. Zoho Writer is available to all Zoho Workplace subscribers.
Integrations
In addition to Zoho's vibrant ecosystem of apps that work in tandem with Zoho Writer such as Zoho Projects and Zoho Sign, third-party applications also connect with the word processor to boost its capabilities. Electronic signature applications ensure that you can request and implement digital signatures onto your documents. Furthermore, use renowned services such as Flickr and Google Photos to import images and use blogging services to share your work with the world.
7 – Zoho Show
Another addition to the suite of Zoho Workplace applications is Zoho Show, a presenting software made for stories that inspire. Create and present anywhere with the help of mobile apps. With a UI tailored towards performance and accessibility, you can author slides to your heart's content. Furthermore, the abundance of themes will satisfy even the most demanding of critics. Also, collaborative features make creating presentations an absolute breeze. Work remotely and achieve incredible results. Share and publish your work using URLs and broadcast your presentations without even being present at the venue.
Features
First and foremost, migrating from a competing platform is simpler than you think. With integrations across multiple presentation software and support for a variety of formats, work on PowerPoint slides with the help of a few clicks. The conversion happens without any faulty margins or misplaced words that may ruin your hard work's results. Polish your work with the variety of customization tools that are on offer, be it for photos or text. Besides, an elaborate charting system creates visually compelling charts that offer clients a clear idea of what information they require. Furthermore, animations change the game entirely. Create new ones with key points in mind to keep your presentation neat and professional.
Work on slides remotely by inviting other team members to help you with the task at hand. Changes on one device are instantly transferred across devices and ecosystems. Comment and review slides based on the improvements that can be made. And with incredible hardware support that lets you work with Show on Chromecast, Apple TV and more, reach more people.
The mobile apps let you take your presentations with you, no hassle involved. And it comes with every Zoho Workplace subscription.
Integrations
In addition to the Zoho suite of applications, you can work with other applications as well. Show for Slack lets you create presentations and visualize ideas in real-time with fellow members. Show for Confluence, and Jira let you extend the compelling presentations you create to those avenues as well.
8 – Zoho Sheet
Zoho's comprehensive spreadsheet software lets you create and share spreadsheets online. The next service in Zoho Workplace's elaborate list of applications, Zoho Sheet, enables you to glean valuable insights with the help of the Zia assistant. Automated charts and tables bring data to life in ways competing services cannot. With features tailored to remove discrepancies, duplicates, and errors, this tool ensures that you get the best out of your data. With over 350 functions at your disposal, mess around with data as you see fit.
Features
Publish parts of your spreadsheet to the world, or the entire file itself. Embed them in reports or blogs, no matter where they are. And with Excel compatibility, use Excel files and other file formats without worrying about compatibility. Furthermore, cloud service integration lets you pull in files from a variety of storage providers. Distance is no longer a hindrance to productivity. With Sheet's collaborative features, work remotely, and deliver results. Also, user-specific lock settings ensure that your data remains safe and in the right hands. Version History ensures that data isn't lost at any cost. Analytics lets you derive trends and other vital metrics from your data. Furthermore, with checkboxes and list abilities, your spreadsheets gain a new dimension of interactivity and appeal.
Automate simple tasks so that you can focus on what matters most. And with Zoho Forms integrations, get the data you need with polls and other form options. You can manipulate said data in Zoho Sheet. This tool is available for anyone who opts for a Zoho Workplace subscription.
Integrations
Zoho Sheet's integration with the rich ecosystem offered by Zoho grants it strengths other competing services simply cannot beat. Forms are no longer a hassle that needs to be dealt with using another service. Publishing data is a breeze as well.
9 – Zoho Meeting
An online meeting solution is a valuable asset to any business. Zoho Meeting is the next entry in Zoho Workplace's list of capable tools. You can train your audience using webinars from across the world and deliver presentations and record sessions with the rich integration that the Zoho ecosystem offers. Also, plan your webinars and meetings right with Zoho Meeting.
Features
Plan and promote your webinars on your community of fans or even your blog. Reach a new audience with methods tailored to improve the way your viewers perceive you. With personalized branding forms and emails, lend your organization an edge with a focus on professionalism. Also, add your colleagues into the mix as well, letting them join your webinar as co-speakers. Curate your audience as well with the help of form responses. Also, this ensures that the right crowd sees your content.
Furthermore, present using a variety of tools, be it via audio or video sharing. Besides, use Q&A sessions to immerse your audience in the discussion. You could even make the audience member a presenter. Finally, record and view webinar data so that you can learn what went right and what you can improve on in the subsequent iterations.
Zoho Meeting deals with meetings as well. Conduct them securely with encrypted transmissions that adhere to industry standards. In effect, this ensures that safety is placed on a pedestal. Send email invitations in a few clicks, embed invites on your organization's page, and let members join meetings that have already begun. Conduct discussions over audio or video, or even chat if the meet requires it. Effectively, get your ideas to the other side, whatever the cost. Besides, screen sharing tools let your audience cross into your side of things and see them in a whole new light. Live meetings can be a hassle, but with intelligent moderator controls, you're in charge. Mute individuals or even remove unruly ones to collaborate more effectively. Record and replay these meetings to your heart's content.
Zoho Meeting is exclusive to those who opt into Zoho Workplace's Professional plan. Others will have to pay an additional cost to access its features.
Integrations
Zoho's suite lends Zoho Meeting an incredible amount of flexibility. Zoho Campaigns let you promote your webinars with vast email campaigns, and you get to micromanage your lead generation as well. Furthermore, Zoho Bookings let you set appointments and speak with clients through meetings. Besides, Zoho Projects and Connect allow teams across multiple disciplines to collaborate over a session.
10 – Zoho ShowTime
A unique training solution on offer from Zoho, this is yet another valuable addition for Zoho Workplace subscribers. It lets you run your training business, all in one neat application. Build your brand and empower others. With a plethora of branding options, your service is sure to stand out in a sea of similar offerings. Give your brand a competitive edge by enhancing engagement with a variety of techniques.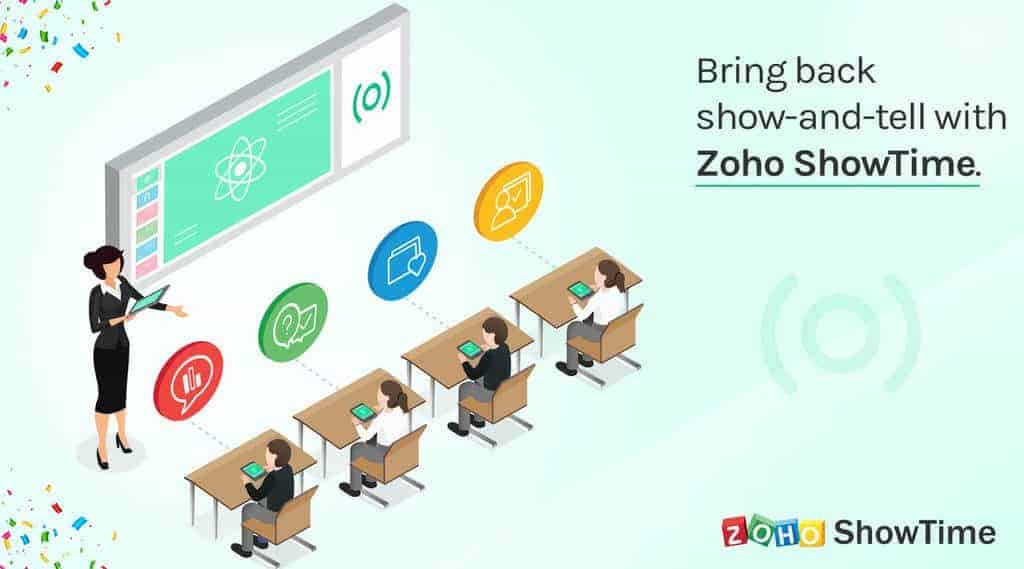 Features
Upload all forms of content, be it videos or recordings. Besides, let users learn at their convenience and evaluate them using a test or quiz at any point. Ensure that your decisions are based on data and hard facts. Furthermore, with ShowTime's graphs and analytics, you can do just that. Improve your training based on feedback and iterate upon your content to improve your reach. And with mobile apps both for presenting and viewing, learning is no more restricted to a desk.
With integration to payment gateways, monetize your business the right way. Exclusive to Professional Zoho Workplace subscribers, others can opt for it by paying an additional cost. Engage better with your learners using this intuitive and powerful platform. You could even work with co-trainers to deal with a variety of topics, broadening the appeal of your services.
Integrations
Tight integration between Zoho's ecosystem of services ensures that Zoho ShowTime is no exception to the trend. With CRM integration, handle customers better, and take your service to the next level. Furthermore, with connections to multiple payment gateways, your monetization plans are sure to propel your business forward.
More About Zoho Workplace
Setup And Ease Of Use
Getting started is a straightforward process. All it takes is signing up for a Zoho account. A simplified portal lets you access all the applications that come under the subscription. One doesn't need an elaborate tutorial to understand the ins and outs of this intuitive interface. But should you require any help to answer your queries, the forums are a great source of information from fellow users and veterans.
Device Compatibility
| | | | | |
| --- | --- | --- | --- | --- |
| Desktop Browser App | Android App | iOS App | Windows Phone App | Apple Watch App |
| ✓ | ✓ | ✓ | X | X |
No matter where you are, take advantage of Zoho's vibrant ecosystem to take your productivity to new heights. With mobile apps on Android and Apple smartphones, work on the go. Their apps also follow the same design philosophy that makes their desktop offering a breeze to use. And with all these applications under one roof, you won't need to invest in another application or suite again.
Verdict
Ten powerful applications. An immeasurable boost to productivity and efficiency. With the diverse toolset offered by a Zoho Workplace subscription, keep tabs on the metrics you believe are essential and take measures to take things up a notch. Furthermore, remote collaborative features let your teammates work in different parts of the globe and still get you reliable results. Also, the fact that it is more affordable than competing solutions that have to be bought individually only adds to its reputation. See what the buzz is about by giving the subscription a shot!