About
Businesses all around the world now run using computers. Irrespective of the industry, the use of computers is now everywhere. Hence, this technology comes with a whole array of problems that need to be solved.
Some nagging issues with your tech should never hamper your workflow. Besides, you need to keep an eye on your employees' devices on your network. This need for monitoring is the main reason why most medium to large-sized businesses have an in-house IT department.
ManageEngine is Zoho's IT Management software division that offers solutions that span the entire IT sector. From managing support tickets to remote access control, Zoho has you covered. In this article, I'll take a look at the various solutions that are in store for your IT department.
Product Stack
Here, I give a brief overview of the various products that are offered by Zoho's IT Management suite. I also touch upon the critical features that make these products stand out from their competitors.
ServiceDesk Plus
Mobile Device Manager Plus
Site 24×7
AlarmsOne
Zoho Assist
ServiceDesk Plus
This software is an impressive helpdesk solution for your IT needs. Its features primarily focus on enterprises and not SMBs. The user-facing application lets them request for support through emails. Additionally, they have the option to create a temporary account to track their requests. When creating a request, customers have the option of using pre-existing templates. This option, eventually, helps avoid redundant entry of data that might ultimately be pointless.
For the IT technicians too, the software offers a comprehensive set of features. It helps you manage the various tickets, problems, changes, etc. from a single platform. The dashboard gives you the overall request statistics. Furthermore, it gives you a technician-wise breakdown of the work being done by each professional. Each user can also see his/her schedule and the progress of each ticket.
The ticket themselves offer a lot of information about the problem at hand. Sometimes it can become a little overwhelming for organizations that do not require this level of detail. Another minor gripe I have is the internal focus of this software. It chiefly caters to enterprises and internal issues that they may face. For companies providing IT services, there is no option for a public customer portal.
In conclusion, ServiceDesk Plus is a compelling option for IT management professionals. Almost every enterprise, today, needs a robust IT backbone, and this software helps you do just that. The impressive user-facing application makes sending requests a total breeze. While the user interface might not be groundbreaking, it is more than serviceable. If you have bought into the ManageEngine ecosystem, there is every reason to add this to your arsenal.
Mobile Device Manager Plus
The proliferation of mobile devices in today's world is unquestionable. It is almost a certainty that your employees will rely on some form of a mobile device to get work done. As a result, ensuring the security of employees' devices is a must. Mobile Device Management software is commonly used by IT departments to monitor, manage, and secure employees' devices. It allows your IT department to keep track of the apps installed on corporate mobile devices like laptops, smartphones, etc.
ManageEngine's Mobile Device Manager Plus provides you with a host of enterprise solutions for your IT security needs. You can use this software can for BYOD enrollment or corporate device enrollment. Users can enroll their devices with your company and make use of the various resources at their disposal. As an IT administrator, you can decide the manner of enrollment. You can choose between self-enrollment, enrollment by invite, or bulk enrollment. You can secure corporate resources by setting access control and policies for all devices.
The management window shows you a graphical and text-based representation of all relevant information. The user interface is pretty intuitive, and you can rearrange the on-screen elements. This way, you can organize information the way you want to. You can also group devices based on your organizational structure. This facility helps ease the way you distribute department-wise policies. To round it all off, you can set role-based access control for proactive management.
To conclude, the Mobile Device Manager Plus is an essential piece of software for any enterprise. It greatly simplifies mobile device management and keeps you in the driver seat. Neat automation options, in addition to a slick user interface, make it a genuinely well-rounded product.
Site 24×7
A lot of businesses in today's day and age work in the 'cloud.' They rely very heavily on internet-based services to run their day-to-day operations. With this, comes the direct consequence of having to manage it. Monitoring end-user experience and network infrastructure within the firm is more critical now than ever before. Here is where software like Site 24×7 lends a helping hand. They allow IT technicians to monitor and manage internet services.
The software has some essential features baked into its core. Monitoring webpage and hardware performance is its primary usage. This option lets DevOps and SysAdmin teams gain useful insight into resource utilization and other metrics. In turn, they will be in a better position to make business-critical decisions. You can also use this software to monitor your internal network. This option gives you a clear idea of resource utilization by various critical programs.
The software also allows you to get real-time user experience statistics. Dubbed, 'Real User Monitoring,' this feature can analyze user statistics from a global perspective. The data is well segmented to give you all possible filtering criteria. You can extract data on a per-browser, per-user, per-ISP, or on a per-country basis, depending on your organizational needs. All this power can be enabled by just inserting a few lines of HTML code at the footer of your existing page. It is a seamless way to get started with usage monitoring.
Site 24×7 is an exceptional tool for IT professionals anywhere in the world. This statement is not to say that it comes without any negatives. The user interface can be a little cluttered and daunting for first-time users. Even amidst all the graphical data, there is a lack of clarity in the menus. That aside, it is perhaps the most feature-rich option in the industry.
AlarmsOne
As you can see from this very article, IT professionals rely on multiple platforms to get their job done. They required nuanced software to deal with the sheer variety of problems they face. As a direct consequence, they continuously keep switching between programs. This activity makes it hard for them to keep track of all the tickets and alerts. Alert Management software are used to tie it all together. Although it might seem counterintuitive at first, you'll soon see how it can significantly improve workflow.
AlarmsOne is Zoho's premier alert management solution. It integrates with other SaaS packages that are deployed in the enterprise. It allows you to integrate alerts from all services that you run. The setup process is rather straightforward and just requires a software tool. You can get real-time alerts from critical processes that are running in your business. You can also manage systems running at multiple locations from a single place. As a user, you can modify the alerts to suit your use case.
For issues that occur frequently, you can perform auto-remediation and save time. This automation lets you attend to more critical issues. You have a set of ways to interact with each alert. You can also group multiple alerts based on specific criteria. You can group alerts based on severity, display name, etc. Besides, you can modify the status of various alerts when it meets certain conditions. You can also notify other technicians when your on-call staff fails to respond.
This software is critical to complete any enterprise IT solution. It can help significantly simplify the lives of your IT administrators. Moreover, you can schedule your downtime to prevent messages when your server is under maintenance. In every which way, AlarmsOne seems to be a solid buy.
Zoho Assist
IT support and remote access pretty much go hand-in-hand. It is almost impossible to have one without the other. Enterprise solutions usually need to go well beyond just access. They will have to execute specific commands as and when required. To enable all of this, you will need a robust IT support software. Also, if you support customers from around the world, you'll need to be able to set up reliable connections.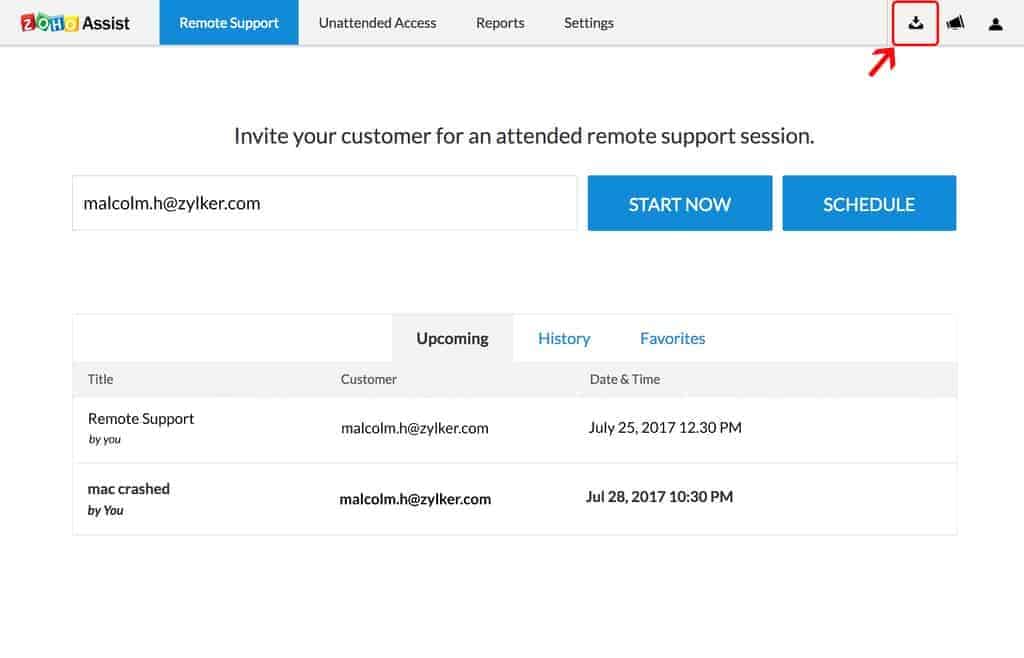 This need is where Zoho Assist comes to the rescue. It comes with a host of features that range from remote access to IT management solutions. You also can set up live audio/video calls with customers when you're providing support. These calls can either be on-demand or instantaneous. You can also schedule sessions with customers from various time zones. This way, you can be on top of your daily schedule. The software also gives you the power to perform remote shutdowns, restarts, etc. without losing access.
In an enterprise setting, you can transfer files up to 2GB between your device and the remote device. Screen sharing is another popular feature that can be handy in such an environment. You can seamlessly conduct conferences and presentations. The software also lets you hand the presentation off to another screen. Dubbed 'screen swap,' this feature allows for collaborative efforts in an online meeting.
This software is a promising buy for IT professionals. It even includes an administrative angle to the entire experience. You can group and oversee your technicians and manage access privileges. In addition to all of this, you can also generate comprehensive reports of your remote support details. All this makes this software a very compelling purchase.
Integrations
The Zoho IT Management suite builds on its capabilities by offering integration solutions. Besides, each software has its unique offerings, and here I'll just look at a brief overview of the integrations.
First and foremost, the software integrates seamlessly with each other. All of Zoho's and ManageEngine's products are compatible with the other. Furthermore, there is support for integration with services like Zoho Projects and Zoho Books. Also, there is support for importing contacts via G Suite.
Most importantly, some of the products integrate with Zapier. For the uninitiated, Zapier is the ultimate name in business software integration. Also, you can create integrations that suit your specific business needs. This way, you can arrive at an all-rounded platform for your business.
Pricing
There is no single pricing for all of this. Some of the products have free variants along with tiered pricing policy. Here, we take a look at the pricing options for each software.
ServiceDesk Plus starts at $120/user/year. This basic model allows for up to 10 technicians and no nodes. The pricing then varies based on the number of technicians and nodes that you will need. For a single technician, MobileDevice Manager Plus is free for a maximum of 25 devices. Variations in price, henceforth, arise from the choice of service, number of devices, and the number of IT professionals you have.
Site 24×7 starts at a very reasonable $9/mo billed annually for ten servers or websites. As expected, the price will increase depending on the scale of your enterprise. AlarmsOne is another product that offers its services for free. Down the line, you can upgrade to their paid versions and extract more from the platform. Zoho Assist starts at $10/mo and moves upwards based on the feature set you desire.
As you can see, the suite of IT management software does not break the bank. This economy is Zoho's USP. Also, they devote their resources to forge a seamless experience that you just cannot live without. This way, the cost of marketing and other auxiliary expenses are not dumped on you, as the buyer.
Conclusion
Zoho is one of the world's leading SaaS product providers. This reputation comes with an impressive cachet of having been there and done that. So, their IT management suite is no different. You have an impressive lineup of products at your disposal. The best part is that almost all of them are cloud-based, so your work can travel with you.
Additionally, they also offer mobile versions of most products for a lite experience. This flexibility allows you or your IT department to always be on top of any requests. The remote access tools are a neat way to provide support to customers all over the globe. When coupled with other, equally stellar products, the entire lineup shapes up to be rather formidable.
To conclude, I cannot help but recommend their product stack for any medium, large, or enterprise operations. There is value to be found in the product stack. Zoho also offers customizability to suit your business needs. Therefore, I believe that you cannot go wrong by picking Zoho's services to improve the productivity of your IT department.