Fleet management solutions offer a variety of capabilities and functions besides task management. However, they are all designed to help businesses improve efficiency and control their costs. They can perform a diverse range of tasks and thus keep both drivers and other employees accountable.
Additionally, fleet management and tracking solutions can make it easier for business owners to understand how their vehicles – trucks, vans, cars, and so on – fit into the big picture of operations. They can give you a better understanding of which drivers perform what tasks at any point.
And that's not all. Some solutions also allow you to create detailed tasks. For instance, you can attach vehicles to assignments, name the tasks, and create due dates for specific tasks. Some systems let you specify if the tasks are dropoff or pickup, aside from specifying a quantity.
You may not need all of these things, though. Keep in mind that extra features and capabilities will add to the cost. Therefore, you should choose a solution and plan that includes the features you really need.
If you are not looking for advanced reporting features, Teletrac Navman could be a good choice. It is a great choice for large fleets who prioritize accurate data transfer and real-time location updates. But this is not the only reason to go for Teletrac Navman. Keep reading to learn what else you can get from this fleet management solution.
Who Is Teletrac Navman?
The best telematics services for businesses are ones that are flexible, capable of supporting growth, and ideal for companies of all sizes. Teletrac Navman is one of those services. It provides solid telematics services, platforms, and solutions that almost any trucking company can capitalize on.
Teletrac Navman was formed in 2015 when Teletrac merged with Navman Wireless. As you may already know, Navman Wireless is a global SaaS and GPS-based technology provider. They offer different ways for businesses to capture location, diagnostic data, and behavior from workforce and assets.
Since then, Teletrac Navman has become an industry-leading fleet tracking service. This GPS tracking service is mainly aimed at smaller businesses. However, it can scale up to suit the needs of larger businesses alike.
Teletrac Navman expands and optimizes routes across the country to boost deliveries. The company offers a few platforms and solutions to commercial fleets and carriers. Take a look at the table below.
| | |
| --- | --- |
| Teletrac Navman Platforms | Teletrac Navman Solutions |
| Fleet Management Software – Get full visibility into driver safety and performance | Solutions by Role – Safety Management and Compliance Management |
| Equipment Management Software – Manage assets and equipment across job sites | Solutions by Industry – Operations Management, Fleet Management, Services & Specialty Trades |
| Integrations & Enhancements – Connect core software and create business insight | Retail & Manufacturing – Equipment Management, Trucking & Transport |
Top Features & Services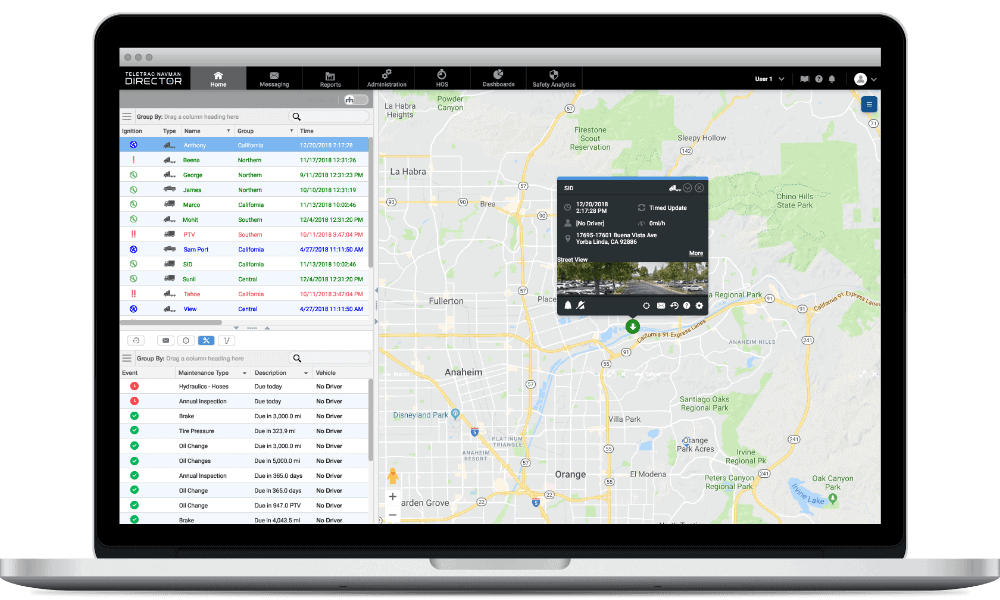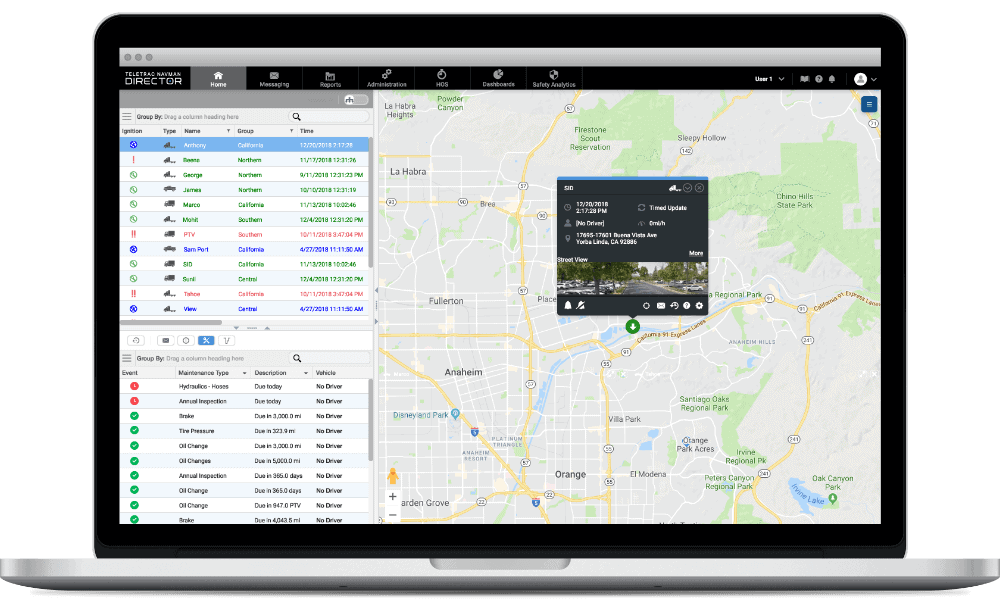 Depending on the platform and solution you opt for, you will gain access to particular features and services. We will focus on fleet management software and check out the most remarkable features.
Universal Fleet Visibility
Teletrac Navman provides GPS tracking of both non-powered and powered assets in real-time. Moreover, it offers maintenance record management and fuel usage monitoring, allowing businesses owners to have the full picture of their assets.
With this fleet management solution, you will be able to:
Get auditable, quick, and reliable communication.
Track equipment and vehicles with vehicle mapping.
Automate dispatching and compliance with connected workflows.
Geofencing
Get GPS boundaries marked around certain locations while monitoring exits and entries to track driver behaviors, unauthorized movements, as well as departure and arrival times in a sensitive area.
Geofence reports can be created for everything from compliance and training to accounting and payroll.
Maintenance & Fuel
The fuel management and maintenance modules allow you to keep your business growing. Fuel usage monitoring, idling reports, engine diagnostics can help you save money in the long run. Use Teletrac Navman tools to reduce fuel costs and manage your maintenance effectively.
Track fuel purchases and schedule preventative maintenance to make your business cost-effective.
Receive alerts on maintenance issues, fuel usage, driver behavior, and more.
Get reports about excessive fuel burn and idling on a regular basis.
Workflows
Two-way messaging, proof of delivery, and custom form will make you work smarter. Alert your customers or clients of delays and send road condition updates and live routing proactively.
Furthermore, you will be able to capture job info on your devices that integrate with your back-office system. The system can monitor all workflows in progress so that you will stay up to date.
Maintenance Scheduling
By automating the maintenance schedule, you will reduce downtime. Teletrac Navman software will take care of the working condition and overall health of your fleet by sending notifications automatically when it is time for maintenance. You will get engine diagnostics in real-time. Warning parameters are marked by different icons.
Business Intelligence
With powerful insights, you can bring your fleet data to life and make well-informed decisions. Teletrac Navman lets you visualize your asset and fleet performance and get access to information using customizable dashboards.
Create reports that contain information you need while setting goals and measuring performance at the same time.
React promptly to critical situations by customizing alerts based on your needs.
Track critical Key Performance Indicators (KPIs) of your organization at a glance.
Compliance
Teletrac Navman enables businesses to remain compliant and eliminate paperwork. Switch to automated compliance information and track essential data easily and accurately. Keep your business compliant by adhering to the current regional and national regulations.
Keep drivers safe and minimize human error by automating HOS (Hours of Service) reporting with self-certified and FMCSA-registered electronic logging devices.
Monitor and track DVIR and IFTA data in a complete, easy-to-use platform, thereby meeting all government standards. Get clearer insights into mileage and fuel spending. DVIR and IFTA reports are stored in cloud-based accounts for quick access and filing.
Store, sync, and log data safely in the cloud and make your audits simpler and more secure as well. Identify safety issues and vehicle operation quickly while scheduling maintenance and digitizing processes.
Driver Behavior and Safety
Bear in mind that your employees are more important than any equipment and assets you have. That's why you should always strive to improve safety. This is where Teletrac Navman comes in.
It provides training programs, compliance capabilities, real-time alerts, and comprehensive data to improve safety. The fleet management and asset solutions offer an array of safety features, such as:
Synchronized alerts along with dashboard cameras that record driving incidents.
Driver scorecards that allow fleets to benchmark any unsafe behaviors like speeding, harsh braking, and cornering.
Low-distraction training for drivers along with alerts and aids on the road.
Teletrac Navman Hardware
While the focus is on software, it is also important to mention hardware. Teletrac Navman provides everything you could possibly need to keep your fleet running smoothly.
All the devices and tools are easy to install and use. What's more, they can be used in just about any vehicle or equipment. Let's see which options are available and how to use them.
Self-install devices: Start to track your assets instantly with plug-and-play devices.
Managed install: Use tamper-resistant, hard-wired devices for the most worthy assets and equipment.
Ruggedized hardware: IP67 rated for long hauls and hard-working vehicles or equipment.
Battery and solar-powered hardware: These devices rely on GPS tracking and are intended for non-powered assets.
What Makes Teletrac Navman Different from Other Fleet Management Solutions
Unlike most telematics management solutions we have reviewed, Teletrac Navman boasts of sleek and intuitive software that has a 1-minute refresh time. This puts Teletrac Navman in the same league with industry-leading players.
Also, not many fleet management solutions provide both weather and traffic data. Teletrac Navman also allows transportation companies to optimize routes and build geofences according to their own needs. That helps managers run more profitable fleets.
Benefits of Using Teletrac Navman
Boost efficiency and productivity: With powerful analytics and real-time insights from Teletrac Navman, fleets can be more profitable and efficient. Take advantage of it to reduce equipment downtime and increase your productivity. Plan the most efficient routes to reduce miles driven and keep fuel costs low.
Simplify fleet management: Teletrac Navman makes fleet management easy with dedicated tools that visualize fleet performance. That's possible to detailed reports, real-time alerts, and customizable dashboards. Combine them to simplify complexity across your fleet.
Use an all-inclusive solution for the entire fleet: From idle time and fleet visibility to driver communication and maintenance, Teletrac Navman covers it all. Whether you are making long hauls or managing a high-volume fast-moving fleet, this management solution will keep your business moving.
Improve fleet visibility with complete tracking: With Teletrac Navman, fleet owners will never lose sight of their mobile assets, vehicles, and equipment. Thanks to universal fleet visibility, they can monitor the entire fleet in real-time.
Teletrac Navman & ELD Compliance
Whether you are looking for DVIR or IFTA, Teletrac Navman will support your compliance requirements and make your fleet stay on the right side of the law.
Teletrac Navman is an efficient way to comply with ELD mandate requirements. The company delivers electronic logging devices that make compliance tasks more convenient and easier. Once installed, the devices record the relevant data automatically.
They can help fleet managers keep track of hours of service (HOS), RODs, and other driver activities. All the records are funneled through a single platform for better organization.
But it's not all about compliance. Aside from guaranteeing FMCSA compliance, it can also improve the profile of your business. It is also an excellent way to streamline the transportation and delivery process.
Pros:
Ease of use and flexible
Perfect for small and mid-sized fleets
Training programs available
Accurate data transfer
Real-time location updates
Cons:
There is a learning curve when it comes to HoS
It doesn't offer advanced reporting features
Pricing, Plans & Contract
Prices are not listed on the Teletrac Navman website, meaning you need to contact them and discuss the pricing for your business. Remember that pricing will vary widely based on the features you need and the size of your business.
No matter what solution you choose, you will have to sign a 3-year contract. The company has a minimum requirement regarding the number of vehicles – the Teletrac Navman services are only available for fleets consisting of at least 3 vehicles.
In addition to providing free installation of hardware, Teletrac Navman also offers GPS software which refreshes every minute. Build a solution made up of hardware and software perfect for your business. There are three plans available:
1) Essential (ideal for small fleets and those who want to get started with telematics) – It includes GPS tracking, maintenance module, standard reporting, and flexible hardware.
2) Professional (when the fleet is central to business) – Complete solution that comes with advanced analytics, high definition GPS tracking, compliance suite (ELD, IFTA, DVIR), safety analytics, integrated dashboard camera, and sensors
3) Enterprise (it can be tailored to individual needs) – Customizable solution that includes custom integrations, dedicated account management, professional services support, 1000+ assets, as well as custom analytics and dashboards.
The Bottom Line
So, is it worth the investment? Teletrac Navman is one of the very few telematics companies that have acquired a high rating by the Better Business Bureau (BBB). Nevertheless, the company has mixed reviews on the Internet.
Most complaints are about poor customer service and incorrect data on idle time. Also, keep in mind that you will not get advanced reporting features with Teletrac Navman. Even so, it is the preferred choice for businesses looking to track drivers, stay compliant, or increase safety.
Even though Teletrac Navman is a relatively new player in this field, it has the potential to transform the fleet industry in the future. Their management solutions are likely to get better as their technologies improve. Only time will tell.